A While On the Nile Slot Review – Playing Rules and How to Win
If you are looking for a fun little slot that is almost sure to bring a smile to your face, we think that this is the one that will do the trick. A While on the Nile is a creative game that will put you back in the days of ancient Egypt to take a trip on the river and hopefully win some money at the same time. There are 50 bet lines spread over the five reels, so you will enjoy a lot of paths to victory. There are some unique symbols and characters that interact together to create a storyline for the ages.
You will want to read through this review before playing this slot in order to really enjoy it the way it was meant to be played. There are many different twists and turns that are simply better to know about ahead of time. In this review you will learn about Queen Cleo, her golden staffs, the ancient Egyptian tablets, and so much more. These will all be useful as you prepare to enter the bonus games that are included in this slot, along with the free spins. In essence, there is quite a bit of ground to cover, so we should get started for you now.
Go With the Egyptians – Play This Slot for Free
With this slot, you will want to play the demo version a few times first. This will allow you to get a feel for the game and make you more confident as you begin to play with real money at some point down the line. It is important to understand what is going on. Sure, you could just spin away and then look at your account balance to see what happened, but that is not very fun. It is better to see what you are doing so that you can bet accordingly and work to maximize your chances of ultimate success.
When you are going down the Nile, you want to take some money with you. It would also be nice to win some along the way, so there will be a time when you are ready to play for some real cash. When you head over to LeoVegas Casino online, they are going to offer you a bonus of up to £100 when you make your first two deposits with them. Just deposit any amount up to that £100 and they will match whatever amount you put in. This is a great way to get started, as it will provide with some extra money in your account that you can start using right away for spins on this slot.
Let's Look at the Game – Winning Rules
Many movies and television shows has been cast with the Nile as the theme. This must be one of the most well-known rivers in the world, so now is your time to put it to good use. NextGen developed this slot with fun in mind, which is why the graphics and animations have worked well to make it so popular since its release. You will begin by deciding what you would like to bet. When you consider your wager, take into account the limits that we will tell you about in a moment. Once you put in your bet, all that is left to do is hit the spin button and then watch the symbols and characters do their thing.
Reading the Paytable
With 50 bet lines to look at, there is a great deal to take in. This is also quite exciting, as there are so many different ways to win. You will really begin to look forward to each spin, as that might be just the one to take you towards the edge of victory. If you want to really know how each winning combination is supposed to look, you simply have to examine the pay table. You can look at this whenever you want. It will show you the coin value attached to each symbol, and it will detail how you can activate each of the special features and what will happen when you do.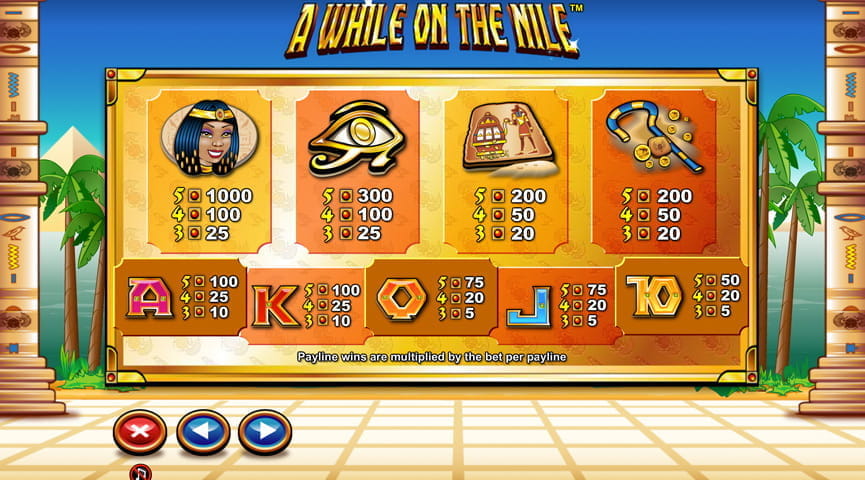 Advantages:
50 ways to win
Quick spin feature
Bonus opportunities
Free Spins
Expanding Wilds
Fun to play
When you get ready to place your bet, it is important to keep in mind that there are minimum and maximum wagers associated with A While on the Nile. For the minimum bet, you can go as low as £0.50. While we understand that some players would like this amount to be even lower, one must keep in mind that there are 50 bet lines that you can win on. That is quite the impressive number. If you want to risk some more money, you are permitted to bet as much as £70. Again, high rollers might wish that this number was higher, but we feel that it is enough to please most player.
Special Features and Free Spins
This slot has stacked wilds that come with up to 10x multipliers. You will not find that with many slots today, and that is one of the things that really sets this game apart from others. The multiplier will be listed on the right side of the screen, so select that the one that applies to your stacked wild. This increases the amount of money that you can win. Keep in mind that the higher the multiplier, the higher your bet will be. The dividends of betting big can really pay off if you hit the right combination at the right time.
The superbet function can really increase your bank roll quite quickly. Even if you bet the minimum of £0.50, you are in for quite the win if the river takes you in the right direction. There are also free spins that you can take advantage of. When these appear, you can get up to five of them at a time. While you are in the free spins round, you may earn additional free spins. This can keep going until you run out of those spins, after which you will resume playing on the main screen once again.
Mobile Version of A While On the Nile
We do not think there is any reason that you should not be able to play your favourite slots on your mobile device. Technology has simply come too far to force you stay inside on your desktop computer any longer than you want. Thankfully, NextGen agrees with us. They have created a fantastic version of this slot is built specifically for the mobile platform. You can access it from most smartphones and tablets when you have Internet access. You will be able to place your bets and win, right there where you are in the moment. Now, that is slot playing for the modern era!
Before You Start – Consider These Other Great Slots as Well
This slot is really quite amazing. That is why we have given it such a high rating. We feel that you will quickly become a fan as well. Just try the demo version and see if you don't agree with us. With an RTP of nearly 96 percent, most players will be happy that they have a balanced and fair chance to win with this one. You will enjoy the graphics, and this include the sound effects and background music. You will feel as if you have been transported back in time to raft down the Nile River yourself.
Rating:

4.6/5

Powered by:

NetEnt

Play at:

SlotsMillion Casino
Rating:

3.3/5

Powered by:

NetEnt

Play at:

Royal Panda Casino
Rating:

4.8/5

Powered by:

IGT

Play at:

SlotsMillion Casino
Rafting down a river is fun, but winning some money is every more so. You can do both with this slot, and so much more. It is feature packed, so give it a try today. You will be placed in a good mood as you interact with some pretty spectacular and special characters. That is really all you can expect from a slot. Have some fun and take a shot at winning some money. After having done so, take a look at the other three reviews that we have for you here, as they are equally good and worthy of your attention for a moment. Then, if you find out that you have a thing for this type of casino games, we wholeheartedly recommend that you head over to our list of the best slot casinos in Britain!