8 Ball Slots Slot Review – Playing Rules and How to Win
If you like to keep your slot playing adventures as simple as possible, this is the slot for you. It will look a great deal like a physical slot you would expect on the floor of a Vegas casino. 8-ball slots features 3 reels and 1 active bet line. This makes it pretty easy to determine how you can win. However, do not let its simplicity fool you. There are quite a few special features that make this one fun to play. If you like having a retro feel to your slots, and you enjoy a game of billiards from time to time, you will want to give this a few spins to see what happens.
Since there is only one bet line, you might think that there is not much to write about this slot. We will forgive you this one time only for thinking that. There is actually a great deal that has gone into the development of this slot that was launched by Playtech in 2006. Granted, the graphics are not as crisp as you will see with more modern games just recently added to your favourite online casino, but this one has a retro feel that we really like and we believe it is rather contagious. We have written this review so you can start winning in no time.
Aim for the Corner Pocket – Play This Slot for Free
If you really want to get the hang of this game before you start risking money on it, we highly recommend that you play it in demo mode first.. This is a great way to explore the various features, learn the game mechanics, and examine the possible ways to win. Demos also allow you to gain confidence without committing any funds to the game from the very beginning. Once you have enough experience to raise the bar, you can start playing for real money.
With enough practice of the free play version of the game, the time would come to join the league of real money players. There are many online casinos where you can play with real stakes, but the one that stands out to our opinion is LeoVegas Casino. They will help you get started on your slot playing adventure by giving you a bonus on your first deposit. After signing up, LeoVegas will reward you with a 100% match bonus on your first deposit, up to a total of £100 plus additional 20 wager-free spins. You will then be able to take that money and use it to play 8-ball slot harder for longer. Or as The Godfather would have put it, this is an offer you simply can't refuse!
Let's Look at the Game – Winning Rules
You may have grown up playing billiards, but certainly not like this. There is a lot that this slot has going for it, and it is all based on that great table game that we all love so much. Playtech have created a retro feel to this slot that will take you straight back to the days you've spent around the pool table. With this game, it all begins with that initial bet. Place that wager and hit spin. The slot will then take over for you. You just need to watch and see what happens.
Reading the Paytable
With only one bet line to worry about, you might wonder if there is even a need for a paytable. Keep in mind that there are some special features that you want to take notice of with this slot. You will also want to know how many coins you will potentially win with each specific symbol that you get in the right combination. All of this information, and much more, is located on the pay table. Since it is not that complex of a game, you do not need to do anything special to get to the pay table. Just look at the top of the playing screen and you will see everything that you need to know.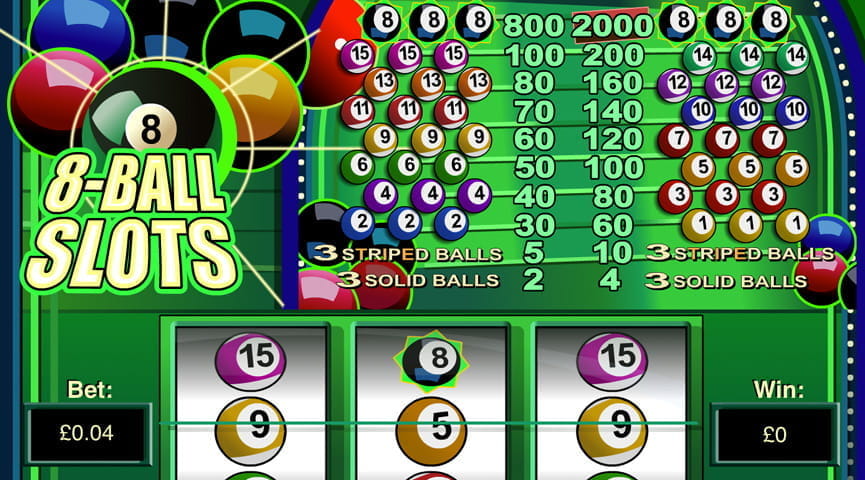 Advantages:
1 way to win
Quick spin feature
Colourful interface
Free Spins
Expanding Wilds
Fun to play
Disadvantages:
No progressive jackpot
No bonus game
This is quite a simple game in its approach, so betting is made easy as well. You do not have any bet lines to worry about, so you are free to bet as little as £0.01 if you wish to or go up to the maximum bet of £20. This should appeal to most players given the unique nature of this slot. There are not many games in the casino where there is such a narrow range of bet lines. Again, do not let this fact fool you. There are plenty of options to win depending on how the balls line up. Stripes or solids? This makes all the difference in the world.
Special Features and Free Spins
This game is so simple that there are not any bonus rounds. Not only that, you will not find any scatters or wilds here either. You might think what is the point? Remember that this is billiards. It all comes down to the nature of the ball, namely stripes or solids. If you have three 14 or 15 balls that are striped, for example, you will win 200 coins. Depending on what your bet was, you will take home quite the sum of cash. Even three solid balls of any colour will win you 4 coins. In total, there are nine combination that will allow you to win.
You will only find one special symbol built into this slot. It is the star like symbol that looks like a halo. While this symbol will not actually activate any special bonus opportunities, it will give you the best possible chance to win a lot of money. It is, in essence, a jackpot of its own making. Another feature of this game is that there are two distinct betting options. You can set your bet high or low. You actually click this on the playing screen and you can change it any time. This appeals to all different types of players.
Mobile Version of 8 Ball Slots
Because this game only has three reels and one bet line, it is perfect for the mobile environment. You can play it on your smartphone or tablet and not miss out on anything. You will enjoy watching the various spins that you make take place on the smaller screen. We want to suggest that you play this in landscape mode. That will make it easier to see each of the symbols as they spin around. You will also be able to enjoy the great sound effects and background music as you play on your mobile device as well.
Before You Start – Consider These Other Great Slots as Well
You might notice that the rating for this slot is a bit low at only 4.2. That is not because we do not like it. In fact, we think the strength of this slot lies in its simplicity. It does not take a lot of energy to play this game, and the results can be stunning. At the same time, it does lack many of the special features that players today look for. We get that, however, you should also consider the fact that this slot also has an outstanding RTP of nearly 97%. All this means is that you really do have a good chance to win some of your wagers on this one.
Rating:

3.7/5

Powered by:

SG Interactive

Play at:

LeoVegas Casino
Rating:

4.5/5

Powered by:

NextGen Gaming

Play at:

Royal Panda Casino
Rating:

4.4/5

Powered by:

NetEnt

Play at:

LeoVegas Casino
This is one of those slots that you really need to play in order to truly appreciate. Once you have a few spins, we are confident that you will see some the merits that we have noted in this review as well. Take your time and get to enjoy it. If you are ready to move on after a few spins, then we encourage you to take a look at some of the reviews that we have written. You can find three of them above, whilst the rest of them are located in our guide to the greatest online slot games on the market.