100 Pandas Slot Review – Playing Rules and How to Win
We do not know anyone who does not love to look at pandas. Now, you can watch them wrap around the screen with every spin with this creative slot launched by IGT in 2013. This slot has retained its popularity because of its unique design, right down to its impressive 100 bet lines. That is a lot of ways to win, and it also amps up the excitement level that players are sure to feel with every new spin. You will also find a host of special features incorporated into the design of this slot that we want to tell you about.
While some players might be tempted to just start playing this slot without really knowing what it is all about, we do not recommend this strategy. That is why we have gone ahead and written this 100 Pandas guide where we tackle all the important questions that may arise. Our goal is to go over each part of the slot so that you can really enjoy every spin that you eventually make. With so many different symbols and characters, along with the 100 bet lines alone, there is a lot of ground to cover. Read through the review and then begin playing. That will give you the best chance at knowing how to win some money in the end.
The Pandas Save the Day – Play This Slot for Free
If you really want to get the hang of this slot quickly, play the demo version. Sure, you will not win any money with this one, but you won't be spending any either. This is the best way to encounter the pandas and their various symbols. You will see just what it takes to create a winning combination, and perhaps to hit it big by getting multiple bet lines under your belt. There is no risk involved when playing the free version, and it is a great deal of fun to boot. When you are ready to move on, you can go and play for real money.
The prospect of playing for money is probably what got you interested in this slot in the first place. Now that you have played the demo version a few times, it may very well be time for you to get over to an online casino, deposit some money, and begin hitting that spin button on 100 Pandas. When you do that, we want to suggest that you go to Casumo Casino. Currently, the operator offers up to £25 welcome bonus plus 20 bonus spins on Book of Dead.
Let's Look at the Game – Winning Rules
Pandas are adorable creatures. You know this by seeing them on movies, in zoos, and on documentaries. These pandas want to help you win some money, so it is time to start looking at the game itself. The symbols are all in the form of something Asian. You will begin this slot by deciding on your bet. Pay attention to that section of our review so you understand what the limits are. Once you do that, you just have to hit the spin button that is located in the centre of the screen. You will know the results not long after you do that.
Reading the Paytable
We admit that we were a bit shocked ourselves when we read how many bet lines were built into this slot. At the same time, we were excited to see how it works so well. Each spin brings something new. You might want to know what it takes to win on those 100 pay lines. We did too, and that is why we referred back to the pay table on more than one occasion. Not only will this give you a picture of where each of the win lines reside on the playing screen, but you will also be able to find out the coin value attached to each winning symbol.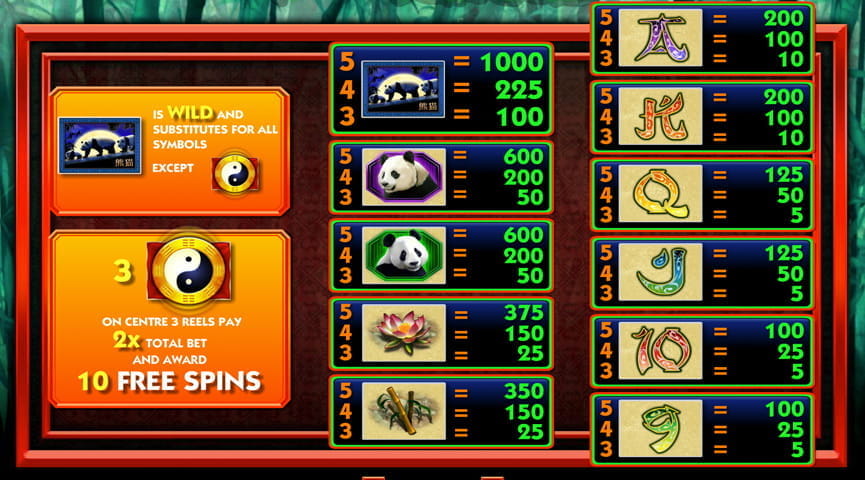 Advantages:
100 ways to win
Quick spin feature
Winning Symbol Substitution
Free Spins
Expanding Wilds
Fun to play
Disadvantages:
No progressive jackpot
No bonus game
There are many different ways to bet on this slot. High rollers will be particularly happy, as they can bet up to £3,000 on each spin. This has to do with the fact that there are so many bet lines, and the reality that the game assigns a maximum coin value of £30. Do not worry, as you do not have to bet nearly that much if you do not want to. In fact, the minimum bet is only £1. While this might be more than most other slots online today, keep in mind that not many games provide 100 different bet lines to win on.
Special Features and Free Spins
The truly special nature of this slot resides in the many extra features and symbols that are included. You will notice some graphics with a distinctly Asian theme. That will help to set the mood for each spin that you make. You will love the sound effects and the stacked wilds. Those wilds will provide you with an opportunity to grow your bank balance exponentially when they begin to appear. You just need to have the right number in the right place, and then you will be well on your way to victory.
There is a bonus round with 100 Pandas that we want to tell you about. You will activate this feature when you receive at least three scatter symbols on the three reels in the middle. As soon as you get this, you will given a total of ten free spins, each coming with some more stacked wilds. You will find that this improves your odds of winning with the free spins, particularly if more wild symbols appear. You can keep winning free spins until they all run out, after which time you will be taken back to the main game.
Mobile Version of 100 Pandas
While we admit that slot looks great on a desktop computer given their size, it is not always convenient to play them there. This is why IGT has developed a mobile version of 100 Pandas that we are pleased to tell you about. We have played it and it looks fantastic. You will enjoy the same quality graphics and sound effects. In fact, you will not miss out on anything. Each of the symbols and reels show up nicely on both a smartphone and a tablet. Just load up the game and start spinning whenever you feel like it. You are in total control here.
Before You Start – Consider These Other Great Slots as Well
This is a slot that was built for traditional machines and the online environment. That should show you just how special it really is. You will find that there are so many different ways to win with this one that you could play it for days and not encounter all of them. The RTP is a bit lower than we would like to see it, but we feel that can be overlooked given how much work went into the development of this slot. It is certainly worth you giving it a try. Hit that spin button a few times and see what you think.
Rating:

4.7/5

Powered by:

NextGen Gaming

Play at:

Royal Panda Casino
Rating:

4.4/5

Powered by:

Microgaming

Play at:

32Red Casino
Rating:

4.5/5

Powered by:

PlayTech

Play at:

Mansion Casino
We encourage you to give this slot a try. As soon as you begin to see the pandas appear, along with their sticks of bamboo, we are confident that you will be hooked. You can always start with the free version first just to see if you agree with us. After that, you will probably find that your toughest decision of the day is choosing how much real money you want to wager on your next spin. In case you want to try something different, we would like to direct you to our page, dedicated to the most amazing slot games that are currently available.