100 Ladies Slot Review – Playing Rules and How to Win
The title of this slot does not necessarily paint the right picture in your mind, but we can tell that this game is loaded with fun features. The theme is lady bugs, so that should set you in the right direction. It based on a story line that involves, you guessed it, 100 ladybugs. It takes place over 5 reels. What makes this slot so special is the presence of 100 different bet lines. Now, that is rather impressive in its own right, but it keeps with the theme of the number 100. You will also find four rows built into the structure of this slot, which makes it a bit unique as well.
The rationale behind writing this review was to provide our readers with the knowledge they need to get the maximum pleasure out of playing this slot. Having conducted more than a few spins of 100 Ladies ourselves, we have been able to gain a better understanding of the theme and the 100 different bet lines that make it so special. Developed by IGT in 2014, this slot has become so popular because of its unique mechanics, beautiful graphics and big winnings. This review should be helpful in detailing some of those special features so that you will better understand what is transpiring with each spin that you make.
The Bugs Save the Day – Play This Slot for Free
It is possible that people reading our reviews wonder why we point them to the demo version of these slots from the outset. It is because we know what it takes to really enjoy the spins that are made with each game, and that begins with experience. A slot is meant to be enjoyable even if you do not bet money on it. With this principle in mind, it is beneficial to first play the free version of this slot a few times just so you can see what is happening each time you hit that spin button. The real money version of the game will always be there waiting for you when you are ready.
LeoVegas casino has a promotion that you need to know about when you are ready to bet some real money on 100 Ladies. When you open an account with them and make your first deposit, they will match that pound for pound up to £100. Keep in mind that you can deposit £50, £25 or even £10 to take advantage of the offer. Just make sure that you are comfortable with the amount. Then, the operator will match and add it to your balance. You can then use that cash to play this slot quite a few times.
Let's Look at the Game – Winning Rules
This slot is so unique, starting with its title and going right through the story revolving around 100 cute lady bugs. IGT has really done a good job at providing players with a creative slot experience that should certainly make for more than a few spins. The slot itself has 5 reels and 4 rows. What is really impressive are the 100 bet lines that you will notice being interwoven throughout the game. This makes for quite a few possibilities, and it means that every spin will be looked at with eager anticipation. Just place your bet, hit spin, and then look to see what happens
Reading the Paytable
There are so many different ways that you can win with this slot that you might understandably think that it is impossible to keep them all straight. You do not have to worry about this. Just pull up the pay table anytime that you are in question. You will then be able to see not only the 100 bet lines, but also a description of the special features and how they are activated as well. This will detail the coin values attached to each symbol and how the special features work to bring you some additional money. Remember to click on pay table at any time to pull this handy screen up while you are playing.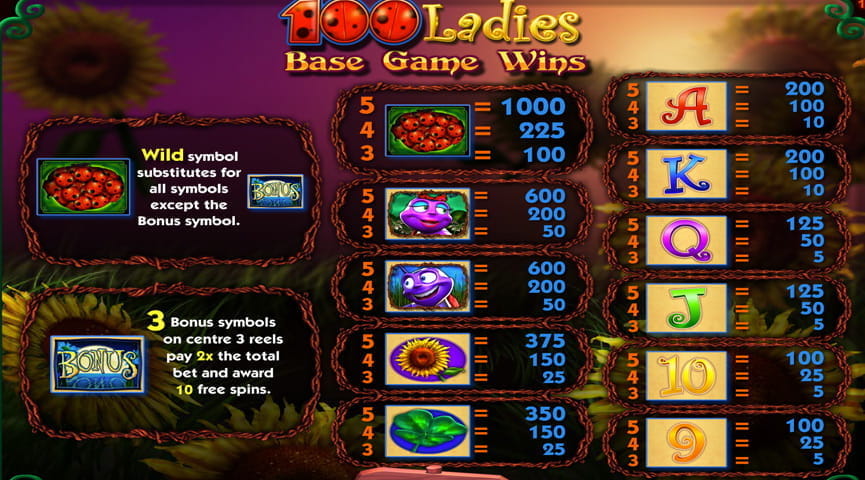 Advantages:
100 ways to win
Quick spin feature
Bonus symbols
Free Spins
Expanding Wilds
Fun to play
Disadvantages:
No progressive jackpot
No bonus game
No matter what type of player you are, this slot will have a betting range that appeals to you. you might be a low roller. That is fine. With a minimum coin size of £0.01, the lowest amount you can wager on each spin is £1. Now, if you are a high roller, this slot will really appeal to you. While most slots limit their bets to less than £250 per spin, this one allows you to go as high as £3,000. This is because the maximum coin size is £30, and there are 100 possible bet lines to take into consideration.
Special Features and Free Spins
Let us talk here about some of the standard symbols that you will see with this slot. They include some four leaf clovers and sunflowers. When those appear, along with the wild symbol (a 100 Ladies symbol in this case), you can win big. There is also the bonus symbol to look out for. This is the chamomile flower. When you get three of these on the middle reels, you will receive a multiplier of 2 and a total of 10 free spins. Keep in mind that you can keep winning additional free spins before you have used your initial ones up.
When you get a wild symbol, it will substitute for any other symbol on the playing screen. The cool thing about this feature is that the substituted symbol will be the one that pays out the most given the other characters that appear on each bet line. Speaking of bet lines, you can win on more than one of them during any given spin. Imagine hitting 30 bet lines, for example, on a particular spin. It will be fun to watch the screen light up and to see your account balance increase accordingly.
Mobile Version of 100 Ladies
We do not think there is any reason that you should be stuck at home in front of your computer as you play your favourite slots. It is comforting to note that IGT feels the same way, as evidenced by the mobile version of 100 Ladies that they have created. You will be able to enjoy the same great creatures, graphics, and animations on your mobile phone or tablet. We do notice that the game appears much better when you have the screen in landscape mode. This is because it has four rows instead of the standard three on most slots today.
Before You Start – Consider These Other Great Slots as Well
A great deal goes into giving a slot its final rating. We have rated this one so high because it is so enjoyable to play. Not only are there many ways to win, but there is also the great story line to take into consideration. This slot seems to tick off all the marks, right down to a high RTP that makes players feel like they have a decent chance to win some money. Add that to the special features that pop up from time to time, and this is one that you should feel comfortable with in the long run.
Rating:

4.6/5

Powered by:

Microgaming

Play at:

Betway Casino
Warlords Crystals of Power
Rating:

4.8/5

Powered by:

NetEnt

Play at:

Casumo Casino
Rating:

3.5/5

Powered by:

IGT

Play at:

Mr Green Casino
Playing this slot will leave you in a good mood. It is bright and cheery. You will not encounter any dark moments with this game, and you might just win a nice chunk of change in the process. You will enjoy the special effects and the background music. Everything works together to create a special ambiance that is not replicated on many slots today. When you are ready for a change, go ahead and preview some of the other slots that we have taken the time to review for you. And if those three options don't cut it for you, you should take a look at the best online slot casino sites in Britain.