1. Callie Rogers – £1.9 MillionK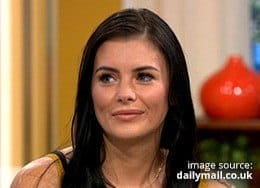 In 2003, Callie Rogers became the youngest lottery winner in the United Kingdom. The then 16-year-old Cumbria girl was living in foster care and working as a cashier at Co-op when she won £1.9 million from the National Lottery. Winning such a high amount of money would change anyone's life and Callie was not an exception. Coming from a broken family and suffering continuous financial issues, Rogers went through sudden gravitation towards luxury and escapism and slowly began losing control of her new lifestyle. Allegedly, Callie spent £11,500 on two breast augmentation surgeries, £85,000 on luxury sports cars, £300,000 on clothes and £250,000 on cocaine. However, some of her money was wisely spent as she bought herself a £180,000 bungalow and new home worth £76,000 for her mother.
Unfortunately, however, the pressure of Callie's new unhealthy lifestyle and the responsibility of being a mother, after she gave birth to her son Kian in 2005, eventually caught up with her. Affected by her new life, Callie tried to commit suicide by taking sleeping pills and paracetamol. Fortunately, her family found her on time and took her to a hospital. In 2013, Callie Rogers claimed that she only had £2,000 left on her and that she felt happier than ever. The lottery winner has also expressed her indignation towards the National Lottery and its policy to allow people under 18 to participate in the lotto draw. Eager to find out more Callie Rogers? Take a look at our article about the life of Callie before and after the win.
2. Jane Park – £1 Million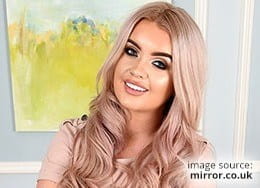 Jane Park is another British lottery winner that became a millionaire when she was only 17-year-old. Nowadays, however, the Scottish girl is also known as being the most controversial lottery winner, who is often a subject of media attention. But what is her story? In 2013, Jane Park scooped £1 million from EuroMillions when she played the game for the first time. At the time of her win, Park worked as an admin temp for £8 per hour and lived in a two-bedroom Edinburgh council flat, which she shared with her mother, Linda. Inevitably, however, becoming a millionaire changed her life and lifestyle. Unlike many lottery winners, Jane decided to go public with her win and announced it with a post on Facebook. According to the BBC film Teenage Millionaire: The Year I Won the Lottery, the first few weeks were too overwhelming for Jane with people constantly coming up to her and her Grandmother doubting that winning the lottery would be beneficial for her, especially at her young age. And she was probably right, considering the major spending spree that Jane went on after she cashed her winning check. Ready to hear her story? Check out her interview on ITV's Loose Women below:
Wondering how Jane Park started spending her money? According to our information, Jane quit her job, spent two months in the Spanish resort city Magaluf and then bought a new mansion in the outskirts of Edinburgh. She also spoilt herself with new Louis Vuitton bags, designer clothes and a few more vacations to the Maldives and the United States. Her shopping spree, however, did not stop there as she also bought £17,000 Volkswagen Beetle, a £25,000 BMW, and an £18,000 Range Rover. Nevertheless, the major impact that being a millionaire had on her was probably her urge to go under the knife. Jane spent £5,000 on a breast augmentation surgery and another few thousand pounds on a Brazilian bum lift procedure in Turkey. Unfortunately, however, the surgery did not go as smoothly as expected and Park experienced a number of complications. Nowadays, Park claims that winning the lottery did not necessarily make her happier and she even considered suing the National Lottery for allowing people under 18 to participate in the lottery draws but eventually changed her mind.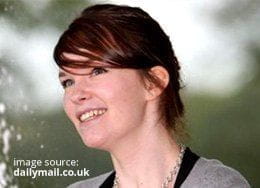 Back in 2008, Ianthe Fullagar was just 18-year-old when she hit the EuroMillions jackpot of approximately £7 Million. This was her second participation in the lottery and she was drawn to it due to the fact that the total jackpot was more than £100 million. When she first realised she had won, she could not believe it. Ianthe was, in fact, shaking so much that she could not hold the phone and she had to get her mother to call the Lottery hotline. After her win was confirmed, the lucky winner had to wait to collect her share of the Friday night's draw. Meanwhile, she decided to hide her ticket in a jewellery box, in a gym bag and even in her bra to make sure it would not go missing. At the time of her win, Ianthe Fullagar was a law student on a gap year and earned £4.75 as a part-time waitress. Unlike other winners, however, Ianthe said that she would stay grounded and follow her initial plan to go back to university following her gap year. The lucky winner also mentioned that she would share her money with friends and family and that she might buy a new car for herself but not anything too flashy.
Following her win, Ianthe Fullagar has kept herself away from the media attention. However, in 2010 she was named by the Sunday Times as the 27th richest person in the UK, after deciding to invest her money for the future. Just two years later, she still stood as the 38th richest young person in the United Kingdom, so we can assume that she decided to manage her fortune wisely and not go on a wild spending spree like many other lottery winners.
4. Leah Sumray – £1 Million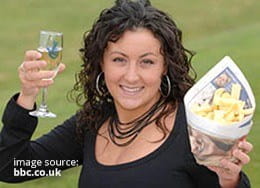 Leah Sumray is another lucky lottery winner, who had the chance to become a millionaire when she was only 21-year-old. In 2007, the chip-shop waitress from St Ives, Cornwall, won £1 million from a £5 scratchcard. When she first found out that she had won, Leah rushed home to share the good news with her family. Her mother, however, was not surprised as according to her Leah has always been lucky. Her original plans were to treat her family with a holiday to the Caribbean, before going on a shopping spree to New York. According to old interviews, she also wanted to take driving lessons and buy a new car for herself.
It seems, however, that destiny had other plans for her. Just a few months later, in 2008, Leah was arrested at Bristol Airport on return from Fuerteventura, where she went on a holiday with her family. According to our information, Leah had ignored a witness summons to testify in an assault trial at Truro Crown Court. Even though she claimed that she meant no harm and that her holiday was actually booked in advance, she was eventually jailed for 14 days and ordered to pay £200 costs. Leah, however, felt that she was made an example of simply because she was a lottery winner. She also shared that her experience behind bars was traumatising as she locked up with real criminals. What concerned her the most, however, was the fact that having a record was going to affect her future as employers run criminal checks. Her lawyer Giovanni Di Stefano filed an appeal with the argument that there was a misinterpretation of the law. The appeal, however, was considered and rejected by Judge Christopher Elwen, who told her there was no excuse for her behaviour.
5. Michael Carroll – £9 Million
Back in 2002, Michael Carroll from Norfolk, England was just 19 years old when he was lucky enough to win £9,736,131 from the National Lottery. Michael, who was employed part-time as a bin man at the time of his win, has had a rather tough childhood and adolescence. His mother worked at a canning factory and his father was an RAF engineer. When Michael was 18 months old, his father was incarcerated in a military prison for 11 years for stabbing a couple, he got into a fight with at a dance. He eventually passed away when Carroll was ten years old. Meanwhile, Michael had various stepfather some of which mistreated him harshly. In various interviews, Michael Carroll has stated that he suffers from dyslexia and that as a child he was diagnosed with ADHD. Thus, it comes as no surprise that he always struggled with his studies and he was barely literate by the time he finished secondary school. In fact, when he was 13 he received a custodial sentence for shoplifting and was sent to Hollesley Bay Prison where he claims to have learned how to read and write. When he won the lottery, Michael did not have a bank account and tried to open one at Coutts. However, his application was rejected due to his criminal record.
Nevertheless, this did certainly not stop him from collecting his reward and becoming one of the youngest millionaires in the United Kingdom. After winning his fortune, Michael claimed that he would not be tempted to spend his money lavishly and that his plans were to buy a three-bedroom house near a lake where he would go fishing. Unfortunately, however, just like many other lotto winners, Michael Carroll decided to act his age and quickly started splashing his fortune. In 2005 he participated in a celebrity boxing match where he was allegedly defeated by Mark Smith, a former star of the TV show Rhinos. The judges, however, declared Michael a draw. A year later, Michael was a subject of the biographical documentary Michael Carroll: King of Chavs, where he told his full story. It is also an interesting fact that in June 2015, Michael was also given an ASBO by the court after being found out that while he was inebriated, he started catapulting steel balls from his Mercedes van and breaking 32 car and shop windows. According to the media, in 2006 Michael had already blown his fortune on drugs, parties, new homes, cards and jewellery. The lottery winner, however, denied the rumours claiming that he still had a part of his fortune left. After a few more years of wild, luxurious life, and unfortunate events such as dealing blackmailers, Michael Carroll was truly broke. In 2010, he even applied for his old job as a binman. He claims, however, that he has no regrets on how he spent his winnings. Did you find his story interesting? Read all about the lotto winner in our article Michael Carroll – Britain's Most Notorious Lotto Millionaire.
Did You Like the Story of the Youngest Lottery Winners?
Maybe not all of our young lottery winners made the right choices and money made them miserable, but this certainly does not have to be every lotto winner's case. If you want to take a chance, you can now play the lottery online! Check out the sites with the best lottery tickets to buy and discover which is the most convenient for you. With a little bit of luck on your side, you might even become the next lottery millionaire! Even Canadian players can become young winners by learning more about the Canadian lotteries here.
Popular Questions
We hope you enjoyed our story about the youngest lottery winners in the UK. Still, however, we realise that their luck could raise a lot of questions. Therefore, for your convenience, we have picked some of the most popular questions about our featured UK lottery winners.
Who is the youngest lottery winner in the UK?
Callie Rogers is the youngest lottery winner in the UK. In 2003, the then 16-year old Cumbria girl won the impressive £1.9 million from the National Lottery. You can learn more about her story in our dedicated article about Callie Rogers' s life after the win.
Where do lottery winners put their money in the UK?
As far as we know, Ianthe Fullagar seems to be the only one of the UK's youngest lottery winners who have invested its winnings. According to our information, most of the young lottery millionaires in the UK are not known for making any particular investments.
Is Jane Park the youngest lottery winner in the UK?
No, Jane Park is not the youngest lottery winner in the UK. She is, however, the youngest person to have won Euromillions in Great Britain. Back in 2013, at just 17, Jane Park won the impressive £1 million from the lottery.
Are all British lottery winners publicly known?
No, not all of the youngest lottery winners in the UK are publicly known. While some have clearly enjoyed the attention from the media, others have decided to remain in the anonymity. We have picked some of the most interesting stories about famous lottery winners in our dedicated article.
How long do you have to be to play the lottery?
In the UK, a person must be at least 16 years old to buy scratchcards or to play lotto. Tickets can be bought in person from the approved premises, or online at the best lotto sites. Even though some of the youngest lottery winners have criticised the current practice, the minimum age for playing the lottery is not expected to be raised.