Where It All Began
One of the greatest gunfighters in the wild west was born on a farm in Illinois on May 27, 1837. He didn't stay long there and at the age of 18 headed west. Many say he was a fugitive from justice and found work as a driver mainly, in order to make a living. Later on, Wild Bill lived also in Kansas and Nebraska. In between, he fought for the Union Army in the American civil war. He also protected towns as part of the local police departments in those regions. More on that in a minute.
The Family
His father, William Hickok, was an activist and a farmer married to Pully Butler. They were part of the secret underground railroads in the USA in the mid-1800s meant for a hidden escape route to Canada. Wild Bill's father dies when he was 15 years old or in 1852, but he managed to discover and evolve his shooting capabilities. The kid was locally known as an amazing sharpshooter at such a young age. Unfortunately, there are not many records of his family and relatives.
The Young Wild Bill Hickok
Let's start with the colour of his hair – many speculate it was actually red, because with the used old photo technologies, red objects appeared black. Regardless the young age and the family farm, when Bill turned 18, he moved to Kansas. There he joined the fight against slavery with the "General" Lane's movement. The reason Wild Bill picked that state exactly was a fight with Charles Hudson. They were chasing each other like cat and mouse.
On a later stage, in the 1860s, Hickok moved to Nebraska, where he got one of his famous nicknames because of his long nose and bulge lips – Duck Bill. He even used his late brother's name (William Hickok) during the Civil War in the USA. After he got arrested and let go in 1865. Wild Bill switched back to his given name the following year.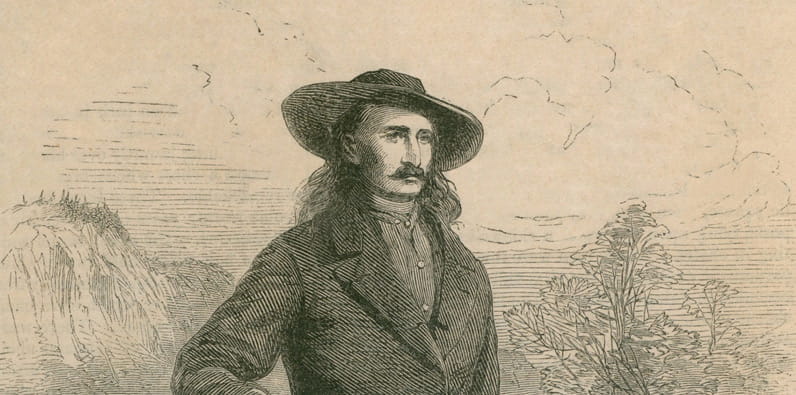 Hickok and His Career
While leaving in Kansas, Bill worked as a driver for Pony Express. He had a blooming life and even got elected as one of the first four policeman of the Monticello Township. Things got a bit rough in 1859 though, when Wild Bill Hickok joined the Pony Expresses parent company. On his way to Santa Fe, New Mexico, Hickok and his travel companions were confronted by a bear. The brave man tries to kill it on spot, but the bullet ricocheted off its skull. Affected, the animal attacked. Its paw was shut off and then its throat was slut. Bill suffered great injuries – shoulder, chest and arm.
Several years later, the hero of our story killed its first victim – David McCanles. The adventure doesn't end there. He went to the widow of the dead man willingly, apologised to her and offered every dollar he possessed at the time ($35). Guess what, she took the money.
After that accident, James joined the Union Army in Missouri. Few years later, he was discharged and moved to General James Henry Lane's Kansas Brigade. Then, Bill became a detective for the marshal of southwest Missouri. All he had to do is count soldiers drinking on duty, the hotel liquor licenses and collecting debts to the army.
Hickok went through several other killings – some in duels, others while saving innocent people or while he was a marshal of Abilene, Kansas. There is one interesting case with Phil Coe and his Bull's Head Saloon. In that place, there was a painting of an erected bull, which bothered the visiting citizens. They had complained to the Marshal a.k.a Wild Bill and he wanted the owner to take the painting off. Coe refused. In a few days period, in a crowd outside the saloon, Phill fired two times at Hickok to kill him and missed. That was his biggest mistake. After Bill killed the owner of the establishment, he also shot Abilene Special Deputy Marshal Mike Williams but this time by mistake. He saw a threat in the crowd without recognising the marshal.
Even the war service and all the police work done, the Dead man's hand ended up in Springfield, drinking and gambling. Even though he had a splendid career, every incident and unwanted death got to him. He wanted to escape it all and ended up at the poker table.
Why the Dead Man's Hand?
Everything happened in the spring of 1876, when Hickok arrived in a mining town called Deadwood, South Dakota. It was 1st August and Wild Bill was staring with surprise and amusement the drunk fella taking advantage of the opened-up seat at the poker table. That was Jack McCall and he lost heavily that day. He was even advised to quit and cover his losses. All that was understood the wrong way and insulted he went away.
The next day, the same place, same people but Bill was facing a challenge. His regular seat by the wall was occupied (he liked to keep an eye on the door), so he had to sit facing away from the door. He even tried asking the other players at the table to switch places, like Charles Rich to be exact, but he refused.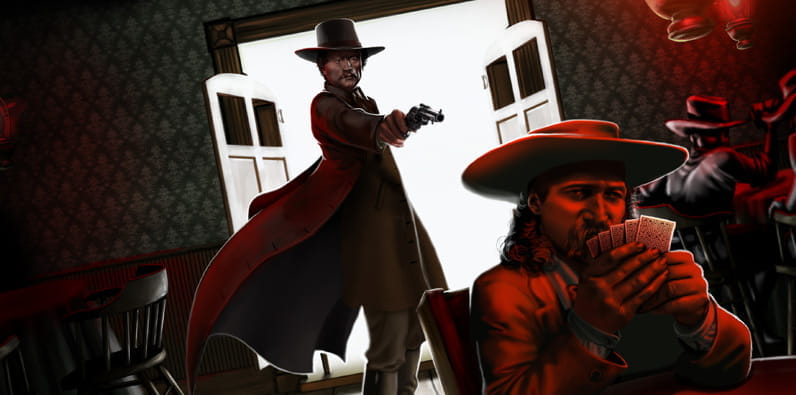 That day was definitely not the right one for sitting with his back towards the door. McCall, the guy from the previous day, still pissed at Wild Bill for beating him at poker. Once in the saloon, he pulls out a Colt Model 1873 Single Action Army .45-caliber and kills his nemesis at point-blank. Eyewitnesses still remember the cards Wild Bill was holding – there were two black aces and two black eights. Many say, that Dead man's hand Hickok had a bad feeling the moment his foot stepped into Deadwood. Nonetheless, McCall was convicted, which turned into a death penalty by hanging.