US Presidential Election 2020 – Odds Explained
For those of you who don't know, in betting, odds are a unique multiplier which is there to determine the winnings for each specific outcome that is priced up. The betting odds are a reflection of the chances of that particular event coming to pass. In the case of the US presidential elections 2020, a besmirched reputation may be a severe detriment that could affect a candidate's credentials and, in turn, their chances of winning, and finally, odds. A case in point is Donald Trump with his infamous public stunts and sharp tongue.
Donald Trump is one of the politicians who came up for a lot of criticism on behalf of the mainstream media in the past couple of years. You would think because of that he's a big dog to win 2020's elections, but In the face of all the criticism, he still has the shortest odds. His odds being so shorts means that his chances of success are deemed high according to experts in the field. Our understanding of short is 1.80 (decimal), which is close to even money. In the early days of the year 2020, his chances of winning were valued at +125 (American od), which is 1.25 in decimal form. In the next paragraph, we'll do the math on how much you can win potentially judging from the current state of play.
2020 US Presidential Election Odds and Wins
To get a feel for the potential of any betting market, you first need to examine the odds thereof. Featured below is a snapshot of the 2020 US election betting odds of a respected international sportsbook at the moment of writing. At first blush, it's easy to see that the three favourites are Donald Trump, Bernie Sanders, and Joe Biden – at least if we are to trust the odds. A wager on the latter two promises a return of six times your money, which is great by all standards.
US Election betting Odds January 2020
| Candidate | Odds | Candidate | Odds |
| --- | --- | --- | --- |
| Donald Trump | 1.80 | Bernie Sanders | 6.00 |
| Joe Biden | 6.00 | Michael Bloomberg | 13.00 |
| Elizabeth Warren | 17.00 | Peter Buttigieg | 23.00 |
| Andrew Yang | 26.00 | Hillary Clinton | 51.00 |
| Amy Klobuchar | 67.00 | Mike Pence | 101.00 |
| Nikki Haley | 151.00 | Tulsi Gabbard | 151.00 |
| Tom Steyer | 151.00 | Michelle Obama | 201.00 |
The thing is that the market is very dynamic, and you have to act quickly lest the odds are changed. Going back to the example from the previous section where we explained the US election betting odds, in the very first days of 2020, Donald Trump had odds of 1.25. That means a return of one unit for every for units bet, still acceptable even for an outright wager. Just for a week or so, his odds climbed to 1.70, nowadays even 1.80. That's a growth of 300% or three times the potential return! And comes to show why timing is of the utmost importance when betting the 2020 US election odds.
Meet the Candidates – Who's Running for President in 2020
In the table above you might see your favourite candidate, shh, you don't have to tell us, voting is strictly confidential. It's no secret, however, that the former first lady and mom of two has already given a number of reasons why she's not enticed by the idea of having the top job in the country, hence the juicy odds of 201.00.
Keep in mind that the selection cited above could be slightly different depending on the sportsbook. For example, many are pinning their hopes on Oprah Winfrey running for president, so some bookies would entertain that possibility and offer odds for a Winfrey win. The market for the top guns Joe Biden and Bernie Sanders can also be seen on almost every bookie. Both candidates maintain odds around the 6.00 mark and even higher in some political betting sites in Canada.
US 2020 Election Odds – Betting on Politics from the States
To make sure the law isn't standing in your way to making a nice profit off of wagering online, take a look at our all-in-one USA gambling guide. One of the states with a permissive stance on gambling is New Jersey. Sports and political betting aren't a new thing for the state of New Jersey. 2018 introduced the change in the gambling law that made remote betting legal. By the same virtue, you'll have no problems at all, placing bets on the upcoming elections from within the state.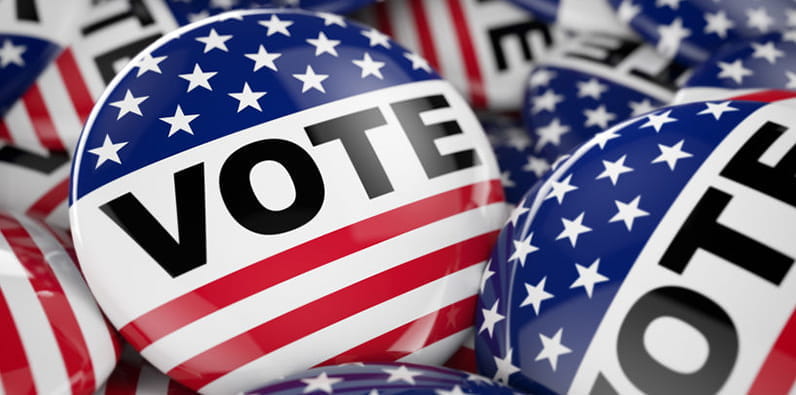 Unfortunately, online betting is still largely prohibited in the United States and that leaves us with not so many options. Aside from New Jersey, sportsbook sites can be accessed from a handful of other states including Pennsylvania, and Nevada. Some online bookmakers in Delaware are also laying odds on the 2020 US presidential election odds. If you're having troubles finding a site which takes bets on the elections, you can always try a Europe-based bookie catering to US citizens. There are choices aplenty fitting that description, so don't you worry about it.
Aside from the standard betting sites, there's one experimental online platform similar to a stock market that allows users to buy and sell shares, the price of which is directly related to the chances of a certain political figure of winning the elections. The site we are talking about is experimental and most importantly legal because it started as a science project some time ago. The intent was to feed in the data for scientific and sociological research of which we can't testify but we, as punters, are certainly grateful that such site exists.
Wager the Next US Election Odds from India
India isn't all about horse racing, you've got to give more credit to the creative capacity of the bookies operating there. We know for a fact there are top Indian sports betting sites that can give you the 2020 US presidential election betting odds. If you want to cut to the chase, simply follow the link to our detailed guide on sports betting in India. When it comes to specific markets such as the elections, the sites available in the country are by no means lagging behind. To the contrary, the take somewhat kindly to the drama around the presidential elections of the United States, Great Britain's Brexit, and the general election polls of Australia. As long as you want to place a wager on any major political event, you are going to find the betting lines to materialise your plans.
Bet on the 2020 US Election Odds from Canada
Leaving matters such as gambling in the hands of provincial governments has made it possible for a few international bookmakers to operate on the territory of Canada. We meant to say that it's quite possible that not so many sportsbooks will be available to you as are available to UK punters for example. We have to say though, the odds are looking just as good, even better in some cases. Gambling in Canada isn't cut-and-dried, so on some occasions, local site accepting punters from the country may prove hard to find. In any case, we found a bunch of international sportsbooks willing to attend to the needs of Canadian players. If you want to get to know the bookies operating in the country, visit our Canada sports betting page. Our experts will start you up with a smattering of useful information and recommended operators.
British Betting Odds on US Presidential Election
Unlike politics, cherry-picking facts isn't a trait of the best UK sports betting sites. They are in the know of the latest political developments and try their best to offer fair odds to their customers on the main events of the political life across the pond. US election betting odds oftentimes take centre stage in the novelty markets of the accomplished British sportsbooks. Owing to the popularity of this type of betting, it's quite understandable why punters can see how the odds are being updated in real-time so as to be as accurate as possible.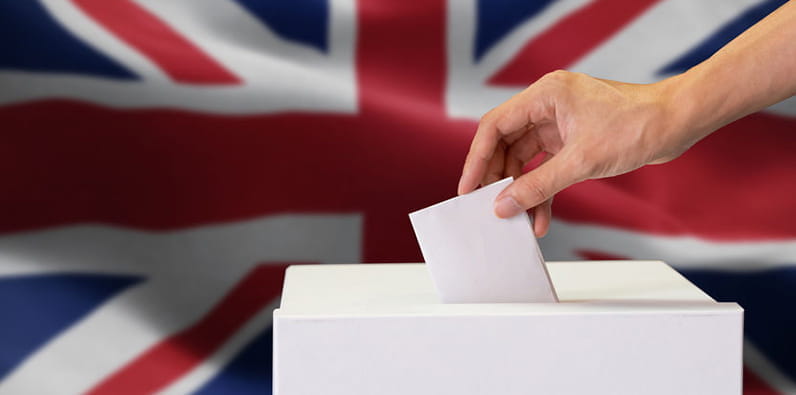 In addition to that, British bettors who want to lay odds or bet other players can utilise the service of a few betting exchanges to their advantage. A practical outlook on the industry reveals that the US election betting odds are better at the betting exchanges. Although the trend is towards that becoming commonplace, you can always rely on the odds scraping systems of the British sports betting sites to provide you with adequate odds not only on the presidential elections in the US but Great Britain and Australia too. Being too accurate is why prediction markets aren't very popular in North America. At the very least, such sites are being accused of interfering with the results from the polls. Some even go on to call prediction markets 'a better gauge than polls'.
Next US Election Odds – Victory Hangs in the Balance
We do our bit for the community and the planet by reducing carbon emissions, why can't we have a wager on the elections? Yes, you can, what's the hold-up? If you think it's a rewarding experience and it's permitted by the state law, and you have the self-awareness of doing it responsibly, then go ahead – back your favourite candidate up not only with your voice but also with a small wager. There's certainly no shortage of eligible US online gambling sites that will let you do that.