As ridiculous as… well, everything… so far had seemed, the President one-upped himself when he fired FBI director James Comey who was conducting the investigation into Russian meddling into the 2016 presidential elections. With "collusion" and "justice obstruction" allegations becoming more and more frequent, articles of impeachment were on the table and the bets on an early end to Trumps' White House tenure spiked. So, Comey cost Hilary Clinton's election win and now he could be the reason for Trump's impeachment? Well, somebody go wake up Jeb Bush and tell him they're starting over. Anyway, "Will Congress vote impeachment?" is what we're all asking, so let's see how betting and political experts are weighing in on the matter.
Was There Obstruction of Justice?
Unless you've been living under a rock or you have mastered ancient rituals and psychological techniques to disassociate yourself from the omnipresent "he's going to wipe us off the face of the planet" fear (in which case – do tell!), you can't have missed "Comey Day" – June 8th when the ousted FBI director James Comey testified before the Senate Intelligence Committee. Also known as the day that will remain in history as the first time ever when a fired FBI director has called an incumbent POTUS a liar trying to defame the bureau.
Comey's testimony was centred on Trump's demands for loyalty, with the president saying that he "hoped" the ex-former FBI director would let go of the investigation against national security adviser Michael Flynn which Comey interpreted as a "direction." The ex-top-cop also said that he believed he was fired by the president "because of the Russia investigation", which amplified concerns of obstruction of justice and comparisons with the Watergate-era.
The former FBI director pointed out that he felt the need to keep a record of his conversations with Trump – something he didn't do with two previous presidents – because he had concerns that the president might lie about the nature of their meetings. The blunt testimony of the former director of the bureau lifted a curtain displaying the indecent and most likely unlawful behaviour of Trump but it's what he didn't say at the hearing that may have a more detrimental effect on Trump's presidency. Comey left open worrisome questions although he seemed to know the answers to those but didn't want to discuss in an unclassified setting, leaving a trail of clues for special counsel Robert Mueller who is now investigating Donald Trump for obstruction of justice.
Predictions – Can Trump Really Be Impeached?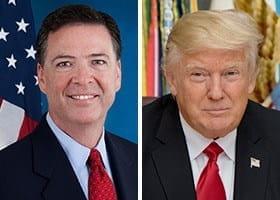 Bets on Trump's impeachment began at 25% in November when he was still president-elect. According to figures from Ladbrokes and Paddy Power, they spiked when it was announced that the fired FBI director James Comey will testify before the Senate regarding the Trump-Russia investigation. The online political stock market PredictIt saw a record volume of contracts on "Will Donald Trump be impeached in 2017?" – more than 100,000 in the 24 hours following reports of Comey's memos suggesting Trump had asked him to end the FBI's investigation into Michael Flynn's ties with Russia.
The bookmaker Paddy Power Betfair said its customers had laid out more than £5,000 on an early end to Trump's tenure in the hours after the reports on Trump having asked Comey to stop the FBI's investigation of Russia ties. The online betting site Ladbrokes cut the price of a Trump impeachment to odds-on at 4-5 from 11-10, equivalent to about 56% probability that Trump will leave the White House before his four-year mandate is up. However, after Comey gave his testimony, Ladbrokes reduced the odds of a Trump impeachment from 44% to 36%. That's probably due to the fact that despite Comey expressing confidence in Russia meddling in the 2016 US presidential election, he didn't state explicitly that Donald Trump had obstructed justice. Although legal experts agree that the written testimony offers evidence of obstruction of justice, the opinions on whether it would be enough for a conviction or impeachment were mixed.
Trump Will Be Impeached If Republicans Lose the House
The main reason impeachment is still unlikely is that it requires a majority in the House of Representatives to go to trial and a two-thirds majority in the Senate to make it happen. However, they are both under Republican control and even if a few Republican senators side with the Democrats on impeachment, according to the Constitution, impeachment advocates will need to whip the votes of at least 19 GOP members of the Senate to their cause for any chance of success and that's admittedly an almost impossible task. If 218 members of the House think that the president needs to be removed from office, he can be impeached. And whether two-thirds of the Senate will vote for impeachment is an entirely political decision. However, that remains unlikely, considering the likely composition of the Senate after the next election.
Is Resignation on the Table?
The other option for an early end to the Trump presidency is his resignation, which is what Richard Nixon did to short-cut his impeachment process. And that's not just unlikely; it borders unconceivable. What Nixon said in his resignation speech was "some of my judgments were wrong." Now, imagine Trump saying something remotely similar. Has he ever apologised for anything? Has he ever expressed regret over any of his decisions or tweets? He even tried to convince us that "covfefe" was not just a late-night tweet mishap but a secret word that select few were in on. Get your tinfoil hats, guys – we have a code to crack!
We're talking about a person who filed paperwork for his 2020 re-election bid five hours into his first term and launched an election campaign while he was having record-low approval ratings. Well, we're no psychologists but it would be an educated guess to dismiss a scenario involving Trump's resignation. Still, many experts and bookies believe that the Comey testimony is just the beginning and that things will only be getting worse for Trump, so the latest odds from Ladbrokes show that he is more likely than not to fail to make it to the end of his term. Following Donald Trump Jr.'s disclosure that he had arranged a meeting with a Russian government attorney to discuss what was purported to be information to be used against Hillary Clinton, odds on impeachment reached a record-high. The latest at Paddy Power are:
Will Trump Be Impeached in His First Term?
4/6
Will Trump Be Impeached in 2017?
2/1
Will Trump Be Impeached for Treason?
2/1
However, PredictIt sees just a 9% chance of Trump being impeached this year, down from the 30% chance it saw after James Comey was fired in May. Currently, at their "Will Donald Trump be impeached in 2017?" contract, you can buy:
It's not just betting sites weighing Trump's odds of impeachment since news of Trump Jr.'s Russia meeting. "We believe the risk of impeachment proceedings is now higher than before," Tina Fordham from Citi wrote, though she added that impeachment is still unlikely. "It would be highly unusual and indeed likely politically costly to the party's electoral prospects to pursue impeachment proceedings against a president of their own party, particularly with Midterm elections a little over a year away."
A Timeline of Donald Trump's Most WTF Moments
Robert Mueller's investigation is definitely the most WTF moment in Trump's deluge of WTF moments, so while we all wait to see how that's going to unfold, here are some of the most bizarre moments in the Trump presidency so far. Picking up just these was really hard, considering the plethora of memes President Trump and his administration have bestowed upon the internet – from the "alternative facts" to the microwave cameras and the Bowling Green Massacre – but still – here are some of the most WTF moments since Trump took office.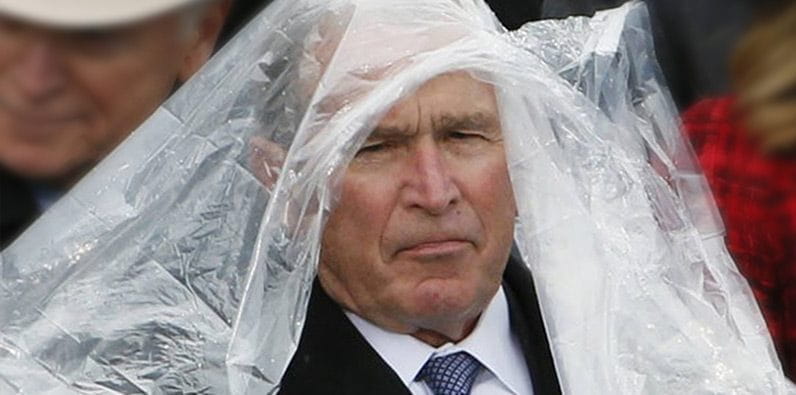 January 20th: In a bizarre inauguration speech that seemed like an extended tweet – complete with the dark pessimism and paranoid theory, Donald Trump slipped in the phrase "American carnage" which George W. Bush was reported to have described as "some weird shit."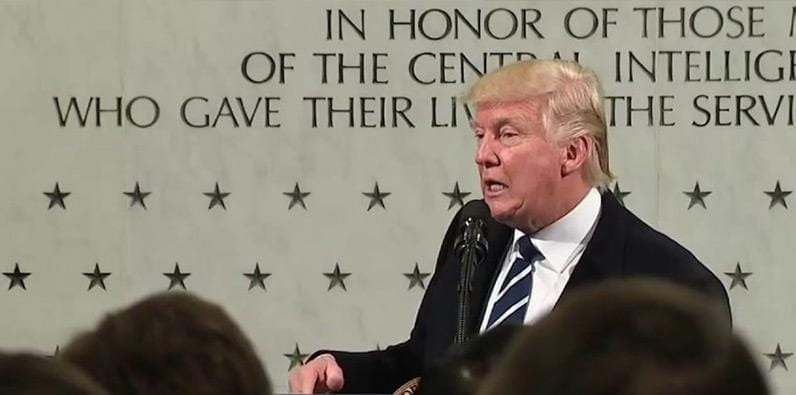 January 21st: In front of the CIA Memorial Wall, Trump accused the media of broadcasting "an empty field," when, to his eyes, "it looked like a million, a million-and-a-half people" attended his inauguration. He went on to elaborate on the idea that the United States might get "another chance" to seize Iraq's oil. Then he expressed his opinion on torture, saying it "absolutely" works and described receiving the nuclear codes as "It's very, very, very scary in a sense." On that last one, we agree. We're scared, too, Mr President.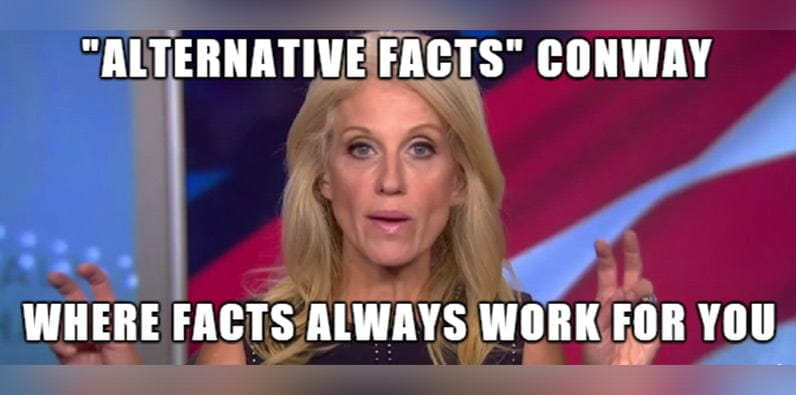 January 22nd: During a "Meet the Press" interview, U.S. Counselor to the President Kellyanne Conway coined the term "alternative facts" to describe Sean Spicer's falsehoods on the number of people attending the inauguration.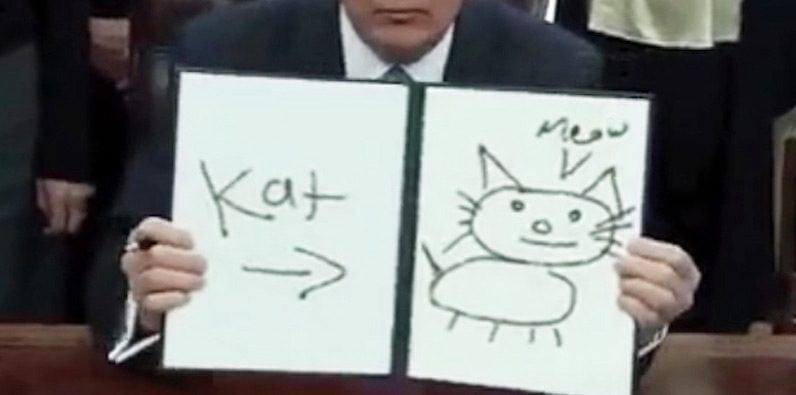 January 25th: Trump signed an executive order authorising the deportation of as many as 11 million undocumented immigrants and the executive order codifying the "Muslim ban."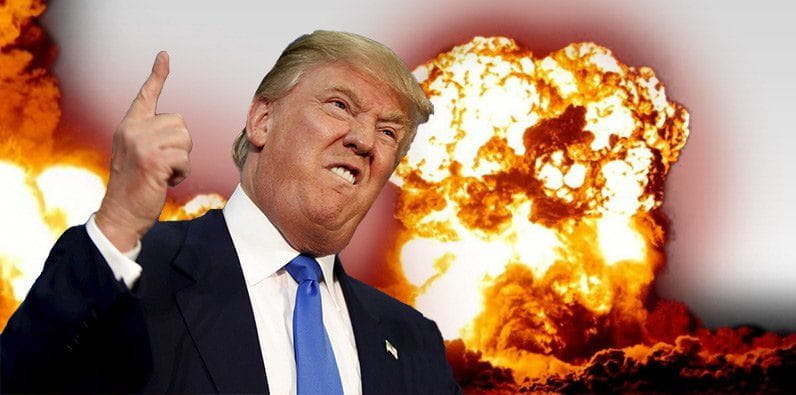 January 29th: Following a casual dinner discussion, Donald Trump authorised the Yakla Raid – a military raid on Yemen that went terribly wrong, resulting in the death of 30 civilians and a US Navy SEAL.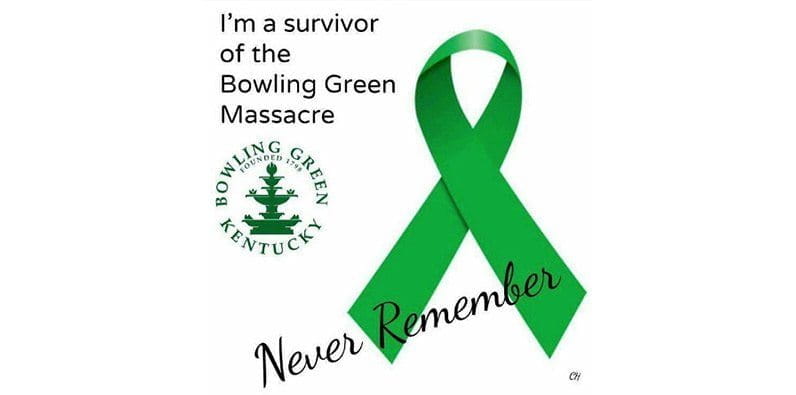 January 29th: In an attempt to defend the Muslim ban, Kellyanne Conway cited the "Bowling Green massacre" – a non-existent terrorist attack in Bowling Green, Kentucky.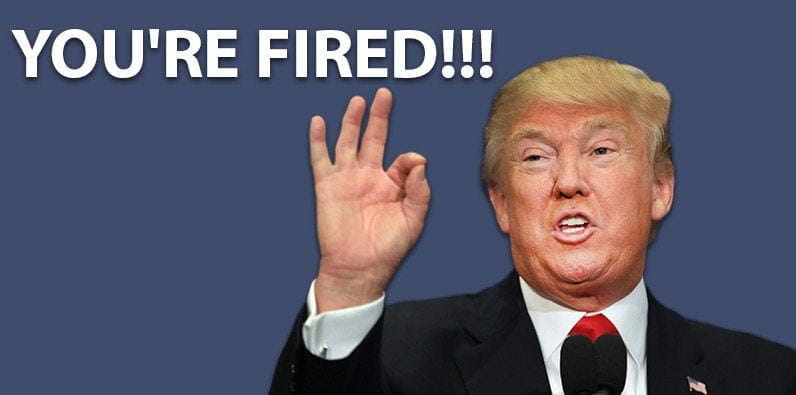 January 30th: Trump fired acting Attorney General Sally Yates after she refused to defend his travel ban.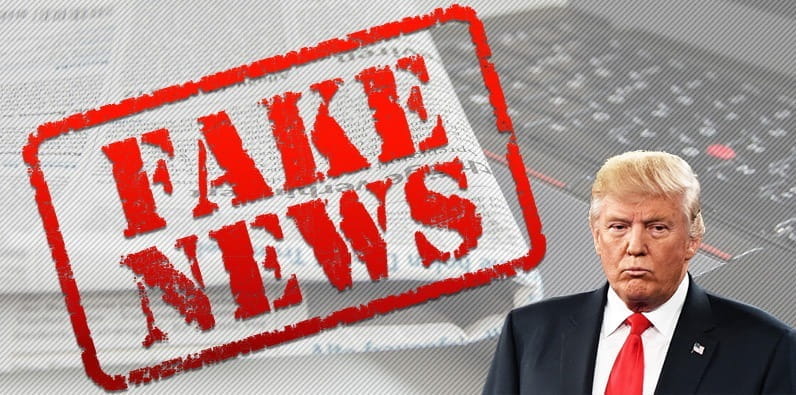 February 6th: Trump referred to any negative polls as "fake news."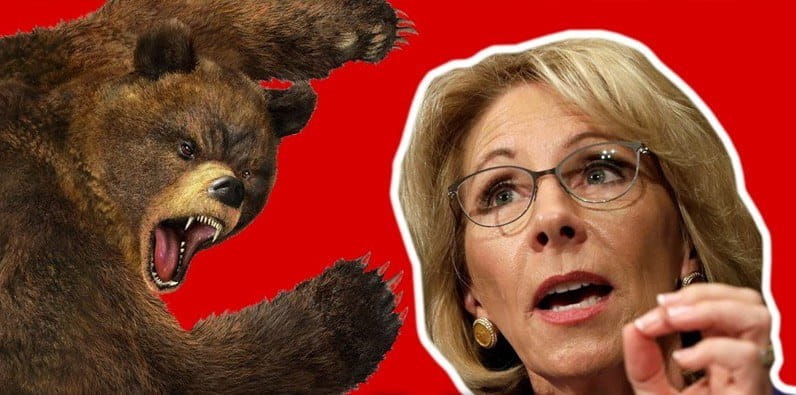 February 7th: Vice President Mike Pence cast an unprecedented tie-breaking vote to confirm Betsy DeVos as education secretary. Yes, that Betsy DeVos – the billionaire heiress who said guns in schools could serve as protection against grizzly bears.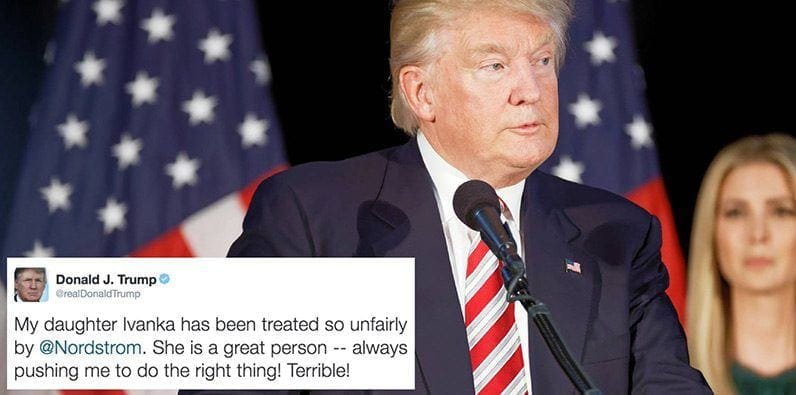 February 8th: President Trump lashed out on department store Nordstrom the best way he knows how – over Twitter, criticising their decision to drop his daughter Ivanka's clothing and accessories line and accusing them of treating her unfairly.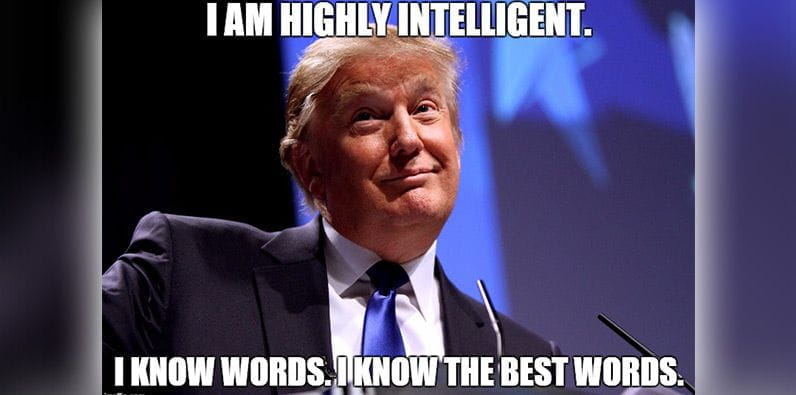 February 21st: During a visit to the National Museum of African American History and Culture, Trump once again demonstrated rich vocabulary in a profound lamentation on slavery saying "Boy, that is just not good. That is not good. …That is bad." One might say it's almost #SAD.
March 4th: Providing absolutely no evidence, Trump accused Barack Obama of having wiretapped Trump Tower during the 2016 presidential campaign. Again, he did it in a tweet in the early morning hours. He called Obama a "bad (or sick) guy," described the situation as "McCarthyism" and "Nixon/Watergate," and managed to misspell the word "tap" in the process.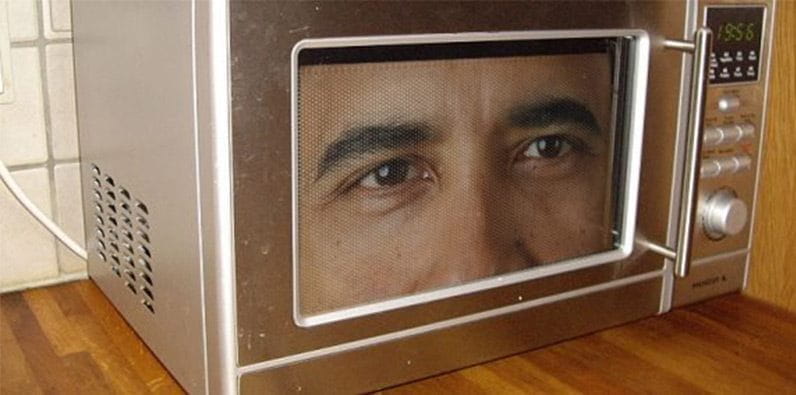 March 12th: When asked about Trump's wiretap claim during an interview with the North Jersey newspaper The Bergen Record, Kellyanne Conway described various surveillance technologies she was familiar with, citing "microwaves that turn into cameras."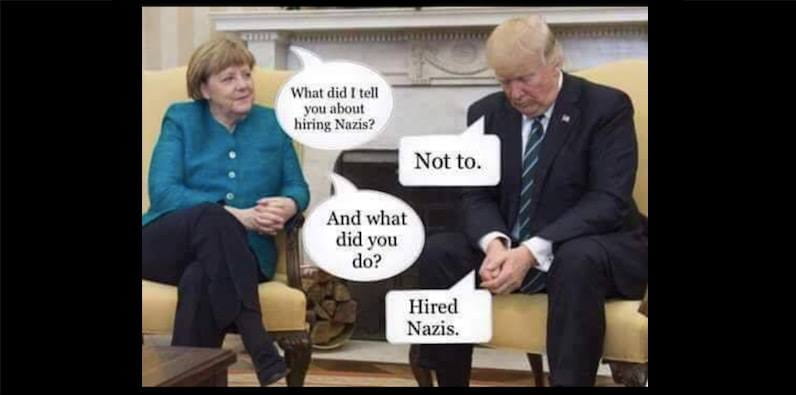 March 17th: During a meeting with German Chancellor Angela Merkel, Trump pretended not to hear photographers asking for a picture of the two shaking hands. However, the memes were more valuable.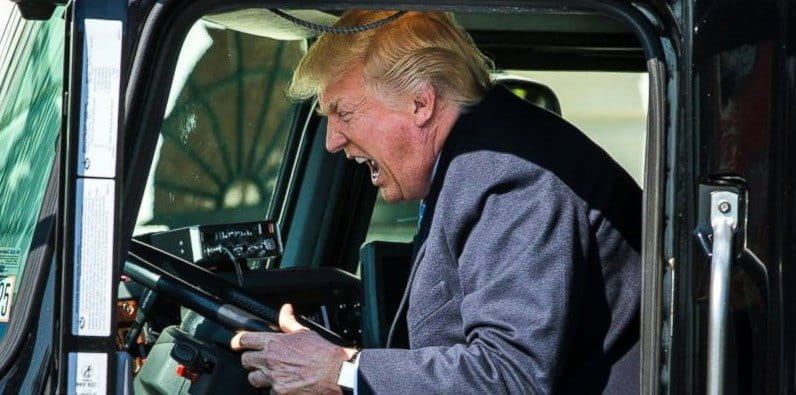 March 23rd: One of Trump's campaign promises was to repeal and replace Obamacare and while his proposed health care bill that was supposed to be "so good" was going up in flames, he was delightedly pretending to drive an 18-wheeler.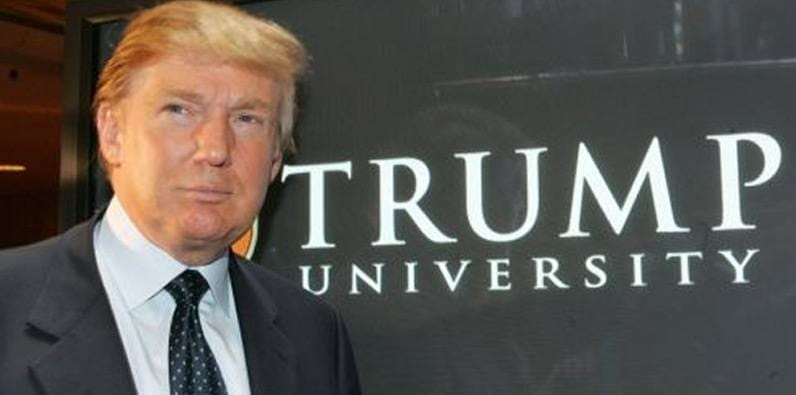 March 31st: A $25 million settlement was approved by a federal judge to end the fraud cases against Trumps' defunct for-profit education venture – Trump University.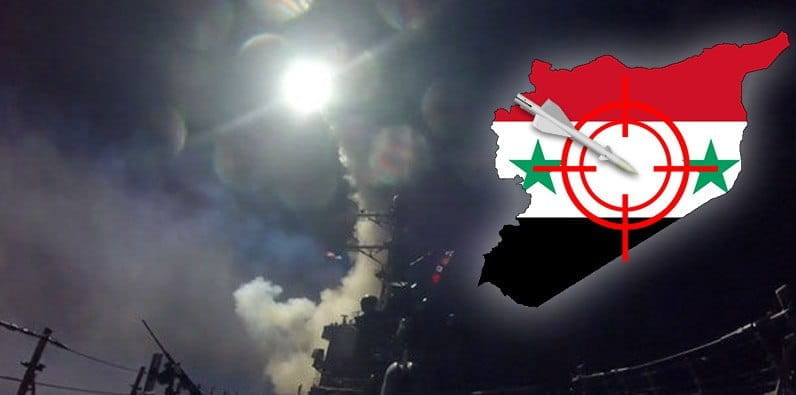 April 6th: Trump had a 180-degree change in his stance toward Syria, ordering a missile strike on a Syrian airfield in response to the Syrian government's chemical weapons attack after having twitted in June 2013 "we should stay the hell out of Syria." A week later, her said he launched the Syrian airfield strike while eating "the most beautiful piece of chocolate cake that you've ever seen."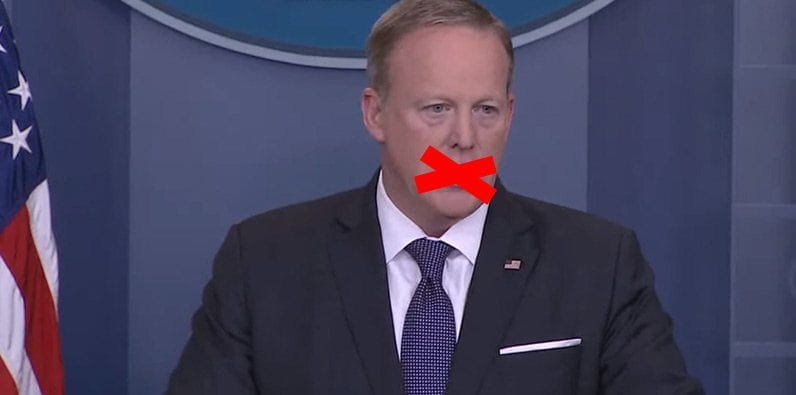 April 11th: Sean Spicer said, "You had someone as despicable as Hitler who didn't even sink to using chemical weapons," while comparing him to Syrian President Bashar al-Assad during a press conference on the second day of Passover.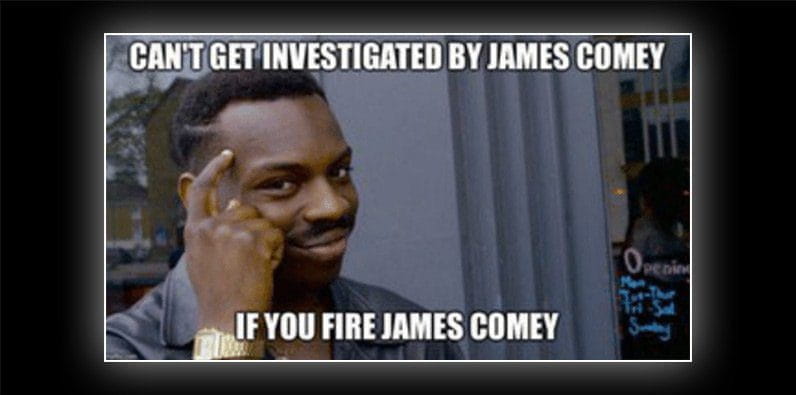 May 10th: The President fired the FBI director James Comey. The White House scattered to come up with an explanation for the firing until Trump himself told NBC's Lester Holt that he had planned it, decimating the official story of the White House. "When I decided to [fire Comey], I said to myself, you know, this Russia thing with Trump and Russia is a made-up story," he said.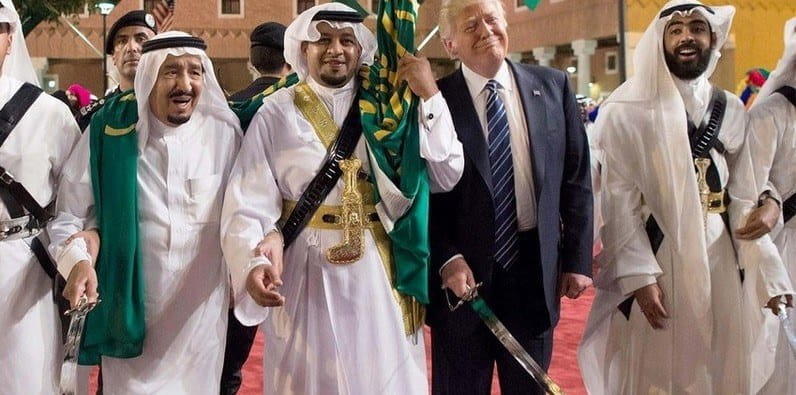 May 21st: On his first foreign trip as US president, Donald Trump joined in on traditional sword dance in Saudi Arabia.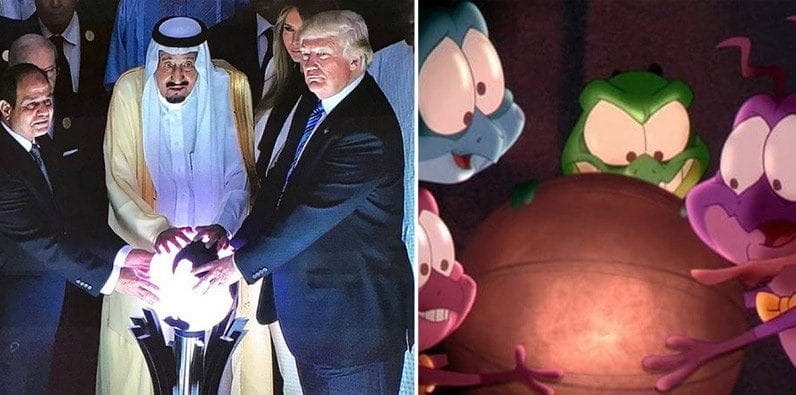 May 21st: At the opening of the World Centre for Countering Extremist Thought, President Trump, King Salman and Egyptian President Abdel Fattah al-Sisi all placed their hands on a glowing globe to officially activate the centre. The Internet had a field day.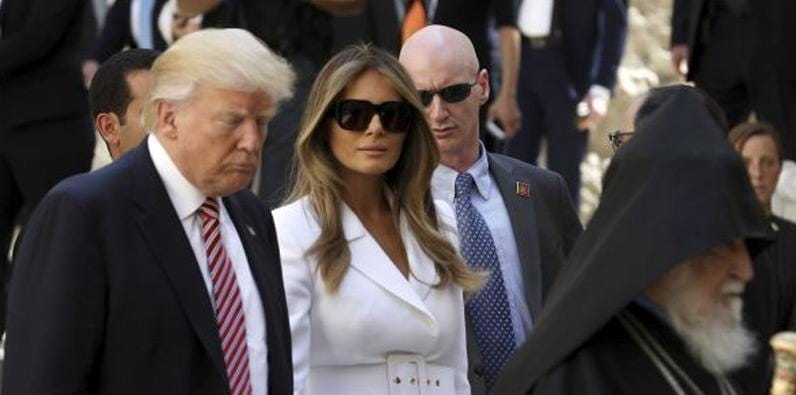 May 22nd: A video clip of Melania Trump flicking away her husband's hand as the couple and the Netanyahus walked the red carpet following a formal welcoming ceremony overshadowed their Israel arrival. And yes, it went viral.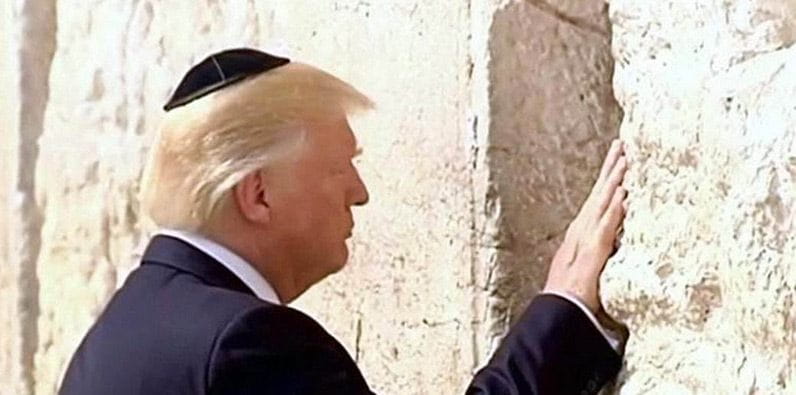 May 22nd: President Donald Trump became the first sitting US president to visit the Western Wall, one of the holiest sites in Judaism. Was he trying to find out who had paid for it? Or was he just drawing inspiration? We'll never know the details of this intimate moment but one thing's for sure – this man has a thing for walls.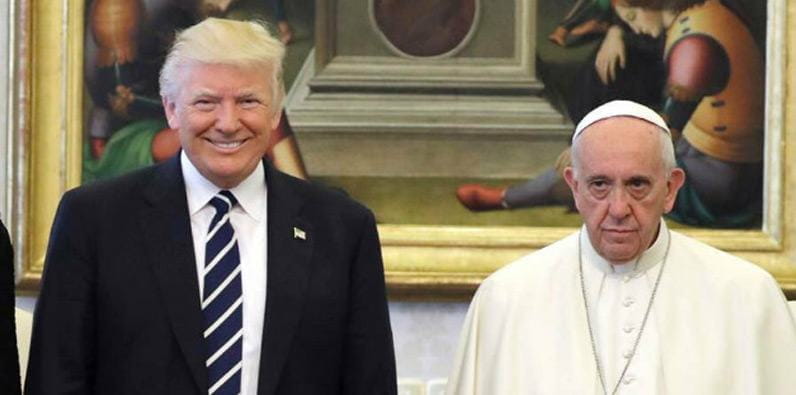 May 25th: The Pope looked glum after a Vatican meeting with Donald Trump. Yet, this encounter, despite its sombre tone, was considered more successful than their first one.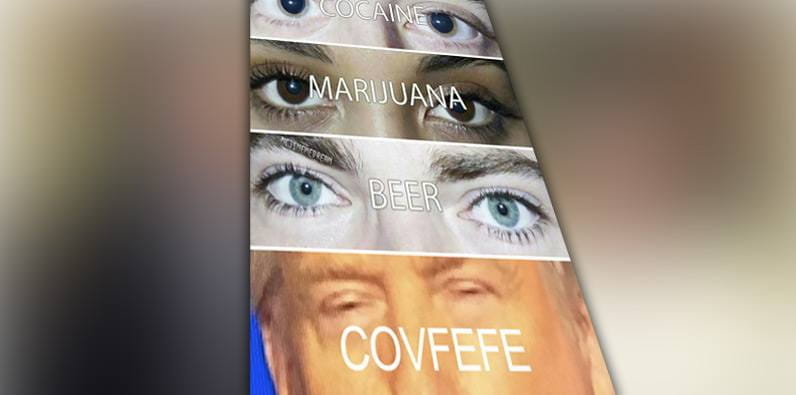 May 31st: A late-night Tweet is seen from the personal Twitter account of U.S. President Donald Trump. The Tweet reads, "Despite the constant negative press covfefe" and the internet was abuzz again.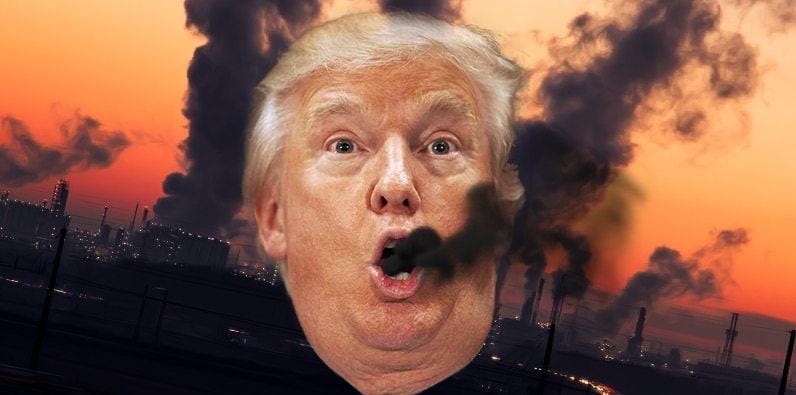 June 1st: President Donald Trump announced that the US is withdrawing from the 2015 Paris climate agreement, saying he was chosen to be the president of Pittsburgh, not Paris.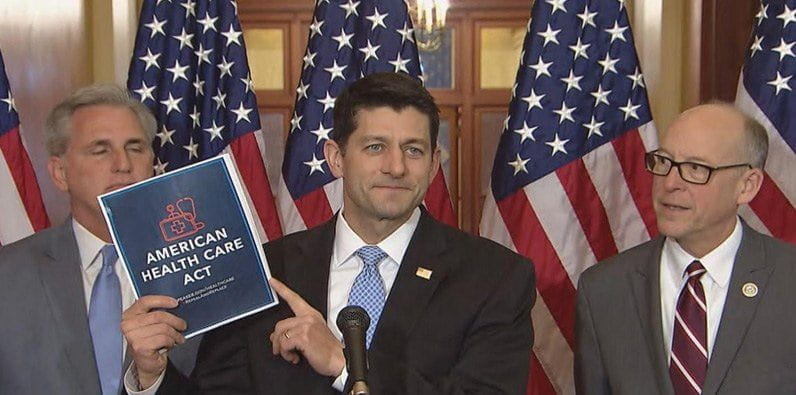 June 12th: Reports surfaced that President Donald Trump had called the House GOP's healthcare bill "mean" during a lunch with Republican senators.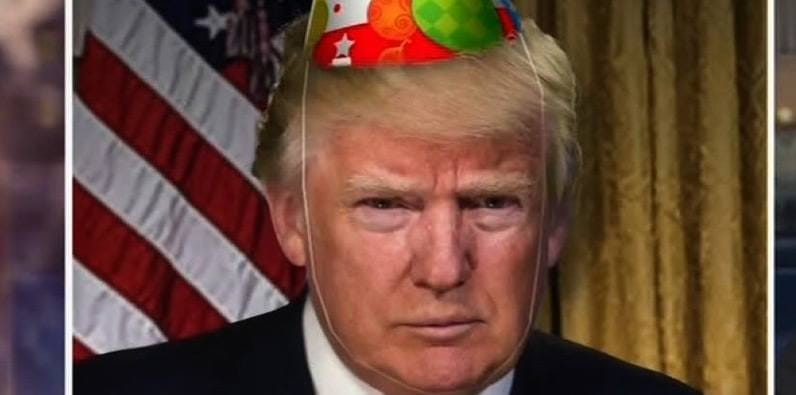 June 14th: On the President's 71st birthday, nearly 200 Democratic members of Congress filed a federal lawsuit, accusing him of violating the Constitution by profiting from business dealings with foreign governments.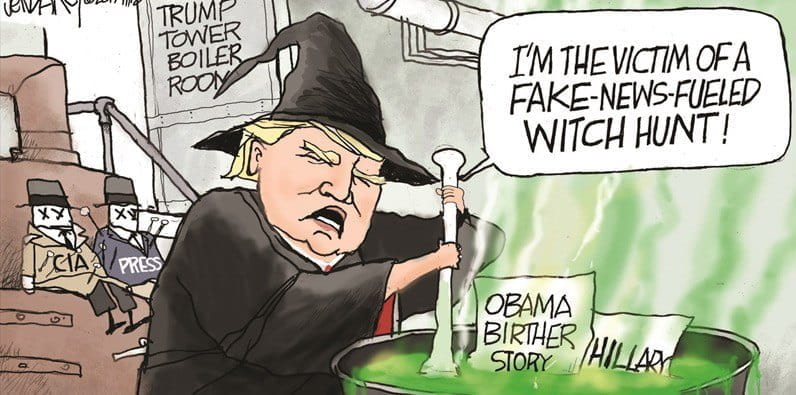 June 16th: The special counsel overseeing the investigation into Russia's role in the 2016 election was reported to be interviewing senior intelligence officials to determine whether President Trump attempted to obstruct justice. Trump took to Twitter to call the investigation a "phony Witch Hunt."
And over the past month, it's been a streak of WTF moments. So much so that we don't really know where to start but let's try. For one, we have the Trump Jr. scandal and the now-infamous meeting with the Russian attorney Natalia Veselnitskaya at Trump Tower last summer. Then we saw President Trump rage against his Attorney General Jeff Sessions, describing him as "beleaguered" and proceeding to consult with advisers about the consequences of firing him. What else? Well, of course – our favourite WH Press Secretary, Easter Bunny, and Hitler expert Sean Spicer resigned. That was a tough one. The Healthcare bill saga is still in flames, and to top it all off (or maybe to divert attention), Donald Trump tweeted that transgender people will not be allowed in the military.
Well, regardless of whether Trump does get impeached or not, one thing is for sure – more WTF moments like these are bound to occur and we'd be more than willing to cover them for you. Provided we still have internet access and are not living in a cave in a post-apocalyptic world created by his artistry in foreign policy. And we really cannot recommend you to go and gamble on whether Trump will resign or not. It is much safer to put your money on something that is more logical and easy to predict… how about lottery sites?