What is Manga?
Let's first start by explaining what manga is. The word "manga" means 'whimsical pictures'. Manga is comics or graphic novels created in Japan. The style was developed in Japan in the late 19th century. Manga stories are originally printed in black and white, although full-colour manga also exists. In Japan, the term is used to refer to comics, cartooning and animation, while outside Japan, the term is used to refer to comics only. Manga comics are very popular around the world, and in Japan, of course, where people of all ages read manga. The topics feature a broad range of genres, including adventure, business and commerce, comedy, drama, historical, science fiction and fantasy, sports, gambling, romance, erotica and others. In Japan, mangas are usually serialised in large manga magazines. If the series is successful, collected chapters may be published in a tankoubon, namely paper books. If a series is popular enough, it may be animated or inspire a live-action film. About 2 billion manga are sold every year in Japan, which represents 40% of all books and magazines sold in the country, which is equivalent to 15 issues per person annually!
Manga is often confused with anime. The confusion maybe arises because most of the anime series are adapted from manga and often the same story has both an anime and a manga version. The word anime is the Japanese term for animation, which includes all forms of animated media. Outside Japan, anime refers specifically to animation from Japan or a Japanese-style animation often characterised by colourful graphics, vibrant characters and fantastical themes. Before to dive in the best ones, we would like to bring to your attention another page of ours – dedicated to gambling sites that are trusted and safe, it will give you all the information needed for a great start in the world of iGaming.
Now, let's discuss our top 10 suggestions for gambling-related manga series.
1. Kaiji
Status: Ongoing Genre: Gambling, Action Fiction, Thriller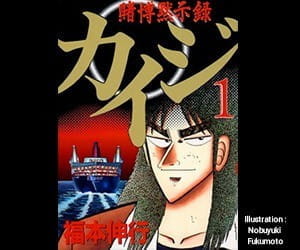 We placed at the top of our ranking Kaiji, a popular Japanese manga series that has succeeded to impress the audience for many years now. Known as Tobaku Mokushiroku Kaiji and Ultimate Survivor Kaiji, the manga series focuses on the art of gambling. The series, written and illustrated by Nobuyuki Fukumoto, was first published in February 1996. It is divided into six parts, with the latest story started in 2017. In 2007, a first TV anime adaptation of the first part of the manga was released. It is known as Kaiji: Ultimate Survivor and was followed by one more TV series, two live-action films and a reality game show. The two live-action films made a worldwide box office gross of $49 million.
The main character is Kaiji, a young man who fails to find a job and is biding his time with cheap pranks, gambling, liquor and cigarettes, running up debts. His life changes one day with a visit from a loan shark, Endo, who involved him in high-stakes gambling. However, Endo betrays Kaiji and sends him to Teiai's underground labour camp, where he will have to work off his debt for 15 years. So, Kaiji troubles continue, but he realises that he possesses hidden gambling skills which help him get out of many situations. Still, players should always gamble responsibly. We have plenty of international operators for real money. For example, the Philippines online casino list.
2. Akagi
Status: Ongoing Genre: Gambling, Mahjong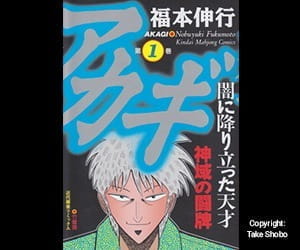 Akagi: Yami ni Oritatta Tensai, literary translated as Akagi: The Genius Who Descended into Darkness, takes the second place in our ranking. The Japanese manga is written and illustrated by Nobuyuki Fukumoto. The series, first published in 1991, is based on the author's previous work, Ten. In Japan, Akagi has sold 12 million copies. The series was adapted as two V-Cinema live-action films in 1995 and 1997. An anime TV adaptation was broadcast in Japan from October 2005 to March 2006. Two live-action TV dramas aired in 2015 and 2017, with a third series aired in 2018. The series also inspired the creation of companion books, spin-off manga and video games.
The manga series follows the story of Shigeru Akagi, a boy who defeats yakuza members in a tile-based game called mahjong, only thanks to his intuition and without knowing the rules of the game. Then Akagi disappears and becomes a legend. He returns to the game six years later, carrying a mythical status and still impresses his opponents. Akagi's ultimate rival is Iwao Washizu, one of the wealthiest and most influential people in the Japanese underworld. Washizu tempts people to bet their lives for the chance to win a large amount of money. Washizu and Akagi play the game in a very unusual way, which Washizu calls Washizu Mahjong.
3. Kakegurui – Compulsive Gambler
Status: Ongoing Genre: Gambling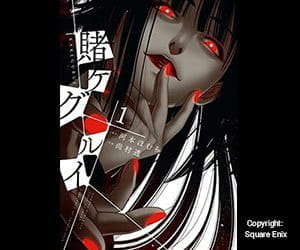 Our next suggestion is Kakegurui – Compulsive Gambler, another widely popular and loved manga series that involves gambling. The series, which is written by Homura Kawamoto and illustrated by Tōru Naomura, was first published in March 2014. An anime TV adaptation of Kakegurui aired in Japan in 2017, and a live-action drama adaptation aired in 2018 and a second season premiered on January 8, 2019.
The story is set in the Hyakkaou Private Academy, where children from wealthy and influential families in Japan are studying. The students are governed by a complicated gambling system, in which they bet their fortunes against one another. Students who are unable to contribute to that system because of their bets become 'house pets', or slaves, to those who hold their debts. Besides, those who fail to clear their mortgages at the end of their time at the school receive Life Schedules which dictate their career and personal life. Everything changes with the arrival of transfer student Yumeko Jabami. Blessed with the exceptional ability to see through gambling scams, she quickly disrupts the hierarchy of the school, showing what real gambling is.
4. Gamble Fish
Status: Finished Genre: Gambling, Harem, Psychological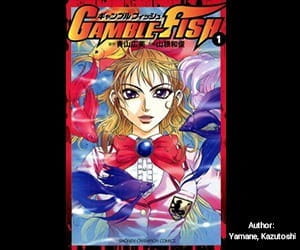 Another gambling manga we were impressed by is Gamble Fish, which is written by Aoyama Hiromi and illustrated by Yamane Kazutoshi. As of January 2010, fifteen tankōbon collecting the chapters were released, the first one on June 8, 2007, and the last one on January 8, 2010.
The story is set at the Shishidou academy, which is attended by rich and elite people. A mysterious new transfer student Tom Shirasagi takes on the school. He comes from a public school and is snubbed by the students, but not for long. The boy is a mad gambler and declares a challenge toward any student through a series of gambling matches, claiming he will bring ruin to the whole school. His motivations are a mystery for the students. As the story unfolds, a darker side of the academy comes to light and more about Tom's past is revealed, leading to unpredictable outcomes.
5. Liar Game
Status: Finished Genre: Gambling, Psychological Thriller, Suspense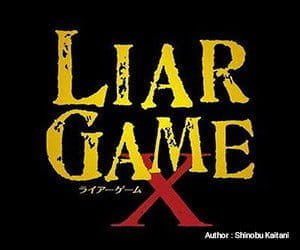 Our next choice for gambling related manga is Liar Game. The series was originally written and illustrated by Shinobu Kaitani and was first published in 2005 in Japan. The manga has also been translated into Chinese and Dutch. The comics were adapted into a TV series, which was broadcast in 2007. A sequel, Liar Game: Season 2, ran from 2009 to 2010. The manga comics also inspired two live-action films: Liar Game: The Final stage in 2010 and Liar Game: Reborn in 2012.
The plot goes around a scrupulously honest college girl, Nao Kanzaki, who receives a mysterious package with $1 million inside. The package also contains a note stating she is a contestant in the Liar Game Tournament. The aim of the game is to obtain another contestant's money, with the losers having to pay a debt proportional to their losses. At some point, Nao's money is stolen and she makes a deal with a con man named Shinichi Akiyama to help her retrieve it. The partners set a goal to free their opponents from their debt and to defeat the Liar Game organisation.
6. Legendary Gambler Tetsuya
Status: Finished Genre: Gambling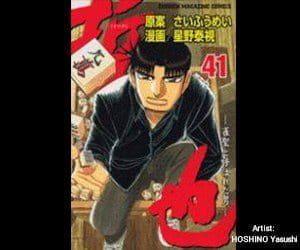 Legendary Gambler Tetsuya takes the sixth place in our list of gambling related manga. The series, which is written by Fūmei Sai and is illustrated by Yasushi Hoshino, was published from 1997 until 2004. In 2000, it won the Kodansha Manga Award for shōnen, which is aimed at a teen male target. Toei Animation adapted the series as an anime TV series broadcast from October 2000 to March 2001.
The plot is set in Shinjuku, whose people struggle to survive after WWII came to an end. Many people lack the money to buy food or necessities, so some turn to gamble in order to survive. Traveling Tetsuya spends his time at mahjong parlours, easily defeating his opponents. One day, Tetsuya meets very skilled Boushu-san and realises that he has much to learn about mahjong.
7. Gin to Kin
Status: Finished Genre: Gambling, Drama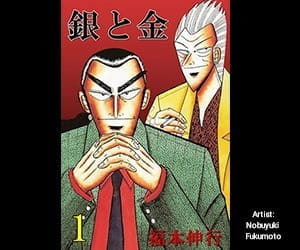 The next gambling manga we'll present to you is Gin to Kin. The series is written and illustrated by Nobuyuki Fukumoto. It was published from 1992 to 1996 and later compiled in 11 tankōbon volumes. A live-action TV drama was broadcast in 2017. It's been made available on Amazon Prime Video US with English subtitles as Silver and Gold, which is a literal translation of Gin to Kin.
The plot goes around Morita Tetsuo, who is frustrated from failing to find success and turns to gamble. His life changes when he meets Hirai Ginji, who is a fixer in the underground world. Morita Tetsuo enters this new world filled with high-stake gambling and people corrupted by greed, deciding to become 'Kin', to surpass 'Gin'. Follow the adventures of Morita Tetsuo in the underground of society where shady dealings with stock speculators and politicians are the standard.
8. Usogui
Status: Finished Genre: Gambling, Psychological, Seinen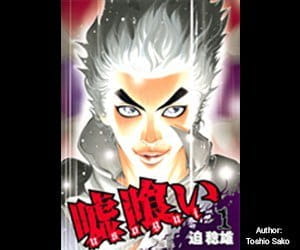 Usogui, which is literally translated as The Lie Eater, is another captivating manga that takes place in our list. The manga series is written and illustrated by Toshio Sako. It was first serialised in 2005 and was later adapted into original video animation, which was released in 2012. Baku Madarame a.k.a. Usogui is a brilliant gambler who even bets his life. These gamblers are monitored by a powerful organisation called Kagerou, which referees these dangerous games as a neutral party.
Usogui gambles against mad opponents at games such as Escape the Abandoned Building, Old Maid and Hangman. His goal is to outmanoeuvre and control the Kagerou organisation. The entire premise of the story about Usugui is the absurdly high-stakes gambling, which will keep you engaged until the end so that you will want more and more from the same thrill!
9. Psychic Gambler: Betting Man
Status: Ongoing Genre: Gambling, Mature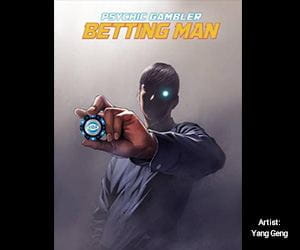 A relatively new and interesting release is Psychic Gambler: Betting Man. The manga comics are written by Doldom and is illustrated by Yang Geng. The series first published in April 2016. The plot revolves around Jin-goo, a man who has the power to see through objects. Initially, he uses his power to seduce girls, but with time goes on he decides to use it on gambling. Jin-goo is very happy with his choice as he is sure that his psychic powers will give him an advantage over his opponents. However, things don't go as planned as his opponents are more than it appears to be at first. There are erotic scenes in the comics that some readers may find uncomfortable, but in our opinion, the focus remains on the story. Although we are not prepared for that level of heartbreak and betrayal, the comics is definitely worth the read.
10. One Outs
Status: Finished Genre: Sports, Psychological, Seinen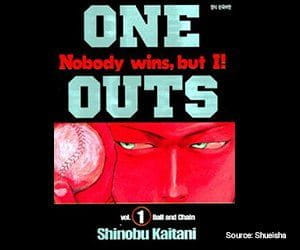 Our final choice for gambling manga is One Outs, a Japanese baseball manga series written and illustrated by Shinobu Kaitani. The manga comics was originally serialised from 1998 to 2006 and was relaunched in 2008. An anime adaptation began broadcasting in October 2008. The main character is Tōa Tokuchi, a master at gambling with a unique pitching ability. He is asked to pitch for the Lycaons, the weakest team in the country playing One Outs, a simplified version of baseball between the pitcher and one batter. Tōa proposes an unusual contract: every out Tōa pitches will gain him 5 million yen, but with every run, he gives up he will lose 50 million yen. The series documents the intense psychological battles between Tōa and those around him, with millions of yen at stake.
So, this was our list of the 10 best gambling related manga. They impressed us with appealing plots, inspiring characters and exciting development of the stories. What's more, gaming is a strong focus in all of them and we like the way the characters handle gambling. We hope we've succeeded to shed some light on the topic and help you choose your next awesome gambling manga comics! Furthermore, we created a list of the best online casinos in Japan as well, in case you feel inspired by the gamblers in the manga.