List of Gamblers Seen the Inside of a Jail Cell
Moral varies among every person crossed the doors of a casino. Poker affects your character in various ways. The aspect of gambling and its surroundings have changed with time and now are a bit safer. At least it is unlikely the punter next to you at the table to pull out a gun and shoot. The dangerous aspect had shifted direction and you will see how exactly in the examples that follow.
Billy Walters
Sin City remembers Billy Walters as the most successful sports bettor in the US. His scandalously high bets were not enough to please him. The 71 years old gambler conducted a trading fraud with the help of Tom Davis – former Dean Foods Co. Chairman. Billy's pure greed and continuous desire for winning helped with the exploitation of Mr Davis. The clear and long paper trail left behind was more than enough for the conviction of Walters. He was sentenced to 5 years for masterminding a long-running insider trading scheme and accused of fraud and conspiracy. During the trial, he pleads to have his indictment thrown out. There were rumours, that information on the case was leaked to the FBI, but the judge rejected his requests and Bill Walters was even fined $10 million. Gambling habits definitely helped him gain over $40 million illegally with secret actions on behalf of the nation's biggest fresh milk distributor.
Mike Matusow
Also known as 'The Mouth', Mike is not only a poker player, he is also a very successful tournament pro, high stakes grinder and winner, self-made millionaire and a former drug addict. The felony he stays in jail for is related to his earlier addiction. He was caught with two ounces of cocaine, which he claimed were for a friend to sell. The friend he was doing that for was actually an undercover Drug Enforcement agent. Mike's drug issues date back since May 2000.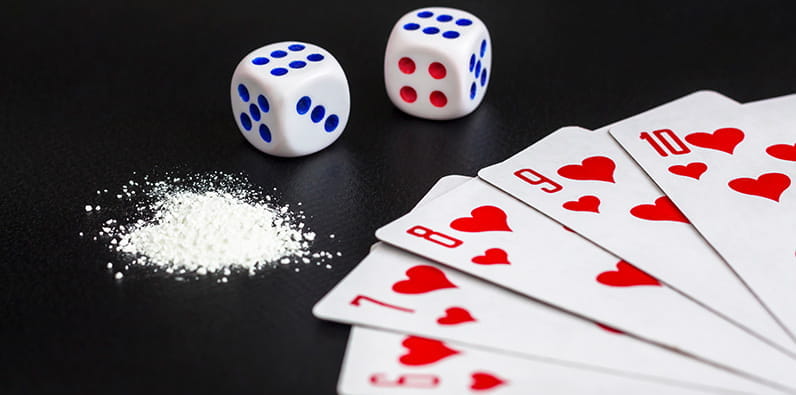 He was busting out winnings at the 2000 World Series of Poker till he was second in chips at the Seven-Card Stud high/low table. Convinced in the outcome, he lost brutal big back-to-back pots that wiped out his healthy stack of chips. He ended up 7th with $10,000. Later on that evening, he turned to extasy for easing the pain. While still under the drugs' effect, Mike Matusow played for 30h straight. He upgraded and switched to cocaine. Even when he got clean, he kept hanging with the wrong people in Las Vegas. That lead to an unfortunate situation with the undercover DEA agent. The Mouth was offered a 6 months plea deal, which he accepted. Otherwise, the poker tournament winner was facing 6 years. What is more, he managed to bring home $250,000 before setting foot into Clark County Detention Center in Las Vegas. However, in jail, Mike was gambling on sports, which lead to a massive loss of $200,000 on football. Old habits die hard.
Shawn Sheikhan
2006 NBC National Heads-Up Poker Championship winner, Shawn is also known for his irritating attitude at the poker table. The ex-tattoo-artist was a great sparring partner to Mike "The Mouth". Many tournaments remember his presence and on many of the occasions, he had left the events with no fans in the crowd. His regular act of disapproval was slamming the poker table, which always ended up with a fine. Other familiar names he faced in a tournament and won against was Doyle Brunson.
Sheikhan's reckless behaviour caused immigration problems, due to his Iranian roots, together with causing car accidents and several deaths. He was prosecuted in a sexual battery with an underaged girl. For quite some time the prior event slipped through the cracks, but he was eventually sentenced to 9-month jail time years later.
Ted Forrest
Let's start with one of Forrest's famous and ridiculous bets against Mike Matusow. In 2010 Ted bet Mike for $2 million, that he could lose weight in a matter of months and be under 140 pounds at the end. 4 years later, Matusow claims that he didn't want to play along, because he couldn't afford to lose. Forrest posted that he had received only $70,500 from the win till the present day. With time, the six-time WSOP bracelet winner used cheques, that frequently bounced. The amount was $215,000 in total and the reason for the rejection was insufficient funds to cover the transactions. Clark County was the main prosecutor, charging Forrest with theft and writing bad checks. He is in jail since 2016 charged in a Las Vegas Justice Court for robbery and 2 bad cheques.
Tony O'Reilly
There are people not gambling professionally, but still committing thefts in the name of one more bet. Such players cross the thin line dividing betting addiction and betting for fun. Mr. O'Reilly is the perfect example. He was a post office manager from Carlow town. He was stealing money from the office for over a year, in order to feed his gambling cravings. The 37 years old man, just like many other players, decided to experiment with sports bets. He picked the women's soccer team of Norway.
The Wexford Circuit Court revealed a monthly increase in the post office's losses. Tony started in April with €8,000 and until the end of the same 2010, the theft was for about €290,000. But how was that even possible? Well, he removed €50 notes with tongs from the middle of a bundle containing €50,000. Nice tactic, but after all, he ended up in jail.
Dragan Kostic
Compared to The Mouth, Dragan is also so famous and ending up behind bars due to a mistake. Born in Macedonia, but living his adult life in Spain, he ended up playing the European poker series. In 2011, he got second in EPT Barcelona Main Event with a prize of €532,000. Well, he had to pay 228 thousand euros in taxes after that, but he didn't. Spanish tax workers sewed him for not paying what he owed. In the beginning, Kostic kept saying, that he didn't know about those taxes for poker winnings. In the end, Dragan blamed his financial consultant for a slappy work with the required declarations. None of that helped his cause and he was convicted of fraud and had to spend 18 months in jail and pay an additional 400 thousand euro fine. The beginning of his jail time was the end of 2017.
Christian Lusardi
Lusardi is a great example of how not so thriving gamblers get caught as well. For six years of tournaments, his winnings were barely $30,745. In that moment the Borgata Winter Poker Open looked like a great opportunity for trying out a cheating strategy and lay hands on the 2-million-dollar prize. So far so good, 27 players left and what happened? DGE (Division of Gaming Enforcement) of New Jersey stops the game. The management was sure that some fake chips were found on the table. Lusardi will never forget that game of 2014, where the hotel canalisation system gave him out. The replicas were ditched in the restroom of his own hotel room after the game was stopped.
Christian admitted his guilt without too much fuss, paid $463,540 to the tournament planners and $9,455 to the casino for the spoiled canalisation. For being so understanding and paying everything wanted by the court of law, his 15 years jail time was cut to only 5. Surprisingly for many players, he was released after 7 months and 15 days.
Bryan Micon
Gambling is strictly controlled by laws and licenses. There are still states in the US forbidding any means of betting besides the latest law changes made by the Supreme Court (if interested in sports betting laws in the US check our article). Bryan Micon was one of the first players prosecuted for running an unregulated poker website in the state of Nevada from his house. His Bitcoin poker site SealsWithClub was functioning without a Nevada gambling license. That state is regulated and in April 2015 Attorney General Adam Lexalt prosecuted Micon. That year, Bryan came back after initially fleeing to Antigua in June. He faced the charge of a 10-year prison sentence. A plea deal got him off the hook and he dodged the bullet with probation and a fine equal to $25,000. Many see this case more like a lesson for other players. So far, Bryan Micon remains the only person to intentionally operate an unregulated iPoker site in the states of Delaware, New Jersey and Nevada.
Ernie Scherer
Living in Pleasanton, California, Ernie Scherer qualifies for the top prize 'you never really know a person'. His poker career was thriving with winning over $100,000. That didn't convince the bank to give his young family a loan for a new house though. Ernie asked his father for a loan and got $600,000. In addition, they thought of a payment plan for a regular sum of $3,850. Things went great until the pro poker player's success vanished. In other words, Ernie owned $616,000 to his father and had gambling debts of more than $100,000. But how that situation ended up with a murder trial?
Ernie Scherer had very solid financial support given by the will of his parents. It basically meant, $2 million inheritance once he turns 30. Well, that event was just a few months after the death of his parents. The pro poker player tried to think of an alibi, including his wife and son, but the police were still sceptical of his real location at the time the crime. The investigators found a gap of 17 hours, in which Ernie was not active at all (no phone records, no credit card use). That was not in favour of the gambler.
Next on the evidence list was a bloody footprint of a sneaker, bigger in size than Scherer's shoes. The police thought the footprints were too perfect. That was a clear sign for falsely thrown evidence. All that and several more lead to Ernie Scherer's arrest on February 23, 2009 and conviction in 2011. He was found guilty and was sentenced to two life sentences in prison, no parole, no way to get out. Ernie crossed a line, provoked by gambling debts and the craving to keep on betting.
Darren Woods
The young fella started with online gambling in 2007. In 2011 he crashed it at the Event#9 at World Series winning and going home with $213,431. The same year Darren was sued by the players in Sheffield and many of the online poker rooms. The truth was revealed – Woods junior and senior were into the business with fake casino accounts. They went so far that the family had a whole network. The court of law convicted the young player to 15 months of jail time and more than a million pounds fine to those who suffered from their schemes. Woods never gambled in a casino again after that incident.
Casinos in Jail
Surprised? You shouldn't be. Time in prison pasts really slowly, it feels like fully stopped actually. There is nothing to keep your mind busy. Here comes the canalisation part – gambling does a great job entertaining the prisoners. What exactly attracts people in jail to play? The guards had to keep good behaviour, but still, provide some kind of positive competition with potential prizes. Prisoners found that as a great way to experience something different in the cell. The best representative for amazing symbiosis between prison and gambling is Nevada State Prison. The rumours maintained casino on jail premises was named 'The Bull Pen'. It functioned in the years between 1932 and 1967. Even with evidences of the cons' improvement, the gambling attraction was closed. It is still remembered as a place, giving purpose and focus to the inmates. Many agree, that The Bull Pen might have been one of the last potentially positive impacts on the convicted. When you think about it, the game itself tolerates a non-rule breaking behaviour.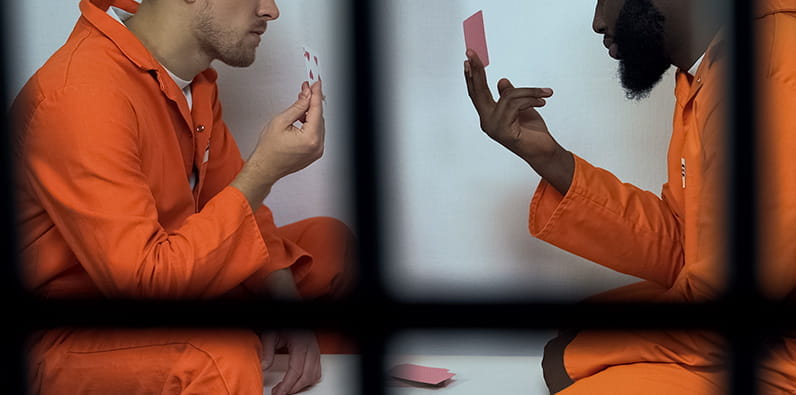 The games preferred in jail were poker, blackjack, spades, bridge and rummy, together with board games (Monopoly, Risk, The Game of Life) too. Other betting options were in-prison sport betting rings. On the contrary, such competitions usually end up with violence. We talk about jail after all. Nonetheless, the UK government considers allowing casinos in prisons. We can only wait and see.
Who Else Gambles and Gets Caught
Believe it or not, there are numerous society layers connected to gambling. Once you read the examples below, you will not believe your eyes. After all, hope is a great friend to gambling institutions. Once you walk into one or even play online, you have this feeling that lady Luck is holding your hand. Have in mind, that the house always wins in a way, no matter what you do. Have a look who else got so excited and later on caught:
Yes, they not only keep the faith but also cigarettes and poker chips. There is even a secret footage of the Korean Jogye Order of Buddhist monks, hitting it off after the memorial service of a senior monk, who had passed away. Well, they didn't do it right there and then, but in a hotel. There are leading monks travelling abroad in order to try their luck at the high-stake casino tables. Why not quitting the temple and becoming a pro gambler?
Australian Kindergarten President
Here we talk about a father, embezzling more than $200,000 from his own five-year-old daughter's kindergarten fund. Periclis Telios even got elected to President of the fund. He managed to steal a lot for only 8 months in 2012. It turned out he had over 20 years of betting addiction, which lead him to 4 years in jail with 2 without parole.
Summary
As you can see, the wrong steps can be owned by both – pro gamblers and regular people. Well, no matter what you do, you are a human being. This article contains great examples of what to do and what to avoid while pursuing the gambling dream. When you feel like you can't stop, that is the point where professional help is needed. When you think about it, both monks and pro poker winners get caught. But if you want to test your luck today, we advise you to do that in one of the top gambling sites UK can offer to you. Do not try to cheat, count on your knowledge and luck and everything will go smoothly. Stay on the safe side of the line.