Just like the ranking of the top 10 online casinos in the USA, the best gambling locations that you will find further down below also enjoy world-wide popularity and they offer something special for their players. From the largest number of gaming machines through the most luxurious recreational facilities and to the biggest jackpots in history, these places have much more to offer than you can think of. So, without further delay, here are the top 10 best casinos in Vegas:
1. Wynn Casino Has a Gaming Floor of 189,000 sq. ft.
Wynn Casino
| | |
| --- | --- |
| Surface Area (sq. ft) | 189,000 |
| Address | 3131 S Las Vegas Blvd |
| Phone | +1 702-770-7000 |
| Open | 24/7 |
Without a doubt, Wynn Resort and Casino deserves its place number one as the best casino in Vegas because it offers the largest gaming floor in the city. It comes to nearly 200,000 sq. ft. of gaming area where you can come across hundreds upon hundreds of slot machines, 2850 to be more exact. This is the largest number of slot machines in a Las Vegas casino as well and always one of the to-be places for professional and recreational gamblers.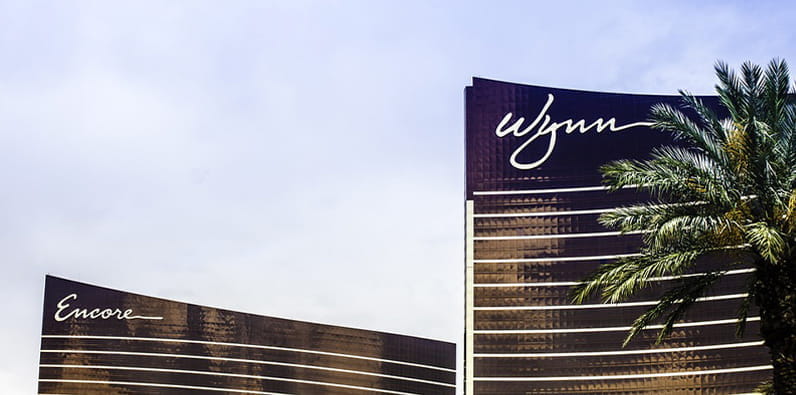 Additionally, Wynn is famous for its upscale luxury accommodations and some of the highest tables limits that you can find in a Vegas casino. For instance, some of the highest limits can be found on the Double Deck blackjack tables and they can reach up to $10K on a single bet.
Wynn opened on April 28, 2005.
The total number of rooms is 2716.
The overall gaming area of the casino is 189,000 sq. ft.
The special Poolside Gaming area has the best tables.
Features 8 Signature Restaurants.
The Wynn Golf Club and the Lake of Dreams are the best attractions.
$15 lowest bet on a standard casino table game.
Up to $10,000 single bet on Double Deck blackjack high-limit tables.
Private gambling options with the dealer coming to your room.
Exuberant exotic floral motifs of the interior decors.
Wynn is a Michelin 5-star and Forbes 5-star resort.
$300K minimum bankroll requirement for a private Encore Tower room.
2. Luxor Is a Breathtaking Pyramid-Shaped Casino Resort
Luxor
| | |
| --- | --- |
| Surface Area (sq. ft) | 120,000 |
| Address | 3900 S Las Vegas Blvd |
| Phone | +1 702-262-4000 |
| Open | 24/7 |
Perhaps, one of the most remarkable highlights on the skyline of Las Vegas is the 30-story pyramid of Luxor. Its majestic darker silhouettes make it one of the most breathtaking sights to witness in this part of the city while a 120,000 sq. ft. gaming area makes it also one of the best casinos in Vegas. Luxor Casino has a special high limit area where players receive special attention. Although the smaller number of table games – less than a hundred, Luxor Casino offers over 2000 slots! Here is a list with a few more details about maybe the best casino is Las Vegas:
Luxor opened its gates on October 15, 1993.
Unique Egyptian-themed design with pharaohs, sphynx, ziggurat towers, obelisks, etc.
The casino owner at Luxor is MGM Resorts International.
Currently, there are 62 table games including blackjack and maxBaccarat.
Many seasonal slot tournaments take place in Luxor Casino with $100K prize pools.
$16,000,000 per year is the estimated number of the total slot jackpots.
Luxor Casino accepts players with the Black M Life Rewards Card.
The hotel area offers over 4000+ rooms and suites.
Luxor has the world's largest atrium by volume – 29 million cubic ft.
3. MGM Grand Offers Rolls Royce Pickups for Its VIP Players
MGM Grand
| | |
| --- | --- |
| Surface Area (sq. ft) | 171,500 |
| Address | 3799 S Las Vegas Blvd |
| Phone | +1 877-880-0880 |
| Open | 24/7 |
The gambling floor in the MGM Grand is another great competitor for the title the best casino in Vegas. The main reason is that it also has almost the same casino area as Wynn Las Vegas which takes the first place in this list. It comes to 171,500 sq. ft. of gaming floor area where you can come across basically every single type of casino game that you can think of. There are 2500 slot machines, 140 table games including blackjack, roulette, poker, baccarat, craps and the list goes on.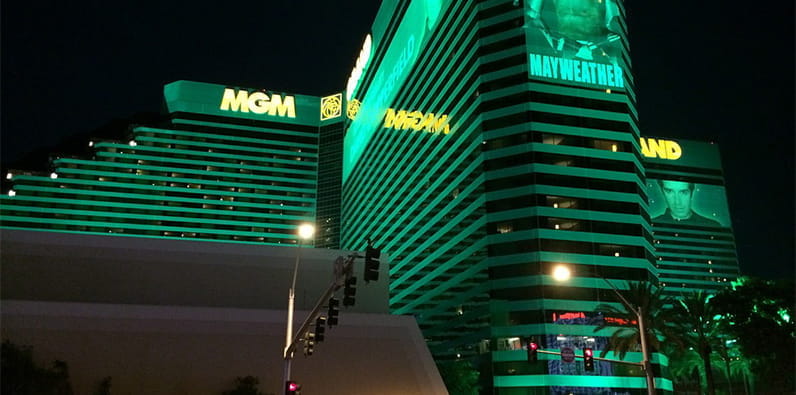 MGM Grand has the best casino to gamble in Vegas if you as many of the local players. Moreover, MGM Grand is also famous for the nearby Mansion at MGM Grand. It is something like a special 'VIP resort in the resort' where clients can take advantage of exceptionally high limits of the tables, as well as enjoy a completely different Tuscan-themed architectural design. Guests arrive with Rolls Royce pickups. Check out the next list to find out more about maybe the best casino to gamble in Vegas according to many.
MGM Grand is established on December 18, 1993, and it is last renovated in 2017–2019.
The casino operator and the licence holder is MGM Resorts International.
MGM Grand Casino has the second-largest gaming floor in Vegas: 171,500 sq. ft.
The architectural theme of MGM Grand features a mix of: Art Deco, Hollywood, Tuscany.
The Mansion at MGM Grand is an adjacent high-roller resort with 29 villas for VIP players.
There is a High Limit Slots area where the payouts are capped at $500,000.
The poker rooms offer massage and other exclusive services.
The complex features 5 signature attractions and 10 renowned restaurants.
The MGM Casino has a huge glass-sided lion habitat inside.
The race and sports betting area offer numerous 60-inch plasma TVs.
4. Mandalay Bay Casino Has Over 2000 Slot Machines
Mandalay Bay Casino
| | |
| --- | --- |
| Surface Area (sq. ft) | 135,000 |
| Address | 3950 S Las Vegas Blvd |
| Phone | +1 702-632-7777 |
| Open | 24/7 |
Mandalay Bay Casino has a really impressive number of slot machines – 2200 including slot terminals, jackpot and video slots, and many other variations of this game. Moreover, the bets are pretty high – they start from $100 per spin, and that's why the slot machines in Mandalay Bay make it one of the best casinos in Vegas. The VIP table games like blackjack and baccarat offer up to $5K single bet limits but what makes Mandalay Bay a tempting destination on the Strip, is its signature beach. Here are some more facts:
Mandalay Bay is founded in 1999 and it is renovated in 2007.
The poker room at Mandalay Bay offers bets between $50 and $500.
The total gaming space is 135,000 sq. ft. making it one of the best Las Vegas casinos.
There are 2200 slot machines and 142 classic table games.
The poker tournament entries can be as low as $65.
The high roller Hold'em tables accept buy-ins between $30 and $2000.
Mandalay Beach is one of the most popular signature attractions in Vegas.
The 2017 music festival shooting took place right next to Mandalay Bay.
The 11-acre Mandalay Beach features a wave pool, lazy river, saltwater aquarium and more.
So yes, there is an artificial fine sand beach that covers almost half of the entire resort area. With a huge swimming pool and numerous outdoor beach attractions, Mandalay Bay is like a real oasis or a bay on the Las Vegas Strip, hence, its poolside is the perfect place to relax and unwind after a long gambling session at the casino. Find out more about Mandalay Bay right next.
5. Bellagio Has Suites with Views of The Bellagio Fountains
Bellagio
| | |
| --- | --- |
| Surface Area (sq. ft) | 116,000 |
| Address | 3600 S Las Vegas Blvd |
| Phone | +1 888-987-6667 |
| Open | 24/7 |
The luxury Bellagio resort has one of the best casinos in Vegas with a total gaming area of 116,000 sq. ft. and 2300 slot machines! Its tables games are also impressive. Their total number is currently 176 while 40 poker tables offer some of the highest bet limits in Vegas. It comes to $20,000 buy-ins and pots that often reach $1,000,000 or more. The perfect place for high rollers and big-time gamblers as you may imagine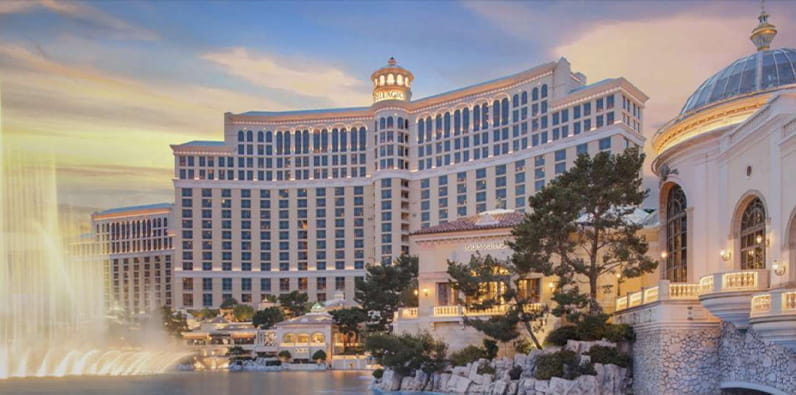 The themed poker rooms include names like Bobby's Room which is perhaps the most popular place in the casino. It is also famous for the Club Prive lounge which is a high limit lounge where the blackjack tables offer minimum bets of $300. Learn more about the best casino in Vegas according to many players in the next list.
Bellagio was established on 15 October 1998.
A unique architecture combines Italian luxury and French style in a modern way.
There are daily poker tournaments including no-limit Hold'em and Omaha poker.
A High Limit Slots room has slot machines with bets between $5 and $2000 per bet.
Bellagio resort features 12 notable restaurants including the 2 Michelin star Picasso.
The Fountains of Bellagio offer the world's most famous water, light and music shows.
The owner of Bellagio is The Blackstone Group.
Bellagio has a conservatory with botanical gardens and a gallery of fine art.
Bellagio won many awards including the AAA Five Diamond Award.
6. Caesars Palace Offers the Best High-Roller Tables
Caesars Palace
| | |
| --- | --- |
| Surface Area (sq. ft) | 124,181 |
| Address | 3570 S Las Vegas Blvd |
| Phone | +1 866-227-5938 |
| Open | 24/7 |
Caesars Palace also deserves the first place in this list as the best casino in Las Vegas, but we put it so further down the list only because it has a smaller gaming floor – 124,181 sq. ft. Nevertheless, the casino in Caesars Palace is known to be one of the best high-roller casinos in Vegas with 16 poker tables and buy-ins between $100 and $150 and blinds up to $20,000. It also has a lot of jackpot slots which are a real treat for the high-stakes placers from around the world. Find out more about Caesars Palace next.
Caesars Palace is one of the oldest complexes on the Strip, opened in 1966.
The casino in Caesars Palace has 1324 slot machines and 185 table games.
The unique Roman Empire style of Caesars Palace is mixed with Renaissance art.
Includes themed attractions such as the Colosseum and a Roman Forum replica.
Caesars Palace is last renovated in 2015.
Caesars Palace is world-renowned for the sports betting opportunities it offers.
The Forum Tower Duplex Suite is used for the filming of numerous films.
7. The Venetian Can Make You Feel Like You Are in Venice
The Venetian
| | |
| --- | --- |
| Surface Area (sq. ft) | 120,000 |
| Address | 3355 S Las Vegas Blvd |
| Phone | +1 702-414-1000 |
| Open | 24/7 |
Another huge gaming floor can be found in The Venetian Las Vegas, which certainly is one of the most remarkable hotels when it comes down to the Italian-themed architectural design and atmosphere.
The Venetian Resort Hotel Casino is famous for its high-roller tables and it also offers almost every type of game. Big poker cash games, tournaments, jackpots, slots, you name it, they'll probably have it!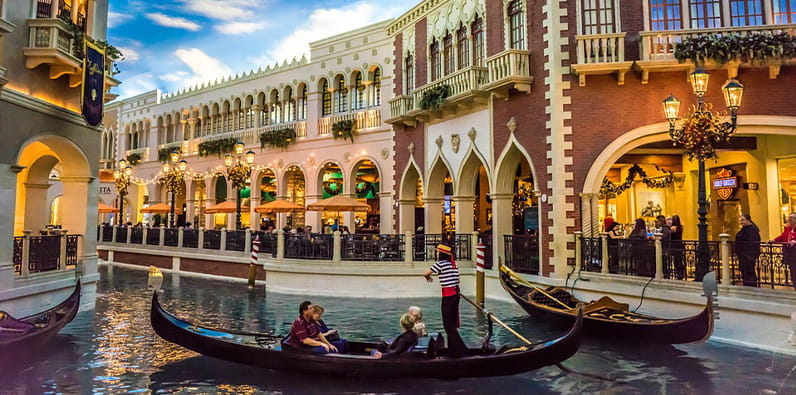 Additionally, The Venetian takes good care of their guests by a world-renowned spa centre, which is a little bit larger than the casino itself. Check out other interesting facts about The Venetian in the list below.
The Venetian Las Vegas was founded on May 3, 1999.
It has replicas of famous Italian sights such as St. Mark's Campanile and the Rialto Bridge.
The spa centre is slightly bigger (134,000 sq. ft.) than the casino (120,000 sq. ft.).
The Venetian has many famous Italian attractions like the Grand Canal Shoppes.
St. Mark's Campanile at the Venetian is one of the most popular sights on the city skyline.
The total number of accommodations in the resort area is 4049.
The Venetian was the world's most expensive ($1.5 billion) resort when it was built.
8. Aria Casino Offers Aria Sky Suites and High Limit Lounge
Aria
| | |
| --- | --- |
| Surface Area (sq. ft) | 150,000 |
| Address | 3730 S Las Vegas Blvd |
| Phone | +1 702-590-7111 |
| Open | 24/7 |
Aria is the next highly recommended suggestion as the best casino to gamble in Vegas because it has an impressive gaming floor of 150,000 sq. ft., where you can find 2000 slot machines and more than 150 table games. Only this combination is enough to put it among the best casinos in Vegas. Moreover, Aria Resort and Casino offers the most luxurious and modern getaway to its guests. It is a real paradise for high rollers who prefer to play slots because there are games among the hundreds of machines that allow bets of $5000 per spin.
Aria is only about 10 years old – it was opened on December 16, 2009.
The casino has a High Limit Lounge open 24 hours a day.
Numerous slot machines offer jackpots with 5-digit numbers.
'The Ivey Room' offers the highest stakes and it is visited by famous US gamblers.
A special poker table named 'Table 1' was opened in 2010.
There are 7 notable restaurants and a Forbes Five Star hotel with 4000 rooms.
The 3-story lobby offers a mixture of styles, materials and amenities.
9. The Cosmopolitan Has the Best High-End Restaurants
The Cosmopolitan
| | |
| --- | --- |
| Surface Area (sq. ft) | 110,000 |
| Address | 3708 S Las Vegas Blvd |
| Phone | +1 702-698-7000 |
| Open | 24/7 |
The Cosmopolitan also has one of the best Las Vegas casinos, thanks to a smaller number (which by the way is quite impressive) of slot machines – 1300, and table games – only 83. However, The Cosmopolitan has some of the highest stakes' tables in Las Vegas too. There is special technology in the High Limit Slots that allows direct payments of the jackpots. The bets on the blackjack and single-zero roulette can be as low as $100 while the maximum limit is often not set.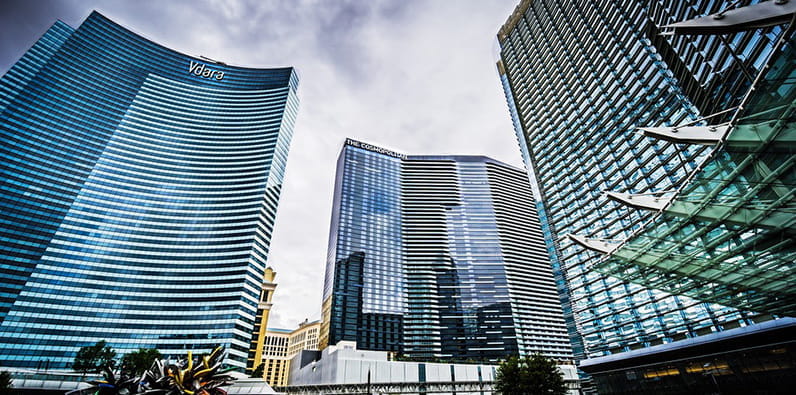 The highest table limit in Las Vegas can be found not in the main casino, though. This is a part of the main attractions in the special boulevard penthouses and suites which can only be booked by invitation. See other interesting stuff about The Cosmopolitan down below.
The Cosmopolitan was built on December 15, 2010.
The casino has a total gaming area of 110,000 sq. ft.
The Cosmopolitan offers numerous fine-dining eateries.
FastPay Technology directly pays out a jackpot.
The highest jackpot resets at $20,000 in the Tarzan slot.
The biggest bet per hand was $300,000 on baccarat.
There is a small 3-room casino on the 71st floor.
The highest bets in Vegas can be found in the boulevard penthouse suites.
10. The Strat Offers Views of Vegas from the 109th Floor
The Strat
| | |
| --- | --- |
| Surface Area (sq. ft) | 80,000 |
| Address | 2000 S Las Vegas Blvd |
| Phone | +1 702-380-7777 |
| Open | 24/7 |
There is no wonder that The Stratosphere, also known as The Strat, has a highly recommended casino that you don't want to miss. It is one of the best casinos in Vegas because it has 80,000 sq. ft. of gaming space with hundreds of slot terminals and classic table games, as well as nearly 2500 rooms and 4 exquisite restaurants. Well, you will find a lot of attractions in the casino and within the complex of The Strat but it wouldn't be a nice trip if you don't enjoy the breathtaking panoramic view of the Strip after a long gambling session. It comes to a panoramic view from the observation deck located at a 1012-ft. tall tower.
The Strat was founded in 1996 while the construction of the tower started in 1991.
The Stratosphere Tower is 1149 ft. tall and it has the Top of the World Restaurant.
The Strat was renovated in 2010 including the tower and the casino areas, and also in 2020.
There will be a glass walkway to be complete by late 2020.
The world's highest sky jump is in the Stratosphere Tower.
There is a rooftop pool on the 25th floor open for adults only.
The casino features 1500 slot and video poker terminals, 50 table games and a sportsbook.
Frequently asked questions