1. See a Magic Show
If we were pressed for time and had to think on our feet about where to go in Las Vegas we'd favour going to one of the spectacular magic shows in the city over everything else. The reason for that is the instant gratification and 'wow' factor only the Vegas shows of this type are capable of delivering. Not to mention the classy venues, the best of which beat a world-class cinema theatre by a wide margin. Industry giants like the legends Penn and Teller perform daily mixing up comedy and mesmerizing magic tricks holding the spectators captives of their amazing art. Over time, magicians' routine has evolved away from the mundane disappearing act, and most of them are improvising with contemporary implements like cellphones, iPads, as well as the occasional chainsaw. The latter is not a frequent prop of most magicians but is a potent reminder of how far the magicians and stunt artist are ready to go to please their audience. Get ready to be kept on the edge of your seat and arm with patience because oftentimes booking a ticket is a laborious endeavour in and of itself given the huge demand.
2. Cirque du Soleil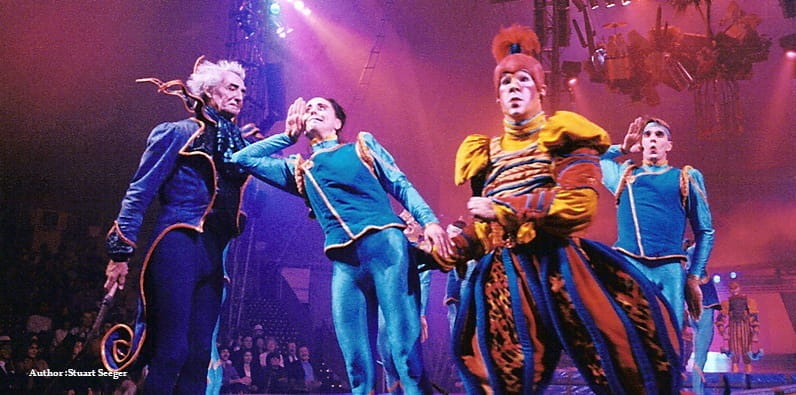 The circus art is still alive and kicking, and shines through the oversaturated in shows and spectacle programme of Vegas, and rightly so. Who wouldn't be interested in seeing the ultimate risk-takers and the most graceful of ballet dancers under one roof? Filtering through your options from this angle, the best of the lot would be Cirque du Soleil (Circus of the Sun) – with seven unique shows around the city playing to more than 9000 people a day. If you're genuinely astonished by worlds' best circus artists, Book a seat in the Bellagio Theater. Attending one such production could easily be one of the most memorable things to do in Vegas. The spacious venue with unrivalled acoustical properties lends itself to startling live performances you can't witness anywhere else. In our estimation, the variety of acts and rich spectrum of emotions channelled through the different performances could easily replace all other forms of entertainment found in Vegas, but that's just us.
3. Visit a Casino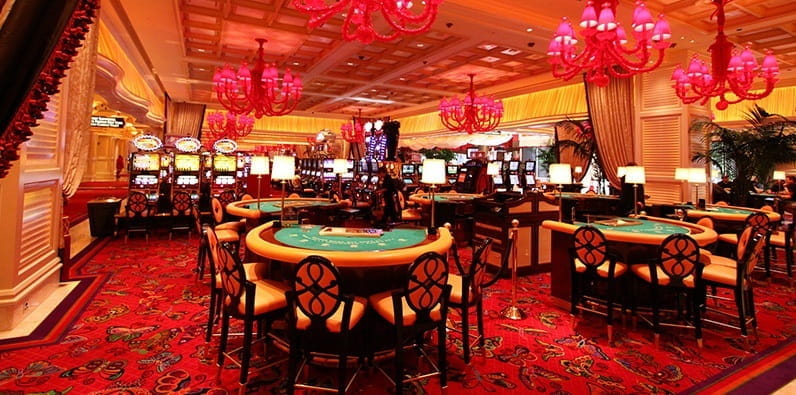 Las Vegas is a city of many names. Also referred to as The Gambling Capital of the World, Vegas is the worlds' richest in gambling facilities city. As good or bad as this may sound, let it not serve as an excuse to act irresponsibly and possibly ruin your trip. If your friends invite you to go to a casino and splash money randomly it would be better if you take a rain check and wait until you've learned the basics of gambling. We, on the other hand, have learned to gamble to our cost and can provide you with some useful advice on the matter. Here's the deal – going to a Las Vegas casino does not have to end in you making the steal of a lifetime nor the casino clearing you out. Those are world-famous casinos steeped in history, a sight to be seen, a tourist destination if you will. Most of them boast a genteel air that very few casinos can ever hope of ever attaining. So, what else can casinos in the Mecca of gambling provide you with other than lofty rooms and high-stakes action? Let us substantiate a little further and say that, when the show business is concerned, Vegas casinos have it all – from the hottest singers and stand-up comedians to the most alluring magic show in the world. This line of thought leads us to our next point.
4. Go to a Concert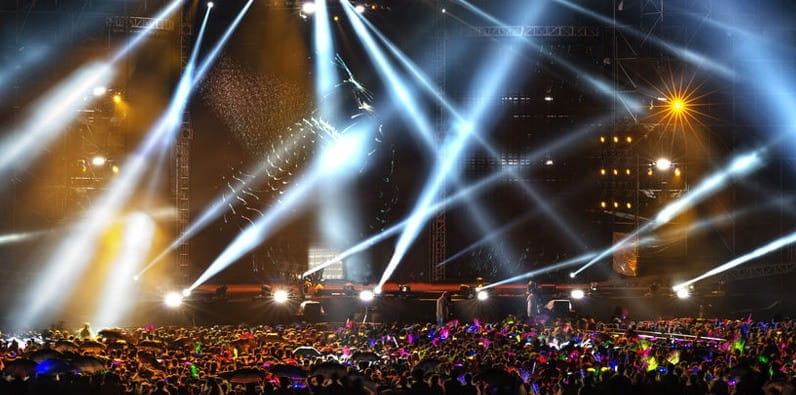 The entertainment industry's brightest stars are in Vegas, putting on shows every night in casinos all around the city. Not only that, but up-and-coming singers also get their fair share of brilliant performances on the luxurious scenes of some of the biggest casinos found there. Definitely, a win-win scenario in which you get to see your favourite artist up-close, and theirs is the satisfaction from performing in front of their most loyal fans. The specially designed stages and intimate setting of the venues give the sense of a more personalized experience than the commercial tours gathering huge crowds in football stadiums. Last but not least, going to a concert is one of the best things to do in Vegas because some of the shows and formats seen there are, most of the time, performed exclusively and can't be seen anywhere else. While the deluge of events and night shows will not facilitate your choice, you'll be sure to pick a world-class performance whichever one you choose.
5. Go Sightseeing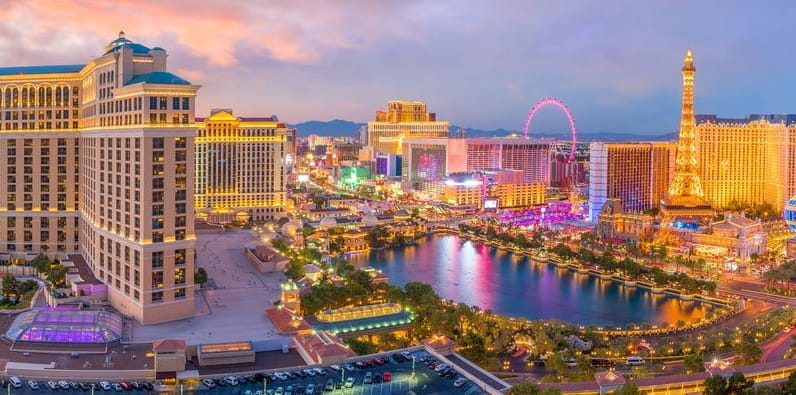 Las Vegas is famed for the many derivative structures like the Caesar's Palace and the Colosseum, Paris Hotel and the Eiffel Tower, which may not be as impressive as the originals but are situated, at most, an hour's drive from each other. Basically, should you have the time and enterprise for that, the freedom to visit as many or as little of the world's most famous monuments' replicas will be in the palm of your hand. But why stop there? Many imposing structures the sight of which will leave you speechless could also be found in the city. Since you can't possibly hope for visiting every single one of the best places in Vegas, a smart move would be to simply go around the city and soak in as much of the remarkable atmosphere as you possibly can during your stay. You don't have to search for too long before finding the next thing to take your breath away. Many people would hint at watching the captivating fountain show of Bellagio as one of the things to do in Las Vegas that's a definite must. However, we hope to have convinced you by now that however spectacular a venue or show may look, it's just a drop in the ocean of entertainment engulfing the city.
6. Jump from the Stratosphere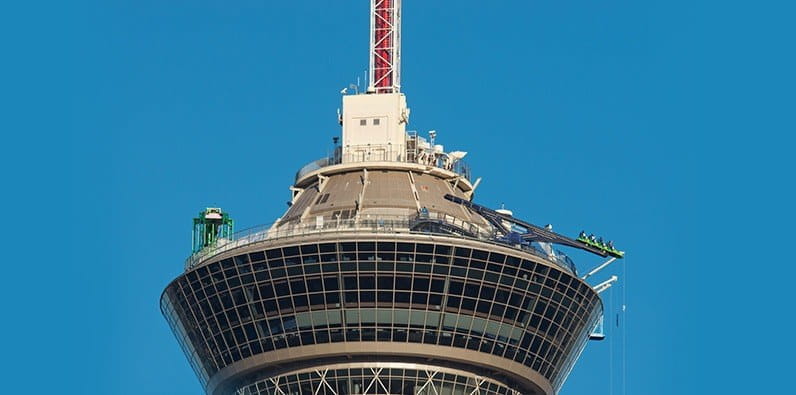 Vegas sure looks like the Land of Plenty for people living in the fast lane, supplying countless opportune occasions for them to fuel their passion for irrational pastimes. To pull that thread a little further, there's a place in Vegas that could very well be the 'downfall' of common sense. The part with common sense as you're 'controllingly' being descended 855 feet down the second-tallest building in the Western Hemisphere. Introducing the Stratosphere – the place to be for the riding-high, casino-loving, thrill- seekers looking for fun things to do in Las Vegas. This tower, hosting a casino and a hotel, is situated just north of the Las Vegas Strip and is often regarded as a one of the best attraction thereof. An interesting fact, however, is that the Stratosphere isn't a part of the Strip by definition. This common conjecture is thought to be the byproduct of the generalization seen in some travel guides. If you can stomach the sensational height of this building, you won't regret visiting its luxurious facilities.
7. Gordon Ramsay Steak
What's the best way to end on a high note an action-packed day, pumped with adrenaline and positive emotions? Indeed, nothing can compare to a square meal of your favourite food but elevated to a fine-dining level. Those are the very standards by which Gordon Ramsay Steak stands. The internationally known ardent chef and Hell's Kitchen creator Gordon Ramsay knows how to turn up the heat. This restaurant of his occupies a premium location in the Paris Las Vegas hotel and boasts a menu of freshly cooked signature dishes. Everyone who knows anything about food is also aware of the punctilious quality control abilities of Gordon Ramsay, so it goes without saying that every bite you take at a restaurant bearing his name, will be orchestrated to perfection. It doesn't take a genius to figure out that the star of every dish in Gordon Ramsay Steak is the meat, but in case you're still wondering what can be ordered there, here's a quick heads-up: iced shellfish platter, roasted beef Wellington, triple seared Japanese A5 Kobe, Ramsay's sticky toffee pudding. We talk about other top-notch restaurants in Las Vegas in another article, be sure to give it a look.
What Happens in Vegas Stays in Vegas
People tend to believe that the best things to do in Las Vegas are invariably related to gambling. We hope to have debunked that myth, and, in addition, changed your perspective on the city for the better. If you want to have a family trip and steer clear of trouble – then go sightseeing or visit family or magic shows laced with comedy and fun moments. Conversely, if you're all by yourself and the only purpose of your trip is to gamble, once again, Vegas can provide. Provide not just anything, but world-class casinos and resorts, dangerous-looking stunts and rides that will make your hair stand on end. We'll finish by saying that whether you're a risk-taker or just travelling for pleasure with your family – It doesn't really matter. if you're looking for fun things to do in Vegas, you're going to find them.