Top Stones Gambling Hall Features and Information for 2021
To make it easier for our readers, we've outlined the most important topics in the following list. The games at the Stones Gambling Hall will be thoroughly observed, as well as the available entertainments and events held at this land-based casino. We'll also provide you with some company information and don't miss out on the spicy details as well!
Since we're talking about a Californian gambling premise, we know that not all of our readers will be able to experience the live thrills of this casino. That's why we would like to compensate the biggest gambling fans among our readers with one of the top US online operators. It offers similar games like Stones Gambling Hall, so do check them out as soon as you can!
History of Stones Gambling Hall – How it All Began?
Card rooms were quite popular back in the 1800s, especially in the state of California. This classic type of having fun and earning money at the same time was quite appealing for players back then, and fortunately, this trend hasn't changed in today's time. That's why a real estate investor named Ryan Stone decided to create a gambling hall that would reminisce gambling fans of the old spirit of card games. After being found in 2012, Stones Gambling Hall has been a great success and continues to improve its offerings.
Furthermore, this classic casino combines the traditional card gaming experience with innovative technology and high-quality customer services. The community of Citrus Heights values this brick-and-mortar gambling establishment, which is also among the most loved places for experienced gamblers from all over the country. If you're an online casino fan, you'll surely find out that even some of the best gambling sites for US players try to provide a similar experience to their customers. However, we advise you to stop by and visit Stones Gambling Hall as soon as you have the opportunity to do so!
The Stones Gambling Hall Poker Saloon
What would a casino be without a game of good old poker? The Stones Gambling Hall poker saloon takes things to the next levels as here you'll be able to play some of the most popular variations of this card classic. You have the option to enjoy 3-Card Poker, Ultimate Texas Hold'em, or if you want to test your skills against other players, make sure to take a seat at Texas Hold'em or Omaha tables. Alternatively, you can also diversify your experience with some California Blackjack with Buster side bets.
Poker tournaments are also frequently held and you even have a chance to appear live on the regular Stones Gambling Hall live stream. All you need to do is reserve a seat so that you can show your skills to the world. Airing times are every Monday, Friday, and Saturday from 6:30 to 10:45 PM PST. Apart from that, regular promotions are also available for poker fans. Some of them include the Royal Flush Wheel Spins, the Bad Beat Jackpot, the High Hand, and many more!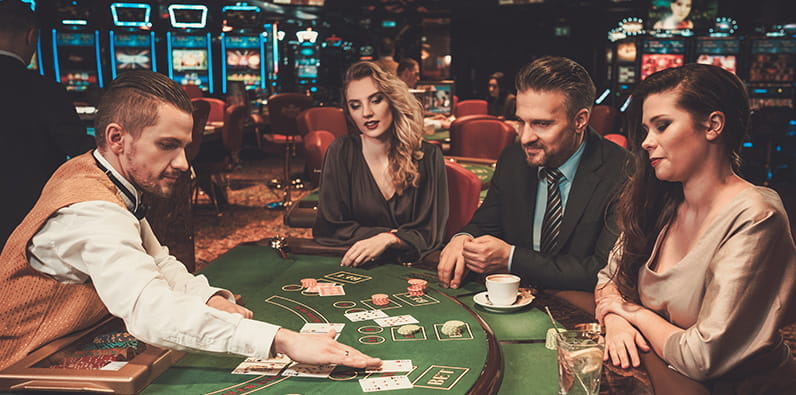 Tavern Games – Other Great Card Options!
If poker is not your cup of tea, maybe the Tavern Games at Stones Gambling Hall will be more appealing. Bear in mind that we're once again talking about card options, but this time they are more related to luck rather than skill. Fans of blackjack and its numerous variations will be pleased to encounter California Blackjack which comes with two side bet possibilities. Spanish 21 is also added in the mix, and we must admit that its rules and various betting possibilities give you even higher chances of winning!
But hold on, there are even more tables available! Baccarat fans haven't been neglected as well since there are a couple of games you'll surely find interesting. If you've played them at some of the best US online casinos that payout, you'll definitely want to experience them in person. Stones Hall Gambling provides one of the most interesting card games in the face of EZ Baccarat, as well as the innovative Dai Baccarat. Last but certainly not least, you also have the chance to play some exciting Face-Up Pai Gow Poker.
Dining and Entertainment at Stones Gambling Hall
With all of the playing and betting opportunities Stones Gambling Hall provides, you might get hungry and thirsty. The casino has you covered with Sammy's Restaurant & Bar, which emphasizes on healthy and well-cooked food. The menu also has other more tasteful options such as tacos and pizzas for those who crave a little bit of junk food at the end of their card-playing sessions.
If you decide to try some exquisite drinks, head over to the bar at Sammy's for some handcrafted cocktails, high-quality wines, or choose something simple like a beer from a wide variety of options. There are also live events you can attend, or organize if you're in search of a more sophisticated business atmosphere. The Aces Entertainment Room is the perfect place to hold meetings or conferences and the Stones Hall Gambling staff can even help you with catering and planning.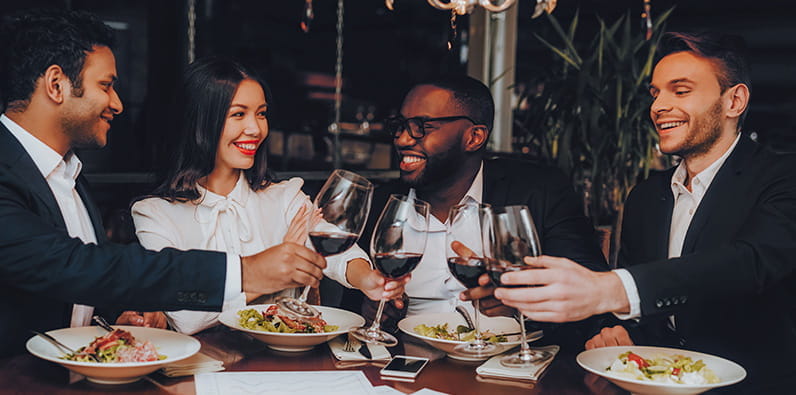 The Stones Gambling Hall Cheating Scandal
Back in 2019, a poker player named Mike Postle was accused of cheating while playing on live streams at the Stones Gambling Hall poker saloon. There were speculations that Mike was able to see the hole cards of all players by using flaws in technology. The cards dealt at the tables contained radio chips which allowed the viewers of the stream to see what is the card value. One of the theories suggests that Mr Postle was able to hack the decks and get notifications on his phone about the hole cards of players.
Another indicator was the fact that Mike was on a hot run for more than 18 months with consistent winnings – an impossible metric even for the best poker professionals. During that period, this player was able to win more than $250,000, solidifying his cheater image in the eyes of many. When it comes to the court decision, it's hard to put Mike's play in one category with the most the common Las Vegas scams. The judge dismissed the case against the poker player and the Stones Gambling Hall robbery of players allegations were over.
Stones Gambling Hall Contact Info
After observing all possible details around Stones Gambling Hall, we would like to conclude that this gambling establishment takes classic card games to the next level. If you're hesitant about trying out the tables there, we advise you to go ahead as players are pleased with the atmosphere and service provided by the friendly staff. The only thing left is to provide our readers with valuable contact information alongside the address of the casino (Stones Gambling Hall Citrus Heights, CA). Check the following table and enter the world of glamorous poker, baccarat, and blackjack games!
| | |
| --- | --- |
| Address: | 6510 Antelope Rd, Citrus Heights, CA 95621, United States |
| Working Hours: | 24/7 |
| Phone: | +1 916-735-8440 |
| Contact Form: | Yes |
| Casino Manager: | Mark Pickens |
| Website: | www.stonesgamblinghall.com |
| Social Media: | Facebook |
Just like any other casino, Stones Gambling Hall also has flaws which we would like to address. Obviously, the focus of the house is more on quality rather than quantity, but it would be for the best if the number of tables increases in the near future.
Roulette games would also be an excellent addition for the fans of this popular gambling option. Furthermore, payment options might not be the most diverse in the industry, so if that's an issue for you, we've got you covered with alternatives in the face of the top American online casinos that accept PayPal.
Frequently Asked Questions
Although there are a lot of questions surrounding the Stones Gambling Hall poker room and the other games that can be found in the casino, we've made sure to gather the most popular ones in the following FAQ section. Check them out as their answers might provide you with valuable insights if you decide to play there!