What Is Stadium Blackjack?
Stadium Blackjack is slowly spreading over the US, with casinos in Las Vegas, Connecticut and California already offering this new game. It is a mix between regular blackjack and online blackjack – there is a live dealer, but you play from consoles similar to video poker machines. This allows a large number of players to participate at the same time – 44 in most casinos, though theoretically the software could support over 300 terminals. Stadium Blackjack is deemed the perfect choice for large groups, couples, and people who don't like the hassle of a real table. The consoles are usually close to each other, but the experience is quite different from what you're used to, and there is much less interaction between the players. If you want to be in solitude when you play, though, there is another option for you – give a check to the best online blackjack sites, a list that we compiled for you, based on our professional judgement.
Rules Overview
In Stadium Blackjack, the dealer is usually standing on a small podium with the shuffling machine next to him; the players' consoles might be situated in front of the podium, around it – or all over the casino. In fact, some people play Stadium Blackjack thinking this is something like an arcade, without being aware that there is a live dealer that is actually drawing their cards. So, here is how a regular session would go:
You pick a console and make a deposit on it. Some casinos offer free bet bonuses, others don't.
It is entirely up to you on which rounds you will place a wager. You get to select virtual chips just like in online blackjack. The bet limits vary across different casinos, but our experience shows that the minimum bet is usually lower than the one at regular tables. You would also often get the chance to pick a dealer, as there would be several available.
When a round of Stadium Blackjack starts, the dealer draws 3 cards – one for him, and the other two for the players. Those two cards are the common starting hand for ALL players.
After you have seen your hand through the console, you have 30 seconds to take an action – hit, stand, double, split or (if the casino allows it) surrender.
The dealer then proceeds to draw the so-called 'community' cards – they are the part that seems to confuse the players the most. The dealer might have to draw several cards, but how they are counted is decided individually based on the player's decisions. The software handles all of this automatically, so it is best not to overthink it and to follow what's happening on the screen. Here is a quick example: let's say that Player A and Player B have an initial hand of 16 against a dealer's '10'. Player A wants to take a hit, while Player B decides to stand. The first 'community' card that the dealer draws is 4. For Player A, it is added to his hand (a hit), which brings his total to 20; however, since player B has decided to stand, on his console the card is added to the dealer's hand, bringing it up to 14. The second card that the dealer draws is 7. Since Player A has also decided to stand after reaching 20, for both players the card is added to the dealer's hand. For Player A, this brings the final result to 20-17, and his win; for player B however, this brings the result to 16-21, and a loss.
There are a lot of rule variations that are decided by the casinos themselves. At some places, blackjack pays 3:2, but at others – 6:5. There is no Peek rule, but in most venues a dealer's blackjack only causes you to lose the original stake, while any extra bets due to doubling down or splitting are returned to your balance. There can also be a number of side bets available. Not all casinos allow surrender; however, a common limitation will be that you can only have up to 3 split pairs – the screen simply can't display any more than that.
What Does It All Mean?
As you see, since the system is fully customizable, most of the rules are actually set by the casino, so they can vary from venue to venue. Most experienced players would hate the 6:5 blackjack pay, but then again – you would hate it on a regular table too. If you look beyond the machinery, Stadium Blackjack should be judged just as any other blackjack games. There are however two important things outside of the ruleset that make it stand out – fast play and no nagging.
Stadium Blackjack rounds tend to go very quickly – thanks to the system, less cards are dealt, and the consoles process the results much faster than a dealer. There is also less room for errors, and the whole game is very streamlined. The downside – you get less time for thinking. There is about half a minute between rounds, but usually you have 10-15 seconds to plan your move. If you don't press the correct button in time, the system will automatically decide that you want to 'stand'. This can be rather stressful, especially for inexperienced players.
The lack of negative comments from random players, however, can be a balm on the nerves. As you may well know, sitting down at a blackjack table can lead to a great camaraderie and awesome fun – but the whole experience can be ruined by a 'pro' that is determined to criticise each and every decision that you make, especially if you are sitting at the 3rd seat. Stadium Blackjack allows more people to participate in the game, but actually limits the interactions – your decisions do not impact the draw of the cards in any way.
Of course, the whole system is also bad news for card-counters – but nowadays, most online casinos and land-based venues keep a lookout for advantage players, and outright ban them from the premises. Hell, even Ben Affleck can't catch a break.
Will Stadium Blackjack Threaten Regular Blackjack?
Not at this stage, not by a longshot. Stadium Blackjack is a curious new take on the classic game, and casino fans should definitely give it a go when they are on a gambling trip. However, its biggest advantage is also its greatest weakness – Stadium Blackjack feels different. This might give the game its own niche, but it will not threaten the age-old blackjack table.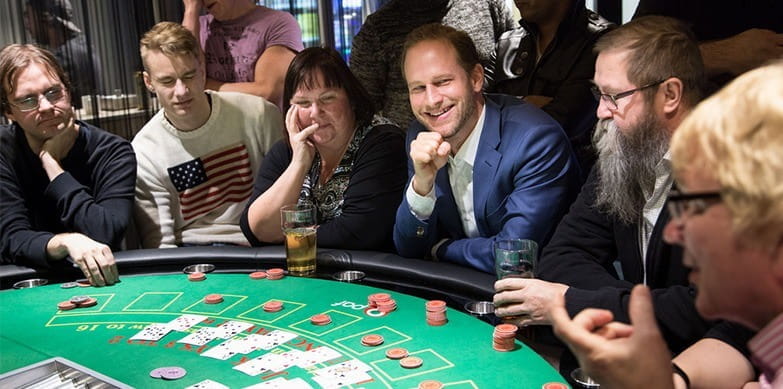 However, in the long run, things are definitely not that certain. As we've already said, VR casinos are just one of the new things we will be hearing more and more about in the next few decades. Stadium Blackjack fits into the new mould that will shape the future. It allows for larger crowds with fewer dealers, thus limiting the casinos' expenditure; the console element, meanwhile, might make the game a hit with millennials.
The question is whether this hybrid will prove successful? Stadium Blackjack has features of both regular and online blackjack, but lies somewhere in-between. While it is dead certain that brick-and-mortar casinos will continue to function, their biggest draw compared to online casinos will, without a doubt, be the social factor. Stadium Blackjack simply doesn't have the same magic as a regular blackjack table.