Short Deck Poker Rules – What's the Difference?
When we're talking about this variation, you should have in mind that it isn't quite wide-spread across the top online poker sites but you'll see that this can surely change. As you can tell by the name of this poker game, we're talking about a modified deck of cards which is shorter than your normal 52 card selection.. In this case, all cards from 2 do 5 have been removed, which means that the chances of receiving high cards or even great pocket pairs increase significantly. Another major difference is that the lowest straight you can possibly make is A 6 7 8 9. Unlike the "wheel" straight on Texas Hold'em (a straight from A to 5), with the Short Deck one there can be even more possibilities for a higher combination, depending on the board. Furthermore, one major difference worth noting is that the flush is a higher combination than the full house. Due to the lower amount of cards which respectively means a lower chance for a flush, this combination can be considered even more valuable, while the chance for a full house remains proportional like the one at Texas Hold'em.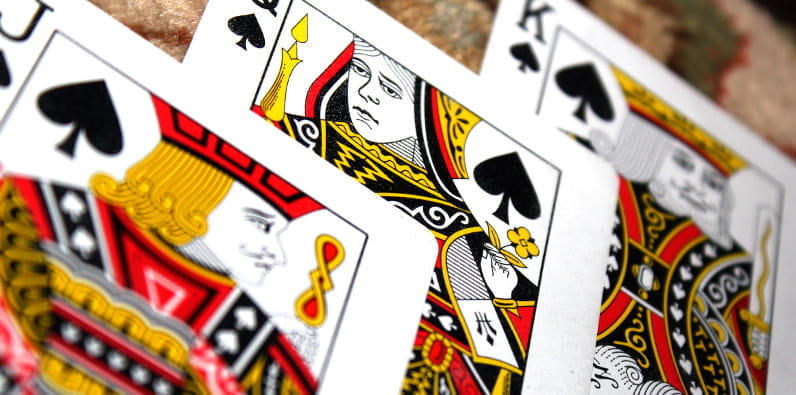 One thing worth mentioning would be that in some Short Deck Holdem variations three-of-a-kind might be a better hand than a straight since the chances for having a set or trips are smaller than the ones for having five consecutive cards. Last but not least there's a difference with the blind structures as well. The small blind doesn't exist and is rather replaced by an ante, paid by everybody. The player on the "button" posts a blind which can be usually 2 to 4 times the amount of the ante. Sometimes even the best poker players might get baffled with the strategic approach, having In mind this different set of rules. Therefore, in the following paragraph, we would do our best to provide useful tips for the development of your Short Deck strategy!
Short Deck Poker Strategy – Tips and Tricks
Poker is maybe one of the few games where a strategic approach can actually provide long-term success. Therefore, all serious players who play this game not only for fun but to earn a living have different strategies depending on the goals they've set. Needless to say, Short Deck Hold'em is no exception to this rule. That's why in the following lines we've gathered some of the most valuable tips which will help in your own games.
Tip #1 – Don't Rely on Flush Draws Too Much
Since the deck is shorter, flushes become even more valuable, but waiting for the right card is actually more difficult than you can think. With 16 cards less, the chances of hitting a flush become slimmer. Let's say you have two hearts in your hand and on the flop, there are two hearts as well. With 5 cards left available and potentially other players who also participate in the game, sometimes paying or betting on a flush draw isn't the most reasonable of choices!
Tip #2 – Open-Ended Straight Draws Can Be Very Profitable
The more outs you have, the better! Since the deck has only 36 cards and open-ended draws give you 8 outs, this means that theoretically, almost 1 in every 4 cards will be the one you're waiting for. A 25 % theoretical chance in poker, regardless of the circumstances and without knowing the opponent's hands should definitely be something worth your consideration!
Tip #3 – Always Consider the Percentages of Having a Combination
While having better chances of making a winning hand is great, you shouldn't forget that this applies equally to other players as well. Furthermore, when we're talking about significant improvements in odds, being more cautious and deductive in your evaluation would be most preferable when playing. Knowing which are the best poker tells is also a significant advantage, especially when you are playing live. However, if we're talking about online play, numbers are always of major importance so here is the table below with percentages comparing combinations between Texas Hold'em and standard Short Deck poker:
| Combination | Short Deck Hold'Em | Texas Hold'Em |
| --- | --- | --- |
| Royal Flush | 0.00019% | 0.00015% |
| Straight Flush | 0.00017% | 0.00013% |
| Four of a Kind | 0.031% | 0.024% |
| Full House | 0.18% | 0.14% |
| Flush | 0.14% | 0.19% |
| Straight | 0.50% | 0.39% |
| Three-of-a-Kind | 2.74% | 2.11% |
| Two Pair | 5.84% | 4.75% |
| Pair | 54.92% | 42.25% |
Tip #4 – Strong Hole Cards Aren't Always the Best!
While having high hole cards in your hand might be most recommendable in Texas Hold'em, this doesn't apply with full force for Six Plus Hold'em. The reason for that is the lack of small cards which automatically makes middle hands like Jack-Ten almost equal to Ace-King. This way, you have a chance to connect with smaller and higher cards. Furthermore, by having more outs, you have a better chance of winning the pot and increasing your stack.
The Future for the Texas Hold'em Short Deck Variation
While the need for a new and exciting poker variant has been the driving force for creating Short Deck Hold'em, the game has quickly started spreading across casinos and is expected to gain even higher popularity. Even one of the top poker professionals in the face of Tom Dwan has abandoned the spotlight of Texas Hold'em and embraced the action of Short Deck. 'Durrrr' has been a great ambassador of the game and has been spending most of his time at casinos across Macau playing it.
Due to the increasing popularity, even some of the best UK poker sites offer Six Plus Hold'em to their players which makes it even more accessible, solidifying the variation as a world-class type of poker. However, if you still aren't caught in the hype of this game and prefer improving your classic Hold'em skills, the Phil Ivey masterclass might be of more interest to you. Another page that might sparkle your interest is filled with new casino sites launched in the past months. Make sure to check it out and we'll see you next time!