History of Riverboat Gambling
Initially gambling on board was a by-product of the boredom and the available spare time passengers had while commuting on riverboats. Wealthy merchants had to navigate up and down the river in their pursuit of business opportunities. The presence of money and the need for entertainment made gambling a preferred activity. Soon enough boats began to attract professional gamblers for two main reasons. First, with cities and states passing prohibiting legislation, gambling ashore became illegal almost everywhere. The fairly unregulated waters, however, provided a way to move around and keep a low profile. Secondly, it is believed that at the time lynch-law was customary when dealing with alleged cheats. A famous 1835 incident in Vicksburg, Mississippi, involving the deaths of five gamblers, is often used to illustrate the overall attitude to "gambling professionals". This term had a rather different meaning back then and was basically a synonym of "card sharp" – a person using tricks to gain an unfair advantage in a game of chance.
The railroad boom and the American Civil War in the second half of the 19th century caused a decline in river transport and all related activities. In the 20th century, modern flat boats are still used for cargo operations and tourism. The concept of recreating the golden age of riverboat gambling for commercial purposes emerged in the late 1980s when several states enacted laws to allow games of chance on vessels and set a legal framework for regulation and taxation of casino operators.
Gambling Statutes Along the Mississippi in the 19th Century
Gambling as a commercial activity had its ups and downs during the American Frontier era. Changing legislation and regulation created hot spots that existed in contrast to state-wide prohibition. Louisiana for example enacted a law in 1806 that made gambling illegal everywhere except in New Orleans. This resulted in the concentration of gambling facilities in the city. A few years later, in 1814 a law was passed in Missouri that established prohibition in the entire state. In the same year casino licencing and taxation were introduced in New Orleans. The city took advantage of these additional tax revenue streams until 1835 when casinos were legally forced to close. The first documented full-service casino named Crescent City House opened doors in New Orleans in 1827. It worked around the clock until casino operations became illegal in 1835.
Riverboat gambling became popular in the 1850s and was a casual activity, rather than an organised commercial operation. Furthermore, the river is effectively a borderline between many states, making it a no man's land and a convenient jurisdiction grey area. These factors combined made gambling on board relatively safe from a legal point of view. It's worth mentioning that the first casino vessel in the US was opened much later, and quite far to the north. Named the City of Traverse, it first set sail in 1904 in the waters of Lake Michigan. And while we're mentioning Michigan, now is the perfect time to tell you that recently the state legalized online casinos, so there are some superb online casino Michigan operators. Furthermore, there are also many online casinos that take PayPal so you can have a safe and hassle-free experience.
Modern Casino Vessel Regulation
The foundation of contemporary gambling legislation was set in 1951. Lyndon Johnson, who was a senator at that time, gave a great contribution to passing the Transportation of Gambling Devices Act, which became commonly known as the Johnson Act. In a nutshell, the bill criminalises the transportation of gambling devices across state borders unless the local jurisdiction in the destination allows that. Exceptions regarding vessels and voyage destination are also described. As most states had gambling banned by the end of World War II, the act intended to support state laws by limiting the use of established trade channels for shipping gambling devices where they were not allowed.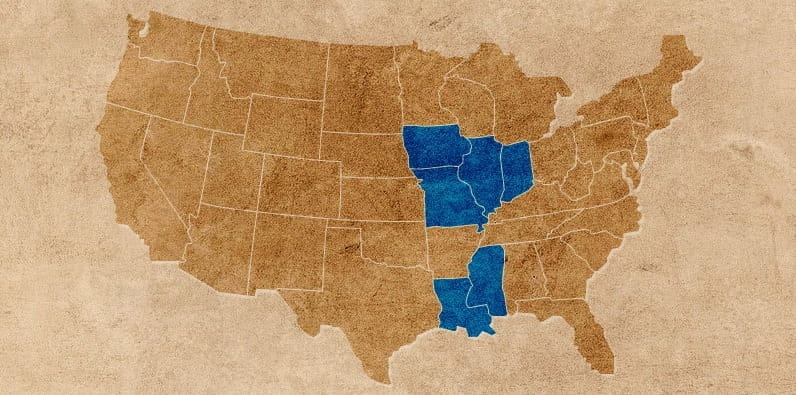 The provisions of the Johnson Act caused controversy as some states began to allow gaming on the water in the late 1980s and early 1990s. There was a loud debate about where and how casino boats should operate, without the risk of violating federal law while complying with state regulation at the same time. The doubt expressed by state legislatures and businesses alike was obviously dispelled, as riverboat gambling is now legal in six states. Iowa pioneered in 1989, followed by Illinois and Louisiana in 1991. By 1993 riverboat gambling was legally allowed in Mississippi, Indiana and Missouri. As each state passes its own bills, there's no uniform regulation and there's great variance regarding requirements. Here are some examples:
Boat appearance – in Louisiana the vessels must replicate the appearance of 19th century paddlewheel boats. This sets further technical requirements on the ship propulsion.
Technical requirements – in order to look authentic, gambling boats in Louisiana must be paddlewheel driven, either partially or completely. However, ships don't have to be steam propelled.
Vessel size and capacity – the law in Indiana requires minimum ship length of 150 feet and the ability to carry a minimum of 500 passengers. In Louisiana, boats are required to carry a minimum of 600 people (passengers and crew).
Wager limits per bet and per trip – for instance, Iowa's state law set a $5.00 bet limit and a $200 loss limit per player per cruise.
Restrictions in the conduct of gambling – in most states, it was required for gambling to take place while the ship is en route. However, many exceptions related to weather and safety considerations made it possible to establish casino operations on boats that never leave the docks.
Number of licences to be issued – Louisiana set a limit of 15 casino boat operation licences. The Illinois Riverboat Gambling Act authorized the state's Gaming Board to grant up to 10 casino licences.
Tax contribution – the law in Illinois says that 15% of gambling revenues goes to the state, and 5% to the local community.
It's worth pointing out that the navigable waters of Mississippi and its major tributaries flow across (or along the borders of) other states, where riverboat gambling is not allowed. These include Minnesota, Wisconsin, Kentucky, Arkansas and Tennessee. Since riverboat casinos are meant to represent the US historic heritage, it would be interesting to compare their legal statute to contemporary forms of gambling. Here we provide a map of online gaming legal statutes and additional details that you might find useful.
The Economic Impact of Riverboat Casinos
According to the American Gambling Association stats by 2018 there are 63 riverboat casinos across the mentioned six states. This number includes boats that are on or connected to a waterway, including in a moat. It's interesting to note that in Illinois and Missouri riverboat casinos represent the entire commercial casino industry. In Illinois the year to date gambling tax revenue from riverboats in December 2018 was $382.5 million in state tax and $79.6 million in local tax. In Missouri, riverboats generated $152.1 million in tax revenue. In other states, the reports are mixed and there's no convenient way to separate casino vessels from dry land operations. Also, we are not aimed at providing a thorough analysis. However, tax revenues in the selected states should give a hint of how much goes to the states and local communities. Keep in mind that the measurement of the total economic impact of the industry includes the evaluation of many other factors. Riverboats create jobs, pay wages and benefits, spend money on resources driving business to other sectors, and compete with other industries for the time and money of the same customers.
Modern Day Riverboat Casinos
After so much was said about history and legalisation, it would be great to shortlist some casino vessels that are currently in operation. We'll give an example from each of the six states that allow riverboat gambling.
Casino Queen – we start with a vessel in Iowa, which was the first state to legalise gambling on boats. Casino Queen is a marvellous venue located in Marquette, on the Mississippi river bank. The boat known as Lady Marquette went through a couple of ownership changes and re-brands. The current owner, CQ Holdings Company Inc., acquired the vessel in 2016 and gave it its current name. The company also runs another venue in East St. Louis, IL.
Grand Victoria Casino – is a 29 850 square feet casino boat located in Elgin, Illinois. It started operating in 1994. After the closure of an acquisition deal in 2018 the casino is currently owned by Eldorado Resorts
Casino Aztar – located in Evansville, Indiana, the casino functions on a replica riverboat that cruises on the Ohio River. The boat is frequently referred to as the City's top attraction. It opened doors to the public at the end of 1995 and was the first gambling vessel in the state of Indiana.
Amellia Belle – this is a remarkable casino ship in Louisiana owned by Boyd Gaming. The boat has more than 800 slot machines and 15 table games on board and stands out with a classic golden age exterior.
Ameristar Casino – a polished waterfront venue opened in 1994 by Ameristar Casinos, Inc. The venue is located in Vicksburg, Mississippi, and was the company's first investment outside its home in Nevada.
River City Casino – this venue has a 90,000 square foot gaming floor hosting approximately 2 000 slots machines and 55 gaming tables. It is situated in Lemay, Missouri, in the greater St. Louis area. Despite being a waterfront facility, the casino is not on an actual boat. The broad definition in the state's law allows gambling facilities to be built on floating platforms. As a result, cunningly designed brick and mortar buildings are lawfully functioning as licenced casinos under the current regulation.
As you probably noticed, like in any other industry, change of casino ownership is not uncommon. This is often accompanied by re-branding. Bear in mind that the brands and vessel location might change over time. Another thing to consider is that some states are not too precise in their definitions and any facility near water may classify as eligible. In Missouri for instance, this allowed investors to build legal casinos in that are far from the look and feel of real flatboats. However, nowadays, the situation is a tad different. Why limit your options only to brick and mortar establishments when you can play at the best online casinos for US players!