The list of top spots is not short at all. However, we will focus our attention to the best restaurants that have very attractive and interesting meals on their menus. Quality of food may be the most important thing if we are talking about restaurants, but the place itself plays a very important role in the level of satisfaction among clients too. Read the paragraphs below to learn about the top restaurants in Atlantic City that offer both delicious food and sophisticated surroundings.
Gordon Ramsay Pub & Grill
When we mentioned celebrity chefs, we were not joking. The growth of the casino industry and the instant flow of people coming here for the big thrill as we said has played an important role. And you have to be sure that it is not only gamblers that are attracted to the city. Celebrity chefs are also looking for various opportunities to find a good place for a successful business. And Gordon Ramsay has found It too, opening his restaurant nowhere but at the Caesars Atlantic City Hotel & Casino. Here, in a typically British pub atmosphere, you can enjoy Scotch eggs, fish and chips, beef dishes or shepherd's pie and many kinds of beer. And there is no doubt that the name of chef Ramsay surely stands out for quality and sophistication.
Bobby Flay Steak
Yes, another celebrity chef from the constellation of the best ones. His steak house is situated in another prominent Atlantic City Hotel Casino & Spa complex – the Borgata. Like Ramsay, Bobby Flay is another celebrity chef, famous for his professional attitude and is also a tv personality and an entrepreneur. At his Steak House, you will enjoy a chic and classic atmosphere. It is a modern version of a traditional steakhouse with some custom dishes from the region. The place features a great interior design. The signature dish is the Philadelphia-Style Strip Steak. Not to forget to mention the New York strip steak too or the hanger steak. Fish lovers can enjoy the tuna steak as well. Sounds good, tastes good.
The Iron Room
Over the years, this restaurant has established as one of the most notorious in the city, visited by many celebrities too. Here you can taste really sophisticated dishes such as foie gras pierogi, steak tartar, Scottish salmon with ramen or the famous Kobe beef burgers. If you want something to drink, you can order from an undisputed brown-liquor collection. The person responsible for this amazing combination of dishes and sophisticated drinks is executive chef Kevin Cronin who brings in the Iron Room creative globally inspired contemporary American cuisine.
Pancho's Taqueria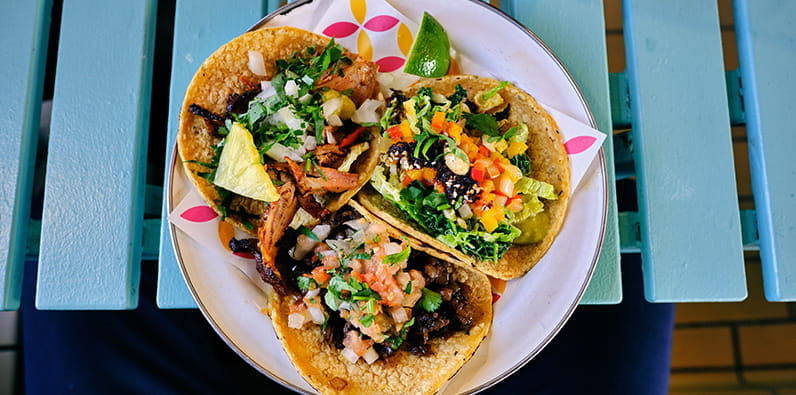 Like we said earlier, there is enough for everyone. Along with the luxurious restaurants, there are some unpretentious places where you can still taste delicious food too. A prominent representative of the modest places is the Pancho's Taqueria. Although it is not "expensive" as the other restaurants that we described earlier, it worth visiting because it offers wonderful Mexican eats. It is more like a fast-food restaurant. It was opened in 2006 by Fabiola Sanches and primarily as a typical Mexican taqueria to serve dishes to the Mexicans and other Latinos who work at the casinos. However, over the years, this place charmed the Atlantic City residents and visitors and deservedly gained popularity. Here you will taste the best tacos topped with chunks or al pastor pork and tortillas. All the dishes are made on the moment right in front t of the customers. A very nice place to have a quick bite, indeed.
Council Oak Fish
This relatively new restaurant that opened in 2018 is located in one of the best Atlantic City Casinos the Hard Rock Hotel and Casino. It is a modern seafood restaurant. The menu includes delicious meals such as steamed or chilled king crab, Maine lobster, chilled shrimp, raw oysters and many caviar proposals. Or better try the New England clam chowder, which is a Maine lobster cooked on a grill, over shellfish pots. In addition, you will be stunned with the vast 2000 + wine-bootles list. Those of you who love seafood, should definitely visit this unique restaurant because it also offers one of the best raw bars on the Jersey Shore.
Café 2825
As its name may or may not suggests, this is a cosy Italian restaurant with a capacity of 52 seats. It is more like a boutique restaurant that offers brilliant dishes. Café 2825 is opened since 1986. The place has an old-school design. Italian food lovers will be happy to discover amazing eggplant rollatini, stuffed artichokes or veal chop parmigiana. There are many homemade pasta variations on the menu, which includes also cacio e pepe, prepared in a hollowed wheel of Pecorino cheese. And what goes best along with the excellent Italian dishes is a glass of perfect wine. The restaurant offers some of the best wines from Italy and California region.
Dock's Oyster House
Have you already licked your fingers? Wait for a moment, as we are not done. We have to give credits to one of the restaurants with the longest history in Atlantic City – Dock's Oyster House. This place was founded back in 1897 and has lived through two world wars and the great depression. It has been run by four generations of Daugherty family and thanks to their efforts throughout the years, clients are still pleased by the wonderful kitchen. Amazing fish dishes are among the most preferred in the menu that includes chilled oyster and lobsters, Cape May Slats, plump Chesapeake Bay oysters, briny Wellfleet and many other delicacies from the list of daily offerings. The restaurant closed in 2015 to undergo a multimillion-dollar renovation and business expansion.
Izakaya
This is another prominent restaurant situated in the Borgata. It is inspired by the traditional Japanese pubs called Izakaya, and the main credits for the sophisticated menu are given to chef Michael Schulson. Each Izakaya specialises in a certain dish, but the main idea of Schulson was to offer a little bit of every izakaya's speciality in one place. And here is the result – a great choice between tuna tataki, miso-glazed foie gras, Kinki chicken wings, sushi and sashimi. And for the good Japanese-themed atmosphere an extensive list of sake is added too.
Overview
We bet that your stomach loved that article. First of all, Atlantic City is well known for its casinos. If you are a casino lover and visit this attractive destination, you will have a very good possibility to enjoy playing on your favourite roulette, blackjack or slots at any of the big and luxurious casinos. But you can also spend a wonderful time in one of the best restaurants with the best dishes that you can ever imagine. So if you decide to visit the city, waste no time and taste the food served in these top restaurants. But don't forget to explore other places, as they most probably have something good to offer that is worth trying too.