List of the Best Quad Cities Casinos
The Quad Cities casinos in this list are only three, but we also included a couple of other top gambling sites that are located within about an hour's drive distance. This name 'Quad Cities' is, as a matter of fact, not the real name of a city. It is a whole area at the conjunction of Iowa and Illinois comprising four major cities along the river. It comes to the cities of Davenport and Bettendorf in Iowa, as well as Rock Island, Moline and East Molin in Illinois. They together form the so-called Quad Cities metropolitan area which saved its historical name although the number of the cities is, nowadays, five.
You can find superb Midwestern hospitality and gambling opportunities within the top three casinos in the Quad Cities. This Midwestern region enjoys a long historical background when it comes down to gambling. The famous riverboat casinos in the Quad Cities contributed a lot for the gambling history of this area, and nowadays, this legacy continues in an even more developed and contemporary manner. Moreover, there are many iconic casinos near the Quad Cities, which also played a major role in the development of this region as a gambling centre in Iowa and Illinois. That being said, here is a full list of the top Quad City casinos and stay tuned to the end of this guide because we will review each of them as well!
Casinos in Quad Cities
| Casino | Location | Gambling Area | Slot Machines | Table Games | Gambling Amenities | Hospitality |
| --- | --- | --- | --- | --- | --- | --- |
| Rhythm City Casino Resort | Davenport, IA | 35,000 sq. ft. | 1000 | 28 | Electronic tables, sportsbook, sports lounge, membership e-club | Hotel, event/business/shopping centres, spa, indoor pool, restaurants |
| Jumer's Casino & Hotel | Rock Island, IL | 42,000 sq. ft. | 1000 | 18 | High limit slot room, Lucky North players club, sports bar | 205 rooms, fitness, indoor pool, golf, steakhouse, cafe, restaurant |
| Isle Casino Hotel | Bettendorf, IA | 35,000 sq. ft. | 1000 | 20 | VIP lounge, bar, One Club membership, baccarat tables | 500 rooms, 3 restaurants, fitness, convention centre, indoor pool |
Casinos Near Quad Cities
| Casino | Location | Gambling Area | Slot Machines | Table Games | Gambling Amenities | Hospitality |
| --- | --- | --- | --- | --- | --- | --- |
| Riverside Casino and Golf Resort | Riverside, IA | 50,000 sq. ft. | 1000 | 42 | Electronic tables, sportsbook, membership e-club | Hotel, golf course, fitness/event centres, spa, swimming pool, 4 restaurants, cafe |
| Wild Rose Casino & Resort | Clinton, IA | 19,500 sq. ft. | 543 | 11 | Bartop gaming, racing, DraftKings sportsbook, Club Wild membership | 60 rooms, event/business/shopping centres, 3 restaurants, ballroom |
Remember that gambling is not legalised throughout the US but Iowa and Illinois make an exception. You will find out that a few of these top Quad Cities casinos even offer legal forms of online gambling. Moreover, each of the casinos in our guide is located in a huge resort and hotel complex with a lot of other amusements and attractions. The scenic vistas over the Mississippi River will provide the best final touches for your unforgettable experience, while the Midwestern charm of the Quad Cities is unrivalled. Let's get started with the most popular gambling location in Davenport, Iowa!
Rhythm City Casino Resort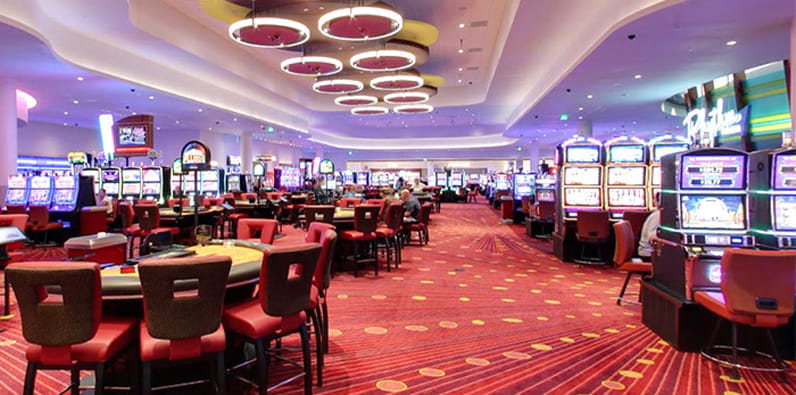 This Quad Cities casino is located in a huge resort just outside the metropolitan area and far away from the hustle and bustle of the riverfront. It may sound like a perfect combination for a laid-back gambling vacation but you can find all the modern comforts in the resort itself. It has a swimming pool with a spa centre, as well as a gift shop, bars, restaurants, and other amenities. Players can place their bets on over a thousand slot machines and dozens of tables! The gambling floor of Rhythm City Casino Resort has two special areas: The Feature Bar and The Rhythm Room, where you can pamper yourself with your favourite drinks between every gambling session.
When it comes down to gambling, Rhythm City is one of the top casinos in Quad Cities! It has a dozen progressive slots with jackpots over $13K, and some games like Easy Riches offer even bigger prizes of over $22K. You can also find a tonne of new slot machines, as well as a few classic titles. The table games include just about everything from craps and Pai Gow poker to Texas Hold'em. Unluckily, there are no baccarat tables but, on the other hand, you can jazz up your gambling experience with four electronic tables for craps, blackjack and roulette. Sports betting is another highly anticipated option in Rhythm City Casino!
Jumer's Casino & Hotel
Jumer's is another remote Quad Cities casino located in a secluded area alongside the Rock River. It offers a lot of hospitality amenities, including nearly 200 luxury hotel rooms, bars, restaurants and other eateries. Well, the casino floor is its greatest attraction because with 42,000 sq. ft., Jumer's offers the largest gambling area in the Quad Cities. This was noticed a few years ago when Jumer's Casino & Hotel won the Casino Player Magazine award for Best Hotel and Best Players Club.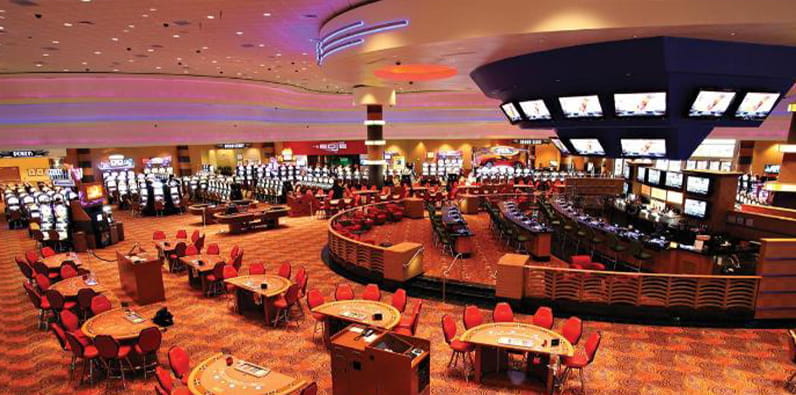 Guests can enjoy a real Vegas-style gambling experience thanks to the nearly 1000 slot machines. The table games are not so many as in Rhythm City or Isle Casino, and yet, you can find over a dozen fantastic tables. On the other hand, there are nice jackpot slots and a special high limit area which is a real magnet for the high roller players. Jumer's is the largest of the Quad Cities casinos by area and, therefore, you can also find a lot of amenities on the gambling floor. From a sports bar to a cosy poker lounge, there is all that you need for an unforgettable gambling vacation in the QC. There are six poker tables where many tournaments take place daily. For instance, you can participate in the 'No Limit Hold 'Em Tournament' with $50 buy-ins and $4,000 in tournament chips.
Isle Casino Hotel
Isle Casino Hotel has a premium location along the riverfront and its visitors can enjoy a wide variety of the top Bettendorf landmarks at just a short walk trip distance. It also offers one of the largest hotels in the QC with over 500 rooms while the state-of-the-art casino floor is packed with slot machines and table games.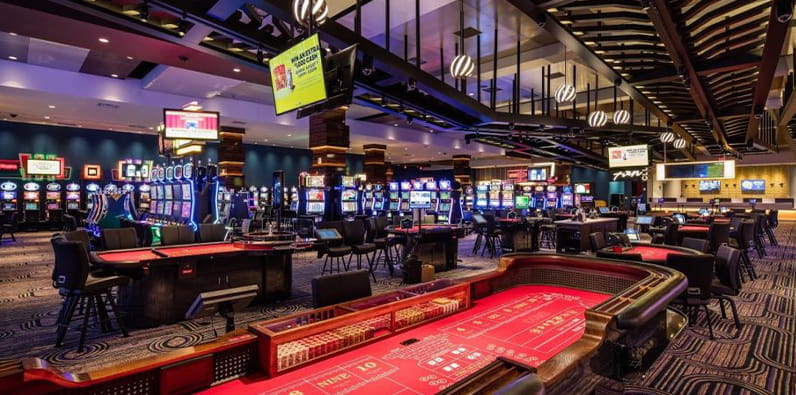 Isle Casino is open non-stop in the weekends and players can enjoy over 1000 slot machines and progressive games. The One Club membership is your best option if you play to stay and play a lot, thanks to the numerous rewards and surprises for the most serious gamblers. The tables games are 20, and they include blackjack, roulette, craps, Three Card Poker and Texas Hold'em among others. There is even a special table with 3 Card bonus bet on Mississippi Stud. Also, by contrast to the other Quad City casinos mentioned above, Isle Casino has baccarat tables. If the card games are your thing – make sure to visit this Quad Cities casino!
List of the Best Casinos Near Quad Cities
It wouldn't be a complete list without two of the best casinos near Quad Cities! There is no doubt that in Iowa are located some of the best gambling cities in the US and the state of Illinois also has some amazing casino destinations. However, we would also like to include in this list only two of the biggest casinos near the Quad Cities that are located at just a short drive distance from the metropolitan area. See why!
Riverside Casino and Golf Resort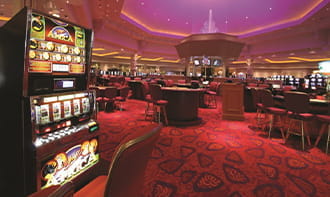 There are a few top casinos near Quad Cities, but this one is the best of them! It has a huge adjacent golf course, so you can always find plenty of amusements between your game sessions.
Besides the numerous amenities of the resort, the casino features an area of over 50,000 sq. ft. making it even bigger than the Quad Cities casinos. Respectively, you can find plenty of games in Riverside Casino.
From over a thousand video poker and slot machines to over 40 table games – you will easily find what you are looking for. Moreover, It also has a huge sports betting area and plenty of poker tables, so your gambling experience will be very diversified as well!
Wild Rose Casino & Resort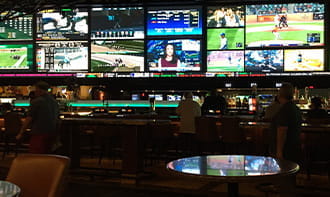 This is another highly recommended place to visit when you are looking for the best casinos near the Quad Cities. Wild Rose offers much fewer accommodations – only about 60 rooms, and it has a smaller gambling floor according to the other places in our guide.
However, the exclusive gambling amenities in the Wild Rose Casino include the option for bartop gaming. You can also take advantage of numerous racing games and a fantastic DraftKings sportsbook with 21 huge TVs and two video walls.
The regular casino games include over 500 slot machines and about a dozen table games including blackjack, Mississippi Stud, craps and other tables. There are electronic tables for blackjack and roulette as well. If this is not enough for you, then you can join the Club Wild programme, and you will find out more!
Quad City Casinos – Overview & FAQ
Of course, a couple of important questions and answers are always useful! Check out our selection in the following lines and, of course, read our full guide with the best online casinos in the USA. Be more informed during your next gambling trip to the Quad City casinos!