Pittsburgh Casino Games & Venues
For starters, we will share some more general information regarding the River Pittsburgh casino. The place is huge, with many venues and amenities. In the gaming hall, you will find over 2500 slot machines plus over 100 table games. The number of rooms available for accommodation is 219, which includes rooms of all types and price range, but this is not yet a fact.
Make your reservation in advance if you want to be sure that the trip will go as planned. When you arrive, you will see that there are plenty of bars and restaurants where you can have a short brunch, or have a formal dinner in a cozy atmosphere.
| | |
| --- | --- |
| Casino: | River Casino |
| Number of Games: | 2700+ |
| Accommodation: | 200+ rooms (Soon) |
| Side Venues: | Parking, Bars, Restaurants, Events Hall, Poker Room, Sportsbook |
| Owner: | Holdings Acquisition |
| Opened: | August 9, 2009 |
The first Pittsburgh casino hotel – River – was founded in August 2009, and up to this date it is owned by Holdings Acquisition. It is an exciting fact that initially, the venue was to be called Majestic Star Casino. The building is a real piece of work with many large halls, fantastic design and interior. It's one of the best places for gambling in Pennsylvania.
You will like the location of the only casino in Pittsburgh PA for sure because it is positioned on the shore of Ohio River. The iconic Point State Park fountain stands literally across the most famous Fort Pitt. River Casino Pittsburgh is a place that you will remember.
Pittsburgh Casino Hotel at River
The truth is that right now there is no accommodation at all in River Casino Pittsburgh. There is a plan for building a seven-storey hotel extension of the casino in 2021 . It is stated that its capacity will be around 200 guests. From all 219 eventual rooms, 10 are exclusive luxury terrace suites. However, nothing is yet 100% sure before the current health crisis is over. Until then, the future River hotel part fate is still unclear. At this stage, Pensylvannia fans of gambling games have it easier with online sites such as the Betrivers casino.
River Casino Pittsburgh Games
The overall number of all games at the only casino in Pittsburgh is over 2700. This is if we count all slot machines, which are over 2400, and more than 100 other table games. Take into consideration the fact that only the poker room consists of 30 tables with real croupiers. Also, there are over 200 video poker machines in case you don't like any public. From a poker player's perspective, the casino offers many options like Three and Four Card Poker, Texas Hold 'em, Mississippi Stud, Pay Gow and more.
If you are looking to find what other table games there are, we will quickly fill you in. At the River Casino Pittsburgh PA, you can play roulette, blackjack, mini-baccarat, craps and more. In case you are a sports fan, you can visit the BetRivers Sportsbook bar, where you will find many large TVs and over 190 seatings.
Pittsburgh Casino PA Entertaiment
When it comes to entertaining the River Casino Pittsburgh has many venues to offer. There are five restaurants where you can find diverse meal courses. There are dedicated Italian and Asian cuisine restaurants, where you can enjoy well-prepared traditional dishes. Of course, there is a steak house too, where you can enjoy fine beef meat and other BBQ's. Keep in mind that some of the restaurants are more casual than others.
There are four different bars where you can order hot drinks, like coffee, or chocolate, or any cold drinks like beer or cocktails. There is a large events hall in case you want to organize something big there. For those of you who prefer live entertainment, there is an outdoor amphitheatre where quite often you can see free concerts and other programmes. Undoubtedly River Casino is one of the best gambling places in the US.
Local Guide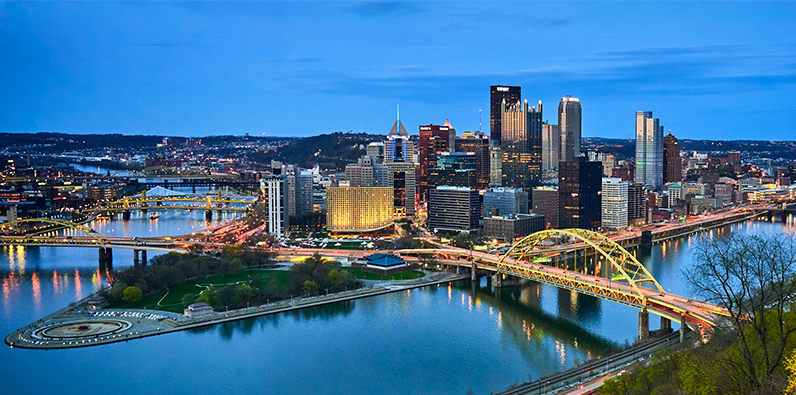 At this part, we will turn more attention to the city of Pittsburgh and what interesting you can find and do there. We intend to show you some alternative hotels located in short distance to River Casino Pittsburgh PA. Then we will tell you more about the history of the city and explain which are the historical places that it is a must to visit. It is always nice to learn more about the origin of the city and walk through its foundations. On the map below you can see with what perfect location the River Casino Pittsburgh PA is and how the city is organized between the shores of three rivers.
Best Pittsburgh Hotels Around River Casino
In case the River Casino Pittsburgh Pennsylvania is all booked up, and you are looking for alternative hotels near the casino, we can show you the best ones. One of the closest is The Inn on Mexican War Street, which is not exactly a hotel but more of a boutique small old house, where everything is kept authentic and old. If you like old-fashioned interior and design, this is the place for you.
The Parador Inn is the closest accommodation to River Casino Pittsburgh PA on less than half a mile. Just like The Inn on Mexican War Street, Parador Inn is in super vintage style, but with quite bigger rooms. The place is with high ceilings and a lot of woodworks.
| Hotel Name | Address | Distance from the Casino | Number of Rooms | Price Range |
| --- | --- | --- | --- | --- |
| The Inn on the Mexican War Streets | 604 W North Ave, Pittsburgh, PA 15212, United States | 1 mile | 8 | $149-219 |
| Тhe Parador Inn | 939 Western Ave, Pittsburgh, PA 15233, United States | 0.5 mile | 9 | $160-185 |
| Fairmont Pittsburgh | 510 Market St, Pittsburgh, PA 15222, United States | 1.8 miles | 185 | $143-295 |
The last one is the most magnificent, famous and expensive hotel on our list. The Fairmont is a hotel brand known for its luxury interiors and expensive features. It is most distant from the River Casino Pittsburgh PA but compared with the rest of the of listed hotels, this one is a jewel. On the other hand, it is in the perfect centre of Pittsburgh and super close to the largest city monuments.
Places to Visit in Pittsburgh Pennsylvania
Time to show you the best sights of Pittsburgh and all the places that you must visit if you go there. In fact, there are many great places, and it was difficult for us to soft out only three of them. Just have in mind that there are many more.
Carnegie Museum of Natural History – This is a place that you will remember after visiting Pittsburgh. It is a museum where you can see all types of extinct animals, including dinosaur skeletons and other fossils. The museum is one of the first in the city, and one that takes care of artefacts and items from all parts of the world.
Phipps Conservatory – If you enjoy the beauty of nature you should visit these botanical gardens which were donated in 1893 by the real estate giant Henry Phipps. Apart from the gardens, you can see many more indoor exhibits. It is a fantastic place, and we strongly recommend it.
Point State Park – We mentioned at the beginning the Point State Park as one of the most popular city places. It is a beautiful fountain located at the "Golden Triangle", or the place where the rivers merge. Right next to it you will find the Fort Pitt Museum, which we strongly recommend visiting.
If you like travelling, but you also enjoy casino games, bear in mind that we have reviewed many of the best online casinos in Pennsylvania. This is the way to play in the same place all the time. Igaming is the future, and we all know it.
FAQ
  We have come a long way, and it is normal for you to have additional questions. Therefore we gathered the most frequently asked questions about River Casino Pittsburgh PA, so you can take advantage of them. Follow the jump links if you want to read the extensive answers of the questions.