Stick around, as we'll also be discussing the best slot sites, bonuses, and much more! We are excited to tell you more about the games we've reviewed! The panda-themed slots are cute and adorable, but don't be mistaken – if you've heard a word or two about kung-fu, you'll know that these furballs hold great power and potential. The same goes for the reels – in our list, you'll find the top 10 panda slots!
The Top 10 Best Panda Slots List for 2021
1. Lucky Panda
| | |
| --- | --- |
| Slot Name | Lucky Panda |
| RTP | 96.5% |
| Theme | Animals, Nature, Clovers |
| Progressive Jackpot | No |
| Paylines | 1024 |
| Bonus Round | 15 Free Spins with x2 Multiplier |
Starting strong, we have a game from Playtech. It seems like the gaming giant loves pandas just as much as me and you. Lucky Panda is a nature-themed slot that comes with great design, lots of bamboos, free spins bonuses, and 4,000 times your stake potential.
Playtech added 1024 paylines to the 5 reels. But, playing with all 1024 of the lines can extremely pricey. You can learn more about the game from our Lucky Panda slot review!
2. 100 Pandas
| | |
| --- | --- |
| Slot Name | 100 Pandas |
| RTP | 93.04% to 96.52% |
| Theme | Animals, Nature |
| Progressive Jackpot | No |
| Paylines | 100 |
| Bonus Round | 10 Free Spins with x2 Multiplier |
If one panda isn't enough for you, IGT has got you covered with their 100 Pandas slot game! The reel-spinning machine comes with an incredible design and soundtrack! With 100 paylines, 5 reels, and 4 rows, the game boasts with a huge prize potential of up to 30,000x your stake. In our 100 Pandas slot review, we've covered everything you need to know about the bonuses!
3. Panda Mania
| | |
| --- | --- |
| Slot Name | Panda Mania |
| RTP | 95.53% |
| Theme | Zoo, Animals |
| Progressive Jackpot | No |
| Paylines | 25 |
| Bonus Round | Panda Escape – an Interactive Bonus |
Powered by NextGen, Panda Mania boasts with smooth gameplay. Like other adorable panda slots games, this one also has a nature-themed interface. The game has 5 reels with 3 rows and 25 paylines! The furball slot also offers a variety of features and bonuses, but the most impressive one is called the Panda Escape! Don't hesitate to learn more from our Panda Mania slot review!
4. Big Panda
| | |
| --- | --- |
| Slot Name | Big Panda |
| RTP | 96% |
| Theme | Animals, China |
| Progressive Jackpot | No |
| Paylines | 50 |
| Bonus Round | Up to 20 Free Spins |
The amazing Big Panda slot machine comes with bonuses and features just as big as the furballs are! The action comes in 5 reels and 50 paylines! The panda symbols award the most cash, you can win up to 20,000 coins in a single spin. Even more, if you're lucky! The game is very straightforward, it doesn't offer progressive jackpots or anything more than free spins – quite the fun for classic lovers. If you still don't understand some of the words we use, you might want to check our slot machine terms.
5. Panda's Quest
| | |
| --- | --- |
| Slot Name | Panda's Quest |
| RTP | 95.80% |
| Theme | China, Pink, Nature |
| Progressive Jackpot | No |
| Paylines | 30 |
| Bonus Round | Up to 25 Free Spins |
Are you ready for an adventure? It's time for Panda's Quest! In this panda slots casino game, you can find all the sorts of fluffy animals – red pandas, baby pandas, and mommy pandas! In the beginning, you get to choose yourself a lucky mascot that's going to help you win and motivate you! The game has 5 reels, 30 paylines, and a decent jackpot of 3,000x your bet! For bonuses, the slot machine offers a big chunk of free spins! This game is among the most preferred for high stakes casino play.
6. Panda's Fortune
| | |
| --- | --- |
| Slot Name | Panda's Fortune |
| RTP | 96.17% |
| Theme | Nature, Bamboo, Forest |
| Progressive Jackpot | Yes |
| Paylines | 25 |
| Bonus Round | Up To 100x Prize and 15 Free Spins |
Being the symbol of luck, pandas can surely bring you a fortune when it comes to casinos! Panda's Fortune is a highly-volatile game with 25 paylines and 5 reels. It offers free spins, multipliers, and three progressive jackpots that can go up to 100,000 coins! That would be enough to start your own panda breeding program! This Pragmatic Play game is a perfect example of an all-or-nothing slot!
7. Happy Panda
| | |
| --- | --- |
| Slot Name | Happy Panda |
| RTP | 96.64% |
| Theme | Nature, Mountains, Animals |
| Progressive Jackpot | Yes |
| Paylines | 20 |
| Bonus Round | Falling Wild Re-Spins |
Happy Panda is another masterpiece developed by NetEnt. The relaxing music, the high-mountains, and the spectacular design are going to let you dive deeper into the panda slots world. The game itself has 20 paylines, 5 reels and the maximum win you could get is up to x1600. However, there is a massive progressive jackpot lurking behind the reels, waiting to bring you thousands!
8. Little Panda
| | |
| --- | --- |
| Slot Name | Little Panda |
| RTP | 96% |
| Theme | Nature, Chinese, Animals |
| Progressive Jackpot | No |
| Paylines | 1024 |
| Bonus Round | Up to 20 Free Spins and 3x Multiplier |
What's cuter than a panda? The Little Panda game by Endorphina! It has one of the most adorable designs by the developer. This furry slot machine has 5 reels and 1024 paylines! A game having 1024 ways to win can offer quite the win potential, but just like the case with the Lucky Panda paylines, betting on so many lines can be very expensive! Similar to other panda casino slots, this one offers a great number of free spins, multipliers, and ways to win!
9. Wacky Panda
| | |
| --- | --- |
| Slot Name | Wacky Panda |
| RTP | 95% |
| Theme | Animated, Funny, Animals |
| Progressive Jackpot | No |
| Paylines | 1 |
| Bonus Round | No |
Playing on a budget and you want to play a classic slot with small bets that's actually fun? Wacky Pandas from one of the most popular game developers, Microgaming, is the perfect choice for you! It has cute pandas and a sweet, simplistic design! It has 3 reels, 1 payline and it offers no extra bonuses or features. Wait, what? Is this the 70s? – You might ask. But not only is the game fun and furry, but it also packs a huge punch with a chance for 3,333x your stake!
10. Panda King
| | |
| --- | --- |
| Slot Name | Panda King |
| RTP | 94.34% |
| Theme | Nature, Animals, Bamboo |
| Progressive Jackpot | No |
| Paylines | 5 |
| Bonus Round | Triple-Choice Free Spin Bonus |
And last, but not least in our panda slots games list is Panda King. The game boasts with an old-school type of atmosphere and a fuzzy mascot that comes out every now and then! Panda King slot offers 5 reels and 20 paylines! The most incredible feature of this game is the ability to choose your free spin amount. Every choice is completely different than the rest. The game also has a jackpot waiting for you!
Types of Panda Slots
Panda casino slots come in all shapes and forms – there are 3-reel slots, 5-reel slots, progressive slots, mobile slots, megaways slots, and many more! The variety and choice of the fuzzy slots can be huge, it's up to the casinos to decide which games they should include in their collection. The best online casinos always try to give their players different options in terms of gameplay.
We want to make our panda slots list as useful as it can be, that's why we have synthesized some of the most important details for you!
The Most Popular Panda Slots
The three most popular panda slots games are called Panda Mania, Panda's Fortune, and Lucky Panda. You might be wondering what makes them so popular. These games became hits because of the great bonuses, features, designs, and variance.
Another thing that made those slots popular is the developers themselves – when a big game provider launches a new game, all the casinos are fighting to add it in their collections. If you want to learn more about the top games, you should check our best online slot sites!
The Best RTP Panda Slots
Before you start playing, you need to figure out the best RTP panda slots games for you. You see, the more volatile a game is, the less accurate the RTP would be. The first thing you need to decide is what your budget and goal would be.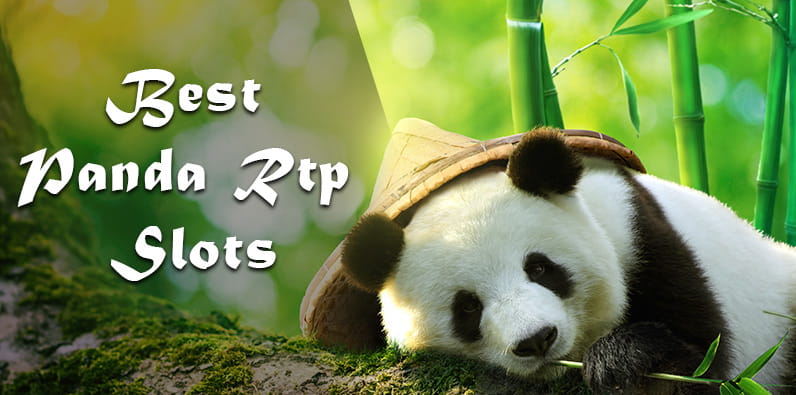 If you're with a small budget and you're playing just for fun, you should play low volatility – high RTP games, that way you can get the full gaming experience. If you're a risk-taker and you want to win big, go for low RTP – high volatility action! Our recommendation for a relatively high RTP panda slot machine is the Happy Panda game, and if you like to cross fingers in excitement, you should try the 100 Pandas slot.
Progressive Jackpot Panda Slots
Progressive jackpots can be a huge motivator to play a given title. The two best and most popular panda slot machines that offer such prizes are Happy Panda and Panda's Fortune. Both of these games offer 3 jackpots – a small one, a medium one, and a huge progressive one.
By a rule of thumb, if you want to try and win the biggest jackpots, you need to find a populated casino, where all the players add up to the progression of the prize! If you want to find such places, you should check our list of brand new casinos.
New Panda Slots Online
Some of the newest panda casino slots online include Happy Panda, which came out just recently, Little Panda, and Panda's Quest. All three of these games are recent, top-rated, and optimized for both Android and iOS! We recommend all three of them! When looking for new action, you should check our new slot sites reviews.
Low Volatility Panda Slots
Usually, the best panda casino slots don't have low volatility levels. So if you're looking for a tested and popular panda game, you should choose one with medium volatility. If you don't know how to tell if a game is volatile, check out our slot volatiliy guide and listing. There you'll find everything you need to know about variance. Games in the medium level include Panda Mania, Big Panda, Panda's Quest, and Little Panda! However, keep in mind that titles with medium volatility can bring you bigger wins than the ones with a low one.
Panda Slots with the Highest Payout
Two of the panda games that have the highest payout potential would be Happy Panda and 100 Pandas. In the first one, you can win a jackpot of up to 80,000 coins and in the latter, you can win 30,000x your stake! If you are feeling lucky, you should give them a try! When looking for more consistent payouts, you might benefit from seeing our highest RTP slot games.
Play Panda Slots with Bonuses
Nothing is more attractive than slots with huge bonuses and pandas. The games on our list have both! Bonuses are one of the main reasons why people choose to play a given game in the first place. That's why, for your convenience, we have listed the best bonuses and jackpots in panda casino slots.
As you might see, most of the bonuses that the panda slots games are offering are free spin variations. Although that might sound quite dry, it is quite the contrary! That's the one single feature that can increase your chance of getting any other bonus or jackpot! To improve your odds of winning, see our best online slot bonuses.
Frequently Asked Questions
With our review coming to an end, we've decided to go all out! We looked through all of the questions that UK players raise about panda slots and we've had our experts answer the most common ones! We want to make our review as informative and helpful as ever!