The Early Life of Nick 'The Greek' Dandolos
Contrary to most expectations, Dandolos didn't have a hard life before taking up gambling as his main source of income. Even more, he had a great head start in life since he comes from a wealthy family who was able to provide him with excellent education. After he got a degree in philosophy from the Greek Evangelical College, his grandfather sent him to the USA with an allowance of $150 per week. Dandolos settled initially in Chicago but later on decided to move to Montreal, Canada. This move on his part made him what he was later best known for – a well-respected gambler who enjoyed the adrenaline of high stakes.
The King of Gamblers – Making Huge Piles of Cash
It wasn't long after going to Montreal that Nick Dandolos stepped on the racing track and immediately fell in love with gambling. However, he had an accomplice in his amassing of wealth from horse racing. A jockey named Phil Musgrave helped him with the bets and together they won more than $500,000 in the course of a year. Due to certain speculations that the duo was manipulating the bets, Musgrave and Dandolos decided to split ways and Nick took a trip back to the USA. He eventually took up casino gambling and found out he was pretty good at it – that's when his poker career really took off!
Nick's Gambling Perception and the Poker Marathon
Long before the creation of today's best poker websites, being a good player at the table required great reading skills and patience. Dandolos had both, but what made him stand out from the other poker players was his perception of gambling and the systems he had. He considered playing and losing the second best thing after playing and winning, and he gambled like a man who had nothing to lose. Furthermore, he would always study the house edge of a particular casino before playing there, which didn't always give him the needed advantage.
Stud poker was Nick 'The Greek's specialty, earning him more of $6 million in the course of his career. However, his poker adventures reached their most famous peak after he challenged Johnny Moss – the best poker player at the time and one of the first Poker Hall of Fame inductees. The year was 1949 and they both played for 5 months straight at Benny Binion's Horseshoe Casino. They both agreed to play all possible poker variants. After his last pot, Nick left the game with a line that made him even more famous – 'Mr. Moss, I have to let you go'. He lost more than 4 million dollars but remained a gentleman even in losing.
How Did Dandolos Live and Treat the People Around Him?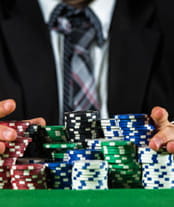 Mr Dandolos was known not only for his exciting gambling but for his generosity as well. He donated more than 20 million dollars and would regularly give out cash to people who would wait for him in a line in front of his house. He would occasionally gamble huge sums of money here and there, and was always ready to take risks. He once beat mafia boss Frank Costello in a card game and left him without a dime. Costello got angry and ordered Nick to leave, but he refused and instead offered him to cut the deck for $550,000 – a typical offer by 'The Greek' where the highest card wins. Frank refused and the only thing he did was to leave the table even more embarrassed.There's an interesting story of him and, none other than Albert Einstein, rolling together around Las Vegas.
Nick would show the city to the scientist and would introduce him to his friends as 'little Al from Jersey'. The reason for that was that he didn't want his friends making fun of the scientist. Although there are speculations about the truthfulness of this story, it's certain that Nick 'Тhe Greek' has met another award-winning scientist in the face of Noble prize winner Richard Feynman.
The King of Gamblers' Fortune and Death
Through the course of his gambling career, Nick Dandolos won more than $500 million dollars and lost them all. He states that he's climbed from poor to rich a staggering 73 times. 'The Greek' has really been a special gambler since he didn't care about the money, but the adrenaline from gambling. Most people didn't know how to play against such a player, which Dandolos wisely used to his advantage. Closely before his death, he was spotted playing $5 dollar poker games in California. He said he didn't care about the stakes, but just the enjoyment of the game. Unfortunately, he passed away on Christmas Day of 1966 almost broke. His life story was an inspiration for two books – Gambling Secrets of Nick 'The Greek' and a novel named Nick The Greek. Due to his great personality, many people, including celebrities such as Frank Sinatra came to his funeral to honor him for the last time.