How to Get a New Jersey Gaming License?
There are different types of NJ gaming licenses, and each has its specifications. However, the process of obtaining a gaming license is regulated by the NJDGE and the Casino Control Act, and most steps are identical. It is very important to know that the casino in which you are playing is regulated and licensed.
You should appreciate it if an operator possesses a valid license from the NJDGE, as it is a symbol of trustworthiness and legitimacy, and it is not an easy process to obtain such a license. So, here are the main steps or milestones the gaming operators in New Jersey should overcome to get a license:
Complete the Multi-Jurisdictional Personal History Disclosure Form for casino qualifiers and casino key employee qualifiers;
Submit the Business Entity Disclosure Form for casino company applicants;
Fill and submit the Initial Internet Gaming Permit Application and the Internet Gaming Disclosure Statement Form;
Prepare any other required documentation and convincing evidence that you are qualified in accordance with the Casino Control Act;
Call for an appointment to be fingerprinted by the NJDGE;
File all the required forms with the DGE along with any additional fees;
Wait for the completion of the mandatory investigation processes;
Wait for the final statement of the DGE and the approval of the application;
As you can see, a New Jersey gaming license is an essential part of the regulatory system in the state, and it is required from every casino operator, owner, employee, or company that provides gambling services. The best NJ online casinos are licensed by the DGE, along with organizations that offer charitable bingo, raffles, and other gaming services.
NJ Gaming License Types and Requirements
The NJ gaming license requirements differ depending on the specific type of the license and the qualification of the applicant. For example, you should know that there are special licenses for charitable and non-profit gambling organizations, as well as for land-based and online gambling operators in NJ.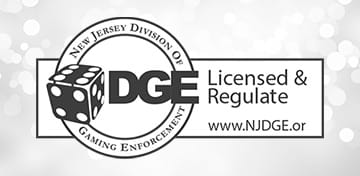 If you want to play in a legal gaming establishment, you must be sure that it possesses the correct license from the NJDGE.
For instance, this can be done by checking out the footer of the website of an online casino or the main website of a specific gaming venue. You should look for the "Licensed & Regulated" seal by the NJDGE, which looks like that:
We will review the main types of gaming licenses in NJ, and we'll share more details and important facts.
From how long it takes to obtain a specific license to its expiry period and how to renew it – there are many topics we would like to touch on. So, let's get started with the standard casino NJ gaming license for land-based establishments and gambling organizations.
Land-Based Casino Licensing
This is the most common type of gaming license in NJ and is also known as a mass gaming license. The steps for NJ gaming license application that we described earlier in this blog post are mostly related to this type of licensing, rather than to employee or non-profit gaming licenses. For instance, applicants are required to fill a Multi-Jurisdictional Personal History Disclosure Form and a strict background check is conducted.
Once the documents are ready, they should be submitted to the NJDGE along with the required fees. The inspectors will contact you to discuss further procedures. Meanwhile, if you have any questions or make an enquiry, for example, you can contact the offices of the NJDGE by using the contacts in the next table.
NJDGE Contacts in New Jersey

| 📍 Contact | 📞 Details |
| --- | --- |
| Atlantic City Office | 1300 Atlantic Avenue, Atlantic City, NJ 08401, Phone: 609-441-3106, Fax: 609-441-3554 |
| Fingerprint Unit | Tennessee Ave & Boardwalk, Atlantic City, NJ 08401, Phone: 609-441-3050, Fax: 609-441-3883 |
| Trenton Office | 140 East Front Street, P.O. Box 047. Trenton, NJ 08625, Phone: 609-292-9394, Fax: 609-633-7355 |
| General Inquiries or Complaints | Call: 609-984-0909, Email: info@njdge.org |
Additionally, you can check out the NJDGE website to find further information about the legal requirements of a NJ gaming license application. On the website, you can also find a lot of details about responsible gaming-related topics, employee licensing and reports, financial and statistical data, temporary regulations, etc.
Overall, applicants for a New Jersey gaming license should be prepared to wait at least half a year. The background investigation and evaluation takes months to complete, while the preparation of the documents takes weeks because they are many. Throughout this time, you can apply for a temporary NJ gaming license with an expiry period of up to six months, and it could be renewed for extended periods if needed.
NJ Gaming License for Non-Profit Establishments
By contrast to the casino gaming license in NJ or the licensing of the top new NJ online casinos, for example, the non-profit organizations go through a different process with fewer and easier steps. Firstly, you should know that charitable gaming includes various types of games, such as bingo and raffles, which are organized for non-profit, also known as a charitable purpose.
A New Jersey charitable gaming license is issued to applicants aged 18 or over. It is issued by the Legalized Games of Chance Control Commission, but before applying for the permit, the charities must register with the NJDGE as qualified fund-raising organizations. These are the key steps of how a non-profit organization gets a gaming license in NJ. Here are the main documents and information that the non-profit organizations should prepare for a New Jersey charitable gaming license:
An "Identification Number" from the NJDGE after a registration
Nonrefundable registration fee of $100
Name, address, and age of each organization member
A copy of the organization's constitution and bylaws
A copy of the articles of incorporation if the organization is incorporated
Once the applicants are approved for a New Jersey charitable gaming license, the DGE issues an identification number with which they can apply to their municipalities for a Municipal License, which allows them to conduct charitable gambling activities. The validity period is two years, and after it expires, the charitable organizations can apply for a registration renewal for another two years.
New Jersey Online Gaming License
The online casino operators are also regulated in New Jersey, and you should play only at sites that feature the logo of the NJDGE on their footers, of course, if you want to stay on the legal side. Online gambling has been legal in NJ since 2013, and nowadays, there are many top legal operators. Examples include New Jersey blackjack casino sites, roulette sites, and many others where you can play a wide variety of gambling games.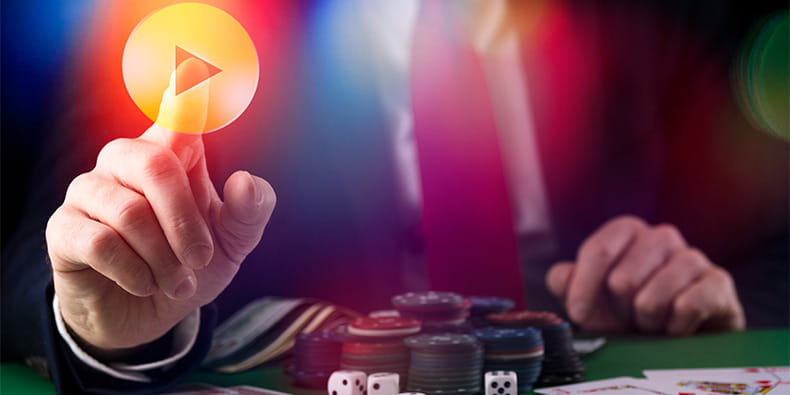 You can find some of the best gambling operators in our New Jersey online casino reviews. Additionally, you can check the list of all gaming sites approved by the DGE to conduct continuous 24/7 internet gaming operations in NJ via the state of New Jersey online page. In the next paragraph, we will discuss another popular certificate similar to the New Jersey online gaming license, that also sets the legal casino operators apart from the others.
Curacao Online Casino Licensing
Many casino operators also possess a Curacao e-gaming license. You can tell that by the Curacao license seal on the footers of some of the best live casinos in New Jersey, for example. It is proof that the casino operator complies with the Curacao legal requirements. Here are three of the top benefits of such a license.
It is a sign of legitimacy, and it is used by many online casinos that operate worldwide;
The licensing process is easier and less expensive in comparison to a NJ gaming license application;
Valid for different online gambling categories, including casino, poker, and sports betting.
It is not mandatory, but it is an additional layer of trustworthiness when you see the Curacao seal along with the logo of the New Jersey online gaming license from the DGE. So, next time when you claim one of the best NJ online casino bonuses and if you are not certain of the legitimacy of the operator, please head on to the bottom of its website and search for the logos of Curacao and the NJDGE.
Employee Licensing
The third type of New Jersey gaming license is for casino employee and key employee registrations. To apply for such a registration, you need to file a special application with the NJDGE. Its cost ranges from $95 up to $4000. For instance, the New Jersey gaming license cost for such a purpose gets between $750 and $4000, while a duplicate license costs only $6. Here are some other important details about this type of NJ gaming license:
| | |
| --- | --- |
| 🤵 Who Needs a Casino Key Employee License? | Casino supervisors, casino cashier supervisors, casino or simulcasting facility managers, managers and supervisors of information technology employees, junket supervisors, pit bosses, shift bosses, credit executives, marketing directors, managers or supervisors of casino security employees. |
| ✔️ Casino Key Employee Requirements: | Resident of New Jersey. Other requirements can be found in the Casino Control Act, N.J.S.A. 5:12-89a through d, and in N.J.A.C. 19:41A-7.3. |
| 📜 Application Forms: | Either the Personal History Disclosure Form 1B, or the Multi-Jurisdictional Personal History Disclosure Form, plus the New Jersey Supplement, which can be found on the Casino Control Commission website. |
The validity of a key employee license is no more than five years. After it expires, the licensees should submit to the NJDGE all the required documents and information to demonstrate that they still qualify for a renewal of their licenses. It is very important to know that the NJDGE licenses not only the casino owners and establishments but also all their key employees.
Additional Information
This blog post about the different types of New Jersey gaming licenses is at the end. However, we would like to add a few other intriguing details you may need to know. For instance, it is a nice bit of advice to search for the professional services of a special agency that can help you out in the filling of the registration forms.
You may need professional guidance in the specific steps of obtaining a gaming license as well. This is highly recommended if you do it for the first time. In the next list, you can find other bits of information that we couldn't add earlier in the blog post.
💵 A New Jersey gaming license cost is no less than $200,000 for a casino license or a casino license resubmission.
⏳ When a casino employee license expires, it remains valid, and the employee should file as a casino employee registrant, instead of applying for a renewal.
⚽ Initial sports wagering licensing in New Jersey costs $100,000, and a minimum of $100,000 for a renewal.
📅 A gaming license in NJ is valid for no more than five years.
🤵 According to the new legislation, all personnel who were previously casino employee licensees are now casino employee registrants.
The conclusion is that a New Jersey gaming license is the only thing that can help you set a legitimate casino operator apart from the others. Whether you play in a casino resort in Atlantic City or at one of the best NJ online roulette sites, your gambling experience will be more pleasant and entertaining if you see the NJDGE seal.
New Jersey Gaming Licensing Q&A
If you enjoyed this blog post, you should also check out the following questions and answers about the NJ gaming license requirements. We also included questions about the different types of a NJ gaming license, so please make sure to check them out.