In general, eSports made quite the impression to each gambler out there as well. Online gambling was also moved by the popularity of eSports and nowadays you can bet on almost everything that you can think of in the field. In fact, betting on eSports is becoming just as popular as playing games at casino sites online.
10. World of Tanks
An honorable mention in our top 10 is World of Tanks. The game took the European gaming scene by storm. Maybe that's because of the sophisticated gameplay based on a mathematically-based combat system, or just because there was no noteworthy competition in that genre at the time of release. Either way, World of Tanks was slowly crawling towards the top in the first few years of its existence. After 10 years of exciting tank battles it feels as though the punch and charm of it is finally starting to wear off. Wargaming.net had successfully branched off into the battleship and airplane combat game genre. That being said, it's also worth sticking around because you never know when Wargaming.net is going to come up with a cool new update.
9. StarCraft II
Needless to say, StarCraft II is the successor of Blizzard Entertainment's 1998 hit Brood War. The game has come a long way sticking to the concept of three species participating in an eternal conflict. First, let's get one thing straight. StarCraft II isn't dead. Otherwise, why would it be in eight place? What makes SCII one of the most popular eSport Games is the closely-knit community of devoted RTS fans. Even a global pandemic couldn't cancel the scheduled matches from the biggest South Korean StarCraft tournaments. Speaking of tourneys, there's no shortage of such not only in South Korea but across the world. Some of them rocking prize pools in excess of half a million USD. The most popular Starcraft II series include MLG, EPT, GSL and annual Blizzcon tournaments. An advanced points system determines which players qualify for the global finals.
8. Hearthstone: Heroes of Warcraft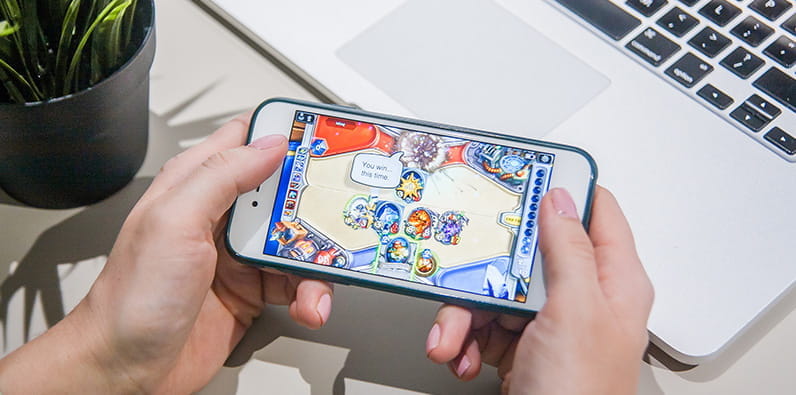 Hearthstone is one of the best eSports games even though it doesn't require cat reflexes or team play. Yes, you heard it right, this is a free-to-play, turn-based card game. It's also cross-platform – Windows, macOS, Android and iOS devices are supported. What makes a card game so popular, you might think? Well, apparently you don't know anything about Yu Gi Oh! Or the Warcraft universe. That's where the Hearthstone developers drew inspiration from. Though yet another one of Blizzard Entertainment's creations, Hearhtstone doesn't enjoy as big of a variety of tournaments as Starcraft II does. Still, it's one of the top eSports games to try and is free to play!
7. Overwatch
Blizzard just seems to have a finger in every pie. Overwatch is the company's candidate for top multiplayer first-person shooter game. Not so much hyper realistic or banking on tactical warfare, Overwatch is more on the fun, cartoony side, appealing to the younger generation. That was ,undeniably, a smart move by the gaming studio as Overwatch turned out to be one of the best eSports games and a total success in the genre. A major contributor for the success is the immersive gameplay finding common grounds with the role-play genre. Currently the game is available on PlayStation 4, Xbox One, Windows, and Nintendo Switch. There are a lot of Overwatch tournaments too, albeit not as high-paying as the Starcraft II tourneys.
6. Free Fire
Free Fire battlegrounds is setting a precedent for the most popular eSport game for mobile. Free Fire's mind-boggling 500 million downloads have turned it into one of the most downloaded Android games for 2019. Keep in mind that does not include downloads via the iOS App Store. Free Fire literally skyrocketed in popularity in 2019 amassing a reported 450 million users. The dynamic of the gameplay are the same as those of other well-known third person shooters. The kicker is that players must keep looking for weapons and supplies around the map in order to overpower their opponents. And the map is a small island that a maximum of 50 players can join at a time. There are even organised tournaments presently even though the game is so new. We can only expect big things from Free Fire in the future.
5. CS:GO
Valve's Counter-Strike: Global Offensive (CS:GO) is the follow-up of the first Counter-Strike game released in 1999, and a big betting markets for the online bookies to feature. CS:GO was released on august 21, 2012 and has been drawing in players by the millions ever since. The game is tailor-made for team play, so quite naturally, there are a lot of tournaments organized by Valve with very decent prize pools. CS:GO Majors boast prize pools upward of $1,000,000. It started receiving a proportionally bigger media coverage. ELEAGUE Major 2017 was the first tournament brought to American households live on the TBS channel. In recent years, CS:GO has been one of the most popular eSports games with the Steam community and also one of the most popular market for eSports betting in the UK. It even won 'eSports Game of the Year 2015' at the Game Awards – a show awarding the best games.
4. PlayerUnknown's Battlegrounds
What makes PlayerUnknown's Battlegrounds (PUBG) one of the most popular eSports games presently? Well, it's playing to the battle royale genre perfectly and is developed by Bluehole – a South Korean game studio with traditions in the MMO genre. PUBG debuted on Steam in March 2017 and was met with critical acclaim soon after its full release in December 2017. The game is available on Microsoft Windows, Android, iOS, PlayStation 4. Now, about the idea of it – much like in Free Fire players are stranded on a remote island with the single objective to be the last man standing. When it comes to tournaments, such are, indeed, available but the pale in comparison to the Fortnite competitive scene.
3. Dota2
DotA 2 started from humble beginnings as the Warcraft III map Defence of the Ancients but lived to be a standalone game with a massive following. DotA 2 is not only considered one of the best eSports games but it also is exploiting the much-loved MOBA concept (multiplayer online battle arena). DotA 2 is at the forefront of competitive gaming, with professional leagues and televised events. Tournament play has been a major factor in popularizing the game around the world and is fair to say that the prize pools thereof have been growing steadily. THe DotA 2's premier tournament The International 9 is taking the lead position in the rank list for single tournament prize pools with 34.3 million. The 2020 edition of ESL One Los Angeles Online's Grand Final – one of the major DotA 2 tournaments – was followed by over 500, 000 viewers on Twitch.tv The game breaking its own viewership records really comes to show how popular it is among players.
2.Fortnite
In the first year of competitive play, the creators of Fortnite – Epic Games – promised to provide $100 million in prize money. They even doubled down on the promise, putting up another $100 million in tournament money for 2019. The 2019 Fortnite World Cup was arguably the biggest eSports event including 200 participants, each of which had a guaranteed $50, 000 in the bag. The total prize pool of the Fortnite World Cup was $30 million in 2019. But that's not all. At one point, Epic Games were raking in $300 million a month in in-game purchases. That about puts things into perspective as to why Fortnite is one of the top eSports games.
1. League of Legends
You have all eSports and then – League of Legends (LoL) which is a completely different beast. It's in a league of its own when viewership is concerned. The 2018 World Championship finals were watched by nearly 100 million people. Riot Games are the creators and publishers of League of Legends. They admittedly drew inspiration from Defence of the Ancients' model and gameplay. The game won the competition with Dota with its beginner-friendly gameplay and better team fights. LoL tournament play, although the most anticipated have not broken any records for prize money. This remains a plain dominated by DotA2 and Fortnite.