Winning the Lottery – A Blessing and a Curse
We've all fantasised about winning the lottery. Packing in the day job, jetting off on luxury holidays, buying fancy houses, the possibilities are endless when you have millions in the bank. Yet for one lottery winner, the dream soon turned into a nightmare.
On Saturday 2nd November 2002, Michael Carroll's luck came in. Having bought a Lucky Dip for the National Lottery draw, his numbers came out… 5 – 28 – 32 – 39 – 42 – 48. The 19-year-old was the only player with the winning numbers and he scooped £9,736,131.
Despite being able to buy pretty much anything he desired, Carroll came to learn the true cost of winning the lottery. He lost his wife and daughter, became addicted to crack, received repeated death threats and whilst he had a flurry of new-found friends, few turned out to be true and loyal.
Squandering Money on the Lout Lifestyle
Michael Carrol Information Chart
| | |
| --- | --- |
| Full Name | Michael Carroll |
| Nicknames | Lotto Lout, King of Chavs, Master Micky |
| Date of Birth | 29 March 1983 |
| Home Town | Norfolk, England |
| Current Job | Lumberjack (2019) |
| Spouse | Sandra Aitken (divorsed) |
| Kids | Brooke |
| Residence | Norfolk, England |
Mikey Carroll was wearing an electronic monitoring tag when he cashed in his winning ticket. He did not have a bank account when he won, and Camelot suggested he join Coutts.
Yet the prestigious establishment declined his application, likely owing to his criminal record. Carroll added to his criminal record numerous times following his win.
Carroll bought a six-bedroom home – The Grange – in Swaffham, Norfolk for £340,000. He went on to spend around £400,000 on lavish upgrades, including a swimming pool and jacuzzi. He also bought 3 acres of land surrounding the property, which he turned into a banger-racing track.
He lived with his wife Sandra Aitken and their baby daughter. But within 6 months, Sandra and the baby left.
Whilst his wife was angry at the excessive lifestyle Carroll was leading, it was after her departure that Carroll's antics began to skyrocket. He would hold drug-fuelled parties that lasted for days and he enraged neighbours and locals with his antics. The council even set up a hotline for neighbours to report disturbances.
An interesting detail that we feel like sharing, is that there is a movie, dedicated to Michael, called 'Michael Carroll: King of Chavs'. It was released in 2006, and in all honesty, it didn't gather that much popularity.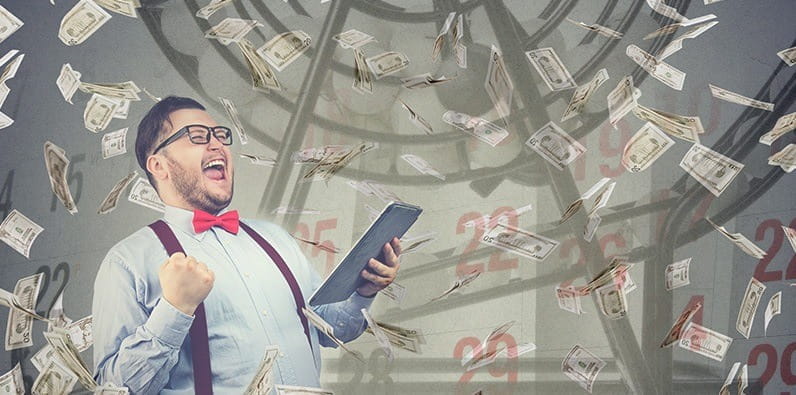 He reportedly turned his beautiful home into an eye-sore, with tons of wrecked cars piled up in the front and back gardens. Cars were constantly raced, and huge bonfires, with tyres, caravans and cars being set alight were a regular occurrence. Keep in mind that even some of the best lottery sites UK has to offer also feature giant jackpots and prize pools that are appealing to many gamblers.
Carroll later described how he was smoking £2000 worth of crack cocaine every day by the end of 2003 and downing 2 bottles of vodka daily. He also spent thousands of pounds on prostitutes around the same time. He described how he was robbed in 2004, with around £100,000 worth of jewellery being stolen. With little regard for his money, he went out and replaced it all the following day.
The Lotto Lout's Expanding Criminal Record
Carroll was jailed twice following his lottery win. In 2004, he received a 5-month prison sentence, when he failed to comply with a drug treatment order. In 2006, Carroll was in court relating to an incident where he took a baseball bat to a local concert. It was revealed in court that since 1997, he had 42 previous offenses recorded. He served half of a 9-month sentence for affray.
He also received an ASBO in 2005, after catapulting steel balls from his van, causing damage to cars and shop windows in Downham Market. He was also ordered to do 240 hours' community service and was warned that breaking the ASBO could lead to jail time.
Mikey's anti-social behaviour was followed closely by the press. He was regularly spotted giving the one-finger salute to reporters and photographers. Although, in an interview with BBC Norfolk in 2006, Carroll claimed that the media was, at least, in part, to blame for his image. He said: "The press branded me as a lager lout before they'd even spoke to me and I decided to play up to it."
8 Years Later – The Money is Gone
In 2010, Michael Carroll was declared bankrupt and was forced to sell The Grange. Despite spending over £600,000 buying and renovating the property, in its damaged and run-down state, it sold for just £142,000. Reports show the once-grand home had become dilapidated, with smashed fences, kitchen units ripped out and rubbish covering the grounds.
Carroll told the Sunday People that he was broke and claiming Jobseeker's Allowance. He stated that he gave away over £3 million to friends and family. Other major expenditures included at least £1.5 million on alcohol and drugs, £500,000 each on holidays and cars. He had invested £1million in his favourite football team, Glasgow Rangers, yet he withdrew the money and frittered that away too.
He described the negative experiences he had winning the lottery. He received his first death threat the day after he won and had received thousands more since. He also explained how his money had brought out the worst in his family and friends. Yet he also said he continues to buy lottery tickets. Despite having blown nearly £10 million, Carroll seemingly had no regrets.
"I've experienced more in a decade than most people would in two lifetimes but I've no regrets and I'd do it all again."
Mikey Carroll moved to Scotland in 2013 and started working in a biscuit packing factory, earning £204 a week. He moved to be closer to his daughter Brooke and to have a fresh start. He explained that he was leading a healthier lifestyle and was off drugs. Despite Carroll's long-standing, contentious relationship with the press, he rarely hits the headlines these days. Although when a couple scooped £33 million on the lottery, he advised them to emigrate. Currently, according to the last news that we got, as of 2019, Carroll was working as a lumberjack for something like £10 per hour.
An Infamous Lotto Millionaire
Michael Carroll is a figure that has divided public opinion. On the one hand, he is a chav who squandered millions and became a public menace. On the other hand, perhaps he was a young, naive individual who was manipulated by false friends and villainised by the media. There are many interesting lotto millionaire stories. Michael Carroll's journey from rags to riches and back to rags again is one of the most notorious.