The Biggest Mega Moolah Winner – World Record Holder
Ever since its release in November 2006, Mega Moolah has turned into the most anticipated progressive jackpot game. This game is a blast and, although its release date more than a decade ago, you could often find it at many of the new Microgaming sites. Punters from every corner of the world are smashing the reels in search of the next million quid win. The Mega Moolah's features and gameplay are quite simple yet fun. One of the biggest advantages of this progressive jackpot game is the regular hit rate of the grand prize, which is currently estimated every 46 days. If you are curious as to what is a progressive jackpot, please check out our guide.
During its nearly 20 years on the market, the Mega Moolah winner list has been rapidly growing, creating four millionaires in 2020 alone. The most famous progressive slot has even secured a record-breaking wins not once, but twice, for the largest online slot payout. The official title holder is the British soldier Jon Heywood who triumphed with £13.2 million with just a 25p bet!
The luckiest day of then 26 years old Heywood was 06th October 2015, when he decided to spend some time online at Betway casino. Little did he know that after just several wagers at one of the best online casinos, he'd change his life forever. The humongous prize meant that the UK citizen had multiplied his initial bet of £0.25 more than 52 million times!
Not only did he change his entire life, but at the time, his father was seriously ill and in need of a heart and lung transplantation, so he vowed to provide the best possible medical care. Jon might be the nicest bloke in the world, as he has also decided to give £4 million to one of his best childhood friends, just because he could.
In an interview, the Brit stated that he's been taking care of his family, has bought a new car, and has been enjoying time travelling abroad. Of course, he's also investing intelligently in real estate, but with this kind of money, we think that he can hardly go wrong.
Before Heywood's win, the record for the largest online slot payout was held by a male casino player from Finland. In January 2013, he bagged €17,861,813 at Mega Fortune slot at Paf casino. The NetEnt's progressive slot is also known for paying huge jackpot wins, so you might also want the give it a try alongside other excellent new slot sites for UK players.
Even Larger Win
The success stories of the Mega Moolah progressive jackpot hits don't end with Jon. Even though it's not yet officially confirmed by Guinness World Records due to unknown reasons, on 28th September 2018, Heywood's record was shattered. The lucky winner bagged colossal £16.9 million at Grand Mondial Casino.
We've tried to find more information about the person, but his name and origin remain unknown for now. What is known, however, is that the win was claimed in Euros on an Android mobile device. The exact amount of €18,910,668.01 (equal to £16.9 million and $21.7 million at the time of writing), means that it suppresses the previous world record.
Similarly, to Heywood, the anonymous Mega Moolah million pounds winner, managed to strike the prize pod with just a 75-cent wager. This only comes to show that even a small wager can change your life, so always gamble responsibly, and hold on to your lucky charm!
Other Honourable Mention – The Highest Ever Amount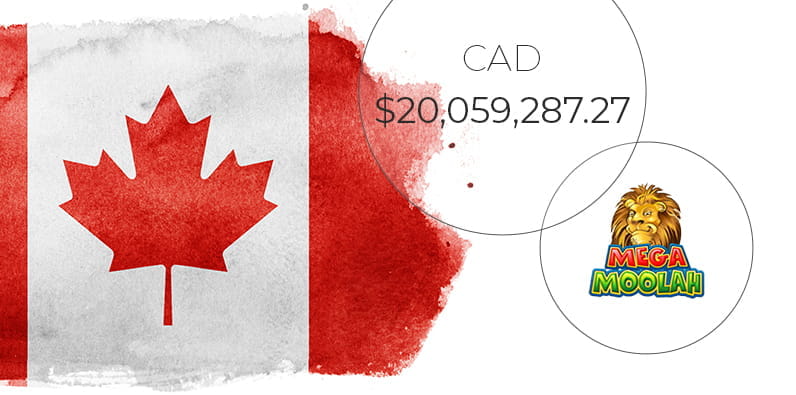 Strictly speaking of a total amount, there's one lucky Canadian player who smashed the $20 million barrier. The new 2019 started in the best possible way for one Zodiac casino player who triggered the humongous sum on 30th January. His achievement meant that he had broken the record of the first-ever 20 million jackpot in the history of the game, regardless of the currency.
He was 'unfortunate' to hit the biggest ever amount in Canadian dollars, so he was unable to claim the title for the Mega Moolah Guinness World Record, as CAD is worth less than GBP and USD. So, when converted, the total amount of CAD $20,059,287.27 has equalled £11.8 million (or $14.8 million). Regardless, he's still in the top 3 Mega Moolah jackpot wins ever recorded to date and the 13th Canadian gambler. We'll never talk about the number 13 being unlucky again…
Top 16 Mega Moolah Jackpot Wins Ever Recorded
It's impressive how many huge payouts have been claimed since the inception of the Microgaming's slot game. It's also mesmerising how many of them have been triggered on a mobile device. Mega Moolah was optimised for mobile devices in 2012, and soon after, the first-ever mobile jackpot was hit on May 2013 worth NZ $ 1.000,000.
| Amount: | Venue: | Country: | Date: |
| --- | --- | --- | --- |
| $21.7 million / £16,9 million | Grand Mondial Casino | Unknown | 28/09/2018 |
| $20 million / £13.2 million | Betway Casino | UK | 06/10/2015 |
| $14.8 million / £11.8 million | Zodiac Casino | Canada | 30/01/2019 |
| €14.2 million / £12,23 million | Lucky Casino | Sweden | 17/08/2020 |
| $12.94 million / £9.69 million | Luxury Casino | US | 05/03/2019 |
| $12.20 million / £9.67 million | Jackpot City Casino | Canada | 05/04/2020 |
| $10.14 million / £7,25 million | Casino Land | New Zealand | 17/06/2016 |
| $9.07 million / £7.20 million | Tipico Casino | Norway | 25/04/2017 |
| $8.8 million / £6.99 million | River Belle Casino | New Zealand | 08/05/2020 |
| $8.76 million / £6.94 million | Unibet Casino | Flemish | 25/09/2017 |
| $8.62 million / £6.83 million | Yako Casino | Canada | 05/11/2016 |
| $8.60 million / £6.81 million | Zodiac Casino | Unknown | 28/08/2016 |
| $7.56 million / £5.40 million | N/A | Canada | 09/04/2015 |
| $7.46 million / £5.88 million | Butlers Bingo | UK | 09/12/2012 |
| $7.42 million / £5.85 million | Unknown | Canada | 24/05/2020 |
| $7.19 million / £5.67 million | River Belle | Greece | 09/05/2009 |
| $7.09 million / £5.62 million | Zodiac Casino | Canada | 14/03/2017 |
| $7,03 million / £5,54 million | Unknown | UK | 24/05/2019 |
Some of the best mobile online casinos where the Mega Moolah progressive jackpot was won have also made the shortlist of the top 16 Mega Moolah jackpot winners. Starting off with the £16.9 million claimed on 29th September 2018, who we mentioned earlier as the unofficial Guinness World Record holder. Next is the second-largest mobile Mega Moolah jackpot wheel conqueror, who took home £6.81 million (originally CAD $11,610,536.59) on 28th August 2016 at Zodiac casino.
Another interesting fact is that three of the biggest ever wins were recorded in the year 2020. Being the data junkies that we are, we also found that currently, the total times the Mega Moolah jackpot was hit are 64, 10 of which on a mobile device. Should you also be fortunate enough to claim a seven-figure win, you should know that Microgaming will pay you the grand prize as a lump sum instead of annuities. By now you must be eager to play Mega Moolah, but we advise you to check also the rest of the best Microgaming slots!
Most Recent Mega Moolah Jackpot Wins
For all the infomaniacs out there, we've prepared an additional bonus list with the latest 10 Mega Moolah jackpot hits, which you can find below this paragraph. As additional stats which you might find compelling, we tracked that the most successful year for Mega Moolah jackpot winners was 2017 when the game created 13 new millionaires paying a grand total of 55,197,950.63 million. The amount has not been converted in a particular currency, but rather added as a whole number.
£4,482,517 on 27 May 2020
£9,961,134 on 24 May 2020
£13,617,979 on 8 May 2020
£16,495,695 on 5 Apr 2020
£4,967,640 on 30 Dec 2019
£2,772,244 on 8 Nov 2019
£3,557,977 on 16 Oct 2019
£4,444,827 on 30 Sep 2019
£4,745,675 on 5 Sep 2019
£5,955,759 on 10 Aug 2019
Important Questions
Mega Moolah slot really lives up to its name, having been the most successful millionaire making jackpot game in the world. We've looked high and low for all the valuable information regarding the Guinness World Record holder, among other things. Finally, we'll answer a few frequently asked questions just to make the whole blog post as valuable as possible. If you want to be the next big Mega Moolah winner, simply join one of our top Microgaming casinos and claim the best bonus offers available.