Requirements for a Las Vegas Marriage?
Scoring a marriage license in Vegas is neither the hardest nor the easiest thing to do. Some preparation needs to be done, but fear not, if your significant other is from outside the country Las Vegas is still the best place to get married. You need to bring certain documentation along when you appear in the Marriage License Bureau. Let's take a look at what's the required documentation for a marriage license.
Two unrelated people, 18 and above
Picture ID: Driver's license, passport, government-issued ID card
Birth certificate or social security card
Go to the Marriage License Bureau
In the event of being under 18 at the time of planning your marriage, don't despair because the law has allowed for that possibility. If you are 16 or 17 at that time and your parents or legal guardians give their permission in person and you bring all of the abovementioned documentation, this will set the wheels in motion. Well, it's a bit more complicated than this, but in essence, this is how it works. The permission must be provided in written form along with a court order proving the guardianship. For biological parents, a simple proof of identity is enough.
What if You Want a Non-Casino Wedding?
Most people associate the city with the abundance of Elvis imitators and casinos, but don't be fooled, weddings are right in its wheelhouse. If you live in Las Vegas but still feel reluctant to spend the most important day of your life in a casino, maybe having your wedding in a chapel is the better choice. In case you didn't know, there are quite a few chapels in Las Vegas. As a matter of fact, venues of all shapes and sizes are available, you just need to give it a thought and pick the one most suitable for your case.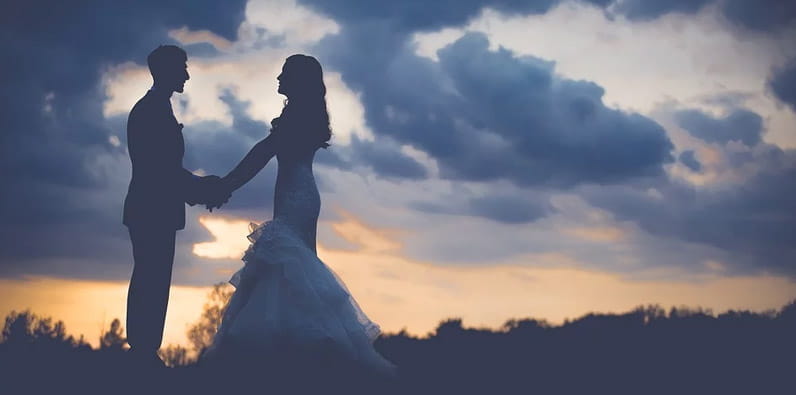 Last but not least are the drive-thru weddings. Strange as it sounds, people are opting for this rather cheap and exciting ceremony. More about drive-thru weddings, you can find in the next paragraph. All things considered, your wedding will not be lacking in any respect should you choose to get married on the territory of a city notorious for its gambling capabilities.
Drive-thru Weddings in Las Vegas
Whether it be a religious or a civil ceremony, you could make it happen with the drive-thru wedding concept. From a Cadillac in a chapel with a singing Elvis to a simple McDRIVE-like fashioned ceremony – there's hardly a thing Las Vegas can't can't provide. It has to be noted that the service comes as a package where different things are included. A professional photographer is also in the package most of the time so don't worry about your mother's disposition to make blurry photos. Here's what a regular drive thru wedding package contains.
Ceremony
Minister (if religious ceremony is requested)
Withess (if needed)
Finalization of post-ceremony documentation
The crème de la crème of drive-thru weddings is a ceremony held in a helicopter. If you believe in the maxim 'love is in the air' you might as well want to say your marriage vows in the air. Those aren't the cheapest thing, however. Bear in mind that besides the helicopter, a trained pilot, a limo, and a minister has to be paid for. If you and your soulmate are thrill seekers, it most likely is going to be worth the money spent. The peculiarity of this type of marriage ceremonies really makes one wonder what will be next, maybe casino tables for weddings? Who knows!
Casino Weddings
Most casino weddings in the city are held somewhere at The Las Vegas Strip, which isn't much of a surprise considering that's where the venues are located. Treasure Island is a shining example of a casino and hotel resort thinking for those of its guests who want to get married. It offers different packages catering to various tastes and preferences. There's something for those who value the intimacy of the moment and for those who want to make a statement with their wedding. The budget solution will cost you no more than a few hundred bucks there, while the cost of a magical experience on the TI Song Ship comes at $3,800.
If luxury and style is what you seek after for the culmination of your relationship, The Cosmopolitan is easily the best place to be at that very moment. Elegance comes naturally at a place like that. Bear in mind though that The Cosmopolitan is a completely different beast. Three packages are available, the cheapest of which starts at $3,000. What you get in return is a uniquely designed wedding suite. If you want the custom-made feel to be predominant, you might want to consider this option.
How Much Does a Vegas Wedding Cost?
Weddings in Las Vegas vary not only in venue but also in price. A grandiose ceremony will always cost more than the frugal setting. Fortunately, if you keep it to reasonable limits, you won't need to reach too deep into your pocket. You can get a marriage license without robbing a bank. We searched long and hard to get a better sense of what the prices are and here's the Las Vegas wedding price list we came up with.
Marriage license only: $79
Casino chapel, no extras: $149
Genuine chapel wedding plus extras: $399
Large chapel plus extras: $599
Now, this price list shows what you'd pay for the Las Vegas weddings ceremony only. Any additional services such as reception or a special program for the guests will cost you extra. Other than that, organizing and paying for the whole thing seems very doable if you're not planning on getting too fancy with it.
Conclusion About Las Vegas Weddings
So what's the verdict, when pros and cons are weighed? Is it worth it to travel all the way to Las Vegas to celebrate such an important step of one's life? Our personal opinion is that a decision like that is well-justified. Not only are marriage ceremonies in Las Vegas affordable, but they are also memorable. A Paris casino wedding, for example, is easily an experience of a lifetime. A very good reason to remember the precious moment, at the very least, but there, your bank-roll might suffer substantially more.
The Las Vegas wedding prices aren't so steep and the overall experience they create is quite unique. Since it's something you don't get anywhere else, we say it's worth it. Everyone deserves to step into the shoes of a big shot and celebrate like there's no tomorrow at least once. Meanwhile, we have two pages that might grab your attention. The first one is dedicated to the places where you can play casino games online from the USA and we made sure to include all operators that can reward you, in case betting is your thing. The second one is not related at all with the States but is oriented at the top online casinos in the UK. So if you feel lucky today, you know where to go!