Las Vegas Casino Security
Las Vegas is a true heaven on Earth for gamblers from around the whole world. It is a place where a little luck can instantly turn your life around and make your dream life become your real life. Each year around 40 million people visit the neon city hoping to have a great holiday and maybe even make some really easy money. There is also another type of people going there, though. With the only purpose to do the unspeakable. To rob a casino… The city has more than 100 gambling venues on its territory, which turns it to an outrageously tempting target for different kinds of rogues. Throughout the years, many attempted to steal, both chips and cash, yet just few actually managed to do it without getting caught… or at least not immediately. Reuben Tishkoff from Ocean's 11, which is among our favourite fictional characters, once said that:
"They've got cameras, they've got watchers, they've got locks, they've got timers, they've got vaults. They've got enough armed personnel to occupy Paris. Of course, lest we forget, once you out the front door you are still in the middle of the f***** desert!"
Even though Tishkoff was a movie character, his words based on facts. Las Vegas Casinos boast some of the most impressive security measures not far short of military bases or other high-value targets. According to Jeff Jonas – an expert in the field of casino security, with well over 20 years of experience, cheating casinos on a large scale, let alone robbing them has become literally impossible. As an example, a venue like the infamous Bellagio has more than 2000 cameras which have been implemented into a state-of-the-art security system that also runs the latest face recognition software. As a result, people with previous criminal records can be identified as soon as they step on the main casino floor and those who attempt to steal from the venue can quickly and easily be spotted, tracked and handed over to the authorities. Despite all that, there have always been people who believe they have what it takes in order to outsmart the system. Before to proceed with the topic, we would like to show you the best online casinos in the UK where you can play without leaving the comfort of your home. We know, that playing online is not as exciting and dangerous as robbing the real thing but is still a good way of having fun. Here is a list of the most notorious Las Vegas casino robberies of all times:
The Biker Bandit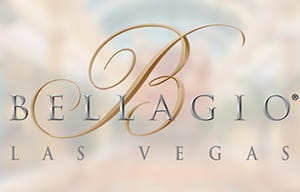 In the year of 2010, University of Nevada student named Tony Carleo performed a daring raid on one of the largest and most profitable casinos in Vegas – the Bellagio. On the early morning of December 15, at approximately 4:00 am, the Biker Bandit, as he was first known, parked his Suzuki motorcycle in front of the venue. Using his biker gloves and helmet to hide his identity, he stormed on to the casino main floor. His target was the Craps high limit table, which was full of chips worth millions and was also the only one working in this early hour. He started shoving chips and cash into his backpack while holding a gun in his left hand, which he later admitted was only there to act as a deterrent. Once his bag was full, Carleo rushed back to his motorcycle, fired it up and disappeared into the desert. A stunt that appears to have come out of a Hollywood production did somehow work in favour of the robber. Unfortunately for him, Tony Carleo was found by the police almost two months after committing the crime while trying to sell the stolen chips. He was sentenced to a minimum of 9 years in prison.
Modern Day Bonnie and Clyde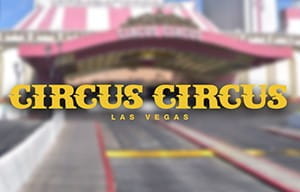 On October 1, 1993, Heather Tallchief – an armoured car driver, stole a truck fool of cash from the Circus Circus casino in Las Vegas. Her partner in crime was her then-boyfriend – Roberto Solis. Police reports say that the couple's last known location was a charter flight to Denver that they boarded shortly after the robbery. It was estimated that they took a little over 3 million dollars from the gambling venue in Vegas. Their hit is considered to be by far one of the most successful casino heists ever conducted. For over 10 years both their names headed the FBI's most-wanted list, until Heather Tallchief surrendered to the US District Court in Las Vegas. It turns out she had managed to conceal her true identity by living under a false name and working as a maid in Amsterdam. The reason for her unexpected surrender was that she wanted her 10 years old son to have a normal life, not having to run away as a fugitive. She denied knowing the location of Roberto Solis, with whom she had split up with ten years prior to her surrender and told the authorities that he disappeared with all the money. Tallchief was sentenced to 5 years and 3 months in prison and has since then been released.
Three Armed Gunmen Attacked the Bellagio Hotel and Casino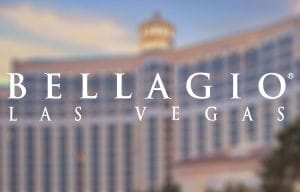 June 3, 2000, was a date that saw yet another attack on the Bellagio hotel and casino in Las Vegas. At 6:30 in the morning two armed men, wearing body armour, went over the counter in one of the cashier cages and started collecting cash, while a third man was stood guard nearby. Leaving the casino, the three invaders also robbed a small money exchange booth near the main entrance of the venue. Soon afterwards, Oscar Sanchez Cisneros, Joese Manuel Vigoa and Luis Suarez were all detained in connection with the crime. In October of the same year, Cisneros took his life while in his cell at the Clark County Detention Centre. Jose Vigoa, who had previously participated in multiple casino heists and had also shot two armoured truck drivers pledged guilty and received a life sentence with an additional 306 to 760 years in prison. The last of the three perpetrators were sentenced to 15 years in prison and $150,000 fine. As a result, MGM Resorts went on to install bars around their cashier cages, which quickly became an industry standard across casinos in Las Vegas.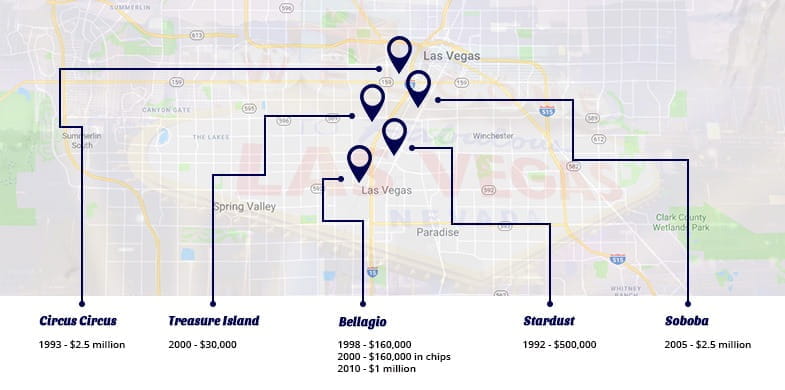 As you can see on the map, these are the locations where the three casino heists took place. We also thought to introduce the whereabouts of a few other robberies of various magnitudes just so you get a better understanding.
Top 5 Greatest Las Vegas Casino Robbery Movies
Casino robberies have been part of Hollywood productions for many years now. In order to outsmart the system, evade the venue's security, break into the vaults and then successfully escape, all movie characters have in common qualities like ingenuity, wittiness and resourcefulness. They are always in command of themselves, making the right decisions and coming out of seemingly stalemate situations thanks to their quick thinking. These are all qualities that the average viewer would love to possess, which makes such productions extremely successful with the wider audience. It is literally impossible to mention all gambling movies that feature Las Vegas casino robberies in one way or another, but here are some honourable mentions.
| Movie Title | Director | Year of Release | Box Office |
| --- | --- | --- | --- |
| Casino Raiders | Jimmy Heung | 1989 | $2.9 million |
| Casino | Martin Scorsese | 1995 | $115.1 million |
| The Conmen in Vegas | Wong Jing | 1999 | $2.3 million |
| Ocean's Twelve | Steven Soderbergh | 2004 | $435 million |
| Ocean's Thirteen | Steven Soderbergh | 2007 | $398.7 million |
The greatest and most memorable movie of them all, however, has to be the original Ocean's Eleven. It came out in 2001 and immediately became a blockbuster. The director – Steven Soderbergh had managed to assemble an all-star cast amongst which names like George Clooney, Matt Damon, Brad Pitt, Julia Robers, Elliot Gould, Andy Garcia, Scott Caan and even two times world champion boxer Wladimir Klitschko. The movie told the story of Danny Ocean (George Clooney) who wants to attempt the most daring heist ever conceived. In order to do that, he gathers an eleven men team, hence the name. As the storyline unfolds, you will find out that he targets not one, but three of the largest casinos in Las Vegas – the Bellagio, the Mirage and the MGM Grand. The security seems impenetrable. However, the team devises a plan that would see them to snatch an unbelievable total of $150 million. If you haven't seen the movie, we thoroughly recommend you do that!