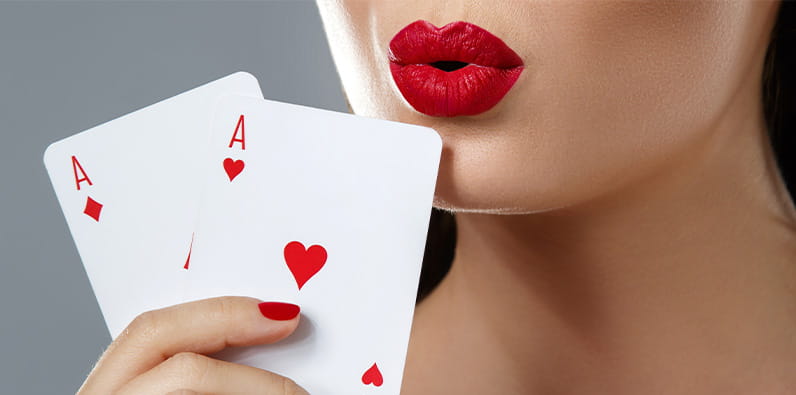 Our article will tell you also about some of the ladies that changed the world of gambling forever. Most of them are both notorious and famous at the same time, but undoubtedly, they left their mark forever. In our article, you will read about their lives in the Wild West and how they proved to be tougher than the men in many ways. We will begin with an introduction of the female top gamblers and where you can watch them play.
Female Gamblers – Fame and Fortune Go Hand in Hand
The best female poker players often have incredible stories to tell. Many of the lady gamblers share them in books and give tips to the beginner players. Many of the stories reach us in movies like the Gambling Lady (1934), The Lady Gambles (1949), The Lady Gambler (1958), Poker Alice (1987), Molly's Game (2017), and more.
Leaving the romantic representation of the pop-culture, the female gamblers are often a force to reconcile with. They are proven to be as tough and determined to get the prize just as any male gambler. This is clearly seen in the poker tournaments like:
World Series of Poker (WSOP)
World Championship of Online Poker (WCOOP)
Big One for One Drop
Triton Super High Roller Series (Triton Poker)
World Poker Tour Championships (WPT)
We will not go in-depth of the winners at the best poker sites. Instead, we will tell you about the winners of the real live events. In the next section of our article, we will tell you more about the achievements of the top female gamblers in our time. Read on to learn what part women had in the gambling history, and how the lady gamblers of the Old West became famous.
The Best Female Poker Players Today
Playing at some of the top games is an incredible experience and brings top prizes. Sosia Jiang became 2nd at the Triton Poker tournament and won almost $1.2 million. The ladies have more luck in the European Poker Tour, where Sandra Naujoks, Vanessa Rousso, Victoria Coren, and Liv Boeree have won a title.
You will find great female players in every gambling competition. Today, the undoubted leader of world poker championships is the WSOP. We listed the top lady poker players and their achievements in this tournament:
| Player | WSOP Bracelets | WSOP Cash Games | Total Earnings |
| --- | --- | --- | --- |
| Vanessa Selbst | 3 | 29 | $2.2 million |
| Kristen Bicknell | 3 | 43 | $1.2 million |
| Nani Dollison | 3 | 11 | $620,000 |
| Barbara Enright | 3 | 35 | $500,000 |
| Loni Harwood | 2 | 81 | $1.9 million |
| Susie Isaacs | 2 | 19 | $202,000 |
| Annette Obrestad | 1 | 13 | $2.1 million |
| Kathy Liebert | 1 | 85 | $1.3 million |
| Annie Duke | 1 | 39 | $1.1 million |
| Heidi May | 1 | 11 | $192,000 |
Even though there are many incredible gambling ladies, we will tell you about the top three female poker players from the last years. They all have won incredible prizes, tons of cash, and gained an impeccable gambling reputation in the poker world.
Vanessa Selbst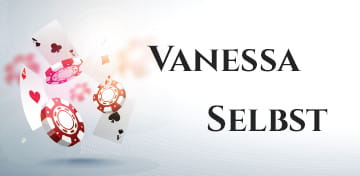 Vanessa is now known as one of the best female poker players in the world. She is also known to be one of the richest female poker players with total winnings of almost $12 million. But Vanessa is more than a talented player.
Born on 9th July 1984, in Brooklyn New York, she walked the hard road of top education including the MIT (yes, the famous university of the blackjack Team MIT) and Yale University. This top education allowed her to become a hedge fund manager in a top company.
In her poker career, Vanessa Selbst took part in 21 live poker tournaments. She became one of the World Series of Poker winners by achieving 3 bracelets in the years 2008, 2012, and 2014. When it comes to the World Poker Tour, Vanessa sat on two final tables and had three money finishes.
Her gambling time in the European Poker Tour ended with four money finishes. All those victories brought her incredible fame and money worth. Currently, Vanessa Selbst is retired, but we could never know when she will decide to claim another bracelet and lead the lady gamblers list again.
Kathleen "Kathy" Liebert
Kathleen Liebert is known in the poker world since 2002 when she won the Party Poker Million event with $1 million prizes. Ever since then, she had won the 2004 World Series of Poker, where she got a bracelet and a $1.5 million prize.
Her WPT (World Poker Tour) resulted in sitting on six final tables, and her European Poker Tour resulted in one money finish. As one of the top female gamblers, Kathleen Liebert has accumulated over $6 million in poker wins and is easily part of the Poker Hall of Fame.
Annie Duke, the Duchess of Poker
The female poker players list will not be the same without Annie Duke. The Duchess of Poker won her World Series of Poker bracelet at the 2004 WSOP Tournament of Champions.
Until today, Annie Duke is the only woman who won the Heads-Up Championship. Currently, she is in the top five of the richest female poker players.
Annie Duke uses her expert knowledge in poker games to write top-rated instructional books for poker players. Some of her works like "The Middle Zone", "Decide to Play Great Poker", her autobiography and the decision-making books are a must-read for aspiring players. All her books prove that besides luck, the poker player needs skills. In 2020, Annie Duke described herself as a retired poker player, and being busy with her poker organisations, books, and charities.
Notorious Lady Gamblers – Tales of Fame, Money, and Danger
The lady gamblers of the Old West were as tough as the men if not even more. They chose to gamble, rumble, make big money, and live a happy life restrained by the tight corsets. The female gamblers in the past were known for their gambling abilities and entrepreneurship in handling saloons and sometimes even brothels. Even though many ladies deserve a spot in our list, we chose the most influential players and gambling establishment owners.
There is no secret that in the past (and today also) not all gambling locations run according to the laws of the country and offered underground poker and other illegal activities. In this section of our article, we will give you the toughest ladies in the gambling world. Their notorious recognition is based mostly on rumours and because of the society's expectation for the place of the women. Here are five of the ladies that changed the face of gambling with brains and kicks in alphabetical order:
Alice Huckert aka "Poker Alice"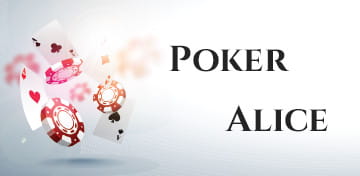 Alice was born in 1851, England, in a nice family that sent her to private schools. Once the family moved to Virginia, USA, the young girl showed her passion for adventure.
She is one of the legendary ladies in the Wild West and gained her reputation in outlaw towns like Deadwood, South Dakota. Alice was not just a great gambler, but also a skilful dealer, and one of the top female poker players in the past.
Alice was known for the poker, but her notorious fame came from her owning brothels. She even shot a man for behaving poorly at one of her establishments. This added to the Poker Alice's reputation of a person you should not mess with. Despite her strong personality and borderline immoral business, it is known that Alice was in good terms with God and respected his holy day by not playing poker on Sunday.
Claudine Williams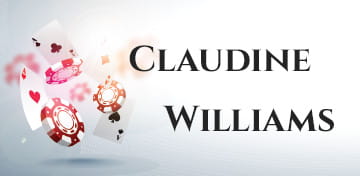 Claudine Williams learned almost every gambling game when she was a child. By the time she turned 21 she already operated her own gambling club in Texas. Even though she was one of the few women that operated a casino in the 1960s and 1970s, she did it well.
Claudine was so good at her work, that she became the first woman inaugurated into Nevada's Gaming Hall of Fame. Her Holiday Casino grew and later became the foundation of the Harrah's Hotel and Casino.
Judy Bayley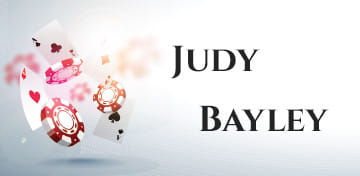 Playing poker requires steady nerves and fast thinking, but running a casino needs an exceptional mind and skills. The casino owner lifestyle is not the first thing that comes to mind when we look at Mrs. Judy Bayley's photo.
Her kind and ladylike appearance speaks to us of a movie star, a singer, or even a royalty, and in a way, that is what life gave her.
Judy Bayley took over her husband's Hacienda Casino in 1956 after his death. The location of this gambling site, between Los Angeles and Las Vegas, was a real gold mine. Judy did not fall in despair like many widows of that time often did. Instead, she rolled up her sleeves and dealt with the casino's problems. It is not known if she gambled, but Judy Bayley made improvements in the gambling world, bought live keno in her casino, and for the excellent work she was named the First Lady of Gambling.
Lottie Deno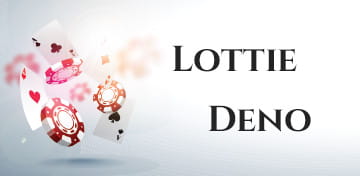 One of the lady gamblers of the Wild West who lived to an old age of 89 was Lottie Deno. Lottie began her life as Carlotta J. Thompkins, born in 1844 in Kentucky, USA. Since her father was a racehorse breeder it is fair to say that she was born and raised in the gambling world. At first, Lottie played poker on Mississippi's riverboats until she gained the courage to enter the big games.
Lottie was not a quiet player. For a while, she was associated with wild gamblers like her husband Frank Thurmond, and the poker player and gunfighter Doc Holliday.
Unlike them, Lottie managed to enjoy the life of gambling, countless adventures, and lived to old age. At the end of her life, she was a completely different person. Lottie changed so much that she became a pillar of the society and even lead the Sunday School.
Maria Gertrudis "Tules" Barcelo aka The Queen of Sin
The 1800s gave us one more pearl in the crown of the notorious female gamblers. Maria Barcelo was born in 1800. By the age of 25, she was already known as the Queen of Sin and operated a gambling den in Ortiz Mountains, New Mexico. She became popular from the newspaper articles and drew the attention of the authorities. It is strange that despite her popularity no one knows exactly how she looked like.
Despite the poor representation of her character, it is known that she never dealt with brothels or prostitution. She was one of the lady gamblers of the Old West that stuck strictly to gambling business. Besides the profit from her many saloons, she won good money playing herself the card game Monte. The Queen of Sin lived a long life (over 50 years) and gained a fortune of over $10,000 (that is over $350,000 today).
FAQ's About the Lady Gamblers
The lady gamblers list is a mile long, but unlike men, the female players are not in the top 10 by profit. In our article, we told you who are the best poker players and who are some of the women that changed gambling forever. Now, we will answer the most frequently asked questions on the matter.