When Gambling Is More Than Just a Game
Hello, fellow gamblers and manga lovers! We're here with another interesting gambling-related manga article! We've written a few posts in the past about both manga and anime, but we haven't made a full-on manga/anime review yet. Well, what better time than now!
One manga that has grabbed our attention, as well as the attention of a bunch of our readers, is Kakegurui – Compulsive Gambler. We think that the name says it all – it is a manga, dedicated to the fun and the dark side of gambling and how if you're not good enough, you might end up at the bottom of the food chain. Not literally, but you get the idea! There are a lot of plot twists, drama, steaming hot romance between the characters and a little bit of craziness in one.
We will briefly explain what manga is, what types of manga and readers there are. Then, we will do our best to introduce you to the story of Kakegurui – Compulsive Gambler without spoiling it too much for you. There might be a few other surprises along the way, so get ready and continue reading!
History of Manga
For starters, let's learn more about what manga is and how it was created. You may already know, but we would like to include this paragraph for all our other reader who is not familiar with this genre. Who knows – we might spark someone's interest!
What Is Manga?
Manga are Japanese comics and graphic novels. It is an umbrella term for all comics and illustrated novels written in Japanese and created in Japan (obviously). Manga is almost always black and white and, unlike other comic books you might be familiar with, you read it from right to left. It is like starting from the last page of a book and reading your way back to the first! But don't worry, it is easy and interesting to read, and you can go through it fast. The very first manga was probably presented to the world back in the 12th century when the conception of reading right-to-left first started. The word 'manga' was first used in 1798 and this is around the time when 'Shiji no yukikai' was published as the first book under that term.
Is Manga For Everyone?
Manga was catered firstly towards one kind of demographic. With time, different genres of the manga were created that were available to people of all interest, gender and ages. Here are the five main types of manga:
Shonen – This is a type of manga for tween and teen boys. It often features adventure, action, comedy and some coming-of-age stories which makes it more relatable. Good examples for such manga are Naruto and Dragon Ball, both quite popular worldwide.
Shojo – This manga is catered towards tween and teen girls. As you can guess, this type of manga is more 'girly' and 'kawaii' – there is a little bit of drama, lots of flowers and rainbows and the idea of the perfect romance. Manga such as 'Nana', 'Sailor Moon' and 'Fruit Basket' perfectly fit this category.
Seinen – Adult manga for men over 18 Not to be confused with 'hentai' (Japanese porn)! There is action again like in shonen, but grimmer and bloodier, if we can say it like that. The main protagonist is often a guy that has to face the harsh reality of life, all mixed with violence, sexual situations and lots of cursing. Popular manga that fall in this category are 'Akira' and 'Berserk'
Josei – Manga for adult women over 18. Here, the style is similar to shojo, but with more 'intense' storylines. Josei for Japan is like '50 Shades of Grey' for Americans – drama, an impossible romance between two protagonists and a lot of hot stuff if you know what we mean. 'Loveless' and 'Midnight Secretary' are two very popular titles from this type of manga.
Kodomomuke – Manga for the small bundles of joy. This is a very 'kawaii' type of manga, often colourful and with fun characters. The manga is moralistic, funny and perfect for toddlers and kids over 7 years old. Do you know which manga falls into the category? Yes, the all-time favourite Pokemon!
Overall, there is a manga for everyone and they can be on different topics – sports, fashion, love triangles, the spicy one we've mentioned earlier and other. As you can imagine, there are also a lot of gambling-related ones that have even inspired developers to create anime-themed games for some of the best gambling sites. And since we got distracted a lot, let us move on to the main star of the article – the Kakegurui manga series!
Kakegurui Manga – The Gambler's Dream Comic Book!
Yes, a manga about gambling! This masterpiece was first published in 2014 by author Homura Kawamoto and illustrator Tōru Naomura. There is also a prequel spin-off called Kakegurui Twin, which was first published in 2015. There are currently about 69 chapters and there are more to come, as this manga has turned into a real sensation amongst manga readers.
It is hard to say where Kakegurui should be categorized – it is like a mix between Josei and Seinen manga, but we think we could all agree that it is more targeted towards male readers. Come on, high school short skirt uniforms and gambling? Yes, we thought so, too!
What Is Kakegurui About?
For short, it all starts at this highs school, known as Hyakkaou Private Academy. This is a school where kids of very wealthy people attend classes like history, languages and other normal academic stuff. Everything seems normal during daylight, but once darkness falls, the school turns into an underground gambling den. Students are being thought about how to gamble and manipulate their opponents and later practice what they've learned.
Here is where it gets interesting. The academy is divided into two – the elite of the school in the face of the Student Council and everyone else. When students gamble, they not only practice what they've learned – they play for real money, survival and 'social' status. Each student once prepared enough, plays against the School Council, where his/her faith will be determined. The student will either become part of the elite or will be turned into the so-called 'house pet' (Fido or Mittens). As a pet/slave, a student can be tortured and used as the Council likes. Yikes!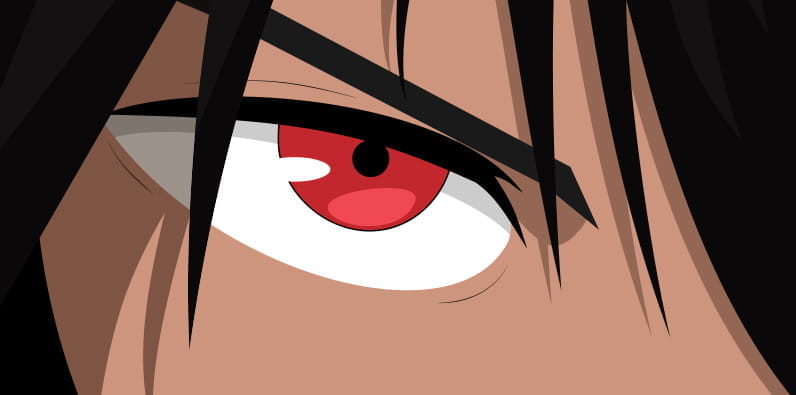 Yumeko Jabami is the main protagonist and the new transfer student that suddenly appears at the academy. She looks like a shy, sweet and naïve girl, who just wants to make friends and learn something new. When she starts gambling, she does it mostly for fun and appears weak amongst her fellow students. But, of course, she shows her true colours, as she turns out to be a strong compulsive gambler that plays for the thrill of gambling itself. She also intimidates and exposes her opponents when they cheat, making her a huge threat for the Council. She is powerful, insane and it looks like gambling also arouses her a lot. Her goal is to become part of the Council and there is nothing that can stop her!
Is Yumeko A Genius Gambler or Just Insane?
To this question, we have only one answer – both! This is more a psychological question, but we will do our best to explain why we say both.
As we've discussed in other articles about gambling and mental health, in this case Yumeko is addicted not to the idea of winning but more because of the thrill of the game. She doesn't care if she loses – she wants to be involved in the game. As you may know, certain triggers can awaken a person's gambling addiction and it can often get out of control. Some people have anger outburst, others laugh uncontrollably, and some people get sexually triggered during a game.
The protagonist is not under the influence of drugs and her psychotic outbursts are all because of the act of gambling itself. She is also quite smart as she manages to catch cheaters. This is a very useful talent! A person's behaviour and body language can say a lot – if your opponent seems calm, but regularly fixes his/her clothes or bites his/her lips, this is a sure sign that something's wrong. Yumeko can spot these small and simple signs in her fellow students, making her a dangerous and powerful opponent even to the best gambler in the academy.
What Games Do Kakegurui Characters Play?
There are a lot of ways to gamble your way to glory – from a simple game of dice to a complex game of Poker. At Hyakkaou Private Academy, students are thought how to count cards, how to play Roulette, Blackjack and Poker, plus other interesting games that are typical for the Japanese culture.
Something that might be a bit more interesting is one particular game that you probably have often played when you were younger, but you would never guess it could be turned into a gamble. Kakegurui introduces us to a game of 'Rock, Paper, Scissors' in the form of a high-stake Poker game. It is played with cards with the signs for 'rock, paper, scissors' during the Election in one of the chapters. It is fascinating how such an innocent childish game can be turned into hardcore gambling!
Kakegurui And Gambling in Japan
At the time the manga appeared, Japan had a law that strictly prohibited any type of gambling. This is a reason a lot of underground gambling facilities came to be where people secretly played Poker or some of the forbidden games. Nowadays, gambling is still considered illegal, but there are exceptions for sports betting, for example.
Kakegurui represents that underground feel very well, with the students taking normal curriculums during the day and playing for big amounts of money at night, hidden from the real world. The manga shows the advantages of winning and being good at gambling, but also the dark side of the addiction that could mess with your brain and concept of life.
Kakegurui Anime
After the successful publishing of the manga, the story of Yumeko Jabami and her fellow students was turned into an anime series and, we must say, we're chuffed! The anime is available on different platforms online and you could also watch it on Netflix, alongside other popular anime like Death Note.
The anime looks amazing – the colours, the characters, the plot – it's all there! Yasuko Kobayashi, a writer with over 25-year career in anime making, is the one that freshens up the script of Kakegurui, making the anime even more intense and eye-grabbing.
Fans across the world are thrilled and highly recommend the series and we understand the hype very well. The Kakegurui anime truly deserves your attention and if you have time – just watch it! We also recommend you check out some of the other top gambling anime out there, as we're sure you'll enjoy them a lot!
Addicted Yet?
We got carried away a little, but we hope that you find our article interesting. Did we grab your attention? Would you read Kakegurui manga online or watch the anime? We highly recommend you do!
Let us know if you would like us to make a review of another popular manga or anime about gambling! We'd love to read your suggestions on our social media. Thank you for your attention and we will meet again next time! Oh, and don't forget to check which is the best casino for Japanese players as well!
Any Questions, Kakegurui Lovers?
We did say 'bye' a second ago, but we had to add this as well. We've included some of the most popular questions people often ask about the manga and the anime Kakegurui. We hope that the answers would be helpful and interesting for you to read.
What Does Kakegurui Mean?
Kakegurui is the name of the popular gambling-themed manga and anime. It translates as 'gamble maniac' which perfectly describes the main protagonist Yumeko and the overall storyline of this Japanese creation.
Kakegurui – Where to Watch?
Kakegurui was first presented to the world in the form of manga in 2014, which is a Japanese comic book. Later, the manga was also transformed into an anime (Japanese cartoon) which left fans pleasantly surprised. You can find the Kakegurui anime on different online platforms, including Netflix.
What Genre is Kakegurui?
For starters, manga is a literature genre, popular in Japan. It is a comic book with beautiful black and white illustrations that is red from right to left. There are different types (sub-genres) of manga, depending on the demographic's needs and age. Kakegurui, according to fans and experts, falls inbetween two types – seinsen and josei.
Who Made Kakegurui?
Kakegurui was created by author Homura Kawamoto and illustrator Tōru Naomura back in 2014. When the anime based on the manga was in the making, the famous writer Yasuko Kobayashi, who has created other superb characters that the world sees on screen.