Macau Vs Vegas or the Las Vegas of the East
Macau also goes by 'Monte Carlo of the Orient' but my favourite is 'Las Vegas on steroids' – so eloquent, right. The rise of Macau became in 2002 when it started investing huge amounts of money in the tourism and gambling industry. And for the short period since 2002 Macau has not only become a gambling mecca in Asia, but it entirely surpassed its counterpart Las Vegas. The gambling revenue Macau generates is the impressive 3 times bigger than that of Las Vegas. Sin City, however, makes more money when it comes to food, entertainment and drinks. Part of the reason is that drinking in casinos is strictly prohibited in Macau and another part is that the Asian city is more of a place for VIPs, high stakes and fine dining and less of a place for crazy bachelor parties with strippers and booze.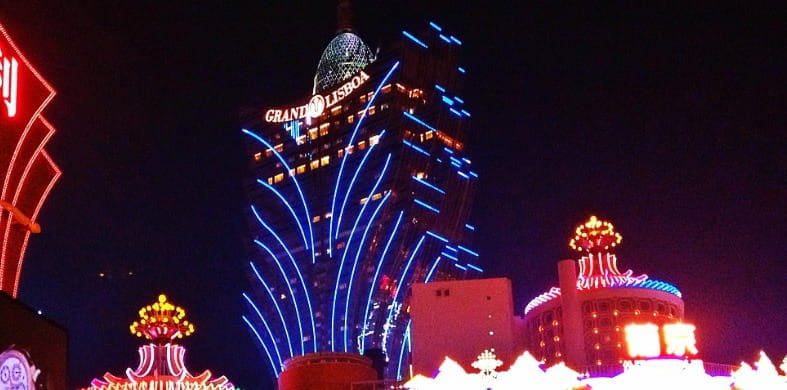 Macau is the only part of China where gambling is legal. Just like in Vegas there's a casino boulevard and here it is called Cotai strip. Unlike Vegas drinking is strictly prohibited but smoking is allowed in dedicated areas. Not surprisingly, you cannot take photos in the casinos and you should be dressed smartly. A great advantage of gambling in Macau is that you do not have to pay any taxes on your winnings, whereas all lucky winners in Sin City must pay around 30% taxes on their jackpots. All the 49 casinos in Macau are open 24/7.
Chinese players traditionally love baccarat and slots but other table games like blackjack and roulette are also popular. And of course, traditional Chinese games like sic bo can still be found in most casinos. In the battle Macau vs Vegas, it isn't that hard to choose a winner when it comes to gambling possibilities. Vegas is leading because of its undeniable fame all across the world, the huge number of venues and, of course, because of the alcohol and the marriages made by non-other than Elvis himself.
Compared to gambling in Vegas, the number of casinos in Macau is strikingly smaller – only 49 (Sin City boasts 135). But as you know, quantity does not always mean quality. The reason Vegas has more casinos is that there are many small ones. The Asian gambling capital is home to the biggest casino in the world – the Venetian Casino Resort Macau. This is a sister property of the Venetian in Las Vegas, only twice its size and houses the world's largest casino floor with 640 tables and 1760 slots. Other famous casinos from the Las Vegas strip that you can find in Macau are The Wynn Palace, The Parisian and MGM Macau.
Singapore – Can it Challange Vegas' Gambling Fame?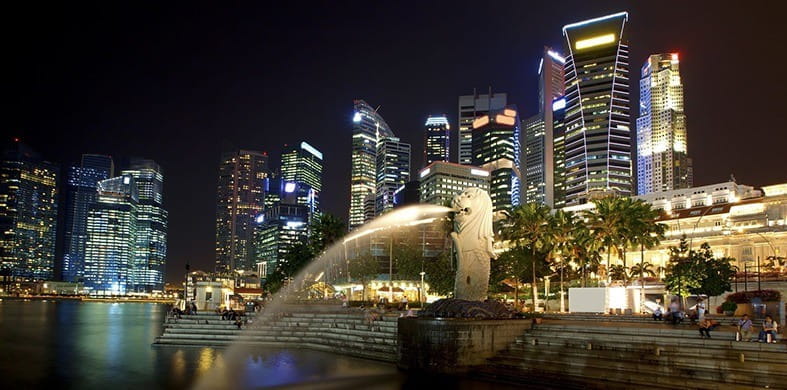 Although still in its infant stage, the Singaporean gaming industry is a promising new addition to the world of gambling. The scope of the industry there is not as large as in Macau by any means and thus rivalry with Las Vegas is virtually impossible. But we decided that the country is worthy of a paragraph in this article because we believe in its bright future. With the introduction of the IRs (Integrated Resorts), the Singaporean government is addressing the need for developments in the tourism sector. Making the islands an attractive destination is crucial for their economy. And gambling is an easy way to attract both foreign investors and China's 'nouveau rich', who traditionally love the games of chance.
Still the local authority wants to make sure that Singapore is branded as a family destination, so the law requires every IRs to house museums, hotels, convention and exhibition facilities in order to be able to apply for casino license. Moreover, the Singaporean law caps all casino premises at 15,000 square metres. So even if the investors want to go bigger, they can't. Still, the hype Singapore has produced over the last years is a serious sign for their future success. Let us present you the first two Integrated Resorts in Macau.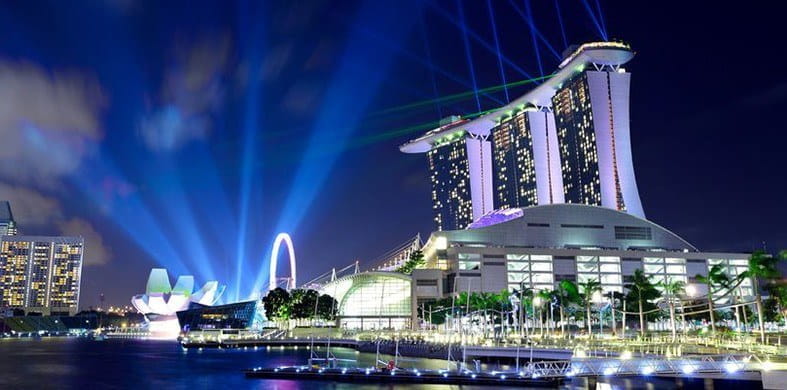 Marina Bay Sands and Resort World Sentosa are world-class examples of modern, innovative architecture and top-class gambling experience. Marina Bay Sands, a property of Las Vegas Sands, opened in 2010 and is famed as the most expensive standalone casino worth $8 billion. Its strikingly futuristic architecture makes it an easily recognisable building. As an Integrated Resort, Marina Bay Sands features a hotel, a mall, an art-science museum, 2 theatres, a convention-exhibition centre, 2 floating pavilions, a skating rink, a spa, a casino with 350 tables and 2300 slots and the famous SkyPark with an infinity pool overlooking the city skyline.
The casino offers more than 250 game titles and more than 20 table games including different types of Baccarat, Blackjack, Roulette, Poker-based games, Craps, Sic Bo, Pai Gow etc. Foreigners enter for free while locals have to pay $100 for every 24 hours in the casino. There are both smoking and non-smoking areas in the casino and it is open 24/7. Make sure you wear smart casual clothes and bring an ID.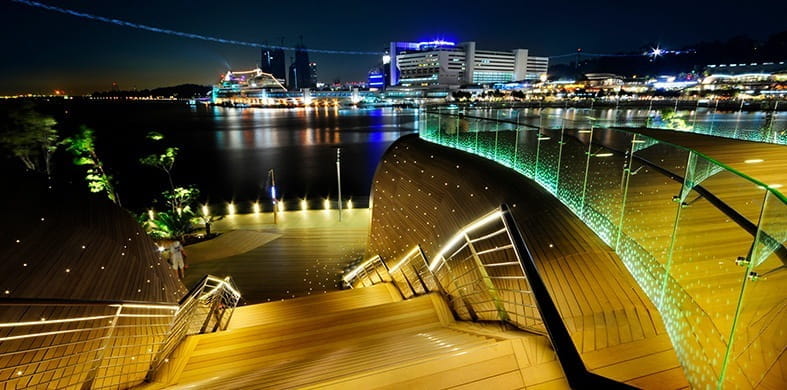 Resorts World Sentosa is another integrated resort owned and operated by Genting Group – Asia's oldest and most popular gambling operator. The operator is famous for its good knowledge of the Asian gaming preferences. The resort houses a casino, an Adventure Cove water park, an S.E.A. Aquarium, a Universal Studios theme park, 5 hotels (including Hard Rock Hotel), 12 celebrity chef restaurants for fine dining, a spa and a shopping centre. The casino is open non-stop, the dress code is casual smart and once again cameras are not allowed. Smoking is only allowed in designated areas.
The game selection includes various table games like blackjack, poker, roulette, baccarat, pontoon, money wheel, pai gow, tai sai and three pictures. And of course, there are more than 2400 slot machines to choose from. All in all, we would gladly put our money on the perspective and the development of Singapore as the new casino capital. The city can definitely become a great rival to the Vegas gambling industry.
And the Winner Is…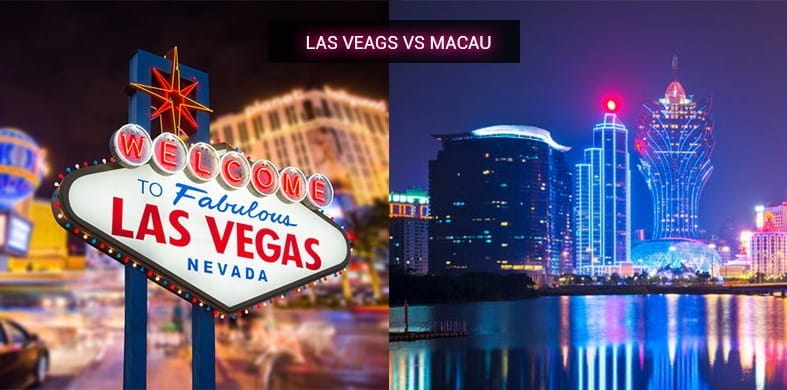 Speaking in numbers Macau is for sure the obvious winner of the title 'the best performing casino resort'. But when it comes to popularity, gambling in Vegas cannot be topped. Let me explain that in detail. Yes, Macao is making more money, but the reason is not that there are more gamblers and tourists. It's because the gamblers there are high rollers. People go to Vegas and spend a tenner on slots just to get free drinks. That's not going to happen in Macau – let me say it again – drinking in casinos is not allowed. People go there to gamble and gamble only. That's why the minimum bets are significantly higher – they start at about $36 for most table games, whereas in Vegas the minimum is around $3.
Actually, everything is more expensive in Macau – food, accommodation, you name it. And while Vegas can make anyone feel like a big shot for just a weekend, even if you drink free cocktails walking down the strip, Macau targets the big spenders. Of course, there are high-roller casinos in Vegas as well, but they are not the main thing… The bottom line is, Vegas is entertainment, Vegas is freedom and can be as expensive or as cheap as you want it. And that's why it's still the most popular casino resort in the world.