Before we begin, we would like to stress the fact that every single one of the Holland Casino branches is legit, trustworthy, and guarantee fair play for all its players. There are no strict requirements for visitors, apart from showing an identification document proving they are 18 years or older and adhering to the appropriate dress code.
First of all, we would like to highlight that Holland Casino Amsterdam is a state-owned company. That means that any venues under this brand are fair, safe, legit, and strictly regulated by the Government of the Netherlands. In fact, profits from Holland Casino go directly to the Dutch treasury and generate more than 250 million euros per annum.
Holland Casino Amsterdam – Locations
As we briefly mentioned, there are two Holland Casino Amsterdam venues located in the capital city of Amsterdam. They are known as Holland Casino Amsterdam Centrum and Holland Casino Amsterdam West, respectively. In the following two chapters, we will provide more details about both brick-and-mortar facilities, how to find them, and more.
Holland Casino Amsterdam Centrum – Central Location
Our first location is going to be Holland Casino Amsterdam Centrum. This brick-and-mortar facility is located in the very heart of Amsterdam on Max Euwepleln 62, 1017 MB, and is open daily from 12:00 to 03:00.
The Holland Casino Amsterdam Centrum has the largest selection of table games in the Netherlands, including popular titles such as American Roulette, poker, Punto Banco, and numerous slot machines. There are many blackjack tables, where you can try the most successful blackjack strategy tips and tricks.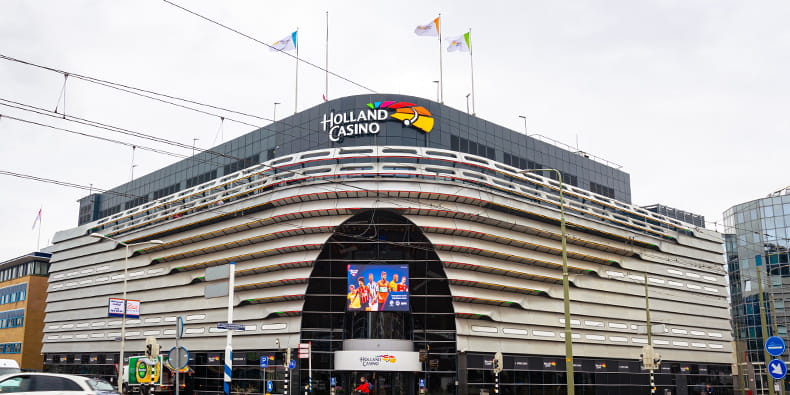 If you choose to go there, you can expect an exciting evening in the never-sleeping city centre, because there is a lot to do in and around the Holland Casino Amsterdam Centrum building. Another great factor about this location is that the casino also has its own delicious restaurant called Taste Brasserie & Wines.
It is also important to note that you must provide an identification document if you decide to enter. The dress code is "stylish and well-groomed", meaning that you will be expected to dress up slightly, unlike in some other locations. Before we move on, we would like to bring to your attention that players at Holland Casino Amsterdam Centrum have the chance to win great prizes on the slot and table games daily.
Holland Casino Amsterdam West – How to Find it?
Next on, we will talk about Holland Casino Amsterdam West-Sloterdijk. As the name suggests, this newer establishment can be found in the western part of the city of Amsterdam, on La Guardiaweg 61, 1043 DE. Despite not being in the central area, its location is not to be underestimated. That part of the capital is full of restaurants, bars, clubs, historical sights, and many other things to do.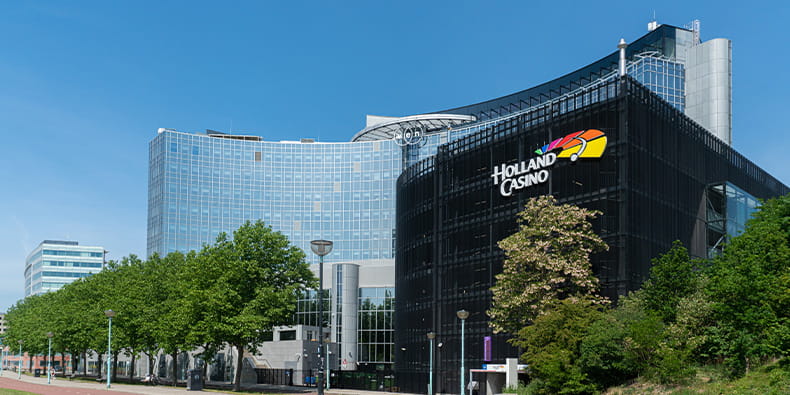 Of course, you can expect to find some similarities between Holland Casino Amsterdam West and its Centrum predecessor. For example, the western location also offers its visitors a wide and exciting array of table games like American Roulette, blackjack, and Punto Banco, as well as many outstanding slot machines.
Additionally, we wish to note that Holland Casino Amsterdam West operates 24/7 and is perfectly accessible by car. Moreover, drivers will be delighted to learn that there is affordable parking in the nearby parking garage.
Just like its predecessor, visitors of Holland Casino Amsterdam West will have the opportunity to visit the TripAdvisor-awarded restaurant Taste, Brasserie & Wines. Finally, a dress code expects players in the facility to be stylish and well-groomed. If you are interested in some suggestions, we have a dedicated page about casino dress code and outfit ideas that you might want to check out.
The Story of the Brand & Holland Casino Amsterdam
The story of Holland Casino began in 1975 when the brand was awarded the only Certified Casino Licence in the Netherlands, given by the Dutch Government. To this day, Holland Casino is still the only casino operator to have a verified gambling permit that allows offering gambling services within the borders of the Netherlands.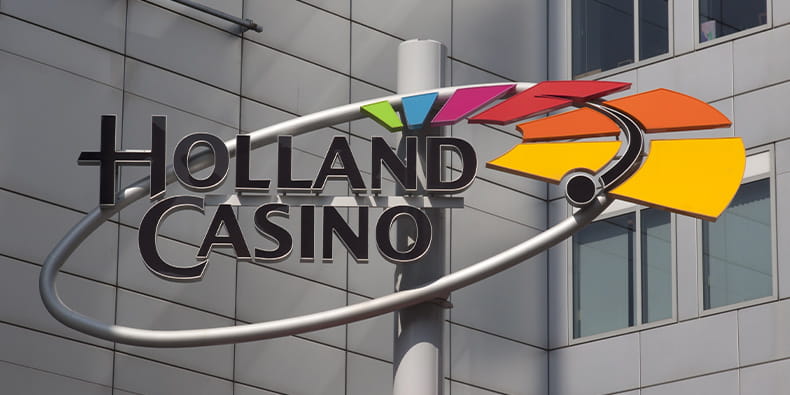 Since obtaining the gambling licence, Holland Casino has successfully greeted local players and foreign visitors to its facilities for over 40 years. Fun activities are regularly held at each location, including the Amsterdam Holland Casino branches. Nights with well-known performers or themed parties are just a few of the many events that can be seen at any of the venues.
The headquarters of Holland Casino is located in Hoofddorp, but the company plans to relocate its administrative facilities to a separate tower building in the new Holland Casino Utrecht. The very first venue opened in 1976 in Zandvoort, which was soon followed by Holland Casino Amsterdam, in 1986. Since 2008, the Amsterdam Centrum casino has become the largest branch. Anyhow, here is the complete list of all Holland Casino venues:
Amsterdam Centrum
Amsterdam West
Breda
Eindhoven
Enschede
Groningen
Leeuwarden
Nijmegen
Rotterdam
Scheveningen
Utrecht
Valkenburg
Venlo
Zandvoort
The listing shows a Holland Casino establishment in virtually every major Dutch city. That means that even if you want to visit Holland Casino Amsterdam, but you find yourself on the very other side of the country, there will surely be an alternative nearby. Nevertheless, the time has come to discuss the Holland Casino Amsterdam games, so let us move to the next section.
Holland Casino Amsterdam Games
As we have mentioned on several occasions throughout our article, there are plenty of Holland Casino Amsterdam games available to players who decide to visit either of the two venues. Moreover, gambling fans will be able to enjoy a vast selection of table games, including poker, Punto Banco, roulette, and blackjack. To provide you with an overall view, we have prepared a short table which looks at some of the most popular casino games.
| Popular Casino Games | Available at Holland Casino Amsterdam |
| --- | --- |
| Poker | ✔️ |
| Punto Banco | ✔️ |
| Roulette | ✔️ |
| Baccarat | ❌ |
| Blackjack | ✔️ |
| Slot Machines | ✔️ |
| Dragon Tiger | ❌ |
| Sic Bo | ❌ |
| Casino 21 | ✔️ |
| Game Shows | ✔️ |
Most of the Holland Casino Amsterdam games mentioned above do not have a single version, instead, they have many alterations to the original rules. Fortunately, visitors of Holland Casino Amsterdam will have the opportunity to try out multiple variants of the most popular table games.
For example, players at Holland Casino Amsterdam will be able to try a few hot poker games like Classic Poker, Poker Texas Hold'Em, 3 Card Poker, 4 Card Poker, and others. Additionally, blackjack and roulette fans will not be disappointed either, as there are plenty of tables where you can take a seat.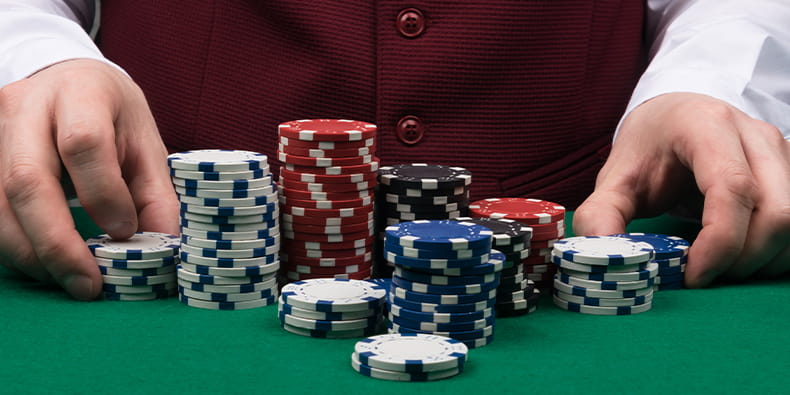 Similarly, to the best slot casinos, the Dutch brick-and-mortar casino in Amsterdam has a vast selection of physical slot machines. Of course, some of the slots allow local and international players to win one of the five available jackpots.
The jackpot rewards can go as high as 1 million euros. To compete for those enormous rewards, you must play the Mega Millions Jackpot slot machines, which can be found at all Holland Casino venues.
Apart from the classic gambling games, Holland Casino Amsterdam runs live game shows, such as Money Wheels, Wheel of Fortune, and others. Following that, we must add that bingo games are only available at the Holland Casino Breda venue, every Wednesday and Sunday.
Loyalty Programme
In order to enter Holland Casino Amsterdam or any other branch, visitors are required to register at the desk and obtain either a Favorites Card or Xperience Card. The Favorites Card is available for guests aged 24 and more, while the Xperience Card is for those between 18 and 23.
Having a Favorites Card automatically enrols you onto the Holland Casino's loyalty programme, and you will be able to make the most out of some unique privileges, just as if you are living the professional gambler lifestyle. For example, you will have free admission, fast-track entry, discounts in the restaurant, free drinks and more.
Having a loyalty card will allow you to win extra prizes such as the Favorites Jackpot and receive some exclusive promotions. Also, while playing or ordering at the Amsterdam Holland Casino or any other branches, your loyalty card will be storing points, which can be later used at the bar or restaurant or be exchanged for free casino spins and cash. In the following table, we have included the four Favorites Card options:
| Favorite Card | Required Visits |
| --- | --- |
| Welcome Card 🤍 | 1-3 Visits |
| Black Card 🖤 | 4-11 Visits |
| Platinum 💚 | 12-24 Visits |
| Diamond 💎 | 25 or More Visits |
Playing at Casino Holland Amsterdam Online
Some might wonder if Casino Holland Amsterdam has an alternative online version. Online gamblers in the Netherlands will be delighted to learn that the state-owned casino brand is also covering the web market. Furthermore, Holland Casino online was the first licenced gambling website that was allowed to offer online games of chance, skill, and luck to players in the Netherlands. Not only that but the operator is a member of the Netherlands Online Gambling Association.
The Holland Casino online collection of games is quite similar to those of the best real money gambling websites. As one could expect, the slots selection represents the bulk of the operator's games catalogue. In fact, there are more than 500 unique titles brought by some of the finest software providers, including Playtech, Blueprint, Betsoft, Play'n Go, Microgaming, iSoftBet, Quickspin, and others.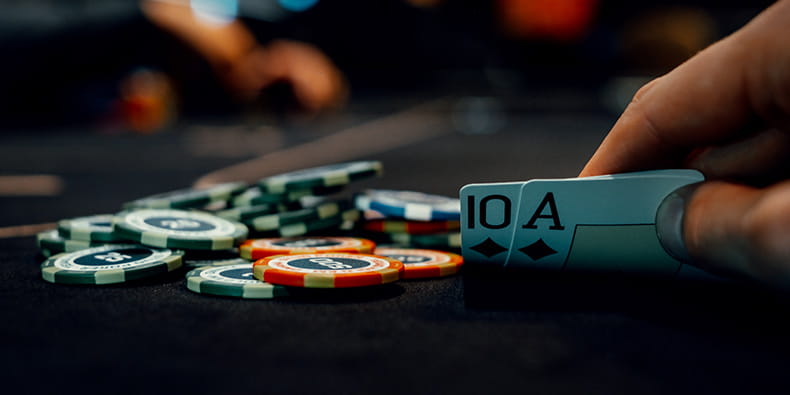 In addition to the slots, you can access single-player video table games that include variants of roulette, blackjack, baccarat, and others. However, Holland Casino online stands out with its live casino, which offers some of the top live dealer casino games. It is streamed every day from 12:00 to 03:00, directly from the company's live casino studio in Holland Casino Scheveningen.
Interestingly, players who have physically entered the Holland Casino Scheveningen branch can freely watch the actual live online casino tables, but they cannot participate. Similarly, Dutch players who have entered the live casino online cannot join a table for the brick-and-mortar audience.
FAQ
We sincerely hope that our article about Holland Casino Amsterdam has been interesting and informative. We want to thank you for sticking with us till the end of it. We decided to present you with some of the most frequently asked questions and answered them for you as a grand finale. Let's see what we have found out.