If you play the game for a while you should know that in 2013 an "Opening Soon" sign was situated on the main entrance of the building and it stayed there for 6 years until June 6, 2019, . On that date the banner was replaced by construction barriers, on June 13, 2019, more construction elements were placed around the entrance. Between the 6 and the 20 of June, the place changed its vision several times adding more constructions and the name of the casino was finally released on the Rock Star Games Twitter Account – The Diamond Casino & Resort.
A month later on July 18th 2019 the official The Diamond Casino & Resort update was released with an awesome trailer revealing all facilities, architectures, functionalities and features of the new GTA 5 Diamond Casino & Resort. In addition to all of that, on July 23th 2019, another feature was released as part of the new GTA 5 Casino update – the Casino Penthouse. The Penthouse unlocks several more facilities and cars which we will show you later on. Before we dive into the 3D reality of GTA 5 Diamond Casino mission, for those of you who are anyhow interested to visit online casinos with real money, we know where exactly are the best places, check them out! Additionally, we can highly recommend the best sites for online gambling in the UK where you can find a tonne of other betting opportunities.
GTA 5 Diamond Casino – The Mission
Before we explain how to pass the GTA 5 casino heist mission, we will introduce you to the features that are coming with the new GTA 5 Diamond Casino update. For a start, we can tell that there are 5 casino work missions and 22 fresh new vehicles to cruise with. But how to enter in the casino? Well, that's simple, you need a membership which costs $500 but grants you access to many facilities at the resort. If you the serious player and got the juice and the money to purchase your own space there:
Penthouse Crash Pad – $1.5 million
Party Penthouse – almost $3.8 million
Penthouse Suite – $6.5 million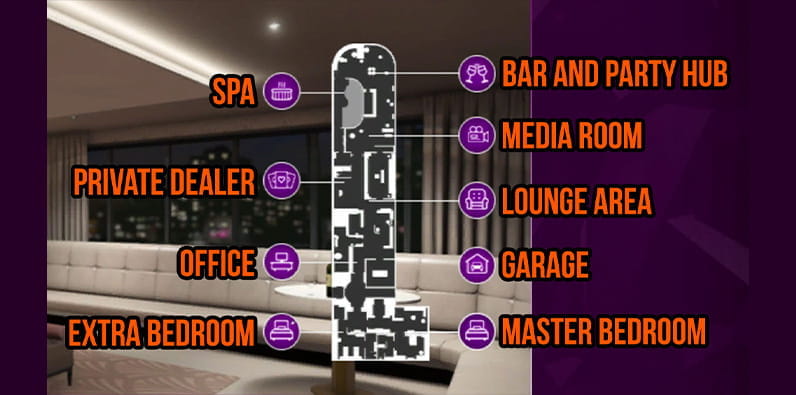 Wait now for the best feature, you can customize you GTA 5 casino penthouse they way you want because there are different design and you can personalize it, but this will cost you additional $1.5 million. What do you get for all this money? Well, the list of additional facilities, cars and extras are super nice, but as rooms you get:
Lounge
Media Room
Spa Saloon
Party Place Bar
Private Croupier
Office Room
1 Extra Bedroom
Car Garage
Okay, now at your attention, maybe the most exciting part for all drivers-like players – the vehicle list. This GTA 5 Diamond Casino update brought in total 20 new cars, 1 motorcycle and 1 SUV. Some of those vehicles are needed or are the best pick for GTA 5 Casino mission in which you are planning to rob the Diamond Casino.
11 Super & Sports Cars
3 Classic Sports Cars
2 Off-road Cars
4 American Muscles
1 Motorbike
1 SUV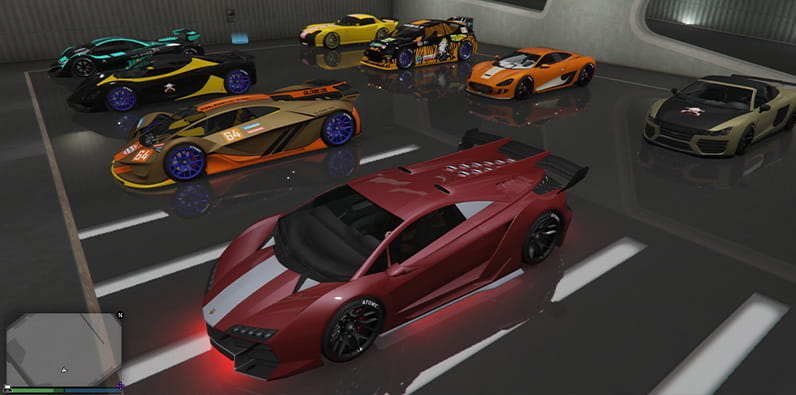 Before we start our GTA 5 Casino heist walkthrough we can also share with some of the vehicles that you will be able to drive and enjoy. The Vapid Caracara 4×4 is maybe one of the best, with its super nice design and aggressive outlook. If you prefer something more sports look, you should look for Weeny Issy Sport, which looks like a sport GTA 5 version of Mini Couper. If you prefer something more luxury, you should purchase the Enus Paragon R, which is a Bentley looking coupe sports car.
GTA 5 Casino Heist Walkthrough
Breaking in the GTA 5 Diamond Casino is not an easy job but of course there several ways of getting inside, but we will tell you about them later. Many preparations must be done before you start the real GTA 5 casino heist, some of them are mandatory, others might be required depending what breaking in style you choose.
Your tasks at the beginning are to collect main information regarding the security, the possible way ins, the cams coverage and every small detail around the building which could play a crucial role in the GTA 5 casino heist. You can imagine that in such moments timing is everything, as much as you know, as prepared and quick you will be.
So, your first assignment will be to take a walk around and into the casino facilities and take pictures of all entries from all sides of the building. There are several doors and elevators at the North and the Southside of the building and a sewer that must be investigated too. While you are looking for the best way in or out you must take photos of all roof or wall-mounted cameras inside and outside the GTA 5 Diamond Casino. Additionally, you can break into the management office and access the vault blueprint so you can buy the same and practice on it before the real attempt.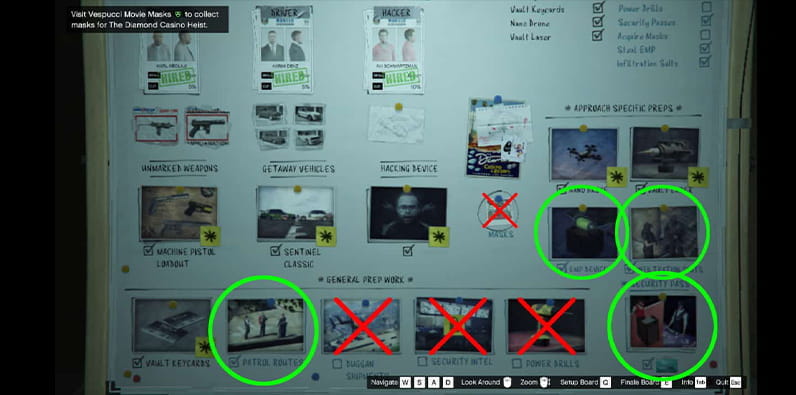 By the way, you should use your phone to take pictures and hack some devices like the one of the guards phone. You will be able through the wi-fi to access the main casino security network and gain control over all video surveillance devices across the whole place. When you have it, you need to look around the whole place and especially the vault and its content, so you can choose what goods you will steal. You can choose between artwork, gold, diamonds, dollar bills, personal vaults and others. Depending on how much time you can buy and how good you can set up the GTA 5 casino heist you can take potentially from all stolen goods close to $3.3 million.
When all of that is covered and you know all access and entry points and own the surveillance, the real plan will appear in front of you and then you need to take the final decision what kind of approach you will choose. Based on your choice, you will see how many and what type of side mission you need to complete to run the GTA 5 casino heist the way you want. The options are 3:
Silent – to complete this GTA 5 casino mission silently you will use the side entrances, you will only shoot to kill with one shot and a silencer. No extra attention needed, quick and well-played scenario. You have the chance to rob the GTA 5 Diamond Casino and keep your "wanted level" intact
The Big Con– this approach we find the easiest because it presents more likely an inside job where you plan to plant people on inside position and run the heist quickly, smoothly and most of all without any extra attention.
The Aggressive Approach – well, one thing is clear, you need less preparation to complete this robbery. It is clear that you get in with guns blazing and you leave a trail of blood and bodies on the way in and on the way out spreading fear and terror all around you. It is simple, but it will reflect significantly on your "wanted level".
Now, the next thing in line will be to choose your crew, and you need to choose wisely because each person comes with different skills and items, so combine them based on your approach. We can give you only an overall idea of what is most important. For example, for a gunman you have the following possible partners:
Karl Abolaji – with poor skills but requires low payment but good tools
Gustavo Mota – is an expert for the job but he requires 9% of the GTA 5 casino heist prize
Charlie Reed – is good enough for the job, he will take only 7% cut, but you got to possess a hanger if you want him in your team
Chester McCoy – is another expert for the job, he insists on 10% of the cut and he will join you only if you have either Bunker or Arena Workshop
Patrick McReary – 3rd expert, he asks for only 8% of the prize, but Freemode Random Event is required if you want him on your side.
Depending on your properties and businesses your best options is Karl because he will provide the best tool for the job and you don't require much of a "firepower" if you won't play aggressively. Now its time to choose the driver:
Karim Denz – has poor skills and only seeks for 5% cut
Taliana Martinez – is good, available and she asks for 7%
Eddie Toh – is an expert that requires 9% of the GTA 5 casino heist cut and he is available without any special requirements
Zach Nelson – is a great choice if you prefer to organize the heist with bikes because he does not provide any cars. He is good for a driver and he requires only 6% cut, but you need to own MC Clubhouse
Chester McCoy – Chester is a gunman and a driver so you can choose him vice-versa
The driver is not that significant for the Big Con Job so Karim will do and will save us some money for another more relevant parts of the plan like the hacker! But Before you do so, you need to choose the vehicle class that you prefer for the job, Sentinel Classic is the best possible choice because it's the best combination between speed, endurance and manoeuvrability. Upgrade it to level 3, and you will be now ready to choose the hacker:
Rickie Lukens – Poor skills, 3% Cut
Christian Feltz – Good skill, 7% Cut
Yohan Blair – Good Skills, 5% Cut, Available only if you own nightclub
Paige Harris – Expert, 9% Cut, Terrobyte is required if you want her on the job
Avi Schwartzman – Expert, 10% Cut, You must have signal jammer, and he will join
Now is the time to spend money and pull yourself to do the extra job to secure the best hacker possible because each of them will give you a different time. Time to get what you want from the vault, you got between 2:26 and 3:30 mins depending on the person on the job. To save you the struggle of trying on your own, we will tell you to go for Avi or Paige, depending on your resources.
When you choose all of these details, you will see which of all side mission are mandatory to perform the GTA 5 Diamond Casino heist, don't get us wrong as many as you accomplish as better you will perform. But the side mission preauthorization depends entirely on the GTA 5 casino heist approach that you choose.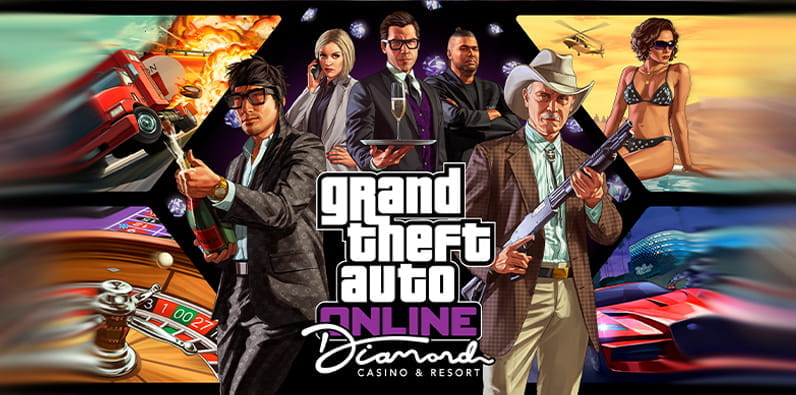 Now, to infiltrate the casino successfully and complete this GTA 5 casino mission, you need to secure several items across the map but try to do not attract much of attention while doing so. Alternatively, you can try your chances on some of the best sites for online gambling in the USA where you will also find different driver's-themed betting markets. The best you can do is to stay stealth mode as much as possible. What gear and what approach you will choose depends entirely on you, you have the chance to precisely calculate everything and prepare all small details from weapons, vehicles, security intel and the many more small but important particularities.
The easiest way to get in is choosing Gruppe Sechs for the entry disguise and Noose for the exit plan. Nobody will ever suspect you if you follow the instructions and you will find yourself in the vault, where depending on your hacker, you will have in the best case scenario around 3:25-3:30mins. Take what you need but don't be greedy, then leave the vault before you fire the security alarm. From then on, you need to reach the laundry room, change disguise and leave the place. Get into your vehicle and voila, GTA 5 Diamond Casino heist mission completed!