Baking and Frosting – What Is Cake?
Before we get into it, you know we need to have a few words about what cake is. People often say that dessert goes in the heart, not the stomach. Well, if you're eating cake, your body, mind and soul are probably having the time of their lives!
So, what is cake? The cake is a sweet mixture of eggs, flour and other ingredients, that is usually baked and then decorated. The cake is usually served on different occasions like a wedding, an anniversary or a birthday party. There are different ways you could make a cake – it could be with a squishy jelly-like consistency, or it could be bread-like and fluffy.
This delicious dish has a long history, starting from the Vikings, who called it 'kaka'. The ancient Greeks liked to make a mix of eggs, flour, milk, nuts and honey and then bake it. Since it was flat, they called it 'plakoeis' or 'satura'. Later on, during the Roman period, the cake was called 'placenta' as a derived form of the original Greek term. Thank God, this name has stayed in the past, otherwise, we don't think anyone would like cake nowadays! And, of course, after decades we go to England, where the word 'cake' came up. In the beginning, it was considered as bread; however, based on the differences in the ingredients and the baking method, 'cake' became an official term that is now popular worldwide.
How Do You Say 'Cake'?
Since we've started the topic above, we thought that it will be a fun idea to include how people say 'cake' in different languages. That way you can learn something new, plus – it's just fun!
In the Balkan countries of Bulgaria, Macedonia and Serbia the word for 'cake' is 'торта' (torta).
We can't just leave France like that. The French, who are absolute gods when it comes to pastries, call the cake 'gâteau'.
In Iceland and Sweden, like the Vikings, natives call the dish 'kaka'. In Sesotho, which is an African language, they use the same term.
Heading to Asian languages, in Korea they call it 'keikeu'.
There are probably a lot of other different ways to say cake in foreign languages, but we might get too distracted if we continue. Next stop – types of gambling cakes! But first…
Simple Cake Mix Recipe
As promised, we did a research on what a basic cake mix consists of and we wanted to share the recipe with you immediately. And so, here's what you'll need:
1 cup white sugar
½ cup butter
2 eggs
Vanilla (to taste)
1 ½ cups all-purpose flour
1 ¾ teaspoons baking powder
½ cup milk
Of course, you could change the ingredients however you like. This is just an example of a simple cake recipe that is perfect for those of you who are not experienced bakers. We know for sure we're not ones! In fact, one of our lovely content writers brought a cake to work for their anniversary once – we thought it was chocolate, but it turned out it was burnt. Keep an eye on your oven, folks!
Anyways, back to the recipe! All the dry and all the wet ingredients should always be mixed separately first and mixed together later. Once you do that, pick a pan an put it in a preheated oven for about 30 or 40 minutes. Depending on the size of the pan and the measurements of the ingredients, you should be able to adjust the oven to the right temperature.
If you want to be fancy and show your new baking skills, here's a quick recipe for a quick fondant:
1 package of unflavored gelatin
¼ cup cold water
½ cup glucose syrup
1 tablespoon glycerin
2 tablespoons shortening
Vanilla (1 tablespoon)
Sifted Confectioners' sugar (8 cups)
If this sounds too difficult, there are a lot of easy recipes using marshmallows as a fondant base that work just as well. Get your aprons on and get baking!
Types of Gambling Cakes
When you're baking a cake, you can basically do whatever you want. You can make your own recipe; you can follow one; you could add only syrup or be fancy and make fondant and frosting. The opportunities are endless! If you want to have a casino-themed party or you have a friend that has a birthday and likes to gamble, we hope you find some inspiration from our blog post. We will briefly divide the different types of gambling cakes into a few categories and we will share some visuals on how they look or should look like in real life.
Gamble Bites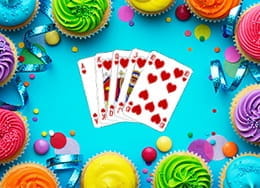 Okay, so you don't want to make a big cake for your special occasion. No problem! You could easily get away with it by prepping some gambling-themed cupcakes. They're basically small cakes, after all! Plus, it would be a fun addition to the table and people would be very impressed, especially if you're throwing a party! You could even make things easier and buy pre-made cupcakes and decorate them with playing cards or different kinds of frosting to draw something gambling-related. The options are endless, as long as you have enough cupcakes! A quick tip: chocolate is always a good option, just keep that in mind.
Spin the Roulette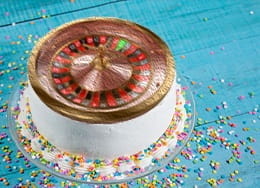 Most of the cakes people make are in the shape of a roulette wheel. It is fun, it is delicious, and it is often the first thing you think about when it comes to casinos and gambling. You could make the whole cake round and roulette-like, or you could prepare a full roulette table like at the casino. You would need a lot of eggs, but it will be worth it! There are a lot of examples, a lot of different frostings and fondant that you could use. It may take a little bit more time and dedication, but we're sure that the people you'll be sharing it with will be very impressed. If you even make it spin and add a tiny ball – you'll definitely nail it!
Card Cake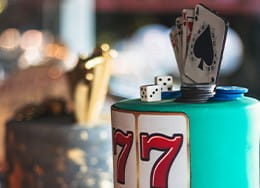 Like to play poker? Or Blackjack? There's a cake for that, too! This is where you could also get creative and experiment with different shapes and styles. Just add cards, and you're good to go. Or you could make the cake in the shape of a card/deck of cards – that would be an interesting take on the sweet dish, and it could be also a great conversation starter. You could easily make a stencil for one or different cards and you could either sprinkle something on top or use fondant to make the different shapes. However, we wouldn't suggest you try making some of the faces – it may take a long time.
Slot Machine Cake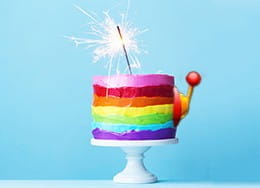 Every gambler likes the ring of a winning slot machine! Don't you just love the ring when you get all the three cherries? Imagine if they were edible! This is another very popular and cool cake design. You can draw a slot machine with frosting, or you could go for a full-on slot machine cake with chocolate coins. We saw some amazing sweet creations that even work as a regular slot machine! Of course, maybe it would be a good idea to watch a tutorial first or find an instruction manual. Whatever you choose, it will be awesome and tasty, as long as you use your imagination and go for it! Cha-ching!
Bingo Cake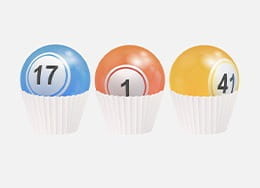 Bingo! You've won! You've got all the lucky numbers right~ Now go treat yourself to a superb bingo-themed cake. Ladies would love it, especially since they form most of the bingo players community. Gentlemen, you'll probably like it a lot as well. All you need are numbers, a little splash of pink and lots of fondant to make the ultimate bingo cake. If you want to get fancier, you could get or make your own sugary edible sheets and use food colouring to make a bingo card (or cards). If you think of making a bingo cake, we suggest you make a simple funfetti one – everybody loves it! Which are your lucky numbers?
All-In-One Cake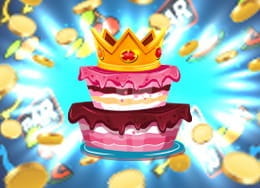 When you combine all the above types of cake, you get the ultimate gambling cake goodness! Chips, roulette wheel, bingo numbers – all can go well separately and together. You can make or order a fine cake that shows your love for the casino life and we're sure it's going to be good! As mentioned before, you could use whatever you think of – food colouring, fondant, sugar figurines and more! You don't need to be a pro baker – all you need is love for cake and a good oven. We know you'll do great! A quick tip again – you could add different layers to make it fun and exciting. Chocolate and vanilla are a great combo in this case. Yum!
Careful With the Sugar!
And that's the end of this sugary article! We hope you liked it. Of course, we would like to give you a friendly reminder to be careful with the sugar and to play responsibly, whether you're online gambling or playing at a land-based casino. Winning and fondant may be sweet to the taste, but an empty wallet may ruin your taste. By the way, there are also ways to print your own design on eatable paper. If you are searching for designs you can try our free casino background images.
Let us know on our social media what the next food-related topic should be about! We'd love to read your ideas and opinions on this and other articles so far.
Until next time!