Grosvenor Casino Edinburgh
Grosvenor comes first on our Edinburgh casino list. Although you may have heard about Grosvenor's online presence, it's actually pretty popular as a land-based operator as well. Grosvenor is one of the most widely spread casinos across the UK, this operator has its own establishment in Edinburgh as well. With an abundance of table games and slot variety, Grosvenor truly can stand out as a top choice for gamblers, especially with the other perks it offers. There's a restaurant in place, a top-notch bar and a parking lot for those of you who prefer to come with their rides. Furthermore, the poker presence is quite strong at this Edinburgh casino – the Grosvenor's poker room holds tournaments six days a week and various cash games can also be found. You have everything you need for an amazing gambling experience and Grosvenor Casino should definitely be on your top casino list! There have been even cases of people who flew to Edinburgh just to get in the action this operator brings. Speaking of that, if you are a casino fan who can often be seen at airports around the UK, make sure to check our list of best casinos around UK airports!
Genting Casino Fountain Park
Next on our list is Genting Casino at Fountain Park, which you might find even more exciting! Although the excellent slot machines and wide variety of table games are present, they are just a part of the bigger picture. Gambling is a number one priority at such places, but why not book a table at the casino's restaurant? Even better, you can take advantage of an "All in package", which includes a 3-course meal, a bar welcome drink and a £5 free chip for just £24,95! But wait, there's even more! You can also celebrate Christmas and New Years' Eve at Genting's restaurant or just head to the late bar of the casino for an amazing night out!
Genting Casino York Place
Among the top casinos in Edinburgh, there's another Genting establishment which we would like to present to you. Located on York Place street, this casino is just as spectacular as the Fountain Park one, so you can once again expect a late bar, classy restaurant cuisine and various events which you can participate in. Live sports also have a place in this casino with a dedicated area in the form of a sports bar, where various promotions also await!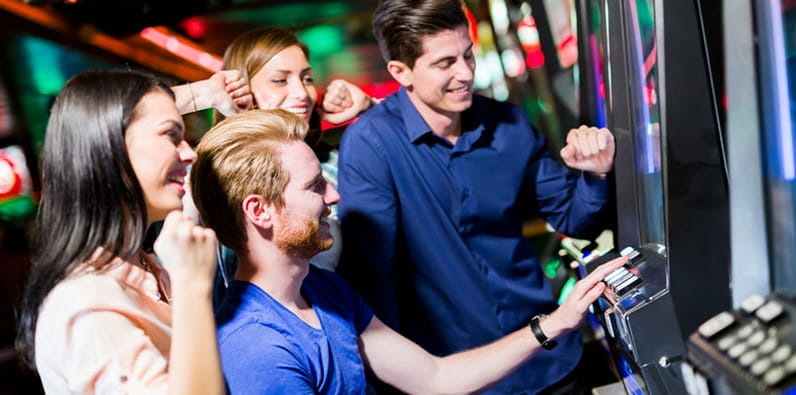 Football, boxing, tennis or any other sport can be watched as Genting has the capacity and broadcasting technology to show it all! However, if you prefer a more secluded live sports atmosphere and you like making sports bets online, rest assured we've got you covered with our list of best UK sports betting sites!
Admiral Slots Edinburgh
What would a list of the best Edinburgh casinos be without a slot land-based operator? Admiral Slots has more than 200 venues around the UK, so its no surprise that it can be found almost in every city across the country. Relying on titles from classic reel-spinning machines such as Novomatic, SG Gaming, and others ensures constant interest from players. Furthermore, you can order food and beverages, although we admit they aren't from the rank of Genting's cuisine. This shouldn't be surprising as slot casinos tend to shift their focus more on the variety and quality of games offered. Apart from that, the most loyal customers will be rewarded as Admiral has its very own loyalty scheme in place.
In Conclusion: Edinburgh Casinos Offer Excellent Quality!
Although there aren't many gambling places to visit in Edinburgh, the quality of the aforementioned casinos is undeniably great and they do compensate for the lack of quantity. Regardless of which casino in Edinburgh you choose, you'll definitely make the right choice as you'll be treated like royalty anywhere you go! Fortunately, online casinos haven't taken away the charm of live gambling and still land-based operators are out there, offering a complete package of services in order to provide a memorable experience to all types of players! However, if you still wish to diversify your land-based casino visits with online gambling, make sure to check our top 10 online casinos in the UK!