A Brief Overview
Within a short period of time, Trump became a huge influence in Atlantic City as his casinos accounted for nearly one-third of the city's gambling revenues. Moreover, he employed over 8000 people. Trump's start to his casino empire began with his borrowing money at "such high-interest rates … that the businesses had almost no chance to succeed," reported the New York Times. In the end, his casino companies went to court over bankruptcy four times, with Trump's companies continuing to add more expensive debt.
Trump Plaza Casino and Hotel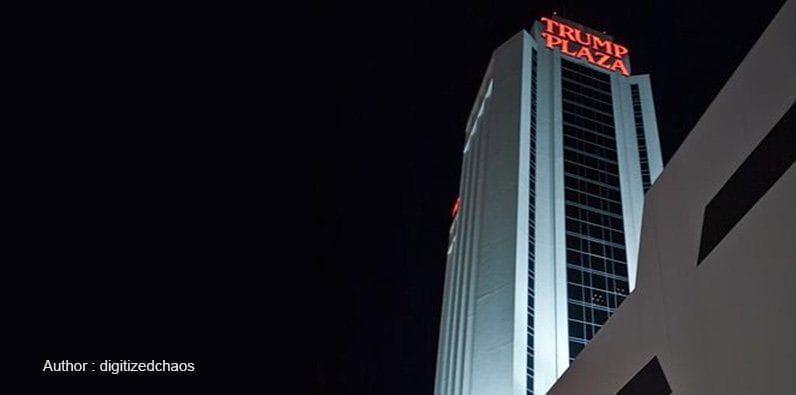 This was Trump's first venture in the casino sphere. It opened in the early 1980s after Trump gained control of a prime spot on the boardwalk. He couldn't get financing to build the casino, so he forged a partnership with a national gambling operator called Harrah's Entertainment. Harrah's agreed to provide Trump with $220 million in financing to build the project, $24 million construction management fee, and to give him half of the profits. The 39-story Harrah's at Trump Plaza opened in 1984. In 1986, Harrah's sold its stake in Trump Plaza to Trump for $220 million. This establishment is closed today.
Trump Castle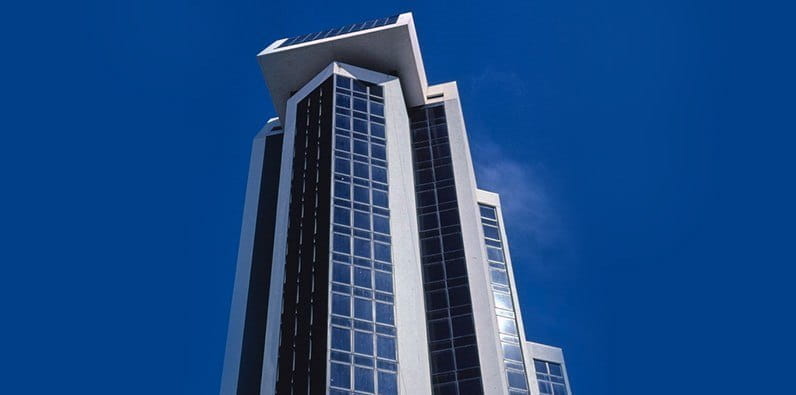 After Trump Plaza, Trump purchased the nearly completed Hilton casino for $320 million calling it Trump Castle. His company issued $352 million in bonds to finish the construction and open the casino. He added on an additional $32 million. This casino opened in 1985 and competed directly against Harrah's Marina. This was a long-failing endeavour that was sold at a major loss in 2011. Trump Castle was later renamed the Trump Marina. It is now known as the Golden Nugget.
Trump Taj Mahal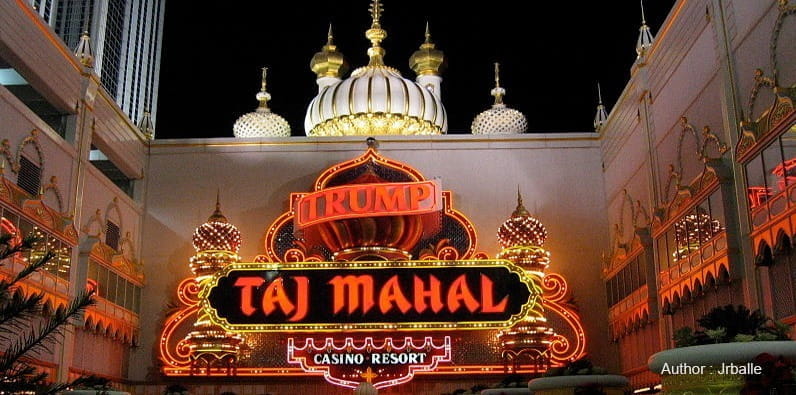 Opened in 1990, the $1 billion Trump Taj Mahal casino, and Trump's third casino in Atlantic City, is now under new ownership. When it opened, Trump referred to it as the "eighth wonder of the world" due to the fact that it had a 42-story tower, making it New Jersey's tallest building and the casino was the world's largest. On October 10, 2016 the Trump Taj Mahal closed for the final time. The casino was taken over by investor, Carl Icahn, who later reached a deal with Trump to use the Trump name brand.
The Trump World's Fair would be his fourth casino in Atlantic City.
Trump Casino Bankrupt
The New Jersey Casino Control Commission was concerned about the Trump Taj Mahal's viability given its rapidly escalating costs and considered revoking its operating license. Regulators were carefully monitoring the financial performance of Donald Trump casinos, although Trump assured them that he would revise his expenses and rein them in. Within months, however, he issued $675 million in junk bonds with a 14% interest rate. Total debt on the Taj Mahal exceeded $820 million. Analysts had predicted that the casino would need to make $1.3 million a day just to make its interest payments – this was unfathomable. The project was accordingly "doomed from the very beginning." In November 1990, it missed its first interest payment as did the Castle.
"Almost immediately, Trump had trouble making the debt payments on the Taj and his other casinos. It was also clear that the Taj was cannibalising the Castle and the Plaza." According to the New York Times
Fueled in part by a national period of economic recession, gambling revenues in the early 1990s slowed down, significantly hurting Trump's casino businesses as well as his property investments in Manhattan. At one stage, he owed $1.3 billion on the casinos with total debt of $3.4 billion. Regulators warned then that "the possibility of a complete financial collapse of the Trump Organisation was not out of the question," the New York Times reported. As things stood, all of Donald Trump casinos were failing, and his lenders insisted that he submit a business plan, appoint a chief financial officer for the Trump Organisation, as well as sell personal items like his airplane, yacht, and stake in New York City's Plaza Hotel, which also filed for bankruptcy protection.
History of Trump Bankrupcy
| | |
| --- | --- |
| 1991 | It was only a year after it opened in 1990 that the Taj Mahal went to bankruptcy court. This was followed by the Plaza and the Castle in 1992. According to the rescue plan in the bankruptcy proceedings, Trump ceded to the lenders a 50% stake in the businesses in return for lower interest rates. The lenders, on the other hand, agreed to defer some principal and interest payments for a period of five years. |
| 1998 | In 1998, Trump was in danger of defaulting on a loan to Donaldson, Lufkin & Jenrette. This was the bank that had underwritten the initial public offering in 1995. Trump personally owed them $13.5 million. He was in danger of defaulting because stock prices of THCR were falling. To recover from this situation, Trump borrowed money from the casino company to pay back the bankers. The New York Times said: "Indeed, the company posted losses of $66 million in 1996, $42 million in 1997 and $40 million in 1998. Those losses would continue." |
| 2004 | In November 2004, the company filed for bankruptcy protection for the third time. "This time bondholders took a $500 million loss. Trump, who stepped down as chief executive but remained chairman of the board, agreed to invest $55 million of his own money in the company." |
| 2009 | It was in early 2009, after the 2008 financial crisis, when the count of Trump bankrupt casinos moved towards the fourth time. He offered to buy all or part of the casino company that bore his name. However, he was "rebuffed" and quit the board soon afterwards, said the New York Times. |
| 2014 | It was in September 2014 that Donald Trump casino bankrupt entered proceedings once again. This time, he closed the Trump Plaza. The company allegedly exited bankruptcy in February 2016 and became a subsidiary of Icahn Enterprises. |
Conclusion
Despite Trump's business acumen, it appears that his investments in Atlantic City only brought the property mogul more trouble than they were worth. Although he said that he made a lot of money while in this casino resort, his near bankruptcies nearly collapsed his casino businesses and in fact, some of them are not functional today. Perhaps he over-capitalised on some of the investments and built casinos where there was little demand for this. He initially thought that his name and brand, Trump, would be the selling point for many casino visitors, but this wasn't necessarily the case. Coupled with the financial crisis of 2008, Trump bankrupt casinos hit rock bottom and he couldn't pay interest on the loans he had taken out for them.
If you want to read about the current gambling situation in all US States, learn interesting information about the history of gambling in the country and the most famous gambling resorts at the moment, then check out our article about online gambling in the USA.
FAQ
It is time for us to answer some of the most frequently asked questions about Donald Trump bankrupt casinos across the internet. As one of the most popular and influential men of our time, people constantly ask questions about Trump, his companies, his businesses, the reasons for his success, for his bankrupts, and so on. And while some of the queries have pretty straight-forward answers, for others it is hard to single out just one reply.
How many casinos does Donald Trump have?
The Trump Entertainment Resorts, Inc. is the gambling and hospitality company founded by Donald Trump, which previously owned and operated several casino establishments. The company filed for bankruptcy on multiple occasions and currently owns one property, the Trump Plaza Hotel and Casino, which at the moment is shuttered and vacant.
How did Trump bankrupt a casino?
It is hard to say the exact reason for how did Donald Trump bankrupt a casino, as there are multiple factors, which combined led to such results. Critics have often called out Trump on his recklessness and inability to manage, but he's not the only one to blame about the bankrupts. The main reason is believed to be that 5 of the 6 bankrupted companies were tied to a gaming industry, which in those years was still struggling.
How many Trump companies went bankrupt?
Donald Trump companies have declared bankruptcy on six occasions: the Trump Taj Mahal, 1991; the Trump Castle, 1992; the Trump Plaza and Casino, 1992; the Plaza Hotel, 1992; the Trump Hotels and Casinos Resorts, 2004 and the Trump Entertainment Resorts 2009.
How many times has Donald Trump went bankrupt?
Donal Trump has filed Chapter 11 bankruptcy for his companies six times. Chapter 11 allows companies to remain in business but under the supervision of a bankruptcy court. It is also often called "reorganisation" because it allows the business to emerge from the process more effective and on good terms with its' creditors.