Get a Divorce, a New Name, or Plastic Surgery in Just a Bet
Yep, these are some of the things that people actually did after losing a bet. Forget your 'five pounds she won't notice she's replaced with a dog in the wedding photo' – these punters really took it up a notch putting their names, bodies, careers, and marriages on the line just for the sake of the bet. If someone told you 10 years ago that people would be betting on kids playing videogames, that would sound mildly inappropriate too. But it all has come a reality in that we have eSports betting websites in the UK now. No matter on which side of the fence you are, weired wagers add spice to the world of gambling and make it what it its.
The $5 Wager
Sometimes everyone's a winner when it comes to weird bets. Actually, some of the most unusual bets that took place ages ago were placed at the UK's top betting sites and they included just about everything from greyhound to football and cricket tournaments. Maybe only the $5 wager bet leads the list. Case in point – the 1960 bet that Bob Cerf, founder of one of the biggest publishing houses Random House made with author Theodor Geisel that he couldn't write a book using just 50 or fewer unique words. Geisel took the challenge to heart and did just that. The result – one of the most famous children's books of all time Green Eggs and Ham which he published under the pseudonym Dr. Seuss. Although Cerf didn't deliver and never paid the bet, it's safe to say that Geisel cleared pretty well.
Betting the Wife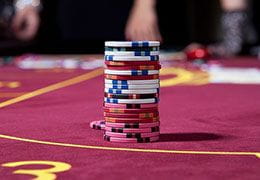 Forget the generic 'It's not you, it's me' – nothing says I want a divorce like betting your wife on a game of poker. Andrei Karpov found that the hard way when he resorted to truly desperate measures in a game against Sergey Brodov and put his wife Tatiana up for stake. He lost the game… And his wife. Even though it might not have been his intention, she eventually found out what he had done and filed for divorce. Turns out, Tatiana was actually the big winner because after she divorced Karpov, she married Brodov and says she's very happy with him despite the fact that he won her at a poker game.
New Pair of Breasts for… Brian
Getting breast implants seems pretty common these days, so normally this wouldn't be raising any eyebrows. However, when you look at the motivation of this husband and father for donning a pair, it may strike you as slightly odd. Brian Zembic is a professional gambler who is known for high-stakes gambles that have helped him make a living for years. In 1996, he took yet another bet from a friend that he wouldn't get breast implants and keep them for a year. Never one to back out of a bet, Zembic delivered and got 16C implants. He was supposed to keep them only for a year but 20 years later he still has them and is just now starting to worry about sagging. His story is included in and gave the name to Michael Konik's book The Man with the $100,000 Breasts.
Just Teasing or Getting Tased
Some gamblers prefer to place their bets online, for example, on the best sports betting sites or bingo. Others bet and lose their wives to their poker opponents while others just zap them over a lost bet. John Grant and his wife Nicole from Illinois, USA love sports and betting. So far, so good. A family that gambles together stays together. Right? Well, that depends on the voltage you use to settle your sports bets. When the Greenbay Packers and the Chicago Bears were set to face off in 2013, the couple who were supporting different teams, decided to place an interesting bet on the game. They agreed that the fan of the winning team would get to shock with a Taser the fan of the losing one. Nicole was rooting for the Packers who lost and although she didn't think her husband would actually go through with it, he had no intention of backing out. So, the couple stepped outside and John proceeded to zap his wife not once, not twice, but three times. Nicole called the police but eventually dropped the charges.
All or Nothing
In 2004, 32-year-old professional gambler Ashley Revell from Kent took 'all in' to a whole new level when he sold everything he owned and packed his bags for Vegas. He bet the $136,000 – everything he had – on red at the roulette table. Lucky for him, the ball landed on red 7 and he doubled his money. After breathing a huge sigh of relief, he tipped the croupier $600 and went back to England to start a poker site. 'I'm not married and I haven't got kids. It's almost like my last chance to go mad', Revell said.
However, Revell wasn't the first man to try his luck in one go on the roulette wheel. According to the BBC, in January 1994, a punter from High Wycombe sold his home for £147,000 and then without telling anyone, he flew to Las Vegas where he bet it all on red. He won, too. If you somehow felt inspired by these tales you can go for one of the roulette sites that we trust and give the wheel a try.
Naked on the Air
French viewers were in for an extra hot weather report when weather-woman Doria Tillier had to present the forecast in the nude after losing a bet. The then 27-year-old reporter didn't think her country would qualify for the 2014 World Cup and took on a bet to present the weather forecast au naturel if France actually made it into the tournament. Luckily for the male audiences, Les Bleus made it to Brazil for the World Cup and you can imagine how the ratings spiked when Tillier kept her promise and took off her clothes for the cameras, running across a field during her weather segment.
A Tattoo
This is probably one of the most widespread extreme bets so compared to breast implants, it doesn't sound like such a big deal. But you know what they say about tattoos – location, location, location! That's what was probably going through Will Hirons' mind when he chose very specifically the spot for the tattoo he had to get if Andy Murray won the 2013 Wimbledon. As we know, this is exactly what happened and while other people have flowers, skulls, or some sentimental images on their extremities and torso, Hirons now showcases Murray's face on his left butt cheek.
Name Change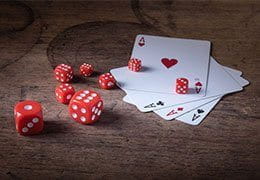 For some people, changing their name could signify a new chapter in their life, inner transformation, or just the fact that they're part of a witness protection programme. For others – it means that they've lost a silly bet and now have to live with a name like 'Full Metal Havok More Sexy N Intelligent Than Spock And All The Superheroes Combined With Frostnova'. We don't really know how the gentleman from New Zealand who had to accept the moniker feels about it but we're guessing he has some problems fitting the whole thing in required address fields and that maybe getting pulled over goes slightly more interesting for him than the regular John Doe.
Cheating Death… and the State
In 2005, 91-year-old Arthur King-Robinson from Devon placed £500 on 6:1 odds that he would be dead by the end of the year. Bookmaker William Hill accepted the ominous bet of the former solicitor, which was an effort to sidestep a £3,000 inheritance tax. His estate would have been liable to the tax if he died by December 6, 2005. However, the morbid scenario took on a brighter twist, as King-Robinson didn't die, the death tax was avoided, and the bookmaker took home £500.
Betting on the World's End
The Mayans and their calendar caused quite the stir a few years ago when everyone was talking (and making box-office flops of movies) about the world ending, but at least no one made a bet on it the way a London man had. Matthew Dumbrell decided to take a 1,000,000 to 1 odd bet that the world would be no more by the end of the year 2000. No one's really judging but we'd just like to know if he had any kind of after-life arrangements pending so that he could have collected his winnings had he won.