Chances of Trump Winning Election
Even before the historic 2016 victory, Trump and controversy were never too far apart. During campaigning for the electoral battle with Hillary Clinton, an audio recording was released of Trump in which he boasts about how he likes to assault women sexually. The damming clip looked to have hindered the chances of Trump winning election votes, but the Republican candidate shrugged off the comments, calling them, "locker room banter, a private conversation that took place many years ago". Trump defected attention by claiming that former president Bill Clinton, husband of Democrat rival Hillary Clinton, had said much worse to him while on the golf course. A clever move by Trump, as he understood the public would remember Bill Clinton's own impeachment over an affair with 21-year-old unpaid intern, Monica Lewinsky.
Trump's impeachment was confirmed in December last year when the US House of Representatives passed two articles of impeachment against the president. The Democrat-controlled House voted to charge the president for abuse of power in office and obstruction of Congress. These charges relate to Trump allegedly demanding help from Ukraine to boost his chances of reelection in 2020. The president is said to have threatened $400m of military aid to Ukraine, which had already been allocated by Congress, unless Ukraine president, Volodymyr Zelensky, helped him find damaging information on 2020 rival, Joe Biden. The Democrats state this is an abuse of presidential power, and that Trump is using the office for personal political gain. Trump has also been accused of obstructing Congress by refusing to co-operate with the congressional inquiry.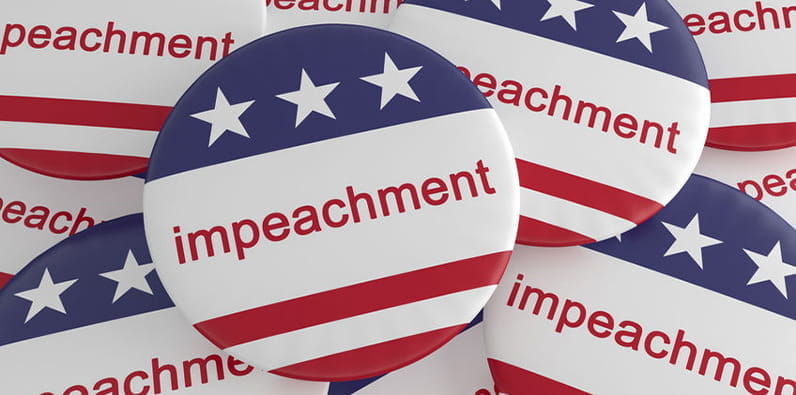 Trump is also accused of bringing the country to the edge of war by ordering a US missile strike that killed Iran's highest-ranking general, Qassem Soleimani. Tensions had been running high between America and Iran, especially after Tehran shot down a US military drone and seized oil tankers belonging to US and British companies. The attack on Soleimani led to retaliatory attacks by Iran, who launched more than a dozen ballistic missiles at US troops at two bases in Iraq. A consequence of Trump's ordering the assassination of Soleimani was the accidental downing of a passenger plane by Iran. This resulted in the death of all 176 on board.
Throughout his four years in office, President Trump has used Twitter extensively to voice his views with many of his Tweets appearing ill-thought-out and lacking any facts or substance. His social media activity has inflamed tensions and has even mocked other world leaders. One such example is the comments made about North Korean leader Kim Jong-un, who Trump described as "little rocket man".
Trump Chances of Reelection – Winning in 2020?
Donald Trump rose to power with a simple message that was repeated over and over again during campaigning. This message was "Make America Great Again". And so far, Trump has delivered on this statement, economically at least. Since coming to power, 4 million more Americans are in employment, which Trump believes is due to his pro-growth economic policies. When Trump took office in 2016, the US economic growth rate was sitting at 2%, a year later it had almost doubled to 3.5%, and despite a drop in the first quarter of 2019, the average rate is 3.5%.
The issue of employment was a focus of Trump's 2016 campaign and the stats back-up the claims that the president has done well. In 2010, under Barack Obama's tenure, nearly 10% of the US labour force was not in work. In August last year, the unemployment figure fell to 3.7%, the lowest rate in the US since December 1969. Rates for unemployed African American, Hispanic American and Asian Americans also fell to the lowest ever recorded at 5.5%.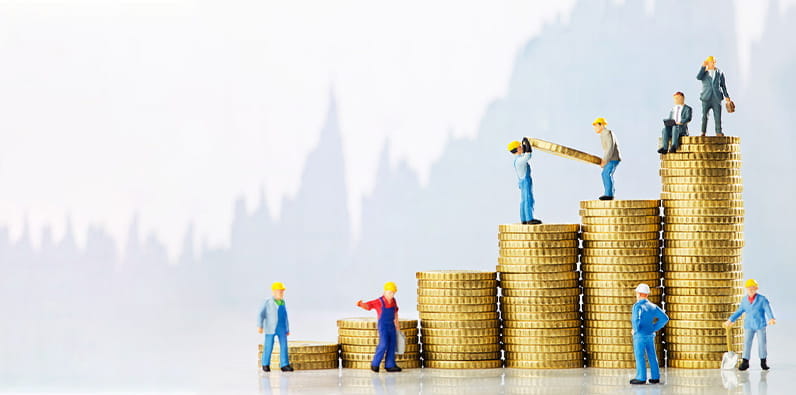 The president has never been the type to shy away from tough decisions in his quest to put America first, and this can be seen with the bitter trade battle that has been simmering for the last 18 months. Trump accused China of intellectual property theft and employing unfair trading practices which hinder American companies. Trump accused China of "taking advantage" of America and vowed to tackle the problem, introducing tariffs on $300bn worth of goods. Whether or not you agree with Trump's tactics, it's hard to dispute that he is following through on pledges to put America first.
Moody's Analytics modelling shows that the chances of Trump winning in 2020 are likely if the economy holds up. Moody's models have provided a highly accurate prediction of presidential election results, dating back to 1980. According to 3 testing models, Moody's projects a Trump win. The chances of Trump reelection are greatest under the pocketbook model, which is a measure of how Americans feel about their finances. The other models under which the president fairs favourably are the stock market model and the unemployment model.
Who Are Trump's Main Challengers?
In this section, we look at who is likely to be the main threat to the chances of Trump winning the election in 2020. Trump's bid for reelection was informally launched in February 2017. And whilst other Republican candidates, including Joe Walsh and Bill Weld have announced their candidacy, it is highly unlikely that another Republican candidate will be in the running for the presidency. In fact, several states, including South Carolina, Alaska, and Arizona have cancelled their Republican primary elections to support Trump's reelection bid. As such, the key challengers for the 2020 presidential election fall upon the following Democratic Party candidates:
Bernie Sanders – Sanders has been highly critical of Trump, especially while in office. The veteran campaigner ran in the 2016 election but was beaten into second place by Hilary Clinton to be the Democratic presidential nominee. Sanders has promised to put women's rights first, offering an apology to "any woman who feels like she was not treated appropriately".
Joe Biden – According to sources close to the President, Trump sees Biden as the main threat to reelection and was the reason why the impeachment charges were brought against Trump. Biden has been a member of the Democratic Party since 1969 and served as the 47th vice president of the United States from 2009 to 2017.
Michael Bloomberg – A billionaire businessman who served three terms as mayor of New York City, Bloomberg is seen as an outsider in the US presidential race. The 77-year-old set up his own business, Bloomberg L.P. which made Bloomberg one of the wealthiest men on the planet. Running as an independent from 2007 – 2018, Bloomberg is now standing for the Democrats.
A series of primary elections and caucuses take place during the first six months of 2020, as candidates battle it out to win their party's nomination. These kick off with the Iowa caucus and New Hampshire primary election in February. This will give an indication as to who is leading the race for the presidential candidacy nomination. Super Tuesday (3 March) will further clarify the situation as most states hold their primary elections or caucuses. The Democratic National Convention will be held from 13 – 16 July, where the party will name their nominees for president and vice-president. The Republican candidate, whilst most likely to be Trump, will not be officially announced until the Republican National Convention, which takes place from 24 – 27 August.
Donald Trump Chances of Winning Presidency
The president's impeachment seems to have had no effect on the chances of Donald Trump winning in 2020, in the eyes of top UK bookmakers at least. Latest odds have Trump well ahead of challengers, Democrat candidates Bernie Sanders and Joe Bidden. The rest of the candidates are classed as rank outsiders and are unlikely to provide a credible challenge to Trump. While below we will give you brief information on the subject, you can take a look at our article about US election betting odds for 2020 too.
| – | Betway | Ladbrokes | Unibet | 888Sport | Betsafe |
| --- | --- | --- | --- | --- | --- |
| Donald Trump | 4/5 | 5/6 | 4/5 | 4/5 | 4/5 |
| Bernie Sanders | 9/2 | 11/2 | 5/1 | 5/1 | 4/1 |
| Joe Bidden | 9/2 | 5/1 | 5/1 | 5/1 | 5/1 |
| Michael Bloomberg | 11/1 | 16/1 | 14/1 | 14/1 | 14/1 |
| Elizabeth Warren | 16/1 | 16/1 | 20/1 | 20/1 | 18/1 |
| Pete Buttigieg | 25/1 | 25/1 | 25/1 | 25/1 | 22/1 |
| Andrew Yang | 33/1 | 50/1 | 40/1 | 40/1 | 25/1 |
The 2020 United States presidential election is scheduled for Tuesday, 3 November. Whilst a lot can happen between now and then, the overall consensus is that the chances of Trump winning 2020 are high. It seems that regardless of his controversial policies and actions over his last 4 years as president, thanks to the growth of the US economy under his presidency, there are many that support Trump's pledge to "Keep America Great".