Quebec City Casino List – Locations & Names 2021
Casinos in Quebec are just two, one located in the city centre and one outside it. In this article, we will examine each casino, Quebec can offer, going through all the information that you must be aware of before visiting the city. Pay attention to the details, and you will organize one super nice and thrilling vacation visiting all casinos in Quebec, all national treasures of the town and mesmerizing landscapes and views.
The main focus of this article falls over the abovementioned casinos. Still, later, we will tell you more about best places to visit around and inside the city as tourist attractions. Additionally, for those of you with a wild spirit which are always ready for adventure we prepared a list of the best casinos nearby, but about them later on. Now at your attention is the Salon de Jeux de Quebec.
Salon de Jeux de Québec (2007) – Perfect Location
The casino is respectively new because it is opened since 2007. The owner is the Loto-Quebec, and the casino offers all types of games that you can imagine, and that is part of every decent casino hall. Like everything in this world, there are some advantages and disadvantages of the casino Quebec.
As an absolute advantage, we can count the fact that it's it is the only casino in town that offer the full spectre of casino games from slots thought table games to lottery. From an entertainment perspective, it is also well prepared, but both of these elements, we will overview in detail in the next two headings.
Now we want to mention the two disadvantages because you need to be aware of them. First is that the casino Quebec does not offer any food as a restaurant or a place to have lunch/dinner. Additionally, Salon de Jeux de Quebec does not offer any accommodation too. For you convenience we know which are the best places to stay in Quebec located around the Quebec city casino Salon de Jeux de Quebec or just Quebec casino.
Salon de Jeux de Québec– Games
  Speaking of games, a few minutes ago we mentioned them, and now we plan to elaborate on the subject and show you the best casino slot games in Quebec because they are exclusively available only in Casino Quebec. The Salon de Jeux de Quebec offers over 200 slots machines with thousands of various slot games. You can spend days on them without getting bored. Even If you do so, you can always switch to video lottery terminals. Just so you know, a much larger game selection can be found at the Canadian trusted online casinos.
For the card and dice players, we have good news. The casino offers card games like blackjack and baccarat, but also you will find popular table games like roulette, kano or sic-bo. The poker fans will be a bit disappointed because there is only an electronic 3 Card Poker.
Salon de Jeux de Québec – Entertaiment & Venues
  Well, this is the part where we will keep it short because there are not that many venues in Salon de Jeux de Quebec. There is only one bar called Ludo with excellent staff, good many and most of all trained bartenders. There is no food or place to have lunch or dinner, but there is an events hall. They organize various parties and live performances there, it is nice, it is cosy, and it is loud!
Salon de jeux de Québec Accomodation Options
  We did also mention that there is no accommodation as part of the Quebec casino base, but for your convenience, we gathered the three top-notch hotels around it. Have in mind that the below-listed hotels are at least four stars and your amazing experience is guaranteed. Take a look at their services and amenities, check their websites, galleries and decide what suits you best, but if you ask us… The best place even from a historical point of view is Le Chateau Frontenac.
Jeux Casino JR– Games & Extras
Well, Jeux Casino JR is the second casino, Quebec can lure you with, but its location is a bit distant from the city centre, on 40 miles. The facility is also not exactly a casino place, but what do we mean? We mean that the area is more of a party place hall with table games room but no slots.
This is a place where you can unite gambling and parting, you just need to visit their website, and you will understand us correctly. It is also a place where you can organize private parties and other similar events. Let's check the games now because they are exciting.
Jeux Casino JR Games
  Jeux Casino JR offers many tables of diverse type. From the card games, you can play only Hold 'em Poker, Caribbean Poker and blackjack. Other table games that you will see are roulette and craps. There are many games and tables, but none are offering high stakes, have that in mind. If you are interested in playing in the big leagues, you should check the high roller casino sites for Canadian players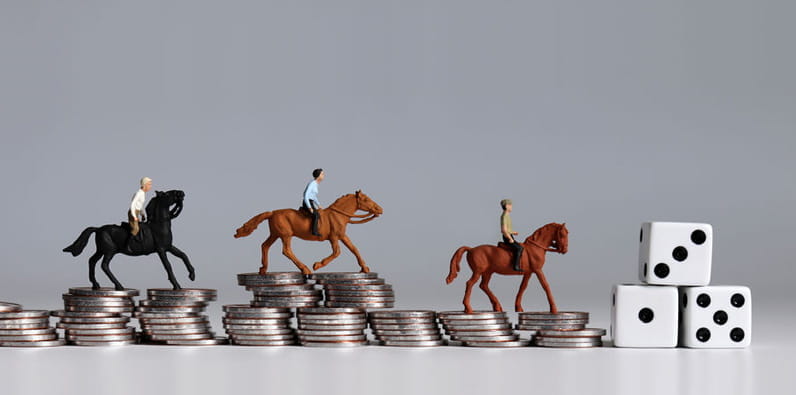 Something that you won't see everywhere are racing games like Horse races. This is a table with horses and dices, and you move the horse based on your luck and the numbers your throw, the first to cross the finish line wins. At the premises, you will find other games like Wheel of Fortune, but also you will see some non-gambling games like Air Hockey.
Jeux Casino JR Food & Bavarage
   Probably you guessed that, but after all, we need to tell you that there is not food at Jeux Casino JR. If you want to set up a special event and have catering, it could be organized easily. Of course, all types of alcohol and non-alcohol drinks you will find at the bars of the facility and in the events hall.
Jeux Casino JR Accomodation
  This is the significant disadvantage of the place in general, the lack of accommodation and the real issue is that there is none in the area around. All the options are decent with beautiful design and significantly lower prices if we compare them with the central ones. A beautiful a sweet place to stay in is the La cache a Maxime, where you will enjoy a super relaxing holiday.
Since nowadays the option to choose is based on so many personal preferences we recommend you check their websites and then decide which one is the one for you. This is far from everything, right now we intend to proceed with interesting information about places that you should visit while in Quebec because there are many other things apart from the Quebec city casinos that are a must to see.
Quebec Casinos – What Else I You Need to Know
We know that some people want to plan their holidays in advance and especially for their convenience we decided to research the best historical and cultural locations in the city and around it and list them here for you. Of course, there are many more places that you can visit or see, but these are the top 5 tourists attractions in the city of Quebec.
La Château Frontenac – The chateau was build in 1894 to serve the construction of the Canadian Pacific Railway. It is one of the most significant and iconic buildings inthe city of Quebec. The hotel is located on high ground and from its rooms you can see the whole city of Quebec in its absolute beauty. From a historical point of view, it is interesting tomention the Quebec Conference in 1943, where W. Churchill, F. Roosevelt and William King planned the Normandy landings on the 6th of June 1944.
Place Royale – This is one of the places considered the foundation of the Quebec City built-in 1608. It was named in honour of the Louis 14th and one of the mostsignificant buildings done in North America in the period between 17th and 18th century. The church Norte-Dame des Victoires in right behind the cobbled square, where you can find the Musee dela Civilisation and many small souvenir shops and restaurants.
Basilica of Sante-Anne-de-Beaupre – Saint Anne is the official patron of the city of Quebec famous with her miracles of healing disabled and sick people. This amazing Catholic basilica is one of the pilgrim's destinations each year. The church as we know it today dates since 1926, but the chapel itself was build in the 17th century.
La Citadelle de Quebec – The Quebec Citadel is one amazing, monumental and gigantic group of buildings in a star shape. This is an impenetrable fortress made to protect thecity with its thick walls, ditches, and ramparts built-in 1832. Up to this date, it is still a military post. This is the summer residence of the Governor of Canda is. As part of the building,there is an army museum located on the southern side of the Citadel.
Grande Allee – Literally Grand Allee is the backbone of the whole city because it is the main artery, part of the heart of the town. There are many restaurants and diverse venues that you can see there. Fabulous 19th-century architecture and many amazing buildings with a vast history.
Casinos Nearby the City of Quebec Canada
  And now we want to cheer the biggest enthusiasts who adore gambling and are looking for something different than Quebec casinos. If you are ready to travel and visit new placed and more specifically casinos, you should look carefully at the table below. Check the basics, and then we will elaborate.
If you have a map in front of you, you already know that the city of Quebec is just between these two casinos. So, you need to decide to go either south-west or north-east you want to travel. Our suggestion is to check online the areas where they are based and then take a final decision. But if you go in the web, we suggest you also check the top online casinos in Canada too. If you want to bring the casino to you no matter where you are, you should see also the best live casino sites in Canada
We say it this way because we presume that you won't stay all day in the casino, and you might want to enjoy some quality time around the cities too. But if you are only for the games then you should visit Casino de Charlevoix just because it's the bigger casino of these two. If you want to hop to the Canadas capital, we can show you the best casinos in Montreal.
FAQ about Casino Quebec Experiences
Check out the most common questions related to casinos in Quebec and all particularities around them. If you want to remind yourself of the exact information, you should follow the jump buttons in the answers, and they will lead you to the precise explanation you seek.