There is no doubt, if you plan to visit Leeds or if you live in this city – online gambling would be your top choice for a tonne of opportunities to win big from the comfort of your home. If this is your case, then we have the right tip for you too! Check out our Online Casino Guide and find the most appealing site to play either classic, live or mobile games with the touch of a button.
However, if you want to go on a real nightly event with your friends and enjoy a fabulous gambling experience, Leeds has a lot of iconic casinos to offer and you are on the right page. Without further delay, we offer you a list of the top 5 Leeds casinos for gambling and sports betting, as well as a detailed comparison of their features and advantages.
1. Victoria Gate Casino (In the Downtown)
As the top place in the list, you should know that your unforgettable experience starts even when taking the escalator up to Victoria Gate casino. First of all, this is one of the casinos in Leeds with a premium Downtown location. It is located in a huge shopping and leisure centre along Eastgate road and it can be seen from far. It's open non-stop and you can take advantage of so much more amenities and amusements in the complex, other than just a fantastic gambling experience.
It comes to the V Restaurant, the Curve Bar and the Live Bar – the best places in Victoria Gate Casino to have a pleasant drink with a top-notch meal. It is certainly one of the best casinos in Leeds to organise a party or for a group visit with friends. Various promotions and special events take place every day to offer you the best of gambling in Leeds. Actually, this casino is also known as one of the largest and top gambling complexes in the North.
The gaming machines in Victoria Gate include just about everything from classic slot machines, to the jackpot and VIP slots, and their number is impressive. Victoria Gate Casino offers the largest selection of slot machines in this part of the UK. There are famous titles from world-renowned gaming companies, as well as 20p slots for the low-stakes players and special VIP machines for the riskiest gamblers. Check out some of the main advantages of Victoria Gate as a No.1 Leeds casino in the following list:
Premium Downtown location in a giant leisure centre
Over 50,000 sq. ft. gaming area – the largest in northern UK
Over 120 slot machines including the UK's most famous titles
Welcome bonus of £50 in free slots play and a special loyalty club
Over 20 table games including roulette, blackjack, Punto Banco
41 HD screens for sports betting including boxing, football and rugby
Exquisite poker room with 10 tables and weekly bingo options as well
Stylish bars, fine dining places and other places for a VIP/luxury treatment
With this in mind, you can be 100% sure that you will find what you are looking for an unforgettable gambling treatment for your holiday, vacation or just a short trip to Leeds. Victoria Gate is certainly the largest Leeds casino and it's, without a doubt, one of the best in the UK.
There are so many opportunities for gambling other than slot machines and classic table games. The poker tournaments take place almost every day in a special poker room, and there is even a weekly option for betting on bingo. Seek and you shall find more in the best casino in Leeds!
2. Napoleons Casino (Central Leeds)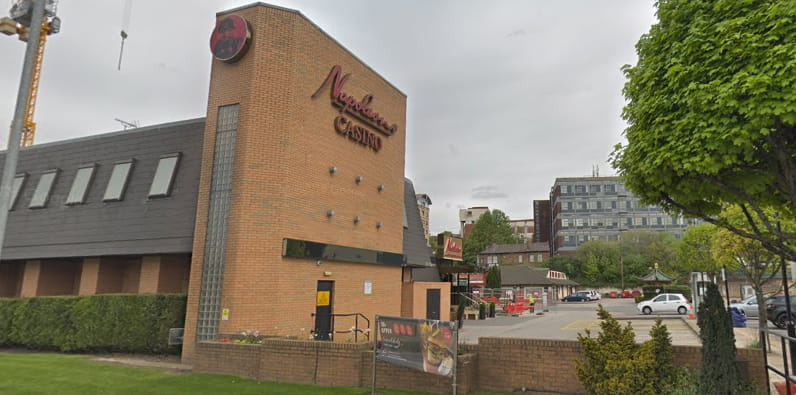 Although it offers plenty of innovative approaches and one-of-a-kind gambling attractions and amenities, Napoleons is not a new casino in Leeds. Actually, it is among the oldest and most popular brands in the town because it enjoys a nearly 40 years old historical background.
It is also located almost in the Downtown, in a very central location in Leeds, and it is a major stop for players who want to gamble in a sophisticated environment. It is one of the top dining places in central Leeds, thanks to its huge restaurant with fantastic meals and drinks. It also has a contemporary bar while one of the most recent innovations of this premium Leeds casino is the outdoors gaming area with electronic roulettes and slot machines. Check out some of the main specs of Napoleons Casino:
Central location on the main road and only a short walk trip from the Downtown
Casino with 40-years old history and over 8,000 sq. ft. gaming area
18 slot machines, 13 table games and 24 electronic roulettes available
Option for group caterings from Monday to Friday
Exquisite bar and restaurant for a fine dining experience
Open 24 hours only in the weekends and 12p.m.-7a.m. all other days
Covered outdoor smoking terrace with gaming machines
£10,000 jackpot available and up to £500 max bet limits for high roller players
Napoleons has everything you could ever want for a fabulous gambling event. It is not a new casino in Leeds by any means and yet, it uses numerous innovative approaches when it comes down to the gaming facilities and amenities. For instance, let's take the bet limits in the casino: there are slots that allow 1p-£5 bets, making them perfect for the low-stakes players.
By contrast, you can find three blackjack tables with bet limits up to £300. Isn't it the perfect opportunity for the high-roller players? You certainly have to visit this casino in Leeds because there are games for every type of players!
3. Grosvenor Casino Leeds Westgate (Central Leeds)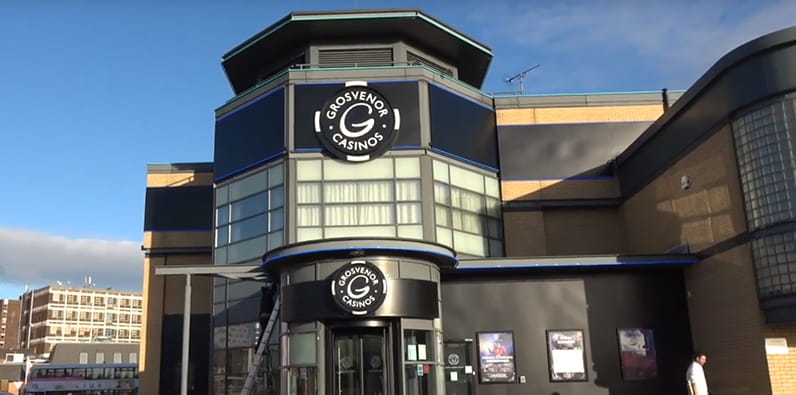 Just like in the online casino where you measure the attractiveness of a site by the number of the offered games, the available payment methods and the trustworthiness of the casino operator, you can rate the land-based casinos in Leeds by the same basic factors. With this in mind, you should not forget that almost every major city in the UK has a betting store and/or a casino from the Grosvenor Group. Leeds makes no exception.
Grosvenor is among the best casinos in Leeds. It has an online desktop and mobile version as well, and if you are interested to play from the comfort of your home or while you are on the go, then you should take a look at our full Grosvenor Casino review! During your next trip to Leeds, we therefore highly recommend you to visit Grosvenor Casino Westgate. See why in this shortlist with reasons:
Central location in Leeds and spans across almost 20,000 sq. ft.
Huge gaming variety, including 80 slots machines and over a dozen table games
Poker room with 5 tables and dealer-dealt tournaments
Casino is open 24/7 with 24-hour dining menus
An iconic Grosvenor late-night bar
Special privileges for all the Grosvenor casino members
Sky Sports live sporting events available
Grosvenor is, without a doubt, one of the most recognisable casino brands in the UK. The huge land-based casino in Leeds offers the best gambling experience in town, along with Victoria Gate and Napoleons Casino. Indeed, Grosvenor Westgate is located just at the opposite side of the road where is located Napoleons Casino.
However, if you wonder why we didn't place this Grosvenor Casino in Leeds on the first place, it's because its gaming floor is smaller than that in Victoria Gate. Also, Grosvenor offers signature attractions and amenities, while Napoleons Casino offers a unique atmosphere and gambling experience in this regard. With that in mind, you should know that you will find a superior gambling adventure in any of these three casinos in Leeds.
This list wouldn't be complete without a little bit more different gambling experience though. It comes to horse racing in the top racecourses in Leeds. Check out the top two locations, right next!
4. Wetherby Racecourse (near the Town of Wetherby)
The first place to place your bets on horse racing is situated less than an hour's drive northeast of the Downtown. It comes to the famous Wetherby Racecourse which is neither a new casino in Leeds nor a sports betting shop like those in the Downtown or nearby.
Wetherby Racecourse is located near the town of Wetherby and it is famous for the amazing opportunities it offers for a day out with the family. The racecourse itself is adjacent to the highway, so it is easily accessible by a car, while the facilities within the complex offer all you need for an unforgettable afternoon or an entire day outside of the hustle and bustle in the big city.
Various meetings take place at any time of the year, so you can easily take a pick and visit the one that interests you the most. For instance, the 888 Sport Yorkshire Christmas Meeting, Christmas Jumper Raceday and Irish Day are only a few of the top fixtures for the first half of 2020.
Alongside the sporting events, there are also plenty of other events that take place throughout the complex. Examples include weddings, charity balls, fine dining, as well as options for banqueting and organising conferences, and more. Overall, if horse riding is your favourite sport to place a bet, don't miss the chance to visit Wetherby Racecourse for the ultimate gambling experience from this kind.
5. Bramham International Horse Trials (in Bramham Park)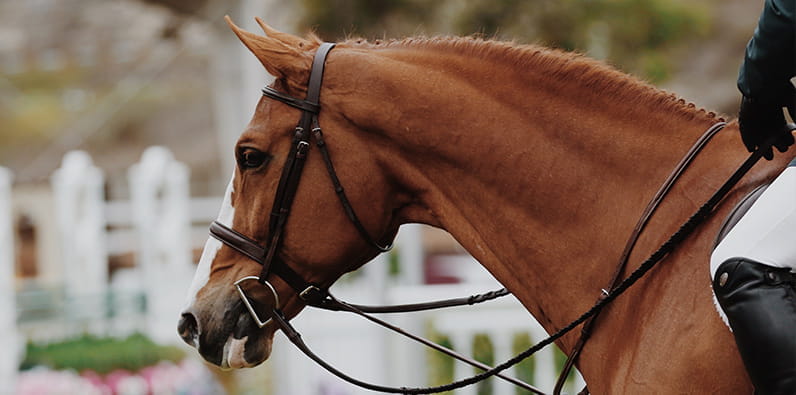 Last but not least, let's take a look at another famous racecourse or, more exactly, an Equi-Trek event that takes place only four days in the middle of the summer. It is held at Bramham Park, which is also about a 30-minutes' drive from Downtown Leeds. The Bramham International Horse Trials enjoy a reputation as Europe's finest equestrian tournaments that offer only the highest standards in this kind of sports competition.
Make sure to put this event on your agenda for the summer next year because it is definitely worth visiting. It will take place 4th – 7th in June 2020 and it might easily transform into a perfect excuse for your escape from the big city for a couple of days or more.
Well, although this post of the top Leeds casino sites includes two popular huge horse racing events, we hope you liked it. Now you know the best places in Leeds to place your bets on various types of video slots, roulette, blackjack, poker and even horse racing competitions. Check out the other main topics in our blog and also share this post with your friends so they can also know the top 5 recommendations for a fabulous gambling vacation in Leeds!
FAQ
Our blog post about Leeds casino gambling venues has reached an end. We hope you found it interesting. Before we sign off, we would like to invite you to check out our FAQ section. We collated the most common questions that are asked about casinos in Leeds and answered them for you below.