Russian Hacker Alex – Meet the Mastermind!
Although this mastermind hides his real name, Alex claims to be a mathematician who successfully finished a university degree in math and programming, later working for 2 years at the FSB academy. Due to his constantly developing skills Alex became very good at what he was doing, so it's no surprise that he was hired by a Russian casino to tweak a slot machine. This is the first time when he would be introduced to slot machine hacking.
Until then Alex's perception of gambling was negative. He described it as a stupid activity and due to his mathematical abilities was well aware of how odds worked in favour of the casino. However, when he was asked to hack a Novomatic machine at the Russian casino, he immediately became fascinated with the elegance of the PRNG (pseudorandom number generator) algorithm the slot had. After this first encounter with this algorithm generator, Alex dedicated the next 6 months to studying whatever he can about PRNG since he envisioned a profitable opportunity in all of this!
The Beginning of Russian Casino Hacking
Believe it or not, the Russian government indirectly helped without knowing what the consequences could be. The main event which served as an ignition to what would follow was the ban in 2009 of all gambling from Russia. Then prime minister Putin made such a move in hopes of better battling Georgian organised crime, but little did he know that this would cause a different turn of events. Due to the gambling ban, casinos across Russia were selling all of their slots machines on more than acceptable prices. Lots of hackers saw an opportunity in this and were eager to get their hands on the casino technology with intentions to hack gambling machines' most essential algorithms and lower the house edge. Since Alex was already aware of PRNGs, he was able to hack lots of slots which later proved to be the beginning of his hacking scheme.
Time to Win – Hitting Casinos Across Eastern Europe
Austrian machines Novomatic were the first 'victims' of Alex's casino hacking. In 2008 he gathered a team of associates which helped with the compromising of those slots. Since there is an RTP rate and a random number generator in place across every slot, accountants at casinos were baffled how these machines are paying money out when they actually shouldn't. Surprisingly, after a further investigation, no visible manipulations were seen, but the main suspicion remained – someone has learned how to 'crack the code' at the Novomatic machines. In 2011 with an official statement, the company has admitted that someone has learned to predict the pattern of payout in their slot machines and has taken advantage of this. Furthermore, they claimed that although this requires a tremendous effort, it can happen.
Going One Step Further – Hacking the Aristocrat Mark VI
Back in 2009, Alex got his hands on the Aristocrat Mark VI slot and was able to reverse-engineer its PRNG to an extent where it was possible to win huge amounts of money. Still, 100 000 Mark VI slots were scattered worldwide across casino floors and they eventually became the favourite prey of Alex's group. Speaking of that, it's interesting to note how Alex recruits his helpers. He values mostly discretion and loyalty in his 'employees' and rarely shows interest in their education or other personal information. Furthermore, by understanding the dangers which might follow, Alex goes as far as to offer legal protection to his accomplices if an arrest occurs. This, of course, comes at a price – regardless of the outcome, the agent agrees to receive a smaller share of the loot.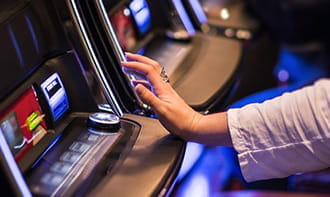 Having such a profitable 'job' on the brink of law causes a lot of stress which made Alex consider the possibility of 'retiring' from this activity. However, he wanted to cash out big by offering his services to the company he hacked. In December of 2016, an interpreter called Tracey Elkerton – Compliance and Regulatory Manager at Aristocrat Leisure Limited. The proposal was simple – Alex offered to exploit the weaknesses of the slot machines and explain how he reached them Furthermore, the Russian hacker also promised to help the engineers at Aristocrat to develop better security software for their slots.
Tracey refused to cooperate as she doubted that the company would pay the eight figures Alex wanted in return. The Russian hacker even sent an email with a mathematical code containing the PRNG of games that were installed on the latest version of Aristocrat machines, Helix slots. However, the company refused to cooperate with Alex and he was left empty-handed.
А Closer Look at the Scam – What Casinos See on Camera?
As we've earlier mentioned, there are no visible traces of manipulation on the hacked slot machines. However, the technology is truly interesting. The surveillance tapes at Lumiere Place Casino revealed that a man was spotted as the villain due to his unnatural behaviour. At first he would sit on a slot and play regularly, but with his phone put very close to the screen. After he would finish, he would sit out only to return later giving a second try at the same machine. This time the outcome would be different and the culprit would win around $21,000 in just two days. The main question remains – if he isn't physically hacking the machine, how does he win in such a manner?
By being able to film how the machine spins and reacts, the accomplice then sends the tape to Alex's headquarters in St. Petersburg. His specialists analyse the machine's behavior with a casino hacking software and are able to predict when is it going to payout. Once that is done, they send a short vibration on a custom phone app with certain time markers. From then on it's a matter of just pressing the spin button at the right time. Although this doesn't work in 100 % of the time, it brings loads of profits to Alex as his team was able to amass more than $250,000 per week from this scam around the world. Furthermore, Alex claims that this shouldn't be considered as an illegal activity since no visible manipulations have been made. The US government tends to disagree on that note and classifies such actions as law-breaking, so it's no surprise that certain arrests of Alex's teammates have occurred on US territory.
Alex's Take on Casino Hacking and His Future Plans
Since we've already mentioned that this casino cheat isn't considering his actions illegal, it's hard to imagine him stopping anytime soon. However, there are such speculations on his behalf as he really wants to get back to his passion for programming and coding. The failed attempt to capitalise on Aristocrat's vulnerability forced Alex to look at another victim of the slot world – IGT. He boasts that their PRNG wasn't that impressive, although it gave him a hard time. He claims that such codes are no match to experienced hackers since open doors are left everywhere for him to enter. The slot machine hacker knows that sooner or later all will end and he even dreams of giving access to his technology worldwide. His negative perception of casinos still hasn't changed, so Alex claims he would be satisfied if he sees them crumbling. Will he ever do that? It's hard to predict, but for the time being he and his accomplices are focused on European and South American casinos where they continue to exploit slot weaknesses.