Many would ask how to win at the casino, if the odds are against the player? The answer is very simple – pick the games with lowest house edge and learn to play them well. Don't be satisfied with average, and don't accept mediocrity. Even a small casino advantage is enough to get your money, so you need to have a skill well above the average. In this article, we explore the various factors that define the best odds in casino play.
We look into game rules, as well as house specific rules, to find out how they affect the odds and give a higher or lower advantage to the casino. Also, we point out the difference between true odds and payout odds. Of course, you'll find the top 10 games with the lowest casino house edge, ranked from ten to one, with details about the game variations and their specifics. In addition, we point our recommended online casinos where each game can be played. Furthermore, you can try the best £5 deposit casino sites, where you can get rewarded without risking to spend too much.
The top 10 casino games with best odds:
What is Casino House Edge?
Casino advantage, or house edge is defined as the casino profit calculated as a percentage of the player bets. When long-term results are considered, players are at a disadvantageous position for two main reasons. First, the payout odds are usually not identical with the true odds, or the actual probability of the possible outcome of a given bet. Secondly, the number of winning outcomes is less than the number of the losing outcomes. Statistically, players have a higher chance of losing over time.
An important thing to keep in mind is that house edge is calculated under ideal circumstances, such as consistent gameplay according to basic strategy and bets on high probability outcomes. If you play recklessly and place risky bets on low probability outcomes, your odds of winning will decrease dramatically. Simply put, it's important to know how to play.
Which Are the Casino Games with Best Odds?
The casino games with the best odds are the ones where skill matters. This gives the player a tactical advantage which can reduce the house edge to less than one percent. Adequate decision making based on statistical probability can help you finish a playing session with a profit. Sure enough, you can't win every bet. However, with optimal betting, clever players can minimize the risk and maintain a positive overall balance.
Below you'll find the ten casino games with lowest house edge percentages. We chose these games by looking into rules, payouts, and possibilities to exercise basic strategy. As, mentioned above these factors are important and can help you push your odds closer to the ideal 100%. Also, as the term house edge implies, all games we ranked are played against the house.
10. American Roulette
House Edge of 5.26%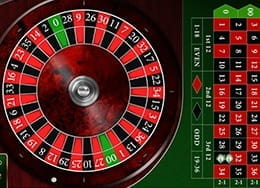 Roulette is an all-time classic, and a must try for every casino visitor. Nowadays there are plenty of online roulette versions, both RNG powered, and streamed from live dealer tables. When it comes to rules and layout, roulette comes in three main variations, namely American, French, and European. As we progress to the top of the chart, American roulette is the first we mention, because it has the highest casino advantage. The main distinction between American and the other two versions is the number of pockets on the wheel. While the French and European variants have 37 pockets, the wheel at American roulette has 38 pockets.
All versions feature the numbers from 1 to 36 and a green coloured zero pocket. On the American wheel, however, there's an additional pocket marked with two zeros. Long story short, the double zero decreases your odds at high probability bets. Since the zeros are neither black nor red, even or odd, the number of losing outcomes is more than the number of winning outcomes. The payout, however, is 1:1, as if the true odds were equal. Nevertheless, the return to player in this game is close to 95%, which puts in on our top ten of best odds online casino games. Furthermore, it's fun to play, with abundant betting options.
9. Caribbean Stud Poker
Casino Advantage of 3.7% if optimal strategy is used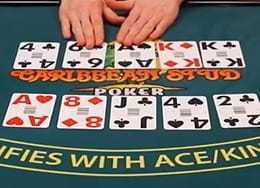 Caribbean Stud derives from the five-card stud poker and is adapted for casino gameplay against a dealer. After the player places an ante, both sides are dealt a five-card hand. One of the dealer's cards is turned face up, and the remaining ones are concealed. After checking his cards, the player may decide to fold and forfeit the ante, or to keep playing by doubling the ante bet. The weakest combination is a pair. If neither hand has a pair, then high cards are compared to determine the winner. The dealer must have an Ace plus a King or higher to qualify. This rule gives the player good odds even with high card hands. However, if the dealer doesn't qualify, you get a 1:1 payout only on the ante, regardless of the player hand.
If the dealer qualifies and loses, the payouts increase, as per the payout table, which may vary across different venues. A few words need to be mentioned about statistical probability in Caribbean Stud Poker. Players fold roughly 47% of the time and raise approximately 53% of the time. Roughly 23% of the dealer's hands don't qualify, and players win with a pair or less 11% of the time. Dealers win approximately 13% of the time. Given these numbers, the basic strategy dictates two general rules. First, you can raise every time you have a pair or higher. Second, you must fold every time you have less than the dealer qualifying hand (Ace plus King). As you can expect, it gets interesting when the player has at least an Ace plus King. In such cases, decisions are made based on statistical probability given the dealer upcard and the remaining player cards.
8. Three Card Poker
House Edge of 3.4%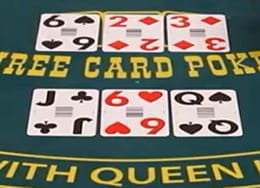 This is a relatively recent game that was created and patented in the 1990s. Currently Three Card poker is offered in most live online casinos. It is played with one standard deck which is reshuffled after every hand. Both dealer and player hands include three cards, and no additional drawing is allowed. The dealer hand is dealt face down and is revealed after the player places a play bet, equal to the initial ante. When that's a fact, the two hands are compared immediately, with no further possibility for improvement. In other words, you either play with what you have, or fold and forfeit the ante bet. It's important to note that the dealer qualifies only with a Queen high card or better. This increases the player odds on high card hands.
However, if the dealer doesn't qualify there's a 1:1 payout only on the ante. The play bet is returned with no additional money awarded. The skill element in three card poker is limited to estimating statistical probability based on the visible player hand and the remaining cards. For instance, straight flush, which is three suited cards in a sequence, has a probability of less than half a percent. A pair has probability close to 17%, while the one for high card is neatly 75%. As you can guess, most of the winning hands are high cards, hence the low casino house edge. Despite the frequent reshuffling, the low overall number of cards makes probability estimations relatively easy. A pair or better gives you very good odds of winning.
7. European Roulette
Casino Advantage of 2.7%
Moving forward with roulette variations, it's time to pay a tribute to European roulette. It features a single zero wheel, which increases the odds compared to double zero variants, and pushes the game higher on the chart. As mentioned, the wheel has 37 pockets, of which 18 are red, 18 are black, and there are 18 even vs. 18 odd. The 37th is the zero pocket, which doesn't fall in any of the categories. Therefore, on red/black and even/odd bets, the number of winning outcomes is 18, compared to 19 losing outcomes. This results in a house edge of 2.7%, or almost twice lower than American roulette. If you thought that one pocket couldn't make a difference, here's the evidence to the contrary.
Although it is among the games with the best odds, if you bet on colors, and the ball hits zero, this is still a definite losing outcome. That said, French roulette is the game that gives a further advantage to the player due to its special rules related to even chance bets when the zero is hit. Apart from that, let's mention that just like in the other versions, at European roulette you have standard inside and outside bets that pay the same as in the other variants. Neighbour bets and special bets are also available, providing ample opportunities to diversify your game. For more information, go to our live roulette guide if you're an avid fan of the game!
6. Pai Gow Poker
Casino Advantage of 2.5%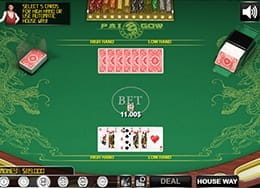 Next in our list of casino games with best odds, we have a Chinese domino game called pai gow. The game was adapted so it could be played with a standard card deck instead of domino blocks. The objective is to split the seven cards dealt to you and form an optimal combination of a 5-card hand and 2-card hand. When splitting, the large hand must be better than the small one. The game's a win when both the 5-card and 2-card hands of the player are better. If only one is better, the game's a tie. If both player hands rank lower than the dealer's hand, the bank wins. The game is played with a standard 52 card deck with one joker added.
The joker can substitute for any other card when used to complete a straight or a flush. If there's no such possibility the joker counts as an Ace. The numerous possible combinations, plus the requirement to have two higher-ranking hands to win, leads to many tied games, and therefore a high overall return to player. Pai gow poker follows standard poker ranking with one notable exception.
The second strongest hand in the game is called "the wheel" and consists of Ace-2-3-4-5. As you can easily notice, the best combination in the 2-card hand is a pair. Also, all banker cards are dealt face down leaving you to work with the hand you are given, without considering the dealer's hand. Basically, you need to aim at an optimal balance between the big and the small hand, so both could stand a chance. This is not too easy with most of the unsplit hands containing a pair or less. However, the same goes for the dealer, so by playing wisely, you can increase your odds of winning.
Casino Games with Lowest House Edge
5. Craps
House Edge can be as low as 1.4% with optimal strategy
At first glance craps seems a rather simplistic game, probably because the outcome is determined by a pair of dice. However, the multitude of available bets and the rules associated with each bet makes mastering the game a cumbersome task. Furthermore, at bets with lowest house edge the outcome is often determined after a series of dice rolls. The basic principle of the game is that it exploits the probability of the possible combinations in two-dice rolls. Out of the 36 total dice combinations, seven is the result with the highest probability – 16.67%, or 6 combinations. Throwing an eight or a six has 13.9% probability each, or 5/36 odds. The least probable outcomes are 2 and 12, each having 1/36 odds, or 2.78% probability making it one of the best gambling dice games out there.
The game can get tricky because of the rules and the importance of the higher probability outcomes for winning or losing. Let's take pass bets for instance, as they are the most basic bets that novices should learn first. When you place a pass bet you win immediately if the come-out roll is a 7 or 11, and lose immediately on 2, 3, and 12. At first glance, this is favorable to the player because one of the winning outcomes has the highest probability, and the losing outcomes have the lowest probability. However, all other outcomes, or 24 out of 36 combinations, set a point, which you must hit in the following rolls in order to win. If you hit 7 before you hit the point, you lose the pass bet.
There are 24 combinations that set a point, resulting in 24/36 odds, or 66.67% probability. However, neither of the points alone has a higher probability than 13.9%, while the odds for seven are higher. In other words, by rolling a seven you more often lose than you win. If you thought seven is a lucky number, think twice before playing craps, because in this game it can be a hated number. Just like in the other casino games with best odds, you must be familiar with both the rules and the outcome probabilities if you want to improve your odds of winning and play at best craps casino sites. If however, you wish to play craps live online, check out our suggested operators.
4. French Roulette
House Edge can be as low as 1.35%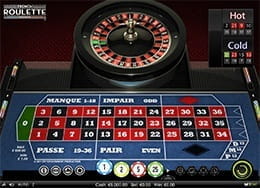 We are going back to the roots of traditional roulette games. French roulette is the oldest variation, still played at numerous venues both in Europe and across the ocean. The game also has decent versions playable online. The wheel is the same as in European roulette. The table layout looks a bit different but allows the same standard inside and outside bets. Other things being equal, this is supposed to result in an identical house edge. However, there are two special rules that make a difference and are available only in French roulette. The first one is called la partage, meaning split in French. When the ball lands on zero on even chance bets, the player doesn't lose everything and keeps half of the wagered amount.
There's a version of la partage called en prison (in prison). In the same situation described above, the bet remains on the table for the next spin. If the following spin ends with a winning outcome, the player collects the winnings according to the payout table. In case of a losing outcome, the bet is forfeited. Whichever rule is applied depends on the policy of the venue where the game is played. Simply put, with these two rules landing a zero on an even chance bet is neither a winning nor a losing bet. The casino acknowledges that and allows either a partial retrieval of the wagered amount or leaving it on the table as a bet on the next spin. This approach is more favourable to the player, making the house edge at French Roulette 1.35%.
3. Baccarat
House Edge can be as low as 1.06%
Baccarat is one of the oldest gambling card games in the world and it's known under many names in different regions. In southeast Asia it's known as Punto Banco (Player-Banker). There are four main common traits between the Baccarat versions:
Only two hands are dealt regardless of the number of players. The hands are designated as "Banker" and "Player".
The winning hand is the one that's close to the highest possible score, which is nine.
There are three possible outcomes – Banker wins, Player wins, or a Tie.
Card values are the same across all versions. Face cards and 10s have zero value. Aces are worth one, and the remaining cards are worth their face value.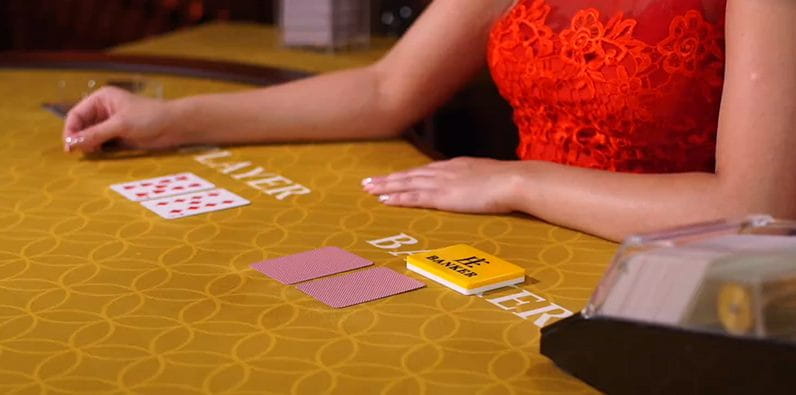 Let's go back to hand names. It's important to remember that "Player" is merely a designation, and this is not your actual hand. You can win even if it has a lower value than the Banker hand. This may be counterintuitive at first. As a player you must guess which of the two hands will have a higher score, i.e. you can bet on the Banker as well, or on a Tie. Based on each hand's initial value, there are rules about drawing additional cards. These rules are advantageous for the Banker hand.
The house edge is lowest on Banker bets despite the 5% commission charged by the casino. Payouts are 0.95:1 for Banker bets, 1:1 for Player bets and 8:1 for Tie. Despite the much higher payout a Tie is a relatively rare outcome, and the casino advantage there is more than 14%, compared to 1.24% for Player bets and 1.06% for Banker bets. Eager to learn more? For more information, please check our full online baccarat casino guide. In it, you will find the best baccarat sites to play at and plenty of useful tips.
2. Blackjack
Casino Advantage of 0.72% with skilled use of basic strategy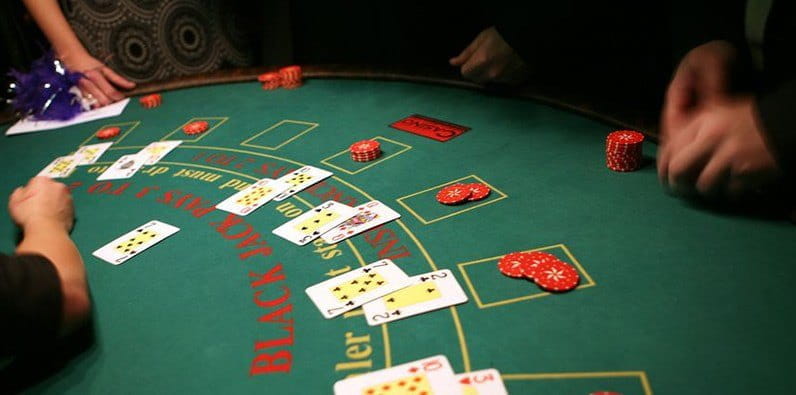 Blackjack is probably the most popular skill game. The possibility to apply a basic strategy for statistically adequate decisions results in a blackjack house edge of less than one percent. Skilled blackjack players turn the odds in their favour and score more wins than losses in the long run. Just like in any other game, RNG titles and live dealer versions may vary in rules. These variances should be considered, and the strategy should be adapted accordingly if you want to stay ahead.
Payouts are usually identical across land-based and online casinos. Blackjack pays 3:2, all other wins pay 1:1, and insurance pays 2:1. Deviations from these payouts are a rarity, nevertheless, make sure you are familiar with the house rules or the table rules, just to be on the safe side. However, there are other rules that can vary more often, such as:
Number of card decks – usually six or eight in land-based casinos and live dealer online casinos. However, some RNG versions can be played with a single deck.
Dealer obligation to hit on soft 17s – this is critical to the probability for the dealer to bust.
Number of splits allowed – in some versions a hand can be split only once, while other variants allow multiple splits.
Number of cards allowed after a split – in some blackjack games, especially online, players can hit as much as they want after splitting any pair, including aces. In others, you are dealt only one card per hand after an ace split.
Is splitting unlike 10s allowed – basic strategy dictates never to split pairs of ten-value cards, so this shouldn't matter at all. Still, in some blackjack versions, it is allowed to split, unlike 10s, for example, a King and a Jack.
Is double down allowed after a split – in some games, you can double down after a split if you are allowed more than one hit.
Remember that splitting and doubling down requires betting additional money, meaning that you risk more and the blackjack house edge increases. Make sure that your actions are consistent with the basic strategy for the version you are playing at the top blackjack casino sites. Also, keep in mind that in RNG blackjack the cards are reshuffled before every hand, while in live games dealers keep drawing from the shoe until they hit a marker.
1. Pontoon
Casino Advantage between 0.34% and 0.62% with optimal strategy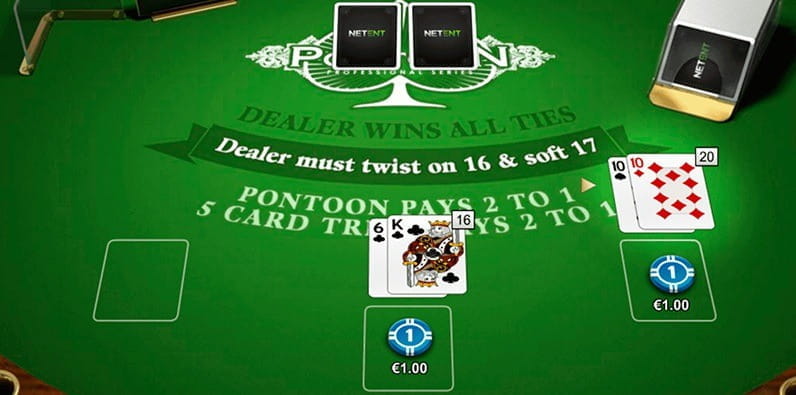 Pontoon is a very close relative to the twenty-one, and shares many of the rules found in other similar games, such as blackjack. Pontoon is played mostly in Australian land-based casino establishments. There are online versions as well, all in the RNG category. This best odds online casino game has its terminology, which might be confusing at first.
For instance, to stick means to stand, to twist means to hit, and doubling down is called buying. A natural 21 is called Pontoon, hence the name of the game. That left aside, the objective is the same as in blackjack, and the way the gameplay goes is also quite similar. The player must beat the dealer hand by scoring as close as possible to 21 without exceeding this number. Apart from the game-specific jargon, there are other differences to blackjack, which affect the winning odds. Here are some of them:
Dealer cards are dealt face down.
Dealer hits on soft 17s.
Player must hit on 14 or less.
21 after splitting qualifies as pontoon.
Pontoon pays 2:1, which is greater than the 1.5:1 (3:2) in blackjack.
A tie is a player loss, and not a push.
The hand rankings are more complicated. For instance, the second strongest hand after pontoon is a 5-card hand that doesn't bust. This is called a trick, and the actual numeric value of the hand is irrelevant.
Although Pontoon has a lower theoretical casino house edge, we find blackjack a preferable option. Pontoon's more complicated rules may be difficult to follow. Also, some of the rules that are advantageous to the player are compensated by others that give the casino an edge. For example, the dealer wins all ties, which results in a larger number of lost games by the player. This sets a stricter requirement for the perfect following of basic strategy to get your odds as close as possible to the theoretical ones. Furthermore, different house rules require adjustment in the strategy, thus increasing the difficulty.
Casino Games with Best Odds – Honorable Mentions
There are two additional game types that deserve to be mentioned as games with best odds in casino venues. These are slot games and video poker. Some may argue that both can have good enough winning odds to hit the top ten, and even the top five. However, we excluded them from the list for a couple of reasons.
First, both categories include numerous games, and the casino house edge can vary a lot per title. In this case, stating an average would be more of a speculation than anything, and pointing out the best odds would be misleading. Secondly, the top online slot games completely exclude the skill element and you can't improve your odds by mastering a strategy. In addition, both categories can be divided into subcategories, which further complicates the task. Therefore, we believe slots and video poker should be looked at more thoroughly on separate pages.
Another game category that's not present in our games with best odds guide, but deserves attention includes the ubiquitous scratch cards. Before you blame us for completely ignoring these games, you should know that we made a separate page where we discuss how to win at scratch cards. We also shortlist reputable casino sites where you can play such games online.
Conclusion
In a short summary, the casino house edge depends on two factors. The first is the statistical probability of the possible outcomes. The second factor is the extent to which the rules in a given game exploit the statistical probability to give the house an edge. The best casino games are the ones offering a decent balance between long term profitability for the house, and winning odds that are attractive to the players. As mentioned, knowing the game matters. You must put some effort into building up skills until you become good enough to proudly state that a game is Your game. And last, don't forget the element of uncertainty. No matter how skilled you are, the best gambling games of chance involve a random element that's unknown to you. Play responsibly and have fun!
Frequently Asked Questions
After carefully observing all casino games with best odds in the industry, all that is left is to answer the most popular questions around them. We know that there are always queries that periodically pop up and we've taken the liberty to gather the most meaningful ones in the following section!