The Story Behind Casino Di Venezia – How It All Started
Casino di Venezia was first established in 1638 and was originally located in San Moisé. The Ridotto di San Moisé (Ridotto – from Italian means reduced, restricted) as it was originally called, functioned as a privately-owned gambling venture, mostly available to aristocrats and citizens from the higher-class. Although that theoretically the casino was open to the public, its high stakes and elegant dress code, made it exclusively accessible to players with higher financial possibilities. Furthermore, according to Wikipedia, only guests wearing three-cornered hats and masks were allowed to gamble, which was a rather discriminating rule for everyone who could not afford to buy them. An interesting fact is that some of the noble visitors were Jean-Jacques Rousseau, Lorenzo Da Ponte and Giacomo Casanova. It is important to note that gambling was illegal until the opening of the casino, although authorities could do little to stop it. Thus, it comes as no surprise that they eventually chose to legalise it, benefiting from their opportunity to regulate and tax it. Nevertheless, the happy times did not last long due to Giorgio Pisani and the Gran Council's decision to address the elite's gambling problem, preserve the modesty and thus close the casino in 1774.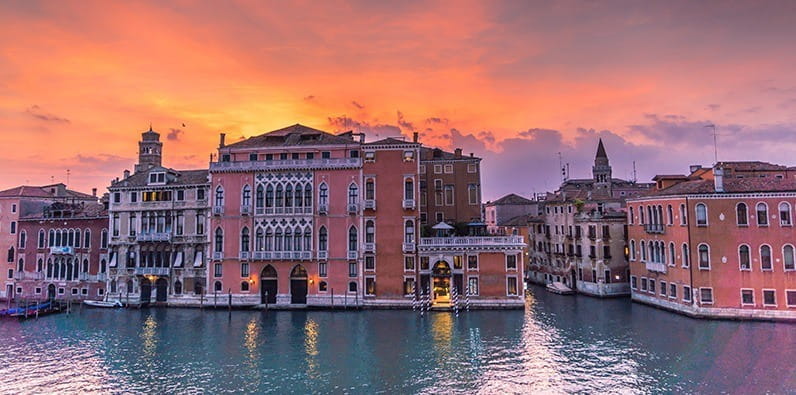 New Building – New Beginning for Venice Casino
The closure of Casino di Venezia did certainly not mean the end of it. Even without a proper venture, people continued to gamble and did not lose their interest and excitement for playing games. Nevertheless, it is important to note, that although Casino di Venezia claims to be the oldest one in the world, it did not physically exist between 1774 and 1959 when it was eventually reopened. Its place of rebirth was Ca' Vendramin Calergi – a majestic palace on the Grand Canal in Caranreggio in Venice. And as we know that every place has its own story, let's hear more about what was behind the new building.
Ca' Vendramin Calergi – Its Past and Present
The building was designed in the late 15th century and finished at the beginning of 16th century by the architect Mauro Condussi, famous for bringing the classic Renaissance style to Venice. The building was finished for 28 years, which is a relatively short period of time, bearing in mind the technique that was available at the time. The palace has three floors and has direct access to the Grand Canal. Ca' Vendramin Calergi was first owned and paid for by the Loredan family, until due to unfortunate events, they saw themselves forced to sell it to Eric II, Duke of Brunswick-Lüneburg. It seemed, however, that the destiny of the palace in the following years was to change owner until it became the property of Vittore Calergi, who decided to remodel and expand it. With the help of the architect Vincenzo Scamozzi, he built the so-called 'White Wing', which included big windows with a garden view. Later on, in 1739, the palace was inherited by the Vendramini – an influential family, involved in many lucrative businesses. They owned the building until 1844, when the last member of their line sold it to Marie-Caroline de Bourbon-Sicile, Duchess of Berry. In the following years, Ca' Vendramin Calergi kept being resold until 1946 when it finally became a property of the City Council of Venice. As it could be expected, during the past years the authorities had plenty of time to reconsider and change their position. That is why in 1959, they decided to re-establish Casino di Venezia in its new home – Ca' Vendramin Calergi.
Casino di Venezia and Its New Home
Since 1995, the casino has been honouring the beauty of Venice by sharing a home with Wagner Museum. Casino di Venezia is currently located on the palace's all three floors and there are many different rooms for playing slots, video poker, roulette games, blackjack, baccarat and poker games. Bear in mind, however, that the casino would expect you to be in tune with its sophisticated atmosphere and thus the elegant dress-code is a must. Dress well and you will be able to play any game you want. An interesting fact is that the casino offers the Baccarat version Chemin de Fer, which can be rarely encountered but is very interesting. In it, a player on the table acts as the banker, while the house serves only as a mediator and a card-dealer. Of course, you can also choose among many other professionally hosted games, where the minimum bet is generally €10. Nevertheless, even if you are not a dedicated gambler, we strongly recommend you visit Casino di Venezia and admire its classic Renaissance architecture and its luxurious and elegant internal design. Whether you are on an educational holiday or just a relaxing trip, make sure to visit one of the oldest Venetian buildings, which is also extremely easy to locate. If you feel uncertain, however, you can ask anyone in the canalled city and they will gladly orient you to the majestic palace. So, what are you waiting for? Start planning your Italian holiday and make sure to take a glimpse at the world's most ancient casino. Meanwhile, if you like casino history, why not read our special article dedicated to the history of land-based slots? Get all the knowledge and head to the best online casino in the world!