Top Cardiff Casinos in 2021
Les Croupiers Casino
Les Croupiers Casino
| | |
| --- | --- |
| Year Established | 1968 |
| Address | Capital Shopping Park, 5b Leckwith Rd, Cardiff CF11 8EG |
| Phone | 029 2038 2810 |
| Opens | 2PM |
Les Croupiers Casino in Cardiff is considered to be the oldest casino in Wales. It is located in a retail park just outside the city centre and is easily accessible. It offers to its visitors a great variety of table games such as blackjack, roulette and baccarat as well as many slot machines and jackpot machines.
Its poker room can accommodate more than 200 people which makes it one of the largest in the UK and is often an arena for grand poker tournaments.
Among the poker games that are often played at Les Croupiers Casino is Texas Hold'em, 3/4 Card Irish, 4/6 Card Omaha Hi/Lo, 5/7 Card Stud and more. The casino is not part of a hotel complex but can still offer to its players the chance to enjoy authentic Chinese dishes in the Dragon Court restaurant. If you would like some drinks, you can attend the casino's sports bar, where the latest sports events are shown.
Rainbow Casino
Rainbow Casino
| | |
| --- | --- |
| Year Established | 1962 |
| Address | Mary Ann St, Cardiff CF10 2EN |
| Phone | 029 2064 3400/td> |
| Open | 24/7 |
This casino complex was previously named Gala Casino. In December 2013 it was taken over by the Diamond group and was then renamed to Rainbow Casino. Now the Rainbow Casino is located in the UGC cinema complex in the centre of Cardiff.
At the gaming floor, visitors can enjoy playing at four tables of American Roulette with stakes of minimum 50p and maximum up to £5. There are also four blackjack tables with stakes of minimum £3 and maximum £50.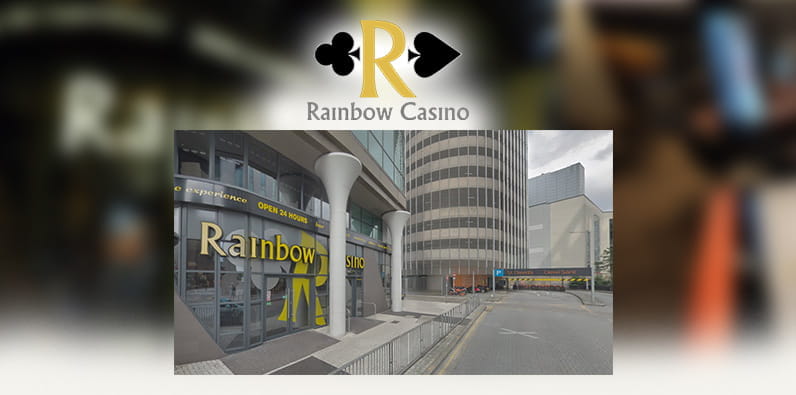 Across the gaming room, there are several Electronic Roulette terminals, video machines and many slots. Here, players can find one of the best slots bonuses in the city. Some of the jackpots reach up to £20,000. Texas Hold'em is the main poker game in the five-table poker room section. Rainbow Casino's visitors can enjoy a free buffet or can attend a rather small but quite cosy restaurant which can seat around 20 people. On top of that, the casino offers regular promotions and events that attract the attention of the customers.
Grosvenor G Casino
Grosvenor G Casino
| | |
| --- | --- |
| Year Established | 1970 |
| Address | Red Dragon Centre, Hemingway Rd, Cardiff CF10 4JY |
| Phone | 029 2046 8350/td> |
| Open | 24/7 |
Located in Red Dragon Centre in Cardiff Bay, Grosvenor G Casino is a grand casino complex that had its facilities refurbished in 2011. The casino is open 24 hours, but live games can be played from 2.00 pm to 7.00 am from Monday to Thursday. Grosvenor G Casino offers is one of the most prominent casinos in Cardiff and offers six American Roulette tables as well as five blackjack tables. In addition, visitors can enjoy the refurbished poker room that can host more than 100 people who can play daily Texas Hold'em tournaments starting at different times.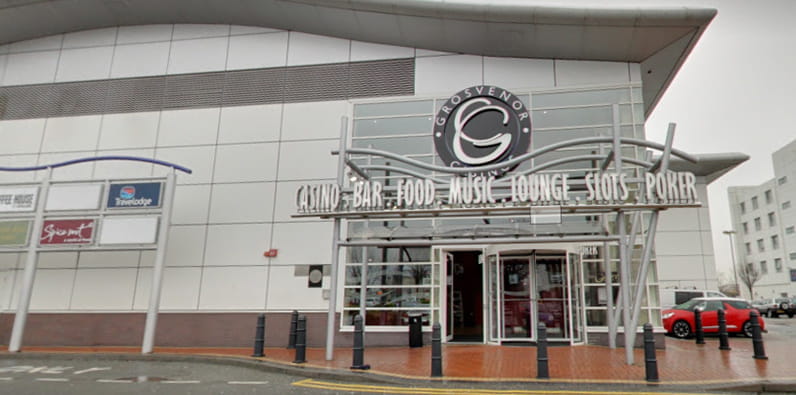 There are even some interesting poker packages for regular customers. There is a quite decent number of slot machines some of which offer a £10,000 jackpot. The casino can offer to its visitors one of the most attractive casino bonuses in Cardiff.
Players can enjoy a wide selection of drinks and at the casino's restaurant, you can taste delicious contemporary cuisine. All you need for a good casino night out, you can find at Grosvenor G Casino.
Carousel Amusements Casino
Carousel AMusement Casino
| | |
| --- | --- |
| Popular Times | 12 pm |
| Address | 30 Albany Rd, Cardiff CF24 3RQ |
| Phone | +44 29 2049 6519 |
| Open | from 9 am to 3 am |
Although Carousel Amusements is way smaller than the previous casinos that we have mentioned, it still can please customers with many gaming opportunities.
It is located on the busy Albany Road which is not far away from the very centre of Cardiff. Its opening hours are from 9 am to 3 am. The casino's gaming room offers mainly slot machines, which number is around 20. Jackpot games are on offer too.
Despite the smaller sizes of this gaming centre, it has enough to offer with its cosy and welcoming atmosphere and even offers to its customers various promotions on a regular basis.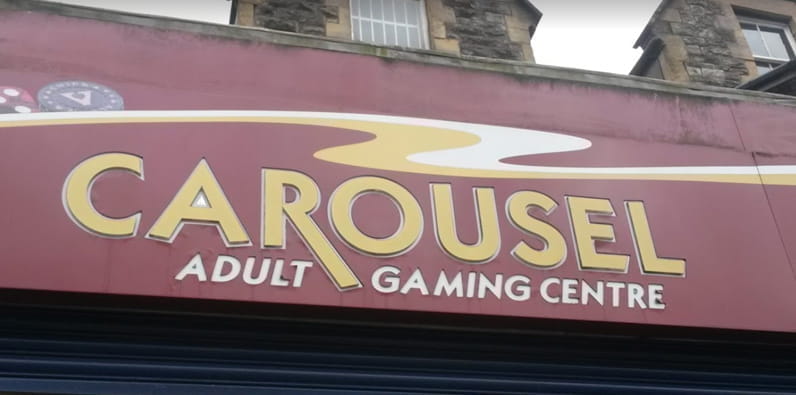 Bonanza 2000 Casino
Bonanza 2000
| | |
| --- | --- |
| Jackpot Games | Yes |
| Address | 50 St Mary St, Cardiff CF10 1AD |
| Phone | 029 2022 8771 |
| Bet Shop | Yes |
This casino in Cardiff is located at the centre of the city. It also offers slots mainly and is known not only for its good location but for the fact that it offers one of the latest slot machine games.
At the casino room, clients can even enjoy some drinks and can rely on the polite casino staff that will always help if they should have any problems. This makes the place quite cosy and playing at the Bonanza 2000 Casino very enjoyable experience.
Merkur Casino
Merkur Casino
| | |
| --- | --- |
| Jackpot Games | Yes |
| Address | 72 Albany Rd, Cardiff CF24 3RS |
| Phone | 029 2048 2435 |
| Opens | 12AM |
Merkur Casino has two locations in Cardiff. The one is situated on Albany Road and the other on Cowbridge Road. Both gaming rooms are not far away from the city centre with easy public transport communications. Merkur Casino is another representative of the smaller-sized Cardiff casinos. Nevertheless, it offers the top slot machine games on the market. Players can enjoy various jackpot games with some drinks that are offered at the casino's bar. Everything in the gaming room is made in a proper way that will guarantee that you will have an enjoyable stay just right after you step through the threshold.
Club 3000
Club 3000
| | |
| --- | --- |
| Year Founded | 2006 |
| Address | Batchelor Rd, Cardiff CF14 3AX |
| Phone | 029 2069 4321 |
| Restaurant | Yes |
This is the biggest bingo hall in Cardiff. It is situated on the Batchelor Road and can seat more than 200 players. It has various regular bingo game promotions and players are always welcome to enjoy bingo games while they are comfortably seated in the special bingo tables where they can place their bets. Bingo 3000 also has a decent number of bingo machines where you can always try more of your luck. Except for dring from the bar, Club 3000 visitors can also enjoy delicious food from the restaurant. By the way, you can also take a look at the top bingo sites that we reviewed especially for you!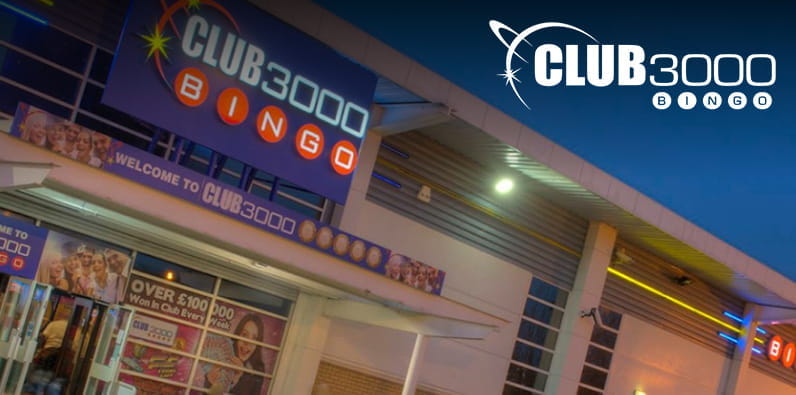 Final Words
Cardiff is a beautiful UK city, where you can have the chance to visit many attractive casinos and play your favourite games. Although some may prefer to play at the best British online casinos, those of you who still want to experience great real-casino atmosphere can use this guide and visit the top casino Cardiff gaming rooms and enjoy the variety of gambling possibilities.
FAQ About Cardiff Casinos
The gambling premises in Cardiff are increasing in number as we speak. There's variety, class, and profit to be fount in there and this proves exciting for every self-respecting casino enthusiast. Here we will make one last effort to satisfy your curiosity with a quick question and answer sequence.