Who Is Callie Rogers and When Did She Win the Lottery?
Back in 2003, Callie Rogers was just a normal girl, living in foster care and working at Co-op's checkout counter for just £3.60 per hour. However, her life changed drastically when she won the Lotto Jackpot worth £1.87 million. Rogers, who has admitted various times that she was too young to handle the money, left her job at the supermarket and started splashing her cash. Pressured by friends, the Cumbria girl spent around half a million pounds on gifts. Callie Rogers admits that back then she just "wanted to be liked", which is why she was taken advantage of by people she no longer deems friends. However, her expenses grew even more as she spent £18,000 on various breast augmentation procedures and £300,000 on clothes, make-up and tattoos. Rogers also bought top-of-the-range sports cars worth £85,000 and spent about £250,000 on cocaine. However, in interviews, the lottery winner rejects the figure and claims that she was never an addict and that the issue sounds worse than it actually was.
As you could guess, Callie Rogers' expenditures did not end there. According to our information, she spent further £250,000 on trips and holidays to locations including Mexico and EuroDisney, £118,000 on gifts for her then-boyfriends, £190,000 in loans owed by her friends and family members and £50,500 on solicitors' fees. Some of the money, however, was well-spent as Rogers bought a £180,000 bungalow and a £76,000 home for her mother.
Callie Rogers' Life After the Win
Years after partying hard, dating gold-digging boyfriends and making unnecessary expenses, Callie Rogers's money started to vanish, and her life faced negative changes. Things, however, got even worse after she met her also unemployed then-boyfriend Nick Lawson. The Cumbria girl's life suddenly went out of control as she was left nearly broke with just £2,000 in the bank. Rogers even tried to commit suicide by taking paracetamol and sleeping pills but was eventually found by her family and taken to a hospital. Nowadays, Callie Rogers, who is a mother of three claims that the age limit for National Lottery players should be raised:
"At 16 you're still just a child and you don't have any understanding of money and the concept of what it brings."
Currently, Rogers works as a carer after going back to school to study social care. She claims, however, that her biggest regret is that she has not been able to save a part of her jackpot win for her son Blake, who is disabled and needs sensory stimulation. She also says that she is trying to teach her children that they must value the money, save up for holidays and wait for Christmas for their gifts. Callie Rogers has open Instagram profile and you can follow her at @callierogers86. You can watch Callie Rogers' complete interview for ITV below:
Callie Rogers and Her Attack in 2018
In 2018, Callie Rogers once again became one of the tabloids' main topics when two women attacked her in the living room of her boyfriend's apartment. According to Mirror, Hinde and Quale were asked to look after Rogers' boyfriend's dog as he went for a night out with Callie. However, Rogers came back earlier and fell asleep on his couch when she saw her two attackers at the living room's door. The attack was so vile that Callie was left with serious injuries and had to have a nose surgery early next month. The court heard that one of the attackers – Hinde has admitted her guilt to her boss Stephen Brew and that she had also said that she and Quale had burnt their clothes so that the police could not find any forensic proofs of the attack. According to the UK newspaper, Hinde also tried to intimidate her boss so that he would change his statement in court. Hinde and Quale, however, were eventually sentenced to 24 months and 21 months of imprisonment, respectively.
The National Lottery Age Limit Could Be Raised
The UK Government is currently considering raising the age limit for playing The National Lottery. The alleged change would be a part of the actions of the government to protect the vulnerable from the potentially harmful effect of gambling. We remind you that the current age limit for gambling in the United Kingdom is 18, with the National Lottery being the only exception with a minimum age limit of 16. A number of former jackpot winners, including Callie Rogers and the youngest EuroMillions winner Jane Park, have raised their doubts on whether they should have been allowed to play and receive the jackpots. As we have already mentioned, winning the lottery brought rather negative consequences to Callie Rogers' life and Jane Park seems to have been reached by a similar destiny. Park, who was just 17 when she won £1 million from the lottery in 2013, has said various times that she regrets going public and that she would never take part in a lottery draw again.
Will Jane Park Sue the National Lottery?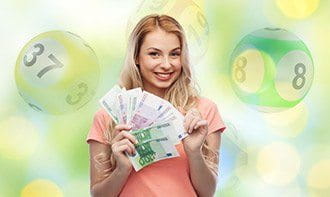 Similar to Callie, Jane Park has also spent thousands of pounds on plastic surgeries, some of which resulted in complications. Often being described as controversial, Park is also allegedly an occasional gambler and has splashed a lot of her money on cars, holidays and clothes. The young millionaire was also reportedly planning on suing the National Lottery under the claim that she should not have been allowed to cash out her £1 million reward and that the huge payout had ruined her life. Camelot, however, insists that they had kept in touch with Jane since she won the lottery and had offered her legal and financial assistance to manage her winnings. Jane Park has eventually dropped her plans to sue the National Lottery as the issue of increasing the age limit has already been raised and is going to be considered until 2023 when is the next licence competition.
Want To Play Online Lottery?
Whether the lottery's age limit in the UK is going to be raised will become evident within the next few years. However, if you think that you can handle a life-changing prize responsibly and want to try your luck playing some of the most popular lotteries in the world, you can do so at one of our top lottery sites. All of our recommended online lottery operators offer responsible service, high security and special sign up offers. Meanwhile, if you are a fan of the National Lottery, you should read our informative article on the National Lottery's new rules. And if you liked our story about Callie Rogers, you may also want to take a look at our 7 Lotto Millionaires article.