Black Jack 21 Anime TV Origins – The Rogue Doctor
Although the main character's name is similar to a popular casino game, this series has little in common with the best blackjack casinos. It originated as a weekly manga in Weekly Shonen Champion, which ran from November 1973 to September 1978, written by the legendary Father of Manga, Osamu Tezuka.
It was an episodic series detailing the adventures of Dr Kuroo Hazama, a.k.a Black Jack or Kuro'o in Japanese. The doctor would get involved in various situations, typically saving patients from fatal diseases, becoming the last hope for many on the brink of death. However, he operates without a licence and charges a fortune, making him an outcast from society and is frequently shunned despite his skills.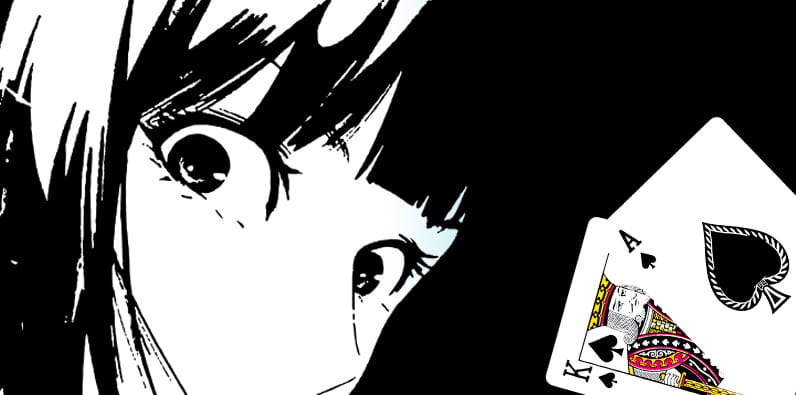 While it was initially supposed to be Tezuka's final work, the manga became incredibly popular due to its dark themes and riveting story. Although Tezuka based this work on his own experiences as a physician, with outstanding anatomically correct drawings and real diseases, he would still add sci-fi elements for bigger thrills. These elements included Black Jack operating blind or transplanting an entire nervous system.
It would take years before the manga was adapted into several animated specials and movies, including the Black Jack 21 anime tv series that adapts the manga for a 21st-century audience. It ran from the 10th of April to the 4th of September 2006. Despite several deviations, it is one of the best adaptations of the manga, with an incredible overarching plot. It also acts as a sequel to a previous Black Jack anime from 2004.
Black Jack 21 Anime Opening and Plot – A Legend Reborn
Twenty-one years ago, a young boy and his mother were caught in an explosion, and while the mother dies, the boy is saved thanks to a miraculous operation by Dr Honma. The boy's hair became partially white due to shock, and part of his face has a different colour due to a skin graft. After becoming a skilled surgeon, the boy becomes disillusioned with the corruption of the medical field.
The boy now goes by the name Dr Black Jack, a mercenary surgeon who treats patients abandoned by everyone else. However, he demands a fortune for his services due to the risk involved and is generally cold towards everyone but his trusty friend, Pinoko, who acts as his constant companion. Now the two face their greatest challenge yet.
In the Black Jack 21 anime, the duo has to find the identity of the assassins aiming to kill Black Jack. During their investigations, they uncover a dark conspiracy that may threaten the fate of the entire world. Will the dark doctor be able to save the world in time, or will his luck finally run out?
As long as humans work on other humans, we have to play the odds! Black Jack, addressing a group of doctors.
Despite not being related to the game itself, the Black Jack 21 anime TV has a prevalent theme of gambling. Black Jack undertakes risky operations that could kill a patient if unsuccessful, and he makes it clear that people gamble with their lives when they ask him for help. He frequently shows compassion and concern for his patients, despite his cold behaviour, as he treasures all life, regardless of whether they are terrorists or innocent people.
Right from the incredible Black Jack 21 anime opening, you are immersed into a dark and mysterious world with themes such as terrorism and corruption. While it does have lighter moments, the anime never pulls its punches, delivering a truly unique story and asking one simple question: are you prepared to bet your life on one man?
Differences Between the Manga and Anime Adaptation
Overall, this is a faithful adaptation of the manga. The Black Jack anime adapts a chapter or two each episode, keeping the stories relatively the same. However, it does add an original overarching plot involving Black Jack's father; a mysterious organisation bent on killing the doctor and an artificially created virus. The anime also lightens' some of the stories to make them appropriate for TV audiences.
Perhaps the most significant change came in the setting. Instead of the 1970s when the manga initially took place, the show now takes place in the early 2000s, with much more advanced technology. The 21 in the anime's name is a significant number, as it signifies the appeal to the modern 21st-century audience. This number also serves as a reference to the years since Black Jack's tragic incident.
The final change is a few new characters added in as comic relief and adventure with Pinoko when the doctor is absent. These additions do not detract from the story and only serve to make the tragic moments more poignant. Enjoy a fantastic series that can be watched for free by anyone at the Black Jack 21 anime Youtube channel.
Black Jack 21 Cast – The Voice Behind the Doctor
A fantastic story deserves an equally excellent cast of voice actors to capture the raw emotion invoked by its themes. According to the Black Jack 21 Anime News Network page, the cast is filled with famous voice actors delivering iconic performances for all the characters. Whether it's reacting to a tragic death or enjoying dinner with friends, the characters feel natural and immerse you into the outstandingly unique world.
Akio Ohtsuka and Yuko Mizutani reprise their roles as Black Jack and Pinoko, respectively. They have voiced these characters since their first appearance in an animated special and have since appeared in all subsequent series and movies. Ohtsuka's deep and stern voice contrasts excellently with Mizutani's child-like lisp, creating an odd yet fitting combination. Below you can find more info on some of the other actors in this show.
| 🎭 Character | 🎤 Voice Actor |
| --- | --- |
| Black Jack | Akio Ohtsuka |
| Pinoko | Yuko Mizutani |
| Benitokage | Yumi Touma |
| Kagemitsu Hazama | Shinji Ogawa |
| Doctor White | Junpei Morita |
| Zen Mantoku | Seiji Matsuyama |
The main characters shine thanks to a terrific supporting cast and their excellent performances. Touma's Benitokage is a cold assassin with a strange connection to Black Jack and eventually begins to respect the doctor. Meanwhile, Doctor White serves as the rival and legal counterpart to Black Jack.
Finally, Matsuyama plays an excellent villain as Zen Mantoku and his quest for eternal life. These fantastic characters, combined with a captivating plot, is why the Black Jack 21 anime is considered a must-see classic and has garnered such widespread popularity across generations.
Black Jack 21's Popularity and Reception
Directed by Makoto Tezuka, Osamu Tezuka's son, and Satoshi Kuwabara, the Black Jack 21 anime tv series has become incredibly popular among modern anime fans. Its themes are truly timeless, captivating people of all ages with the excellent portrayal of serious issues and morally grey characters. Black Jack himself is famous for his kind nature and defying odds to save people while enduring personal problems.
Interesting fact:
The name Black Jack is the character's own translation of his name. Kuroo is written with the Japanese characters for "black" and "man". Jack is a typical name for a man and is also a reference to the card. The anime's opening also features the four card suits.
According to the Black Jack 21 Anime News Network page, the series has received a median score of Very Good and is praised by fans and critics as a classic. Even with the modernisation of some elements and some creative liberty, the heavy themes and Black Jack's somewhat ambiguous morality (he seldom works for free and usually demands a fortune from everyone) make for a truly unique tale.
From the exciting Black Jack 21 anime opening performed by Hitomi Shimatani to the thrilling preview of the next episode, the series encapsulates the bleak but hopeful tone of its themes, with each episode keeping you in suspense as the doctor bets everything to save a life. Although it does not feature any casinos, this show is a proper match for the best gambling anime.
The Impact of Black Jack 21 – A Timeless Story
As a whole, the Black Jack series is a classic tale whose messages and characters persist throughout the years. Its characters would become so iconic that other creators would use them as a base for their own characters or reference them in their own stories. Black Jack would also receive numerous live-action movies and even establish its own genre, the medical thriller.
A new manga titled 'Young Black Jack' appeared in 2011, with an anime adaptation in 2015. This manga was a prequel story by Yuki Tabata, detailing the doctor's life in the 1960s as a medical student. The doctor has also appeared in various commercials and games and solidified his status as a cultural icon in Japan. It also motivated many Filipino gamblers to try their luck at the best blackjack casino in the Philippines.
You can enjoy the doctor's adventures on the Black Jack 21 anime youtube channel. We hope you have fun with this fantastic series that has amazed people for generations. Some have even been inspired to learn how to play blackjack due to the doctor's popularity. It's a truly unique story that anyone can enjoy.
Black Jack 21 Anime FAQ
In this short section, we will answer any pressing questions you may have about the Black Jack 21 anime. Find out more information about the anime's production, cast and story, so you can have fun without any worries. Enjoy this fantastic series, and its colourful characters to the fullest.