Is Online Sports Betting Legal in the UK?
Each jurisdiction has an official stand on the sports betting. Countries like the United States are just now waking up to the fact that betting is an indispensable source of revenue for both state and government. Conversely, in the UK, all gambling has been legal since 1960. Legal age for sports betting, at present, is 18 years. For scratch cards, lotteries and football pools it's set at 16+. The Gambling Act 2005 defines the rules as far as licensing and advertising of the land-based venues is concerned. On the other hand, Act 2014 deals with everything related to online gaming.
Gambling in the United Kingdom is regulated by the UK Gambling Commission, which is also the establishment that issues licences for remote and land-based betting/gambling. There's no denying the best sports betting sites that accept UK players make a point of following the latest norms and regulations of the Gambling Commission closely. This essentially means that UK punters are sure to enjoy a safe and streamlined betting experience.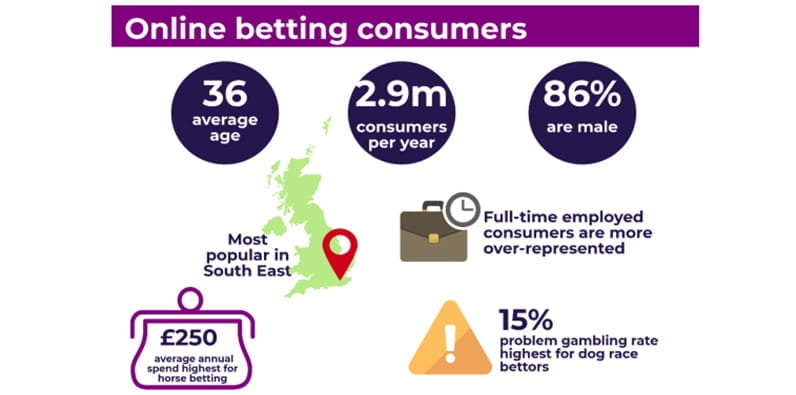 Source: UK Sports Betting in 2017 by the Numbers
What's the UK Gambling Commission?
The Gambling Commission is an executive body that oversees the adherence to not only online sports betting laws, but all legislation on gambling. The Commission between eSports betting sites in the UK and regular online bookmakers. They both fall under the category 'remote sports betting'. Its precise aim is to counteract unlawful practices in the industry, with betting being one of its main focuses. While that is true, the commission has an even more noble, or even, sensible, mission, which is to keep underage enthusiasts out of the sector. What's more, it cooperates with law enforcement and has the power to impose fines.
Facts About the UKGC
| | |
| --- | --- |
| Established | 1 September 2007 |
| Address | Victoria Square House, Victoria Square, Birmingham, B2 4BP |
| Phone | 0121 230 6666 |
| Work Hours | Mo,We,Fr Between 10 am and 4 pm |
| Parent Department | Department for Culture, Media and Sport |
The commission came to power in 2007, when it superseded the Gaming Board for Great Britain. All that sounds great, but you ought to know what the UKGC can't help you with just in case such an occasion occurs. Please refer to the FAQ section for further information on this and other questions about the subject matter.
Compliance Rules for Licensed Operators
Now that you know more about the main regulatory establishment – the UK Gambling Commission – you can easily deduce that control is exercised over sports betting in the Kingdom. It's fair to say that gambling is legal in the UK. That, however, doesn't take away from the fact that sports betting operators must have various systems and effective procedures in place to become licensees. That being said, it's a good idea that you read through a brief resume of what and how exactly is being regulated. In the upcoming paragraphs, we'll try to do exactly that. Here's what players can benefit from as customers of the safest UK bookmakers.
24/7 Customer Support
It's not enough to say that the high-profile bookies have better odds or markets. They genuinely care for their customers' wellbeing and are trying to establish a mutually beneficial relationship with them. In that train of thought, maybe the most pivotal compliance requirement for a legal operator is to have a well-oiled support team. Also, there has to be a sound customer support system that can be relied on. Typically, users can get in touch with the team designated to helping them on all possible channels – phone, live chat, email. When betting at a licensed bookie, you can request assistance at all times.
Dispute Resolution Service
Another obligation of licensed sportsbooks is to meet specific standards when handling official complaints. This includes offering alternative dispute resolution (ADR) free of charge. In other words, an ADR approved by the UK Gambling Commission must be chosen to serve as an adjudicator in the case of a dispute (a prime example of such an establishment is eCOGRA). Furthermore, betting firms are obliged to retain the information and records that could be requested from the ADR body.
Age and Identity Verification
Looking for a good long-term solution to the recurring problem of underage gambling, the UK Gambling Commission (UKGC for short) has introduced licensed operators to the age and ID verification measure. This is a legal obligation to all operators who endeavour to align themselves with the requirements of the commission. The mechanisms allowing for the adequate performance of such checks are perceived as one of the crucial tools for early prevention of illegal gambling in the UK. For that reason, they are often scrutinised with utmost stringency.
BeGambleAware – Strategy to Reduce Gambling Harms
GambleAware is the biggest charitable organisation in the UK that helps reduce the risk factors undergirding problem gambling. Such institutions are more than necessary. The government is certainly taking a lot of heat for its inability to impose a mandatory levy that should sponsor charity organisations like GambleAware. That only comes to show how seriously people take the problem of irresponsible gambling.
| Behaviour, Awareness and Attitudes Research (UKGC) | Proportion in Percentages |
| --- | --- |
| Proportion of Gamblers Aware of Self-Exclusion | 51% |
| Proportion of People Who Agree Gambling is Fair | 33% |
| Proportion of Gamblers Who Have Self-Excluded | 8% |
| Gamblers Who Have Ever Tried to Make an Official Complaint | 8% |
| Proportion of Gamblers Who Have Ever Read the T&C's | 18% |
| Online Gamblers Prompted to Spend Money on Gambling by Ads | 47% |
GambleAware succeeds in raising over £8m each year in donations. It's good to know that operators understand when to step in and make a positive change. It's also very relieving to know they do this of their own accord. But let's not, in any sense, depreciate the efforts of this establishment. Its programme of treatment follows the guidelines of the National Responsible Gambling Strategy closely, and that includes education, research and prevention. That's undoubtedly a lot of work done.
Is It Safe to Bet on Sports?
Punters can keep enjoying their favourite betting markets safe in the knowledge that regulators and betting companies are participating proactively in creating secure and fair online gambling platforms. Instead of a shrug of resignation, the Commission meets the challenge called ' compulsive gambling ' with a series of reforms aimed at the heart of the problem. We expect nothing less, though. Moreover, this trend is more than likely to continue. We do believe this is not a bold prediction; sports betting in the UK is only going to get better and safer in time.
FAQ – Did We Miss Something?
Knowing that sports betting legislative reforms isn't something to be taken lightly, we've dedicated a whole FAQ section to the related questions we haven't, for one reason or another, addressed in the article thus far. If you still haven't found the answers you're looking for, then hopefully, the information contained in the following lines will give you a steer. Do you love reading? Why don't you give the UK Gambling Commission's official site a look, see what the regulator has to say about the betting laws in the country?