#10 Juan's Flaming Fajitas & Cantina
At number 10, we have placed a Mexican restaurant, situated in the heart of the Spanish Hills district in Sin City. You can eat delicious spicy food there and get a taste of another culture and their delicacies. The food and service are incredibly highly rated by customers and it is one of the most favourite budget-friendly restaurants of tourists. The address of this restaurant is 9640 W Tropicana Ave Ste 101, Las Vegas, NV 89147-2604. Its opening hours are – Monday – Thursday: 11:00 AM – 9:00 PM and Friday – Saturday: 11:00 AM – 10:00 PM. The restaurant features takeout, outdoor seating, parking, television, wheelchair access and free Wifi. It is good for special occasions, kids, local cuisine, large groups, bar scene and families with children.
#9 Arawan Thai Bistro and Dessert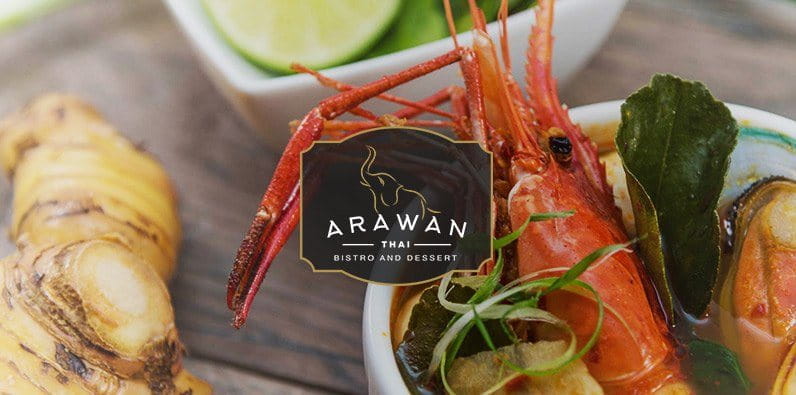 This is a highly rated restaurant among the moderately priced list. It offers splendid thai cuisine and high-quality service. Its exact location is 953 E Sahara Ave, Suite E-14, Las Vegas, NV 89104-3005. It is appropriate for lunch and dinner and works from 11 AM to 10 PM. Some of its features include delivery options, takeout, reservations, private dining, seating, waitstaff, parking, highchairs, wheelchair access, free Wifi and others. This restaurant is good for large groups, romantic dates, kids, families with children, special occasions, business meetings.
#8 bBd's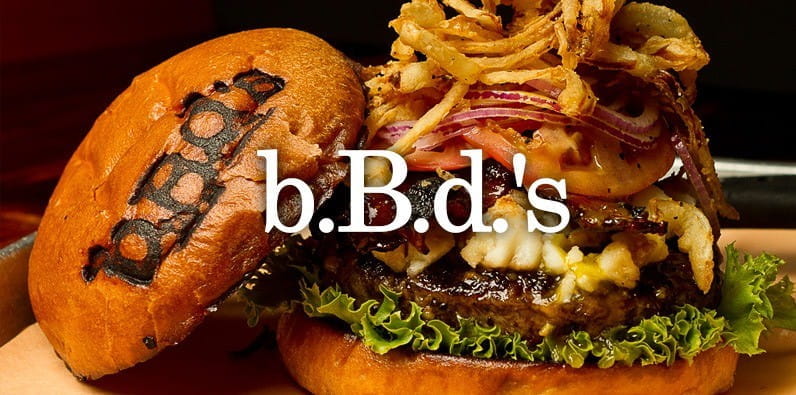 The name of this restaurant stands for "beers, burgers, and desserts" and it's easily the best thing about the still-in-progress renovations at Palace Station. It is a Beef Burgers Butchered in-house with awesome wings and draft beer. The lineup of 26 rotating drafts is chosen with more care than most beer halls in town with special attention paid to sours and limited releases, although Miller High Life is also playfully on tap if you want to slum it. As for the burgers, only prime beef is used — from steer shared with Peter Luger in New York. It is all processed on site in a butcher shop, which is visible from the dinning room. But the best part is, of course, the almighty, juicy burgers. The restaurant is suitable for large groups, families, friends' gatherings and special occasions.
#7 Lakeside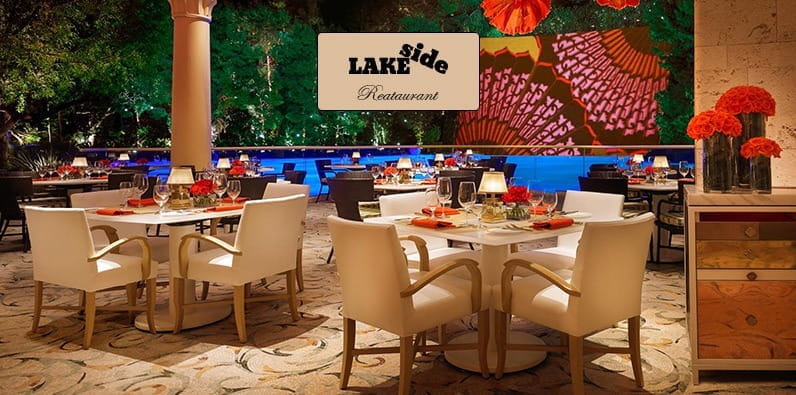 This is a scenic waterside dining restaurant with fresh fish and jazz brunch each Sunday. There are several reasons why this particular restaurant caught our attention. The main draw is the outdoor patio overlooking the scenic Lake of Dreams, an open-air body of water that includes periodic music and light shows throughout the evening. But the real reason to come is the attention-to-detail and execution by Executive Chef David Walzog, which includes one of the best seafood programs on the Strip, including fish direct from Hawaii. It is a little bit pricier than our previous options, but it is definitely worth the price. This restaurant is highly suitable for couple dates, family gatherings and tourists.
#6 Bacchanal Buffet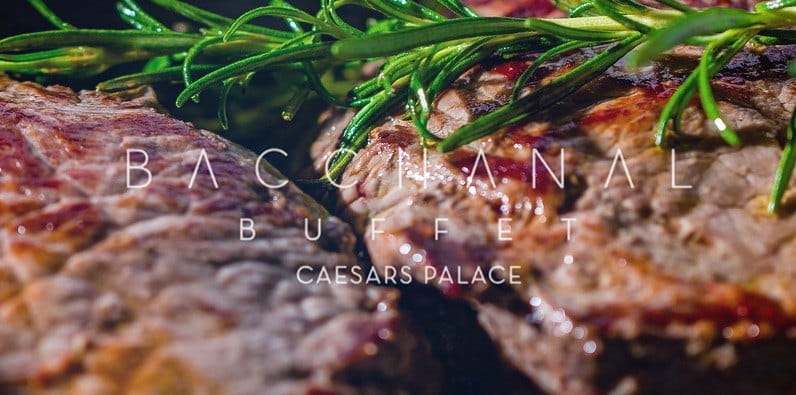 This is a fancy buffet in the heart of Las Vegas, which is a good option for tourists. This Vegas buffet is tastier, fresher and more interesting than most. Bacchanal is just what its name implies: an overwhelmingly decadent assortment of more than 500 different items daily, many individually plated and some made to order. Whether you're craving Japanese curry, lump crab avocado toast or fried chicken and waffles, you'll leave satisfied and—unless you have truly epic willpower—very, very full. It is a fantastic place to eat, suitable for all types of visitors. So, pay it a visit!
#5 Restaurant Guy Savoy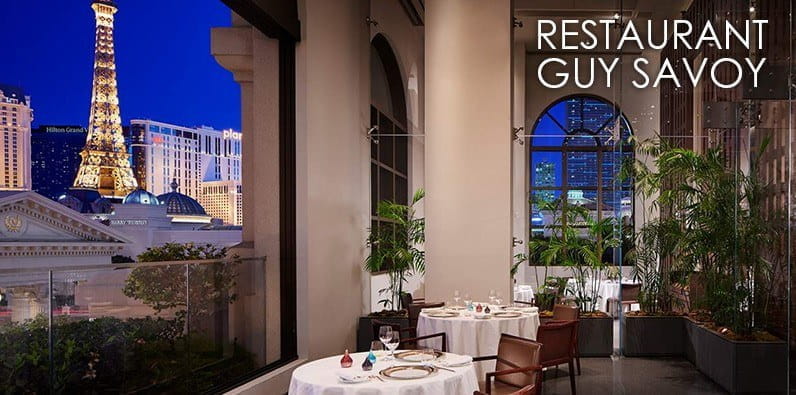 Guy Savoy is an incredible fancy restaurant situated in Caesars Palace at the Strip. Offering best in class service and an upscale French gastronomy experience within its chic, minimally designed interiors, Restaurant Guy Savoy, exceeds even the highest expectations. Part of the charm is Chef Guy Savoy's attention to detail and dedication to create a memorable evening for his guests. For example, flowers are not part of the restaurant décor and employees aren't allowed to wear perfume, so that nothing interferes with the aroma of his rich cuisine. It is a clone of the 3 Michelin star rated original restaurant in Paris. It also offers a spectacular view of the Eifel Tower.
#4 Bardot Brasserie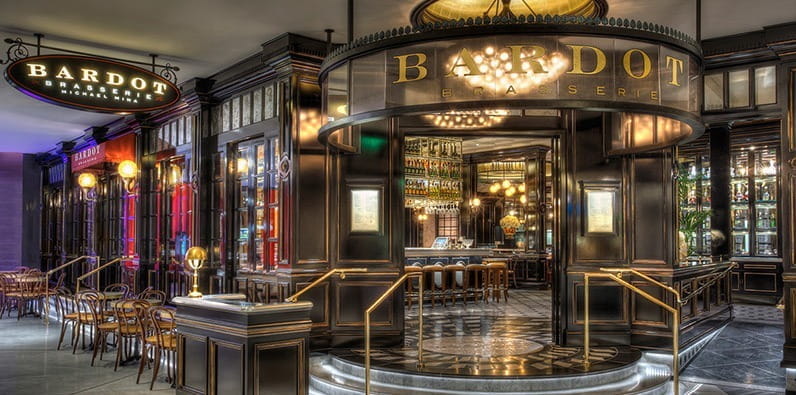 Another restaurant we would highly recommend to our readers is Bardot Brasserie, which offers an immaculate French cuisine. Anything that you could possibly fantasize about is probably somewhere in this brasserie. Thanks to culinary wizard and celebrity chef, Michael Mina, you can expect contemporary takes on classic dishes, as well as ample vino and (of course) a cart of bubbly champagne. On weekend mornings, Bardot packs 'em in with its popular brunch, where you can order a variety of croissant Benedicts, brioche French toast with vanilla mascarpone and almond brittle, or the Hunter's Waffle with duck confit and poached eggs. It is a little pricy, but definitely worth it!
#3 Sage
What this restaurant offers is a magical food taste created by infusing global flavours to contemporary American cuisine. Walk into this charming restaurant ready to be surprised and impressed with its sustainable menu of farm-to-table, seasonal ingredients. The perfect dinner at the Sage would begin with a cocktail at the long bar, then the foie gras custard brûlée for appetizer, followed by the slow-poached organic farm egg. If you are visiting this place on a romantic occasion, ask for the spot at the alcove tables for two. This restaurant is especially suitable for dates, business meetings and tourists.
#2 Andiamo Italian Steakhouse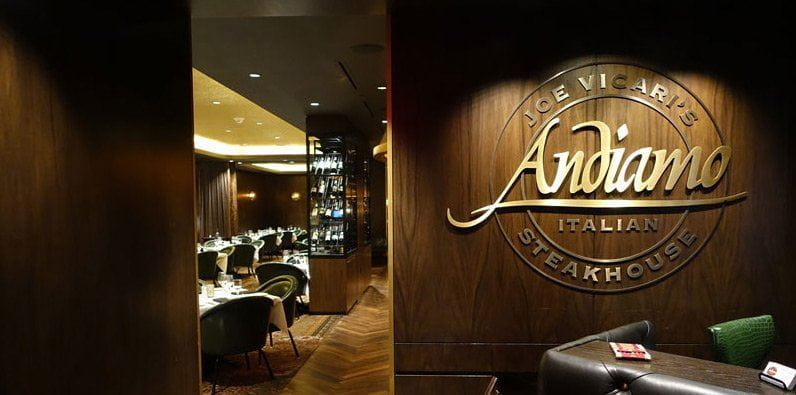 This fine Italian restaurant is one of the total musts, when talking about visiting restaurants in Sin City. It is incredibly highly rated in terms of food, service and atmosphere among its clients. The exact location is 301 Fremont St, The D Las Vegas, Las Vegas, NV 89101-5600. The food options at this place are steakhouse, seafood, Italian, American, vegetarian and there are gluten free options as well. This restaurant features parking, reservations, private dining, highchairs, wheelchair access and a full bar. Furthermore, it accepts American Express, Mastercard, Visa and Discover. It is especially suitable for business meetings, romantic dates, large groups and special occasions. The opening time of the restaurant is daily from 5:00 PM – 11:00 PM. It is, therefore, only suitable for dinner means, and not lunch or breakfast.
#1 Sinatra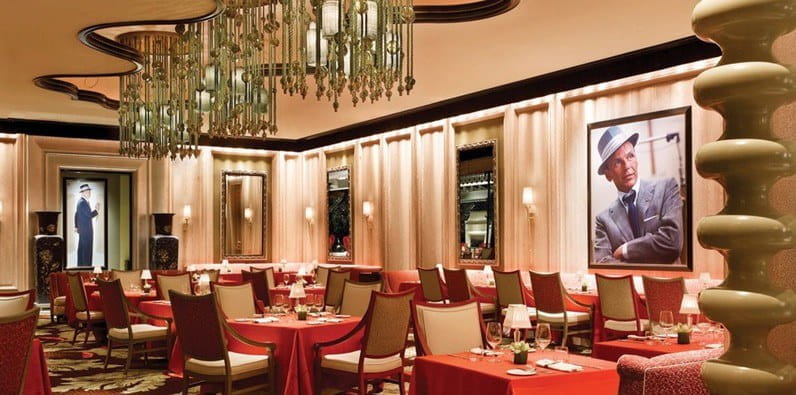 And the winner is… Sinatra Restaurant, situated in the very heart of Sin City. This is a spectacular place with amazing design, delicious food and an overall fabulous atmosphere. Its address in 3131 Las Vegas Blvd S, Encore Las Vegas. The cuisine is a mixture of American and Italian. There are also vegetarian, vegan and gluten free options. The whole decor is incredibly fancy and creates a jazz atmosphere with the many Frank Sinatra pictures. Some of the restaurants' features are reservations, outdoor seating, private dining, free parking, wheelchair access and others. Its working time is 5pm-10pm and is therefore suitable only for dinner dates. Sinatra is especially appropriate for large groups, special occasions, business meetings and romantic dates. At Sinatra, Steve Wynn has created a tribute to the man who was equal parts colleague, legend and friend. Chef Theo Schoenegger, formerly of Patina in Los Angeles, crafts a culinary homage to Ol" Blue Eyes that showcases the signature flavors of Italy. So, we highly recommend you try it out.