Top 5 Blackjack Players List Explained
Blackjack comes in all shapes and sizes, and so do those who love the game. People of all walks of life try their luck on the blackjack tables looking to make a quick profit. We, however, will take on the task to distinguish just five individuals that have either fundamentally changed their lives by playing blackjack or have created a deep impact on the gambling industry doing so. Unfortunately, we can't rely on official competitive tournament results to give us an exact account of players' ranking because the major blackjack events are few and far between. Don't worry though, historical moments in the gambling world are handed down from mouth to ear anyway. We'll be looking for tangible evidence of a player's contribution to the evolution and popularization of the game – something like the Blackjack Hall of Fame for example. Since we mentioned evidence, a number of the names that you will read below are actually authors of nothing less than the best blackjack books in the world. Trust us, if you are looking for professional tips, these books are the exact thing that you need! If, on the other hand, you would like to see where you can play, take a look at the best sites for playing blackjack online in 2022. And since you have a long way to go before becoming such a perfect blackjack player, you might want to start your 'career' in one of the best £10 deposit casino sites that we reviewed.
1. James Grosjean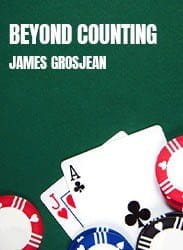 James Grosjean is widely considered to be the best blackjack professional. He got introduced to the game at a young age while studying at the University of Chicago. One of the brightest minds, the blackjack world has ever known, James Grosjean has two best-sellers – Beyond Counting and Exhibit CAA: Beyond Counting. Both books provide a mathematical explanation of advantage play in gambling, and still serve as a stepping stone for many players. Not only had Grosjean overcome the house edge, but he's also known in the gambling circles for triumphing in court over the Imperial Palace and winning jury verdicts against Caesars Palace. Highly-esteemed and accomplished, James Grosjean was the youngest-ever player to be featured on the Blackjack Hall of Fame. After everything he had been through, he has devised a huge number of strategies for an advantageous play which keep on helping thousands of players.
2. David Irvine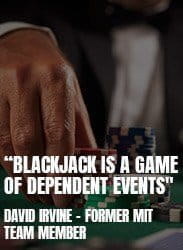 David Irvine is a professional blackjack player who was a part of the legendary team of MIT students described in Ben Mezrich's book Bringing Down the House. Using a method of card counting and a number of strategies, David Irvine and the rest of the team made hefty amounts of money with the help of blackjack. Professionals estimate that their profits are counted in millions of dollars. David himself was introduced in the team by an already existing player named Mike Aponte. The two of them, together with the rest of the members of the MIT team, made trips to Vegas in the weekends and played on the blackjack tables in casinos there, Irvine was living his life and was spending huge loads of money around clubs and hotels back in the time. In 2004 he decided to calm down and 'start a new life'. He created, together with Aponte, the Blackjack Institute, which teaches pro strategies to players.
3. Don Johnson
Not that many blackjack sessions compare to the winning streak of big-time gambler Don Johnson, who has beaten Atlantic City casinos for over $15 million in cash. After the financial crisis had become a full-blown threat in 2008, casinos had little choice but to target exclusively the high-stakes blackjack players like Johnson himself. He was made an official offer that's hard to turn down, and after careful deliberation and several contingencies, Don Johnson accepted to play high-stakes blackjack at Atlantic City casinos. We won't go into the specifics of the deal, but it's worth pointing out that he negotiated the best possible conditions for himself, paying meticulous attention to detail, in order to play from what he considered a position of advantage. Not much of a surprise for us though, we didn't expect anything less from a top blackjack player. During his stay at the Tropicana, Johnson played a hand that will go down in history as one of the biggest blackjack wins. The hand in question included two splits and a double at the end, allowing the initial wager to bulge from $100 000 to $800 000.
4. Bill Benter
If you're wondering whether there are professional blackjack players who care for the welfare of others, the answer is 'yes'. Bill Benter is a professional gambler with a soft spot for philanthropic ideals. It's fair to say that he has his portrait on the Blackjack Hall of Fame for a good reason. Benter is a big believer in charity and contributes to good-cause organizations, as well as political campaigns. As far as his blackjack career goes, it was short but profitable. Bill Benter was caught counting cards on a regular game at the Maxim one day and his name was blacklisted in almost every Vegas casino. Looking for a new source of income, he started exploring horse racing betting. He's a true pioneer in odds scraping software development, having written analyzing software on one of the first computers for personal use. Bill Benter has put what he'd learned as a top blackjack player down to experience and remembered to keep a low-profile during his horse racing betting endeavours.
5. Don Schlesinger
Mentioned in many books and the author of a few publications of his own, top professional blackjack player Don Schlesinger has set forth many advanced theories of how the game should be played. Don Schlesinger contributed massively to the game with his expertise, which includes optimal betting, risk analysis, card counting systems evaluation and more. Some of his most impactful works include the creation of the Illustrious 18, Desirability Index, SCORE (Standard Comparison of Risk Expectation), and research on the optimal blackjack composition-dependent basic strategy. Professional blackjack players of all calibre live by the rules set down in the Illustrious 18, so that makes it a pretty big deal. In a few words, that's set of rules determining blackjack players' behaviour so as to negate the effect of a decrease in expected return over time. Don Known for his masterful disguise techniques, Schlesinger also had something to say about staying under the radar of casino pit bosses and blackjack team play.
The Top Blackjack Players – Final Thoughts
We can go on and on speaking about blackjack stars and their achievements, but sadly, our article ends here. Since there are many names that didn't make it to our top five, we'll close out with a few honourable mentions worthy of recognition. One such player is Ken Uston, who was a big-time gambler from the not-too-distant past, famed for the team card counting techniques he'd devised. He was one of the first players to popularize team play in blackjack. American Edward O. Torp gets a lot of credit for his theory about the harnessing of small correlations for financial gain. What's more, he's the founding father of probability theory as we know it today. His passion for blackjack and academic background have produced the perfect excuse for writing the 1960s classic Beat the Dealer. What better way to finish this article than to give you tips on what you can play? We created a gambling card games list which might help you to choose the best option for you!