If you are looking for a casino near the airport during your business trip, vacation or just while visiting friends, make sure to have this useful Gambler's Guide. It will take you to four amazing gambling destinations, each with its own unique amenities and world-renowned gaming machines. The guide also features a detailed explanation of the 3 simple criteria which we used to assess the top casino airport locations. As you might guess – we are talking either about the most famous or busiest airports in the United Kingdom. Take a look down below!
What Factors We Considered to Combine our List?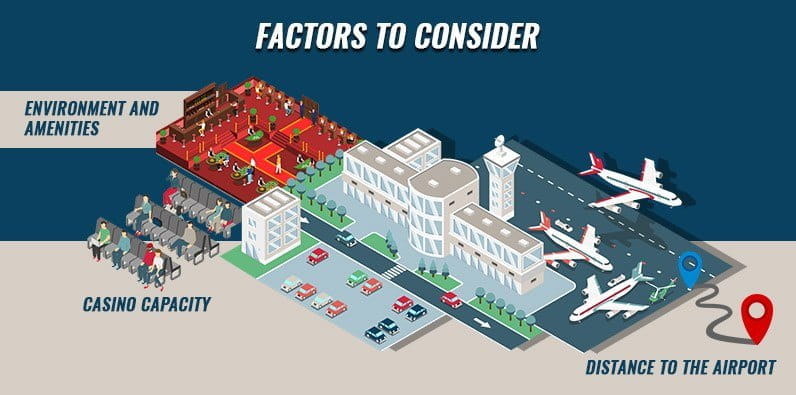 Without a doubt, there are three many factors that transform each of the casinos, mentioned below, into a pretty irresistible place to visit if you are a serious gambler. The combination of a close distance to the gates and a close distance to the Downtown offers the best settings to not just play your favourite slots, roulettes, blackjack, etc., but also to stay for a while. The best airport casino sites in this guide are also assessed on a couple of additional criteria: the size or capacity of the casino and what it has to offer to its clients in terms of environment, amenities and accommodations. Right next is a more comprehensive explanation of these three factors for assessment. This will help you find the casino airport location of your dreams.
Casino Capacity
Just about everything concerning the size of the airport casino can take place here. From the number of floors that it covers to how many slot machines are featured indoors – all these factors play a major role in the attractiveness of the casino. However, the sheer size is neither a guarantee for the great number of people it can accommodate nor for the variety of casino games. The United Kingdom is one of the greatest countries in the world where you can come across giant casino resorts with hundreds of slot machines and dozens of small retailer casinos and bookmaker points, at the same time. Also, it is not necessary to be located in the biggest airport in order to be the best casino, but most often that's the case. Respectively, the higher the casino capacity the higher the score it gets, while for easier orientation we used a range from 1 to 10.
Environment and Amenities
Also on the scale from 1 to 10, you should consider the quality and the type of amenities offered in your favourite airport casino. It may cover only a small part of a huge resort complex or the resort itself might be named after the casino. Usually, the bigger casino airport complexes offer a wealth of other amusements and amenities such as child-friendly playgrounds, bar and grill, smoke-free bars, restaurants and other eateries. That's always awesome! You definitely want to have a shopping centre at your disposal too, so an airport casino with so many amenities would definitely receive a higher score.
Distance to the Airport
The third basic factor that we took into account is the distance to the runway or the gates. If you have a casino near the airport would be more beneficial than getting the shuttle bus and travel to the Downtown, for example. On the other hand, the numerous attractions, landmarks and the amenities of the city Downtown are no less appealing as well. We used a scale from 1 to 10 to assess these casino airport locations, where again – the greater the score, the better. With that in mind, just a close trip to the airport would be more advantageous than using the shuttle and travelling for about half an hour or even more from your city centre hotel.
Your Guide to the Best UK Airport Casinos
So, here is the list of the best airport casinos in the UK. Each of these four amazing suggestions starts with an overview of its overall score based on the criteria mentioned above, as well as features a short description with interesting facts, numbers and information. From one of the many options to find a small casino near Heathrow Airport in London to the giant gambling complex near the Birmingham airport – the options are many. Let's get started from the later because it definitely deserves its 'place number 1'.
1. Genting International Casino – Birmingham Airport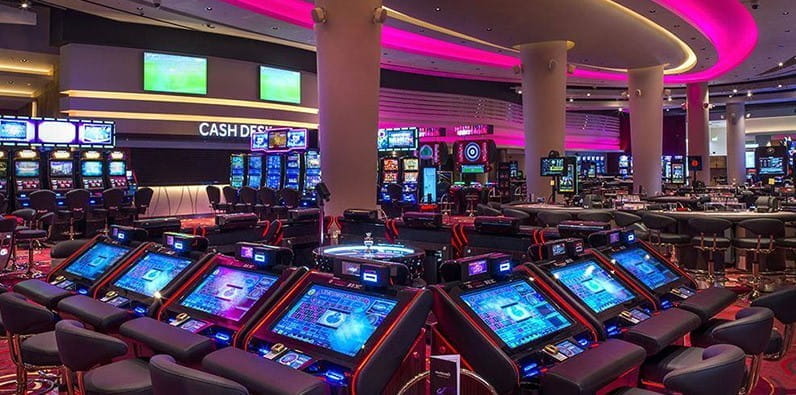 [Casino capacity: 9/10; Environment and amenities: 10/10; Distance to the Airport: 10/10]
At just a short walking distance from Birmingham Airport, you can come across the famous Resorts World Birmingham. It is a huge entertainment venue spanning over 50,000 sq. meters and its seven floors transform it into quite a landmark on the skyline. Resorts World Birmingham is developed by Genting and besides the numerous attractions like a shopping mall with 50 stores, 18 bars, as well as a 4-star hotel, a cinema with 11 screens and a conference hall, this complex is most famous for the Genting International Casino. It is known to be the largest land-based casino in the UK. The Chinese theme plays a major role in the environment and the atmosphere of the casino while the gaming area of the casino itself spans over 5,500 sq. meters on the first floor.
It is open non-stop for gamblers from the UK and beyond while the abundance of slot machines and other games definitely transform it into the best airport casino. Genting International Casino Birmingham is perhaps the best place to spend your time in glamour and exquisiteness while waiting for your flight. Even a couple of days will not be enough to discover all its slot machines which number is over 100. Fortunately, you could book a room in the hotel and stay as much as you wish, which will allow you to enjoy all the other amenities and attractions in the area. Examples include the adjacent Pendigo Lake, live music bars and dozens of eateries in the vicinity, leisure clubs, rental car parks, and the list goes on.
Genting International Casino Birmingham also offers a wide variety of roulette, blackjack, poker and baccarat tables. A perfect match! Your unforgettable gambling experience is guaranteed while if you want to pamper yourself with some exclusive treatments – keep in mind that the casino also has special VIP rooms with tables with higher bets. The distance from the casino to the airport is around 1.5 km by foot which is no more than 20-30 minutes. If you wish to take a taxi, you will need less than 10 minutes to get to the airport so, this factor is another major advantage for the overall score of the casino.
2. Aspers Stratford Casino – London City Airport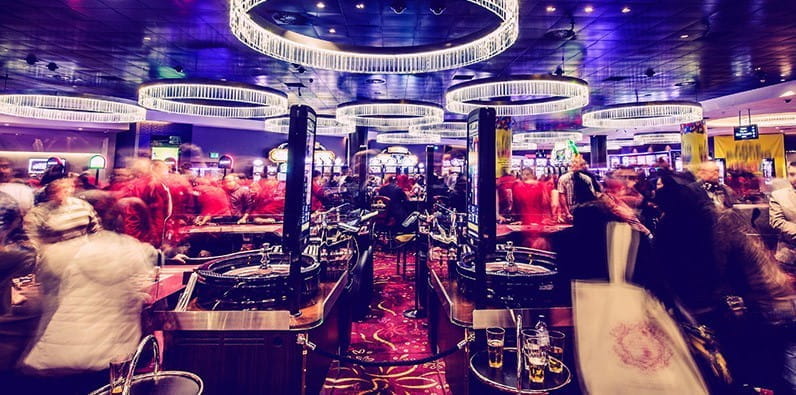 [Casino capacity: 10/10; Environment and amenities: 10/10; Distance to the Airport: 6/10]
In the heart of Stratford, you will find another fabulous place to play your favourite slots, roulettes and games with cards very shortly after leaving the airport. It comes to Aspers Stratford which is also known as Eastern London's biggest casino! It is situated about 5 kilometres northwest of London City Airport and you can imagine how close it is when you have all the London transport methods available. Aspers Casino is perhaps the best place to enjoy many airport slots and other games while you are still captivated by your flight. Meanwhile, this casino is part of a gigantic 22,000 sq. meters entertainment complex (Westfield Stratford City) along with shopping malls, luxury shops, department stores and restaurants, and many other fabulous venues not to be missed. Now, on to the casino itself!
It has the largest capacity among the casinos in the eastern metropolitan area of London and it is open 24/7. Undoubtedly, you will need much more than just one gaming session to enjoy all the games, slot machines and other attractions in Aspers Casino. It is the largest casino near airport in London actually. The slot machines are over 150 which transform it into the largest of its kind all over the UK! That said, there is no reason to put Aspers on the first place other than the long distance to the airport. This makes it not exactly an airport casino, yet it stays the largest casino near airport in the UK!
Besides the great variety of classic, video and jackpot slots, you will find all other types of casino games in Aspers – live roulette, blackjack and baccarat tables, as well as the biggest hall for playing poker in the UK. There are even sports events streamed live on huge fixtures and TVs to complete this diversified range of gambling pastimes. If we could, we would give Aspers Stratford Casino 11 points out of 10 for capacity because it deserves it!
3. Grosvenor Casino – Luton Airport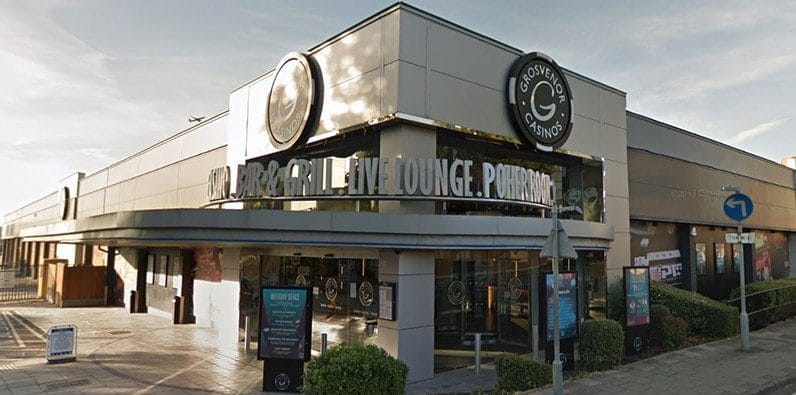 [Casino capacity: 6/10; Environment and amenities: 9/10; Distance to the Airport: 8/10]
The iconic Grosvenor Casino in Luton is the greatest venue of its kind in the city and the best part is that it is located only a couple of kilometres away from the airport. The Luton Downtown is at an even closer distance to the casino, which offers all the comforts and advantages of the big city at only a short walk distance. You could find hotels, restaurants and many shopping centres in the nearby areas, while the casino itself is easily accessible. It is situated at the conjunction of Park Street West and the main route that leads to the city centre. The huge building of the casino can be visited 24/7 while the gaming opportunities range from a poker hall to a lounge with live games and over 60 slot machines. A free baccarat competition takes place occasionally while if you want something to eat and to escape from the dazzle and hustle of the casino games – there is Bar & Grill as well. After that, often the roulette tables become the best choice to spend a wonderful night with friends and plenty of entertaining experiences.
The blackjack, baccarat, Punto Banco and the poker tables with a capacity of nearly 250 people, offer the ultimate conditions that any fan of cards games could think of. Actually, the poker tables are among the greatest attractions in the casino because they have quite great limits. About a dozen poker tables offer daily tournaments. Other tables allow stakes from £100 to £1000, which makes them really appealing for the riskier players. If you are one of them, you may also want to try some of the jackpot slot machines which feature prizes of up to £20,000. That's quite legit, and you only need to get lucky. In terms of environment and amenities, well, you have at your disposal the popular Grosvenor restaurants that don't need a presentation. From bars with a huge selection of drinks to smoking facilities where you can relax and unwind for a while – there is all you need at Grosvenor Casino Luton for the start of your wonderful trip. The distance to Luton Airport is about half an hour walk or less than 10 minutes by a car.
4. Bookmakers and Casinos near Heathrow Airport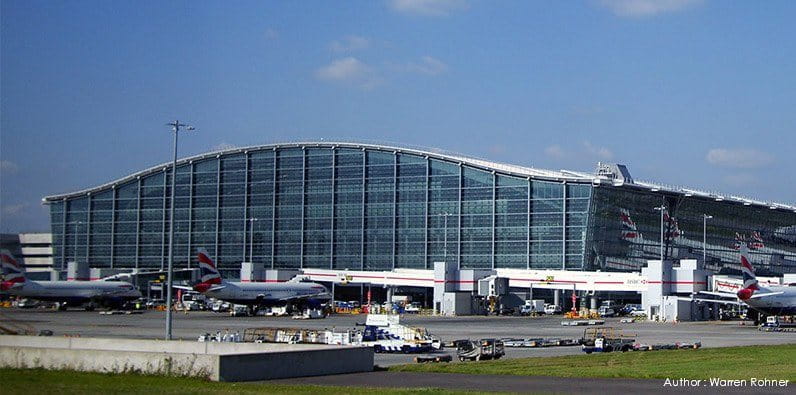 [Casino capacity: 5/10; Environment and amenities: 7/10; Distance to the Airport: 6/10]
Heathrow is one of the largest airports in the world and this alone is enough to put it in any chart of the best airport casinos. By contrast to the two amazing gambling sights mentioned above, you don't have a huge casino resort or another giant complex adjacent to Heathrow airport. However, there are plenty of possibilities to get your daily dose of gambling before or after your flight. Heathrow is bounded by inns, hotels and residential areas where you can find a perfect place to stay. Respectively, at only a couple of kilometres distance from the easternmost side of the airport, in Hounslow (TW4 7HW), you can come across a Paddy Power and a Ladbrokes bookmaker shop.
A few kilometres north of Heathrow Airport, in Hayes (UB3 4BE), is located another Paddy Power shop along with William Hill and Admiral Casino almost side by side. You will certainly find a lot of entertaining experience over there and if you travel by car – the drive should last just about a dozen minutes. These gambling sites are located along the main route in Hayes Town so you will have all the eateries, stores, accommodations and the other amenities of the city at a short walking distance as well.
However, the greatest casino airport locale is in the Town of Staines – some 5 kilometres southwest of Heathrow. This city has a hustling and bustling Downtown area where you can take advantage of all the comforts and amenities of the big city, and yet find plenty of appealing gambling spots such as William Hill and Coral stores and the famous Admiral Casino. It is open only in the daytime and usually from 10 a.m. to 7 p.m. but you only need to check your availability and flight schedule in advance in order to organise your trip to Admiral Staines. This is not exactly an airport casino but it's the largest gambling site close to the airport. It has an amazing collection of slot machines including classic, video and jackpot slots such as 'Spin Doctor', 'Chief', 'Black Knight' and 'Out of this World', each with a jackpot of £500. Other specialities in Admiral Staines range from Nevada Roulette and Multi Bingo to free drinks and loyalty cards.
So, to put it in perspective, there is not a single big casino adjacent to Heathrow Airport but you can find dozens of smaller bookmaker stores and two bigger Admiral casinos, all located within a short drive distance. These sites offer the perfect settings to combine travelling with gambling!
Yet, if you are not keen on leaving the airport but still want to play a bit, you can search for Voyager Entertainment at Terminal 3 & 5 Arrivals. They offer video games and fruit machines and are open 24 hours, so checke them out for a quick spin if you feel lucky.
Next Level Gambling at the UK Airports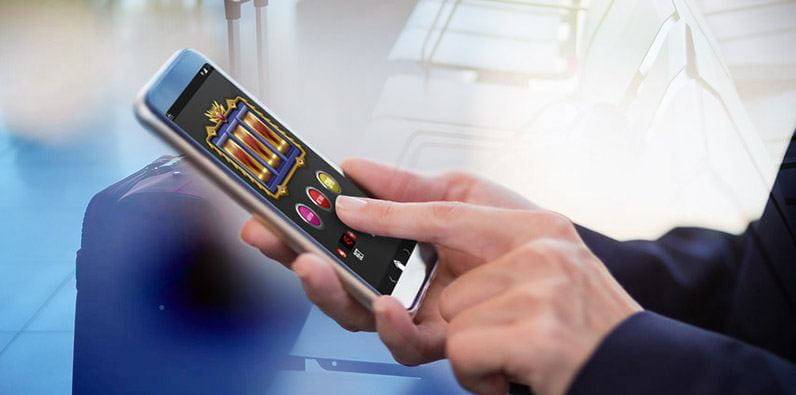 If you are so far in this blog post, you should know that we recommend you only the best casino sites in the UK and now, we discussed the best airport casino locations. The best thing is that once you arrive at any UK airport, you are already in the country where land-based gambling is legal, as well as online. So, when you want to play your favourite slots or roulettes, why not kick it up a notch and open one of the many amazing online casinos in the UK just while you are waiting in the airport? The options are numerous while you can find dozens of safe, reliable and amazing casinos on our site. They have mobile live games, options for mobile billing, big welcome bonuses for newcomers, and so on and so forth. Take your time and check out our reviews cause we examined each and every casino to the smallest detail. For instance, you will find the online versions of Genting and Grosvenor Casino thoroughly reviewed. All the casinos on our website are licenced by the UKGC and their games provide results on the RNG principle, verified for fairness by independent testing houses. So, online gambling is always a good choice to enhance your airport casino adventure and, of course, to win good prizes if it is your lucky day.
Play at Your Most Favourite Casino Near Airport Today!
There are not so many opportunities but, luckily, the few airport casino sites in the UK are gigantic! These are record-breaking casinos. We described the three main criteria for evaluation and we explained thoroughly why Genting International Casino in Birmingham Airport takes the first place, followed by Aspers, Grosvenor and the numerous gambling spots near Heathrow. If you enjoyed this gambler's guide to UK's greatest airport casino venues – take your pick and learn more about it. Next time you are flying to or from any of these locations, you will already know where to play and enjoy a superior casino airport experience!