Atlantic City Airbnb up to $100
Starting on the lower end of the budget, we're looking for a sweet spot between convenience and price. Based on those criteria, our top recommendation for an affordable and at the same time, not lacking in any amenities, Airbnb location in Atlantic City is this cosy oceanfront condo. You'll have plenty of amenities at your disposal, including a decently equipped kitchen, spacious living space, indoor and outdoor pool, and an amazing ocean view. This Airbnb is within walking distance of three major Atlantic City casinos, including the Ocean Resorts, Hard Rock and Bally's.
Guests have scored this property almost perfectly, with a rating of 4.93 stars and judging by their opinions and the provided photos, it's a bright and clean condo. Should be perfect for a relaxing night after a long day of gambling or to enjoy a day at the beach, which is at a hand's reach. The final price for your 5-day stay will be $350 including taxes, or $70 per day.
Feel-at-Home Stay Between $100 and $250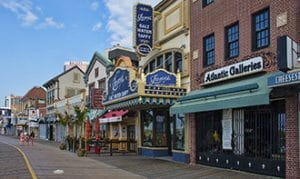 Next on our list, the perfect Atlantic City getaway, for those of you that want to visit a new location yet feel like they've never left their home. We have a perfectly sized house, located in the bay area, with a white picket fence and space for up to 8 people. This Atlantic City Airbnb is the right choice for those of you who want the convenience of a standalone home. The property is spacious and bright, with eye-pleasing colours and again, a very high 4.9 rating. Free parking is available at the property, with guests commending the cleanliness and the personal touches by the host.
Our pick in this category is located right in the middle of two major casinos – Borgata and Ocean Resort and at the same time, it's conveniently nestled in a quiet neighbourhood. Additionally, you can choose to take a walk to the beach or the nearby boardwalk casinos, which are twenty mins away by foot. The price for your 5-day stay will be $160 per day, with all fees and taxes included. On a side note, if you decide to team up and visit the place with eight people, the price per day will be only $130, which is a great offer.
The Perfect Friends and Family Getaway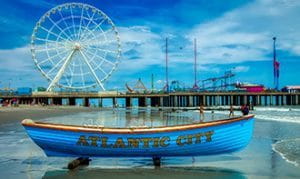 Our third Airbnb in Atlantic City, NJ could come across as odd, as we've mentioned we searched for two guest locations. But let's be honest, there's no real reason to pay more than $250 per night for two people only. This offer is best suited if you're looking to party with your friends or family. Having said that, the house is luxuriously furnished and can easily accommodate more than sixteen people. The maximum capacity is twenty but keeping things more reasonable, nine bedrooms with fourteen beds will set you back $400 per day or $2000 for your whole 5-day stay.
The property is conveniently located near the Tropicana Casino in Atlantic City, at the beginning of the AC Boardwalk. Additionally, it's a few minutes by foot from a bus stop on Atlantic Ave, which can take you to any of the other casinos in the city. Having said that, if you're looking to go on a walk around the city centre or visit the beach, you'll find that they're easily accessible and not too far away.
What Can You Do in Atlantic City?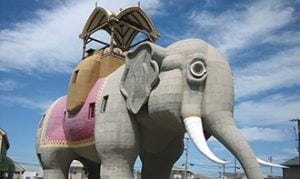 Once you've decided on your pick for your next Atlantic City Airbnb, you may want to learn more about the city itself. Commonly known as the East-Coast Las Vegas, AC is famous for its casinos, as they're the only legal ones in the state of NJ, except for the New Jersey online gambling sites of course. Provided you're in it for the gambling, check out our reviews on the top slot games currently available for play. Atlantic City is also famous for its boardwalk, which spans almost five miles and pretty much everything of interest is located there. You'll be able to visit the Steel Pier, the equivalent of Coney Island in New York or Absecon Lighthouse.
For music lovers and history enthusiasts, we have the famous Boardwalk Hall, which opened in 1929. Feel free to check out their concert line-up if you want to have an epic experience. It's home to the largest musical instrument in the world – a pipe organ with 33,000 pipes, 1,000 stop keys, and eight chambers.
If you happen to be visiting with kids, then the Atlantic City Aquarium will surely spark your interest. Twice a day, there's an exotic animal show which will introduce you to the aquarium's most fascinating residents. Another sight to behold would be Lucy the Margate Elephant – a 65-foot wood and tin elephant that incorporates a tavern, summer home and an observation deck. Additionally if you don't mind travelling a bit more south, Ocean City is located 11 miles from AC. It has some of the best beaches and has been completely alcohol-free since its establishment by church ministers in 1879. There are numerous bike paths, fishing and boating opportunities, water sport rentals and more.
We hope that our review of the top Airbnb's in Atlantic City has proven useful in your search for your next getaway or gambling trip. While our suggestions for sights to visit in AC is not a full-on traveller's guide, we've focused on the most notable locations to check out while in the city. Hopefully, you've enjoyed our article and feel free to check out our other interesting posts on other topics.